Flirt4Free Gay Pros
Cheap private chats
Free C2C in privates
Professional models
Great video quality
Mobile cam-to-cam
Fetish friendly
Generous VIP program
Flirt4Free Gay Cons
Tame free chat
Pricey top models
Unhelpful search engine
---
Unleash Your Inner Desires with Flirt4Free's Steamy Gay Cam Models: A Comprehensive Review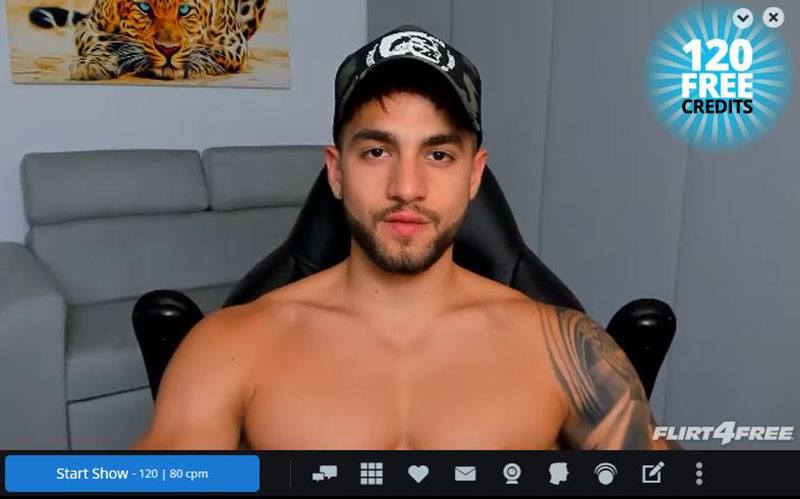 Unlike other premium cam sites, Flirt4Free doesn't shy away from having nudity in the free chat or letting its performers entice viewers to tip with some sensual acts. In fact, it pretty much offers something for everyone with a huge array of different chat types, a variety of hot models, and several different ways to spice up your experience.
In this Flirt4Free gay review, I'll explain the many things this sex chat site does right, and the few things it does wrong, and give you tips on how to best navigate it, save money, and overall, just enjoy it to the fullest.
The Models
This is Flirt4Free's high point: Its performers. This site has around 250 live gay cams at any given moment, most of whom are drop-dead gorgeous. Prefer them toned and muscular? Lean and thin? Then this is a good place to start looking for the man of your dreams.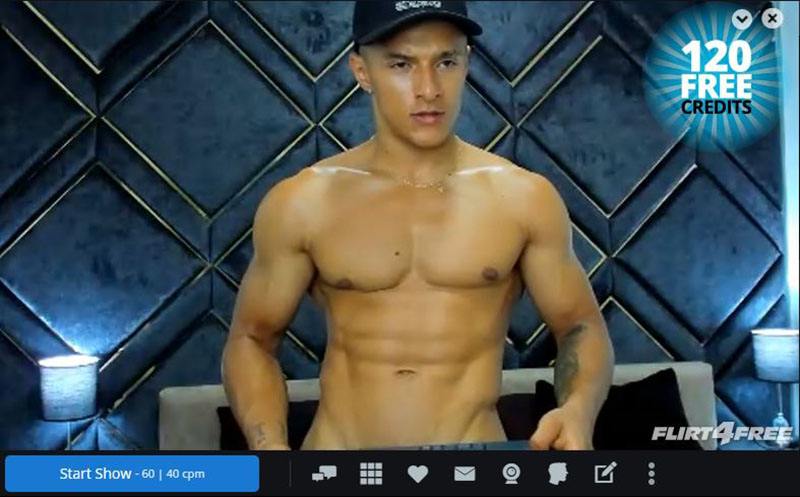 You're really in luck if you prefer to chat with them in English, as a large number of guys here are US natives.
While I link directly to the male section on Flirt4Free, if you navigate away from the men to the girl's side of the site then just find the Guys tab on the top of the page to get yourself back. As a heads-up, avoid using Flirt4Free's search engine. It will only find you results based on the performers' stage names, which isn't very helpful.
Also, if you hover over a cam room, you'll open a small screen underneath it that will show the cam room's video quality, along with the model's ranking among the site's members, his rate, the categories that he fits in, and whether he uses a tip-activated sex toy.
If you want to know more about a specific model, enter his cam room and click the head icon on the right side of the screen. You can learn the model's birthday, age, the languages they are fluent in and much more. To look at their full bio, scroll down and click the Full Bio button. There, you'll see pretty much everything about the performer, such as their schedule, when they were last online, and the awards they've won.
And, while I'm on the subject of awards, I would like to note that Flirt4Free is a leading site in model empowerment. Flirt4Free stages many competitions among its performers, and awards them based on many different categories. This, of course, makes a huge difference, as it ups the overall quality of the performances. Models on Flirt4Free are some of the most attentive and engaging you'll meet, so I mark their efforts a huge success.
FLIRT4FREE FEATURE HIGHLIGHTS
Flirt4Free is much more than a video chat platform. It goes above and above in terms of information, community, and forums, as well as a slew of wacky fetish features to keep you occupied while you wait for your favorite guy to return online. The Fetish Community's mini-home on the web is particularly noteworthy. This isn't just a place to look for your favorite kink; it's a community where the kinkiest are accepted. It's not just bare behinds and whips that occupy Flirt4Free's fetish realm. There's fetish news, education information, community posts, and debates (not only the XXX variety). Yes, there are masters and subs, ropes and glory holes, and other distractions vying for your attention.
Do you want a recommendation?
You are not required to twiddle your thumbs or whatever else you twiddle while browsing the site. A calendar link can be accessed, which displays the week's schedules for when each model will be online. You'll know exactly when and where your favorite expensive lads will be flexing their pecs this way.
Returning to some of my favorite Flirt4Free features:
Top 20 webcam models
Models' schedules
Huge HD video library
Comprehensive fetish category and information
Models' fan club offering extra discounts and exclusive fan club member content
Blog site (interviews, product reviews, pro-tips, contests, etc.)
Interactive toys - tip and activate the models' remote-controlled vibrator
Free video chat, open rooms where you can meet engaging men in live public shows
Group Chat, models set a Credit goal for a fixed amount of time, and then members pledge Credits to help hit the target
Standard Shows, experience a private live show with either a new hunk or an average guy, where c2c is included
Premier Chat, limited to Flirt4Free's male models who have proven to be #1; you get unmatched focus from these men
C2C over your mobile phone or tablet at no extra costs; note, some gents may not be set up for sound
Voyeur Mode, enter into a spy in on either a standard or premier show in the full-size video; texting & audio are not permitted
Multi-User Shows, several users chat with a single host and everyone can see everyone's texts; you get the 1st 2 minutes free & these types of shows always cost 2/3 the price of privates
Combo, are rooms that host standard & multi-user shows. Users may start or join in a multi-user show, so long as the model isn't already performing 1-on-1
Feature Shows, where members can interact with Flirt4Free's most acclaimed male models at discounted rates per minute
Offered Shows, you and the stallion negotiate on a fair price & length of the show to satisfy the both of you
Party Chats are free group shows, and tipping is not only recommended - it helps to keep the show in progress
Play & Pay, gives you the ability to go private with a guy, and your account gets charged at the end of the show. You don't need to purchase credits in advance, you simply need an active account with a credit balance
C2C can be used with all private live sessions
Flirt4Free's male models on cam are not only sociable, but they're also easy to break the ice with
Flirt Phone, which gives you the freedom to speak with men; giving you a more personal experience
Fan Clubs, when you join a model's fan club you get discounted rates and bonus offers
Mobile access is advanced and functional
Tipping is a great way to show admiration; choose from the existing fixed variants or customize your own amount
Gifting is a different way of showing appreciation; there are many virtual gifts on offer, and members who gift men also earn rewards
Flirt Rewards, a loyalty program where members can earn 'flirt rewards' to unlock extra bonuses & discounts
VIP Archives include special videos and galleries
A variety of social features such as forums which users are invited to use
Contemporary profile pages featuring useful info about the guys
Easy-to-use site navigation
The Top 20 webcam models option is a really easy way to see which models are currently the darlings of the dudes. This selection category is consistently changing. The site pulls up the top 20 webcam guys based on paid shows, VOD activity, and virtual gift receipts (over a 7-day period). But, it's always changing. Every ten minutes the results are refreshed.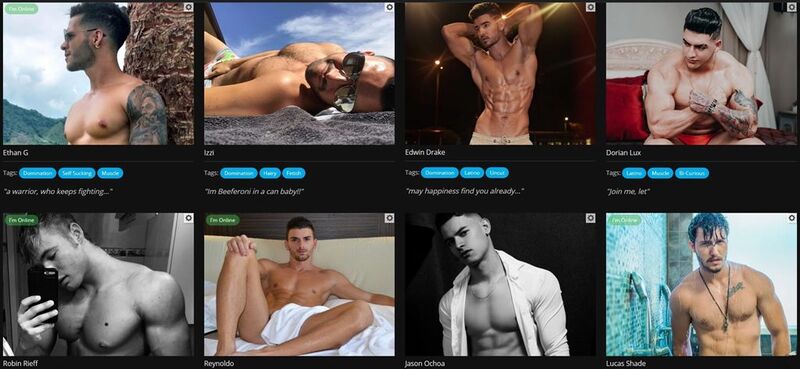 For VIP members the enormous video library (they say 200 new videos are uploaded each day) is free. But there's a little catch, the videos are only available for a week. You snooze - you lose.
Video Quality
Most models on Flirt4Free stream in either 720 or full 1080p HD. It's actually hard to find ones who don't, which is impressive considering that the site has so many gay cams.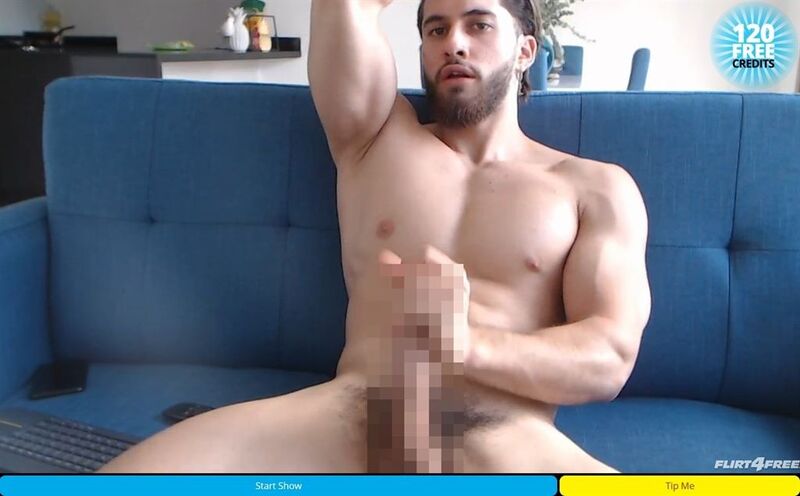 The shows, along with their previews, also load fast and run extremely well. I've frequented Flirt4Free for years now, and have yet to have any technical issues. What's surprising is that I sometimes turn on my webcam and stream back to the model in HD, but that also causes no slowdown. It's one of the many reasons why I chose Flirt4Free as the best c2c gay cam site in the business.
Once you enter a cam room, you'll see that it's mostly comprised of a screen and the chat box next to it. The high video quality here is definitely on display, and the site's slick design is clearly intended to showcase it. You can decrease the size of the show by using the button at the bottom left of the stream, so it's also easily adjustable.
Prices
The prices on Flirt4Free range quite a bit. A model here can charge anywhere between a measly $0.45 a minute to a whopping $18.00 a minute. Most, though, tend to stick to more sane prices, with most models charging $5.40 a minute.
While that's pretty high, you'll find that the average price is more in the vicinity of $3.60 a minute, and you will actually have a very easy time finding top-notch models that charge even less than that. In fact, I consider Flirt4Free to be the best low-priced gay chat site partly because it makes it so easy for its member to find cams that are within their budget. This is without even taking into account the fact that Flirt4Free offers free cam2cam in every private show.
Below are some of the credit packages offered by Flirt4Free:

These calculations were done based on Flirt4Free's exchange ratio. As you can see from the above picture, $1.00 is worth exactly 9 credits. This excludes the 120 bonus credits (valued at around $13.33) you get on your first purchase, which you can even redeem for free by adding a valid payment method.
If you prefer to select a cam by its price, then you can sort the rooms by rate by hovering over the View By button on the top right of the main page of the site, just above the cams grid. There, you can select to view the rooms according to various criteria other than rates, such as different chat types.
Chat Types
Flirt4Free offers a plethora of different show types, which is fantastic if you like having options, but it can get complicated if you decide to just jump in the water. If you prefer to learn about them beforehand, I've listed the below for your convenience.

I've summarized each chat type, detailed their price ranges, whether cam2cam is included, and whether you can record them for later watch:
| Show Type | Description | Price/Min | Cam2Cam | VOD |
| --- | --- | --- | --- | --- |
| Private | The usual one-on-one chat. Offered by most models when starting a show in an open room. | $3.00-$14.00 | ✓ | ✓ |
| Multi-User | Multiple members chatting with a model in private. The first member to initiate the session can turn on his webcam, everyone else has to type. | $0.55-$6.00 | ✓ | ✓ |
| Voyeur Mode | When a model is already engaged in a private show, you can watch her performance by entering voyeur mode. No audio or text chat is permitted. | $0.55-$14.50 | ✗ | ✗ |
| Feature | Shows featuring some of the hottest adult stars. | $3.00/Free for VIPs | ✗ | ✓ |
| Group Chat | A communal experience. The performer sets the required number of credits for the length of the show they will perform. One or more users can pledge any amount of credits to meet the goal. If the goal is met and you pledged the minimum, the show will start in 30 seconds. Tipping is disabled during the countdown period and re-enabled once the goal is reached and the show begins. | Varies | ✗ | ✓ |
| Offered Shows | These let you negotiate with the performer to find a price for a paid show that works for both of you. It allows you to haggle for a deal on a lengthy show. If a model accepts show offers, the Make Me an Offer button will appear to the right of his fixed show rates. When you create or accept an offer, you commit to spend the chosen amount of time in a paid show at the chosen cost-per-minute. | Negotiable | ✓ | ✓ |
| Party Chat | A free adult show where anyone can join. The parties last for as long as users are tipping the model. | Tipping | ✗ | ✗ |
This table should give you a better understanding of which chat types would probably suit you better.
Just a few notes: Private and Multi-User chats are available in open rooms that are not assigned to any other chat types. Some models offer only private, some offer only Multi-User, and some offer both. You'll have to enter the room and click the blue Start Show button to see which chat types a performer is offering.
Now for Flirt4Free's interactivity options. There are 3 different types of interactivity used by Flirt4Free's cam models:

A pink Interactive banner means the model's sex toy can be activated by tipping her, the blue one means it can also be activated in other ways, and the purple one means that the model can control your sex toy if you have a remote-controlled one. These banners show on the preview pictures of the cam rooms themselves, so they're impossible to miss. You can also look for them specifically by using the aforementioned View By button.
Unique Features and Extra Content
Once you're in a mode's cam room, you'll see a column of icons on the right side of the stream. Hover over them to see what each one is. Once you do so, you'll quickly notice that, unsurprisingly, nearly all of Flirt4Free's models offer photos and recorded videos that you can view for free or purchase for a reasonable sum.
Also, when you pay for any show type with VOD available (detailed in the above table), you'll see a recording of the show you've watched here. You can then purchase them to add them permanently to your collection. Purchased videos will remain in your collection as long as your account is active.
You can view videos that others took by clicking the Videos button at the top of the site. Just know that, since Flirt4Free doesn't enforce price limits, some models charge insane amounts for VODs of their shows. Don't take those to reflect on the rest, though. Just like with the live cams, prices here vary greatly, so feel free to shop around. You can also use reward points and VIP Free Passes to purchase VODs without spending a dime, so consider that before doing so.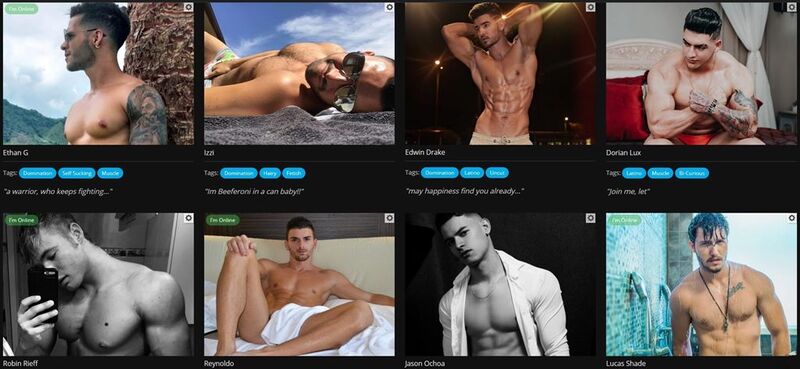 After purchasing them, you'll see the videos on your account page. To get there, click the head icon at the top-right side of the site. Once you're on your account page, you can view your collection by clicking the My Content button on the left and then My Collection. This is where you will see all the videos you have purchased, been gifted, or redeemed through free VOD offers. Videos that were gifted or redeemed with Free offers will expire after a certain amount of time and eventually disappear. You'll be warned beforehand if you want to watch them a few more times.
When you click the My Content button, you'll also notice that Flirt4Free encourages its members to become actual directors, which explains why so many of Flirt4Free's members made the VODs of their private shows public.
To put it simply, recordings in your Director's Vault are videos that you directed when you took a performer private. As I've previously mentioned, these can be purchased by you, but you can also earn credits and even notoriety as a director from these videos. The two requirements are that these videos need to be shared and made public by you and the performer and that you must remain active by having made a purchase on the site no more than 90 days from the day that the videos earn you credits.
If these requirements are met, then for each time one of your videos get purchased, You earn credits. Video prices are still set by the performer, but you earn 10% of the video sale each time it is sold! If you have made a purchase on the site within 90 days, and someone buys the video you directed, then 10% of that video sale will be added as credits to your account, available for you to use within 48 hours. If this interests you, the site does a fantastic job explaining it, so you'll be in good hands once you start.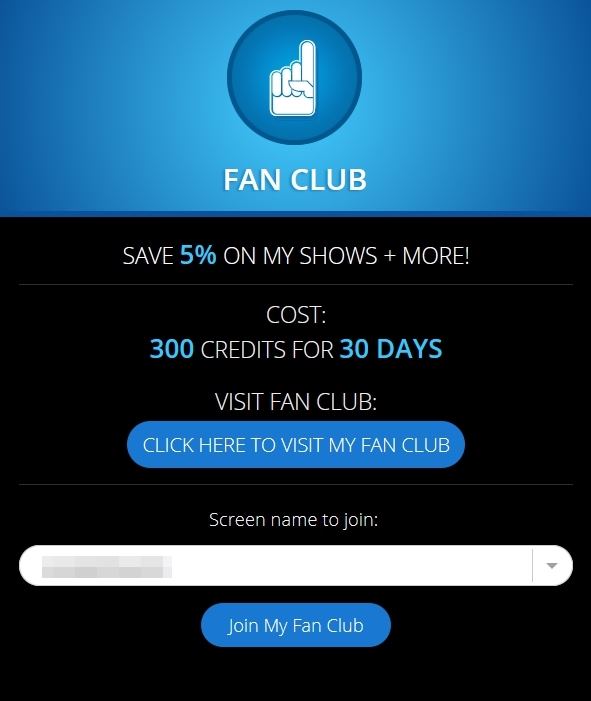 Another thing you can access on a model's page is his Fan Club (as shown in the above picture), which many of them have. Joining a particular model's fan club will give you discounts in paid shows that she's performing and an option to view all his uploaded videos and photos for free. The cost of joining a fan club is a monthly payment that differs from model to model, but if you have a few favorites, the discounts and additional perks you get from it will be worth it in the long run.
Finally, Flirt4Free is known for having a large and active community, especially when it comes to fetishes. There's actually an entire section of the site dedicated to it, which you can access by hovering over the Live Cams button at the top of the site and clicking Fetish. If you're kinky, I suggest you try it out for the blogs and the forum alone. There's quite a bit to experience here, and it's all very inviting.
Mobile Site
Watching Flirt4Free on mobile devices is an absolute blast. Flirt4Free's slick and user-friendly interface translates extremely well to smaller screens like your phone and tablet.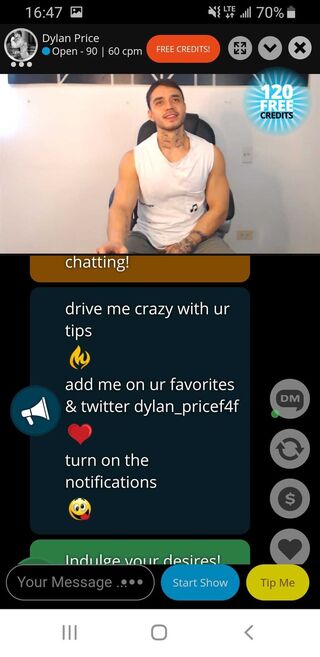 Frankly, it's hard to find fault with Flirt4Free's mobile site. I mean, there were many, many reasons why I chose it as one of the best mobile cam sites in the world. Hell, it even has mobile cam2cam. My only gripe is that the address bar blocks the top part of the screen and you need to swipe up before going into a show in order to get rid of it.
Here's a tip to address that problem: If the address bar gets in the way, press the arrow button on the top-right of the stream to minimize the show so you can fix that problem. If you want, you can also browse the other shows while watching the minimized cam show. Also, while watching the show in panoramic view (horizontally), you can click the left part of the screen (where the eye icon is) to hide or reveal the chat.
As a side note, Flirt4Free allows you to call and text your chosen model. On his page, if he has the feature enabled, you'll see on the right the Flirt Phone and Flirt SMS options. Both features are quite cheap and come with simple instructions, so if you like treating your models like your friends, this is a great way to do so.
Premium Membership and Rewards Program
Flirt4Free's VIP membership program costs $39.95 a month, can be canceled at any time, and gives you the following benefits:
Unlimited access to your recorded shows, meaning you no longer have to purchase them to view them
1500 new VODs everyday that become freely available for you to watch for 1 week, as well as free daily photos
3 free videos of your choice each month that you can purchase for free
Free feature shows with professional adult cam stars
A larger video preview screen
Filter messages from unregistered members
2x Power Boosts that you can spend to push your favorite models up the page to get more views
Can turn on cam-to-cam in any chat that's not voyeur chat
While this is quite a lot, it's actually not all you get - just the most important stuff. If you frequent Flirt4Free, I suggest you seriously consider its VIP program.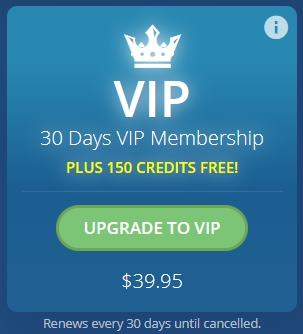 Flirt4Free also has a rewards program, named Flirt Rewards. By spending credits on the site, you generate points that you can then redeem on Flirt4Free's Rewards Marketplace to purchase anything from VODs, promo codes that give you a discount on your next purchase, digital gifts you can send your favorite models and more. Generating points also has the added benefit of increasing your membership rank, which other members and models can see.
The problem is that it takes a long time to generate points through this program. It does just give you stuff for free, so this is far from a complaint, but in comparison to its VIP program, Flirt Rewards is a bit lackluster.
Registration
To register, you'll need to choose a username, and a password, and enter a valid email address. You'll then need to verify that email address by clicking a link you receive by mail from Flirt4Free.
And... That's it. It's really as simple as it gets. As I've mentioned, you'll now be able to redeem some credits for free by entering a valid payment method, so I suggest you do that so you can flirt for free for a bit before committing any further.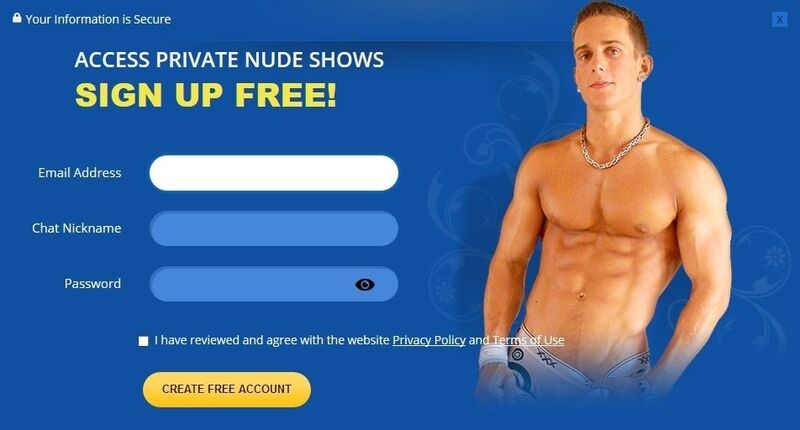 Accepted Payment Methods
Flirt4Free accepts both credit and debit. The accepted card types are as follows:
Visa
MasterCard
MasterCard Maestro
Diner's Club
Discover
JCB
And these are the available alternate payment methods:
PayPal
BitCoin
PayGarden
Pay by Mail (mailed checks)
Security and Quality Assurance
Flirt4Free is as safe as it gets. It's not really surprising, since Flirt4Free is a veteran of the camming industry, and has been around for over two decades, but it's always good to see such a giant refuse to rest on its laurels.
Flirt4Free uses the best information encryption methods, making sure to secure your connection and personal information. They also employ only the most renowned payment processors to handle your transactions and ensure they are 100% discreet. Transactions appear on your statement as a nondescript name so any prying eyes won't know the nature of it.
Finally, Flirt4Free allows you to change your security and privacy preferences as you please on your account page, so customize them to your liking.
Customer Support
Flirt4Free's customer support is probably the best in the industry. The site's customer support representatives work 24/7/365 and do their job efficiently and diligently.
Email
Phone (both US and international numbers)
Live chat
Postal (snail mail)
Live chat
Billing support (available for each billing method)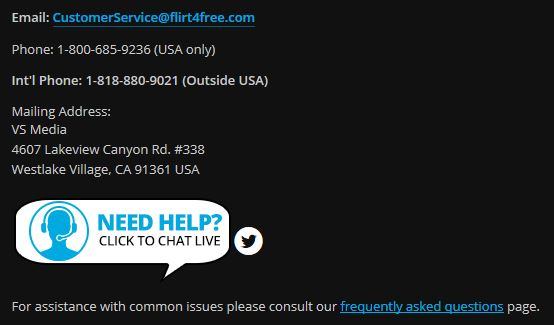 The site also has a comprehensive FAQ page that covers most of the questions you might have, along with a Twitter page for general announcements on-site downtime, and special offers.
In Conclusion
When it comes to girls, Flirt4Free might be among the top 5, but other giants of the industry eclipse it. When it comes to the guys, though, Flirt4Free stands above the rest as a clear winner, setting an example of how a premium gay cam site should be.
It really doesn't matter what you're looking for. Flirt4Free has a selection and variety of models, chat types, and price ranges that basically cater to everyone. Together with its many different extra features, bonuses, programs, and large and active community, Flirt4Free is simply the best gay cam site there is.
---
Flirt4Free Gay Reviews