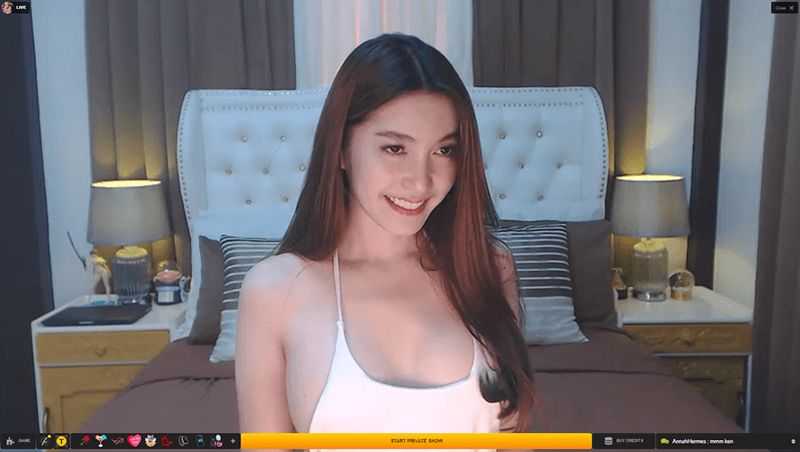 I've spoken at length about LiveJasmin before, but I'll happily do so again if it means that more people will know about what it can offer them and how to better enjoy the cam site. Below are tips on how to save time and money while watching some of the hottest Oriental cam babes in the business.
The Models
Have a fetish for Japanese babes? Or maybe Thai girls? Do you prefer them dark or milky white? Whatever your preferences are, LiveJasmin will probably have a model that will make your jaw drop. LiveJasmin has about 1,500 models online at any given moment, and usually, about a tenth of them are Asian. Their variety is also pretty fantastic, with Chinese, Vietnamese, Korean and many other ethnicities being well represented throughout the cam site's collection of cam babes. LiveJasmin is even one of the best ladyboy cam sites in the industry, so if you're into Asian chicks with dicks, this is a great option.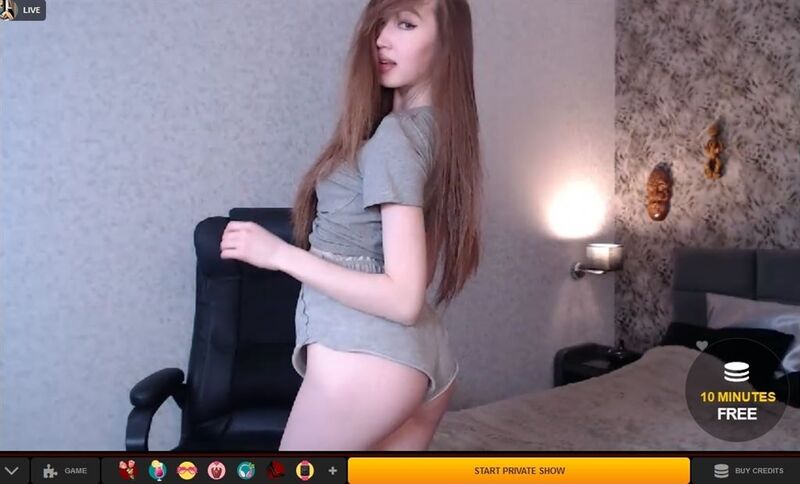 If you're into amateurs, though, you're going to have a hard time finding someone that can scratch that particular itch on LiveJasmin. This premium cam site employs only the best, most popular and most professional cam models in the industry. They are all full-time performers and take their job seriously. You will see some new models every now and again, and since LiveJasmin has so many talents using its platform you'll never be lacking new babes to get more "familiar" with, but the vast majority of them will be experienced pros who know what they're doing and how to best entertain you.
To find the Asian models on LiveJasmin, all you need to do is scroll down on the left category menu and click on Asian, which you will find under Ethnicity. There's no way to focus your search even further, so just take your time and sift through the rooms. It won't take you long, and I guarantee that you'll enjoy the journey.
Once you find a model that catches your eye, you can hover your cursor over her picture to get a peek into her room. Like what you see? Enter it and flirt with her. Since a model's room on LiveJasmin also serves as her profile page, you can find useful information there such as her sexual preferences, the languages she is fluent in and, most importantly, what she is willing to do in a private show. You can find that information by clicking the information icon on the left side of her stream (looks like the letter "i").
At the bottom of the model's page, you can also find sensual photos and videos she may have taken of herself. A model can either offer them for free so a member can get a taste of the actual show, or put a price tag on them. Not all models offer these, but those who do usually offer both some Free samples and Premium Content that costs a few bucks.
LIVEJASMIN FEATURE HIGHLIGHTS
You can peruse extra media from several of the models (X-rated photos and porn clips). However, you will usually have to pay a nominal price to watch these. What's interesting about this is that when you scroll through them all, a small live video of what's going on in the room flashes at the bottom of your screen, ensuring you don't miss anything.
A large percentage of the babes are LiveJasmin Exclusives, meaning they don't feature on any other video chat service. It also means that there will be fewer people in their free public chat rooms, giving you a better opportunity of capturing their attention on the free message board.
Big Tom Tip: These sex goddesses also enjoy a good bargain... They put themselves on Sale for a limited time in this scenario. They'll drop their private one-on-one cam chat costs to only $1.00 per minute. This does not include cam2cam or 2-way audio (more on that later), but considering that some of them charge approximately $4.00/min (or even more for the premium females), the savings can be significant.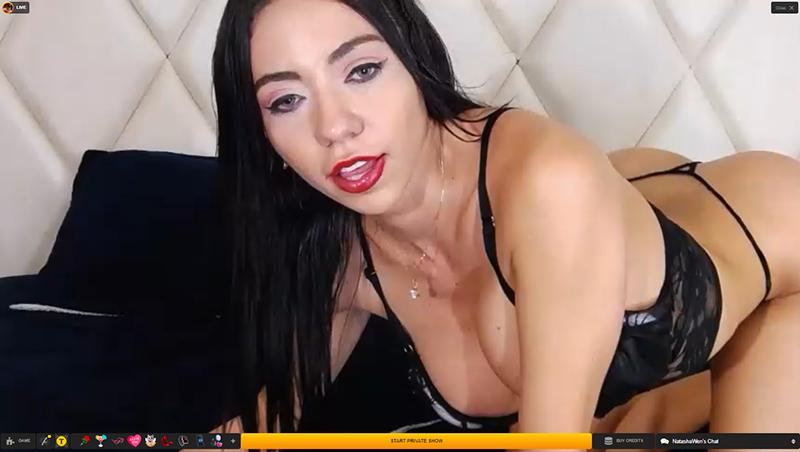 LiveJasmin's excellent Sneak Peeks are another cool feature. When you sign up for the site (it's free!) you'll get 10 FREE PEEKS. Each peek allows you to plunge into a girl's ongoing private show for 20 seconds, giving you a sneak glimpse behind the virtual curtain. You can't use your camera or chat to/message the girl because it's someone else's show, but you get a good idea of what to anticipate when you enter the private session.
All of the LIveJasmin models are vetted before they're allowed to broadcast under the LiveJasmin banner. You won't find any Asian amateurs here.
There are some 40,000 registered LiveJasmin models, with around 1,500 online at any point. However, there's generally around 80 babes from the Far East streaming at any one time.
When you validate your credit card (without having to make a purchase) the site gives you 10 FREE credits as a thank you.
If English isn't your mother tongue - the site can be viewed in 18 languages
An outstanding selection of live Asian webcams. Our team met with girls from China, Korea and the Philippines, to name a few
Sneak peak into other members' private performances, for a nominal fee
A good number of Asian HD chat rooms are always online
Members always have the choice of cam-to-cam in private shows
Two-way audio is made available by most models for a small fee
An advanced video chat framework that works smoothly
Free membership, absolutely no concealed costs
Navigating this site is a pleasure and as uncomplicated as it gets
Advanced search tools, which are extensive and an added value
Some of the risqué Asian models have premium pics posted, and some even have videos
An integrated FAQ page, covering a wide variety of both general and technical questions
Outstanding customer support available 24/7 via live chat
LiveJasmin only make use of reputable payment processors
Registration is quick, easy and free
Asian personal profiles are on hand, and are available for guests and members alike
GETTING STARTED
The site's registration is free, quick, and easy. You only need a valid email address and a user name and password of your choosing; no payment information is required. After you've signed up, you may add models to your favorites list, making it easy to find your favorite ladies.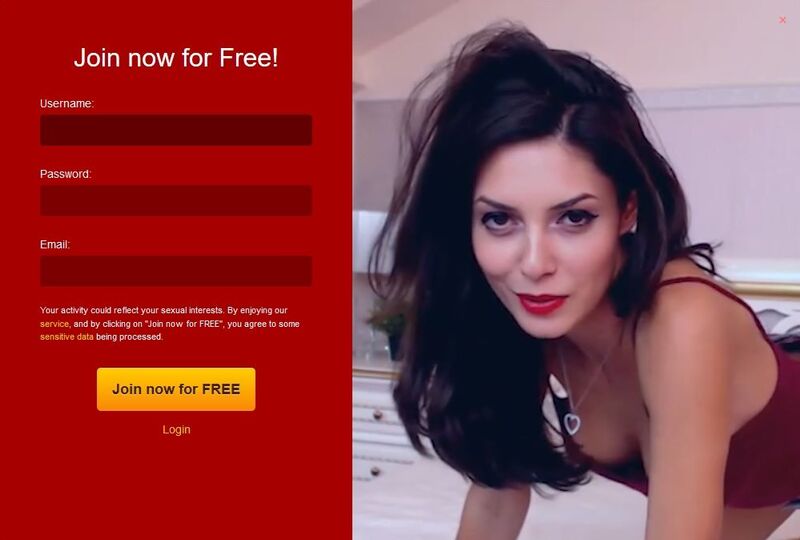 Video Quality
LiveJasmin is one of the very few premium adult chat sites with high-end production value. For starters, this is reflected by the high video quality of the shows on the site. Finding a model that is streaming in anything less than 720p HD is going to take you a while, and many of them actually stream in even better video quality.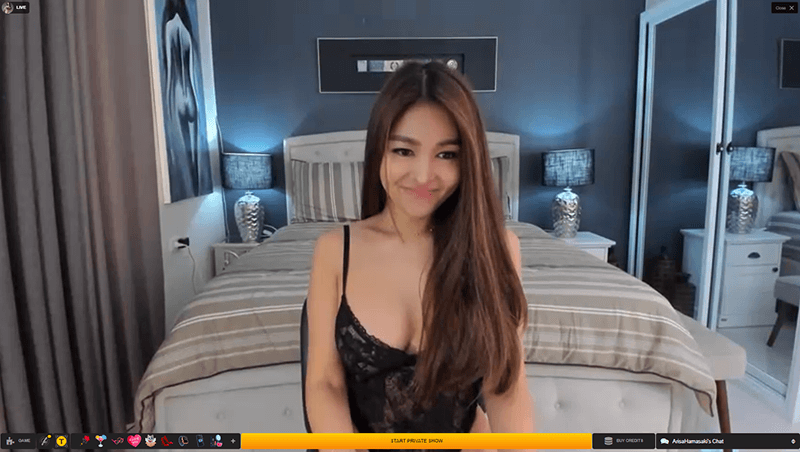 But it's not just high video resolution that makes LiveJasmin's cams so superb. The rooms look as if they were professionally set up to be as presentable as possible, and the camera always frames the model perfectly. It's actually at a point that, if I were to learn that all of LiveJasmin's models stream their shows from an actual filming studio, I would not be very surprised. They, of course, are not, which makes the whole thing even more impressive.
On top of this, it seems that LiveJasmin has rules in place to ensure that any model streaming on the site does so with a fast and stable internet connection, since I've yet to encounter a model without one. While the previews of the shows take a few seconds to load, the shows actually load at the same speed, and they suffer from no buffering or stuttering issues. Hell, even the stream delay is short, which really goes a long way to making the shows feel more responsive and intimate.
The best part about this is that it's all automatic. You can't change a shows video quality, nor would you ever need to, since LiveJasmin flawlessly tailors the resolution to your internet speed and stability, keeping it as high as possible without the stream dropping frames.
Prices
While you couldn't honestly say that LiveJasmin was too pricey, it is pricier than most premium cam sites in the business. At around $2.70 a minute for a private show, there's only about a $0.20 difference between LiveJasmin and it's competition, but it can add up fast if you find a few Asian babes that you're really into.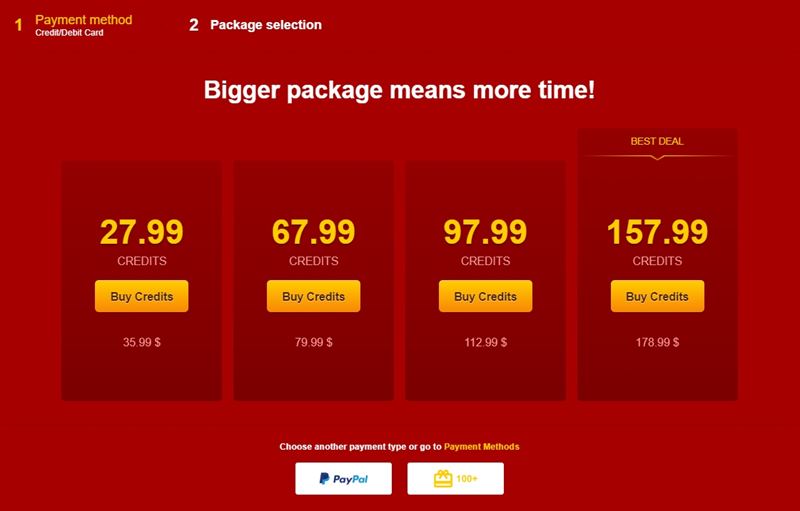 The lack of free two-way audio can also be an issue for some. If you enjoy the intimacy of cam2cam, luckily for you, LiveJasmin offers it in every private chat, with no exception. It does cost extra to add, though. You'll have to shell out an additional dollar a minute on average to enable c2c, and it goes the same for two-way audio. It's pricey, but it's worth it, as LiveJasmin is the best and safest cam2cam site in the business.
The prices greatly differ depending on which show type you're watching. For more on that, check out the different chat types below.
Chat Types
LiveJasmin covers the basic chat types, but doesn't offer anything beyond that.
The chat types you can find on LiveJasmin are as follows:
Open Chat
This is where you can flirt with that cute Korean babe you've had your eyes on and get to know her prior to taking her private.
Since LiveJasmin is a premium chat site, it is not only common but expected for the members to strike up a conversation with the performer, and I suggest you do so: The site's talents are lovely and flirtatious, and will help you make the decision on whether to take things further after a short talk.
Just remember that nudity or explicit sexual acts are forbidden on LiveJasmin's open chat. If you want to see the good or get some action, be prepared to pay for the services you get.
Private Chat
This is LiveJasmin's main attraction. A private chat on the site not only feels luxurious, but it is also a memory worth having. The short stream delay makes everything feel very responsive and "at the moment," and while it can get a bit pricey, you can actually find Oriental cam models that give private sessions for as low as $1.20 a minute.
As an aside, you can pay $1.30 to peek at an ongoing private show for 20 seconds. This is basically LiveJasmin's spy feature, so you can probably gather from this that this site isn't the most inviting for voyeurs. They much prefer members to have as much of an enjoyable and discreet private cam session as possible.
VIP Chat
Don't let the name fool you: This is just LiveJasmin's version of group chat. It works as it does in any other premium chat site: The model sets a specific "ticket" goal, and should she reach it within a set time frame, the VIP show starts. Every person in possession of said "ticket" can then enter and watch the show. If the goal is not reached, everyone is refunded the credits that they paid for their ticket.
A VIP show costs an average of $3.60 for a 10-minute show on the low end, so it's much cheaper than a private show. It doesn't have the intimacy of one, though, so know what you want before paying for one. You will have to compete with every other member who tips the performer to perform specific sexual acts. If you really have a fantasy in mind involving one of the site's many Asian professionals, I suggest you take her private instead of hoping that she notices your tip, as it will probably end up costing you much less.
VibraToy Chat
A show tagged as such indicates that the model performing in it uses a remote-controlled sex toy that you can activate with your tip. If you want to find some cute Japanese girl to pleasure until she cums screaming, then search for the VibraToy tag.
The sad thing about this is that, while these shows are undeniably amazing, there aren't as many of them on LiveJasmin as there are on other cam sites, so if this is the main thing that is piquing your interest, I suggest you visit a site like CamSoda instead. It may not have as big a selection of Asian cam girls, but it has a lot more models using such sex toys.
Video Call
Ever heard about FaceTime? This is pretty much what this is, only with a cam girl. For those unfamiliar with FaceTime, here's a short explanation: You can call the models on their phone during their off time for some hot after-hours fun. This costs a bit extra, but if you enjoy having your favorite girls practically on your phone's contact list, this feature has no equal.
Unique Features and Extra Content
LiveJasmin doesn't really have much in the way of special features, as the site's developers prefer to keeps thing simple and invest their money towards improving LiveJasmin's overall quality and user experience.
Mobile Site
LiveJasmin is one of the best mobile cam sites around. Not only is it highly optimized to work on phones and tablets, but it also has its own app that makes things even faster, easier and more convenient.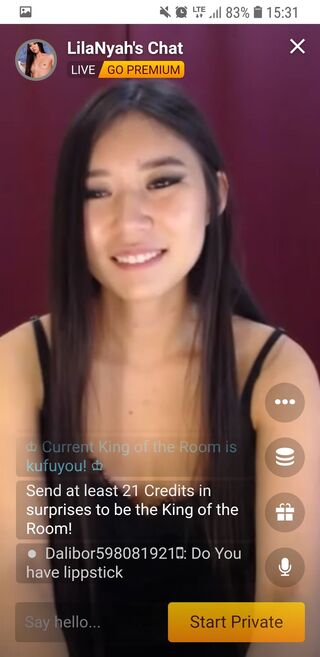 LiveJasmin is among the only two mobile cam sites with cam2cam. If you would like to have a face-to-face adult chat with your favorite Thai girls, LiveJasmin is pretty much you're only choice other than CamSoda.
LiveJasmin does have a couple of problems on the mobile, though: Writing in chat obscures the screen, which can be inconvenient, and you have to scroll down prior to entering a show if you want to get rid of the address bar at the top. These problems can be easily resolved if you use LiveJasmin's official app, so just download it if you find yourself using the site on your phone and save yourself the headache.
Let me end by giving you a couple of quick tips: First, to specifically search for Asian cam girls, use the search option on the top left and press the Asian Girls category. I suggest you also select the Free Chat filter to save yourself some time searching for a model that's not currently in private. Second, if you're viewing LiveJasmin on your phone while in portrait mode (holding your phone vertically), you can press and hold the screen and tilt your phone to pan the camera. You can also press on the screen (regularly) to make the chat disappear or reappear.
Premium Membership and Rewards Program
LiveJasmin has what I would call a "visibility" program named Club Elite, which is basically a way for loyal members to stand out in chat. You earn points by spending credits, and these points go toward increasing your Club Elite rank. The higher your rank, the more attention you'll get from the performers while you're in their chat room.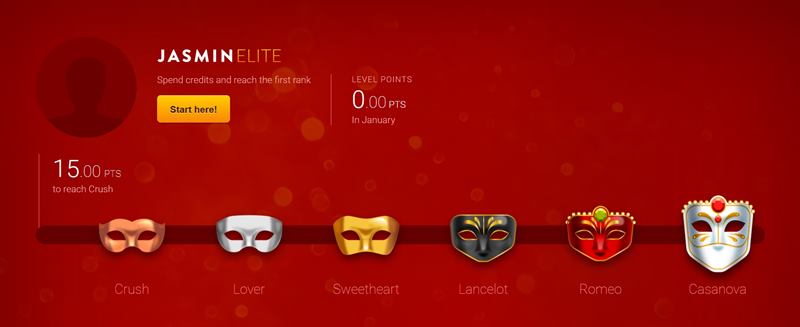 This is LiveJasmin's only rewards program, and aside from the bonus credits you can get on certain purchases, it really doesn't make many efforts to incentivize its members to stay. This isn't really a surprise to me, since the site's high quality does that on its own.
Registration
It's as simple as it can get: You choose a username, password and enter a valid email address. Then, you verify your email by using the verification link sent to the email you registered with. And that's it, you're done.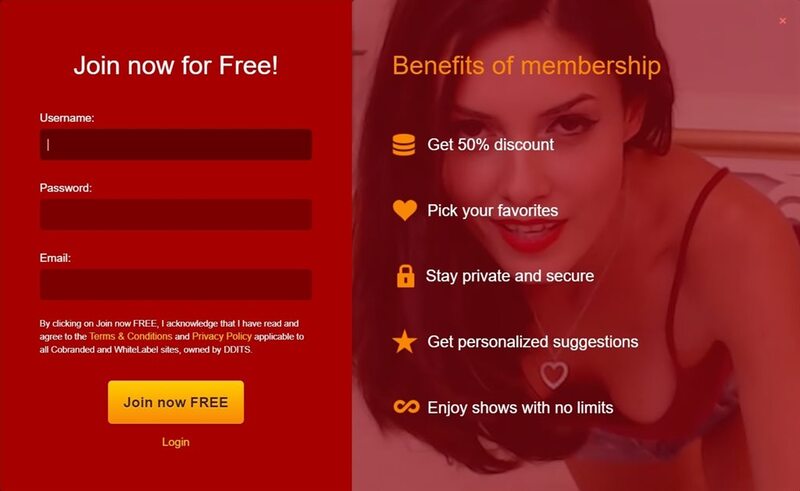 After finishing this short process, I suggest that you enter a valid payment method, as LiveJasmin will reward you 9.99 credits (valued at around $13.00) for it. LiveJasmin will charge you $1.00 to check if the payment method is indeed valid, then automatically refund you and give you the bonus credits for free. While you don't have to do so, this is pretty much free money, so there's no reason for you not to do it and use the credits to check out the site more thoroughly.
Accepted Payment Methods
The accepted credit card types are as follows:
Visa
Visa Electron
Visa Bleue
MasterCard
MasterCard Maestro
Diner's Club
Discover
JCB
And these are the available alternate payment methods:
PayPal
PayGarden
WebMoney
Bitcoin, Litecoin and more than 50 other Altcoins
Bank wire transfer

Security and Quality Assurance
LiveJasmin prides itself on being one of the safest and most discreet cam sites around. Aside from using HTTPS and SSL to keep your connection secure, it also ensures that no information will appear on your bank statement that could somehow divulge the services provided to you by the site. LiveJasmin sends any receipt of your transactions and any other sensitive information to your registered email address, and nowhere else.
What truly separates LiveJasmin from other sex chat sites, though, is its customer satisfaction policy. Did a show cut off, or stuttered due to technical issues that were not your fault? Did a model write something down in her bio under "In Private Chat, I'm willing to perform," but refused to perform it when you asked for it? In such cases, and in plenty others, you can receive a refund for the show and regain all the credits that you spent on it.
Customer Support
LiveJasmin's 24/7 customer support is fantastic. The site's customer support representatives can be easily contacted via email, phone and live chat, and are a pleasure to talk to as they are attentive and fast to respond.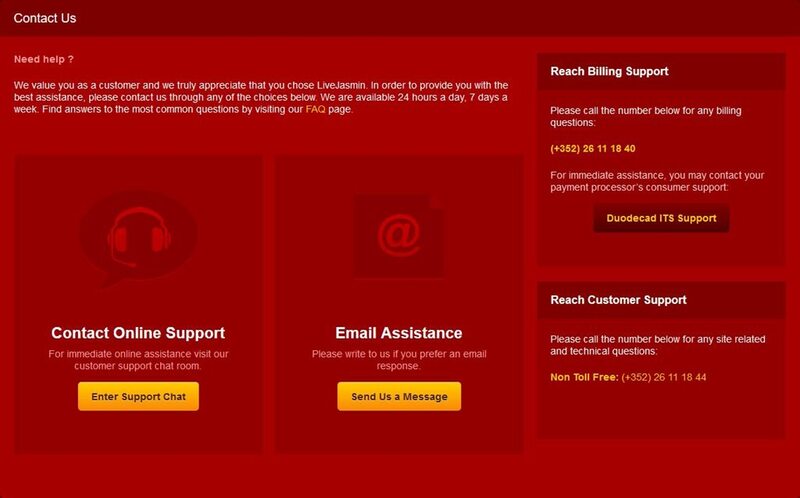 I do suggest that before you contact support, make sure to visit the site's FAQ section. It's very comprehensive and will likely have a solution to your problem. Since LiveJasmin is so streamlined and stable on so many devices, the solution should also be a simple one.
THE PROS & CONS
PROS
✔ All Asian cam girls are stunning, skilled sexperts
✔ 10 FREE credits when you validate a credit card
✔ 10 FREE peeks into ongoing private shows
✔ A wide range of fetish categories
✔ 24/7 customer support service
✔ Cam2Cam on mobile devices
✔ Spin the wheel to win extra credits before every purchase
CONS
✖ Flat rates don't include cam2cam and 2-way audio.
✖ No real Asian amateur performers
✖ Selection of HD rooms more limited in the Asian category
In Conclusion
LiveJasmin is a remarkable adult chat site, and among the best Asian cam sites out there. Very few cam sites try to match its impressively high quality, and even fewer manage to do so. It's a bit expensive, and lacks the bells and whistles that other sites might have, but every part of it serves to make your camming experience as simple and enjoyable as possible.
If you're looking for the best Asian cams, try out LiveJasmin. One thing can be sure: You won't leave the site disappointed.