CamSoda is an amazing platform to watch mature cams on. Despite being so cheap that it's borderline free, the site has managed to create a secure environment in which to hunt down your very own cougar to webcam with. You can take your time flirting with the talents and enjoying their show. As the mature women on the site are usually experienced professionals, enjoying their performance at your leisure is highly recommended.
Camsoda Mature Pros
Freemium with no obtrusive ads
Free cam2cam and two-way audio
Cam2cam also available on mobile devices
Some rooms include free show recordings
Mass preview allows you to preview all cams at once
Fantastic interactivity via remote-controlled sex toys
Lowest average priced private cams
Camsoda Mature Cons
Not the largest collection of mature cams
Inaccurate search and categorization systems
Only when you are a paying customer can you see the prices of the cam-girls in their chat rooms
At times, the quality of HD and sound can be less than stellar
---
Camsoda Review: The Ultimate Destination for Mature Webcam Lovers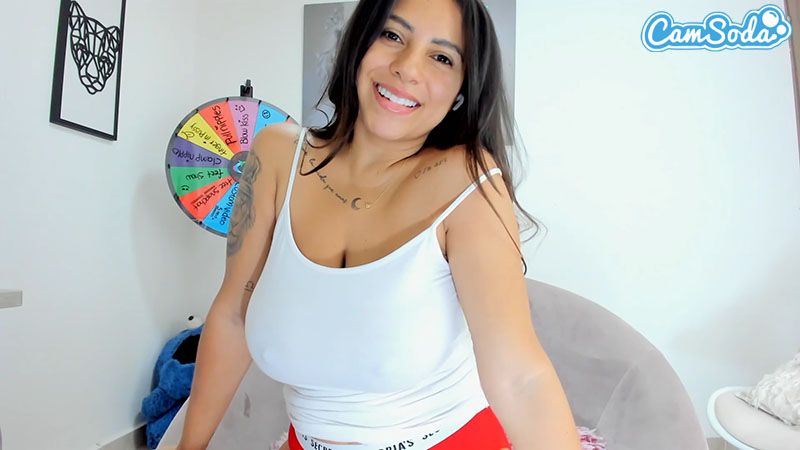 Because the site has a few quirks worth noting, I created this comprehensive CamSoda review to save you time. Unlike the general CamSoda review, this one is limited to the mature models available on the site. I'll go over everything that's amazing and everything that's not so great, as well as offer advice on how to use the site and cut costs.
The Models
CamSoda hosts millions of mature ladies from all over the world. Europeans, Latinas, Asians, and Americans... CamSoda has everything. The milf webcam models range in age and body shape, but they are usually in their late 30s or early 40s and have killer curves. It's nearly tough to find a milf with runner tits on CamSoda.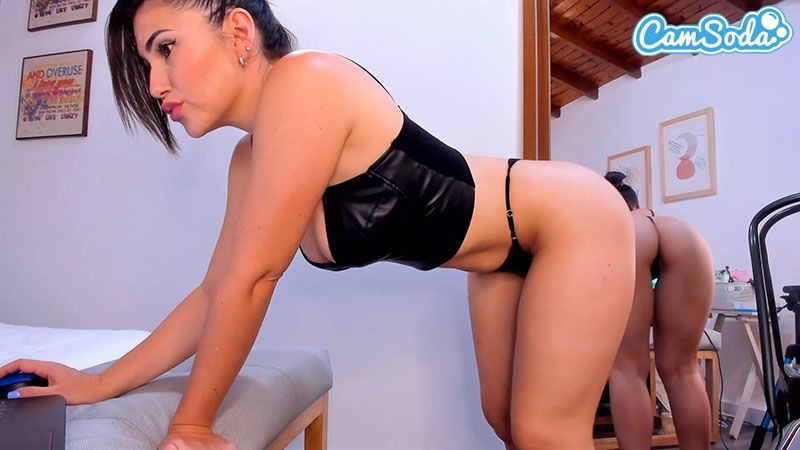 CamSoda's mature sex chat rooms selection is adequate but not extraordinary. On CamSoda's site, there are hundreds of mature models registered, but only about 30 of them are live at any given time. You won't be short on variety, but you won't have the most alternatives either.
CamSoda's adult cam girls are frequently attractive, curvaceous, and knowledgeable about kinks and obsessions. Do you want a milf to treat you like a boy? Do you want her to show you how to jerk off? Or are you simply looking to seize control and force the milf to cum on command? All of the options listed above, as well as many more, are now available to you owing to CamSoda's great models.
Few adult chat platforms are as ideal for controlling a cam girl's climax as CamSoda. Because of the popularity of remote-controlled sex toys among its models and members, it is the greatest OhMiBod and Lovense cam site. You'd be hard-pushed to find a day when those pink vibrators weren't prominently displayed on every page of the site.
Whatever page you end up on (I'm guessing the milf zone), you'll be able to see everything that's going on in the rooms owing to CamSoda's mass preview feature. This tool allows you to see what's going on in all of the site's cam rooms at once. The site's search mechanism is extremely problematic, but because of the small number of people on cam and the bulk preview feature, you won't have to go long.
As an aside, the majority of CamSoda's milf cam rooms can be found by clicking the #milf tag above the cameras grid on the top page. It won't show you all of them because some milfs don't label themselves as such, but it's an excellent method to save time if you need to bust one out quickly.
Camsoda Feature Highlights
There is an "Exclusive Videos" option at the top of your screen. It contains HD videos in a variety of categories, many of which feature real porn stars, amateur and experienced performers. It is a rather unique feature on the web for a cam site. Videos span from the mundane to the amusing or weird and they are free!
You can put all of the photographs and videos you've purchased under the "My Media" tab right next to it, which is convenient because you don't have to search the site for them.
In addition, the "Top Videos and Pics" category displays the most popular amateur beauties, photos, and videos. Isn't it good to have some guidance with all of these options? I always value strong suggestions.
Another useful feature, not exclusive to MILFs, is the "Top CamSoda Clips" section at the bottom of the main page. Below are links to Social Media sites where you may find amusing blogs, interviews, and promotional stuff.
Any preview gallery page will have a few links at the bottom, one of which is "Blog," which I think is a cool feature. You can obtain insider information about the girls, the industry, and the procedure, as well as make-up tips and tutorials for female users!
Cam2Cam is a fun alternative that goes above and beyond a one-on-one show on CamSoda. In this feature, mature models who enable c2c offer you to not only see them but also to turn on your own camera and mic for a much more intimate experience.
Finally, most gorgeous live cam females have a sex toy that you can operate from afar by tipping, allowing you to make your hot woman squirm and groan from miles and miles away...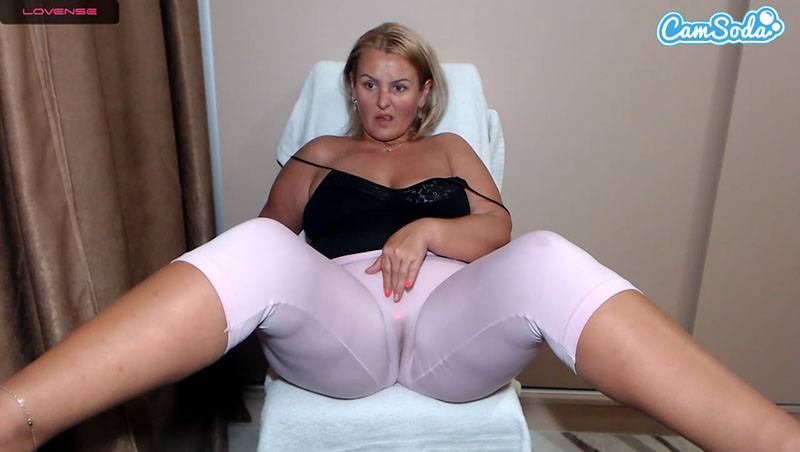 A hint for the mature category is to not simply look for girls in the Mature tag/search. Go to the main site and go down hottie lane to see matures who have yet to label themselves as such. Also, go to the "Spy shows" page to cut costs. You can see the model of someone else's private session for far less than the cost of your own private show.
Other noteworthy features include:
Pull it, Scratchoff & Roll it - A slot machine, the random number gives you a prize, and rolling a die to see how lucky you get
Spin the Wheel - You could, for example, win "ass twerking," which is a lot of fun
Voyeur - These are FREE online rooms that may be found among the tabs at the top of the page
Get gifted 200 bonus Tokens when making the upgrade from Basic to Premium membership
Highly-Rated - Mature models that are well worth the admission fee
Top Girl of the Month, celebrating CamSoda's most eye-catching models selling off their media at super low prices
Paid for live video chat usually includes cam-to-cam and 2-way sound - with no additional costs
Among the best sites for c2c - as during 1-on-1 sessions, most models allow shows to be recorded, for re-watch
Webcam2Webcam while in a private chat over your smartphone and tablet device
Buy Snapchat - You can have an intimate Snapchat session with top-notch mature cam babes!
Aside from housewives and matures, there are approximately 200+ featured tags, including Pregnant, Curvy, Mistress, and Granny
Open up multiple video chat rooms in your browser to play simultaneously
Create your own favorites lists and save your best-performing grannies or wild cougars for quick and easy access
Schedule a private viewing - by choosing a day, time, and duration of show that best suits your plans
Golden Ticket Shows - group shows with a set Token ticket fee; generous tipping is encouraged
Slot Machine - spend some Tokens to pull the lever and win an assortment of media or flashes from the golden girls
Goal Oriented Shows - where performers set a number of goals, and users pick which ones to tip for
Roll the Dice - for a set Token fee, roll the dice and score a favor
12000+ homemade videos by the site performers, categorized by popularity and genre. Available to users with Tokens only
Models can be frequently found promoting themselves over their social media accounts, on Snapchat, Instagram, and Skype
Watch complimentary CamSoda Exclusive Videos in High Definition
CamSoda Blog, where curious and loyal fans are kept up to date on the babes they all love to admire and chat with
18000+ picture sets. Sort by 'Milf' to buy photo albums from the mature models
Bluetooth enabled toys, such as Lovense & OhMiBod are frequently featured in most rooms - members pay to take control
Video Quality
CamSoda's video quality is in the center of the pack. There will be an equal number of HQ and HD cameras live on the site, with nearly no shows being streamed in video resolutions lower or higher than those.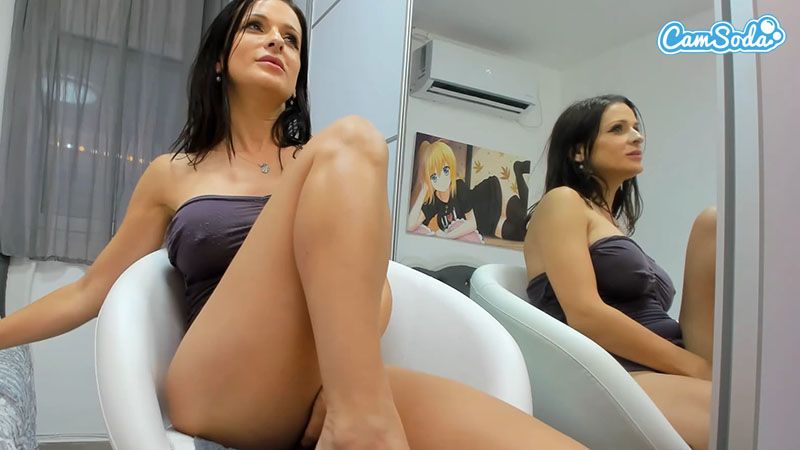 Unfortunately, there is no way to distinguish between the HQ and HD cam shows without entering them, nor is there a method to filter for the video quality that you like. Although the range of milf cameras on CamSoda is minimal enough that this isn't an issue, I would have welcomed an HD tag on relevant cam rooms.
When you enter a room, just make sure to verify the video resolution. CamSoda occasionally lowers the quality of the presentation, despite the fact that it is HD and your internet connection is fast and consistent. It's uncommon, but it does happen, so be aware.
In terms of real streaming quality, CamSoda is not particularly constant in terms of feed stability. Nonetheless, most cam shows work smoothly and without stuttering. You may occasionally encounter an adult webcam show chat that buffers every few seconds or has more than a couple of seconds of stream delay, but you can just ignore those and visit other shows without issue. You'll have plenty of options to choose from.
Prices
CamSoda is, in my opinion, the most affordable webcam site in the industry. The site offers a variety of token packages, with each larger package providing more bounce for the ounce. Please keep in mind that not all of the packages are displayed, with some only available to members who have made at least one purchase
The following is an overview of the various packages: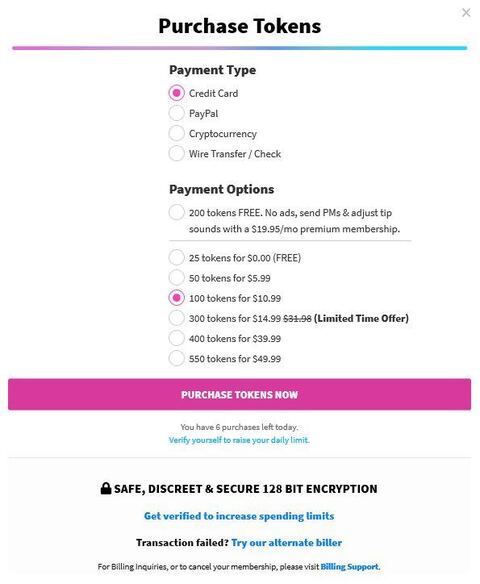 Visit CamSoda right now to take advantage of a limited-time offer of 300 tokens for $14.99. That is half the normal price.
CamSoda also provides you with 25 free tokens. And there aren't any strings connected. You only need to register a credit card.
Chat Types
CamSoda doesn't have many chat options, but the ones it does have will please the majority of its users.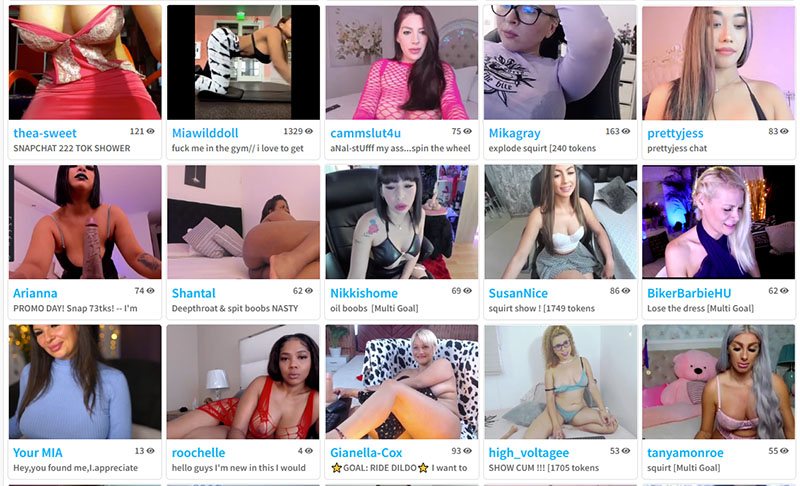 At the bottom of the preview window, you can see a description of the cam room and how many people are in it, as well as whether the model hosting it is new to the site. If you don't want to compete for the performer's attention, I recommend looking for rooms with fewer spectators.
Open Chat
This is CamSoda's main draw. Because the service is freemium, you can expect to witness a lot of nudity and sexual activity. You won't have to pay anything to merely watch, but if you want the model to do something special, you'll have to tip her or take her private.
Private Chat
Looking for a model to portray your stepmother? Another powerful figure in charge of your pleasure? Or are you simply looking to get intimate with a woman who knows how to take care of you online? If that's the case, select a milf you like and start a private show with her.
If you want the model to see you as you watch her, or if you prefer to view her hands-free, CamSoda provides free two-way video and audio. It is up to the model and what you discussed with her whether or not she activates cam2cam, so chat with the model about it before the show if this is essential to you. Pay attention to what the notice window says before starting the show, as it indicates whether or not the show contains cam2cam.
Private shows on CamSoda cost an average of $2.40 per minute and a minimum of $0.60 per minute, making the site reasonably priced when compared to other adult chat sites. Not all of the females feature free show recordings, but when they do, you don't have to do anything; the tape is placed in your collection instantly after the show.
Group Chat
If you don't like intimacy or a one-on-one show, CamSoda's Ticket Shows are for you. They're very simple: you buy a ticket (about $6.00 for a full 15-minute show), and if enough people buy them, the show starts and you get a seat. You can enter the show whenever you want as long as it is running. You can also tip the model at any time to further reward it. Tipping her will also trigger her remote-controlled sex toy.
Please keep in mind that if not enough tickets are sold, you will be returned the tokens you paid for the ticket, and you can use the refunded tokens to attend another show. Models frequently start the show even if it isn't sold out, therefore your show will most likely be less busy.
Spy Chat
When you click the "Spy Show" button at the top of the page, you'll be able to see all the cam girls who are currently in a private show but will let you "spy" on them. When you choose your mature mama, a window will appear asking if you want to spy on her and how many tokens she charges per minute. It's a different kind of delight to see a model performing for someone else's pleasure, and you get to be a Peeping Tom looking through the keyhole.
Voyeur Chat
CamSoda has a few voyeur chat rooms that are open 24 hours a day, seven days a week. These rooms allow you to spy on a sexy cam model house, but no model shown in any of these rooms is a milf by any sense of the imagination. You're not missing out on much because these rooms are rarely active.
Unique Features and Extra Content
CamSoda has only one feature that is particularly unique to the site, aside from the abundance of tip-activated sex gadgets and free recording of private shows: the aforementioned live mass preview option. If you think it's useful to be able to hover over a cam room and see exactly what's going on inside, check out CamSoda and try out this function. There is no need to hover over the room; it just works and provides a comprehensive picture of all the rooms on the website. It's wonderful, and no other site does it better than CamSoda.
In terms of supplementary content, several of CamSoda's mature cam models provide prospective purchasers with the usual barrage of risqué video and photographs. These are usually inexpensive, and if you want more of your favorite milf, you'll be glad to have this alternative. It's worth noting that all images and videos you buy are automatically uploaded to your media page, along with your recorded shows.
CamSoda, on the other hand, produces its own professional porn. Unfortunately, while these films have high production values and are available to all users for free, they do not include cam females above the age of 30 and are typically comical in nature. If you're still interested, you may find them at the top of the site in the exclusive videos section.
Mobile Site
CamSoda's mobile optimization is outstanding. It's at the top of my list of the best mobile cam sites because of how well it works on tablets and phones, as well as how convenient it is, not to mention that it's completely bug-free and offers free mobile cam2cam.
CamSoda does not have a mobile app that you may use to access the site while on the go. You simply visit it on your phone and have fun. CamSoda is compatible with all mobile browsers and modern smartphones, and the show should operate smoothly as long as you have a good internet connection.
Premium Membership and Rewards Program
CamSoda's premium membership is only $19.95 a month and includes a bevy of benefits. Here's a rundown of the primary benefits of becoming a premium member: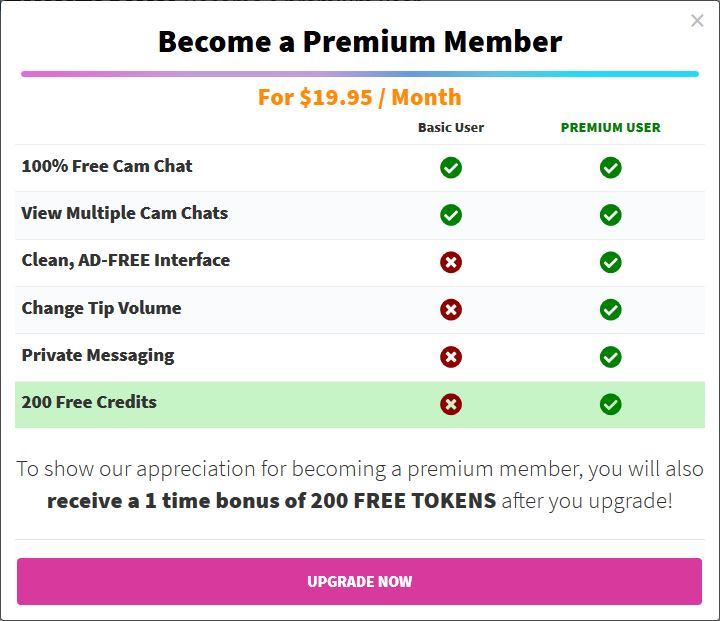 Let me list the benefits in the order they are given:
Clean, ad-free interface - Although this may sound enticing, CamSoda doesn't currently utilize any intrusive advertisements, so it's likely that you won't even notice any changes.
Change tip volume - Although it might not seem like much (pun not intended), this is actually pretty useful. If you want to hear the model clearly, you'll want this when, for instance, you're in a group chat and the tips are flowing.
Private messaging - Regular users cannot utilize private messaging. Any webcam model on the website can be messaged whether or not she is available when you upgrade to premium.
200 free tokens- Given that 200 tokens are roughly $19.95 in value, CamSoda's premium membership practically pays for itself (which is the cost of the membership). There is absolutely no reason why you shouldn't get premium membership in place of tokens if you want to tip milf or take her private. In this manner, you receive the tokens you require as well as additional wonderful advantages.
CamSoda doesn't have a loyalty program, to my knowledge. My best guess is that the site's creators felt there was no need to provide one because the price for using it is already reasonable.
Registration
One of the quickest and simplest registration processes in the porn business—if you can even call it that—is on CamSoda. All you need to do is create a username, email address, and password. You won't even be prompted to confirm your membership by email.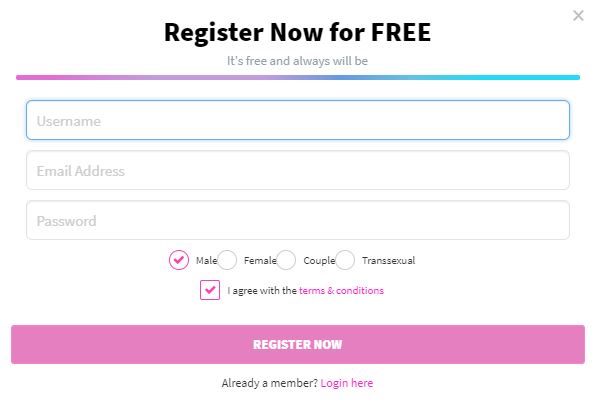 Accepted Payment Methods
The following list of credit card types is accepted:
Visa
Visa Electron
Visa Bleue
MasterCard
MasterCard Maestro
American Express
Diner's Club
Discover
JCB
Switch
The alternative payment options are as follows:
PayPal
CCBill
Bank wire transfer
Security and Quality Assurance
CamSoda has you covered when it comes to safeguarding your confidential information and transactions. To safeguard your privacy and guarantee that your connection is secure, the website uses the HTTPS protocol and SSL encryption. In order to handle your payments securely and quickly, it also makes use of Epoch and SegPay.
Additionally, CamSoda collaborates with three non-profit groups (RTA, SafeLabeling, and the ASACP) to ensure that none of the cam models employed by the website are minors. This prevents you from being included on any "list," among other things.
Additionally, CamSoda ensures sure you receive what you paid for. For instance, if you face any technical issues while watching a paid show, you can contact CamSoda's customer care to get a token refund as long as you do it as soon as the issue arises. The customer service team at CamSoda will then assist you in fixing the problem so it won't happen again.
Customer Support
If you have a technical or payment issue, CamSoda's extensive FAQ and customer service department will provide you with detailed guidance.
For individuals who are having problems with their bills, CamSoda offers live chat. Unfortunately, email is the only method available for contacting customer help if you are experiencing technical difficulties. Camsoda's customer support is slow and you'll need to be patient, but they typically respond within a day or two and take care of any issues swiftly.
In Conclusion
There's a reason why this website is well-known for being among the top freemium sources for free X-rated action online. You can spend hours just perusing all this site has to offer due to the absurdly large selection and countless tags and categories. Not only are there a lot of performers, but there are also a lot of various genres, costumes, and show types, and the Mature category is no exception. Since this is mostly a young girl's activity, there are undoubtedly fewer options available. However, it's definitely worth checking out the MILFs who impart their knowledge and sexcapades down the years.
---
Camsoda Mature Reviews