We had the chance to be among the first reviewers to check out Cherry.tv, one of the newest cam sites available (opened mid-2021). Cherry.tv is a platform that blends social media, games, and the power of live broadcasting. This offers consumers an exceptionally enjoyable and engaging experience that encourages them to return over and over again. The majority of the day, there are approximately 100 cam models live streaming in HD on this slick, ad-free platform, which is simple to use and entertaining. The majority of their performances are broadcast in good HD at 720p, with an increasing number of models streaming in 1080p.
Cherry.tv Pros
Intuitively easy to use interface
HD broadcasting - You won't find girls broadcasting at a quality lower than 720 pixels
Loads of beautiful cam models just waiting to play intimately with you
a point system dependent on the user's level of activity
Clean and uncluttered design
Extremely engaging and interactive shows
Cherry.tv Cons
No Cam2cam on mobile or desktop
Small model count
Mainly young and amateur models
---
Juicy Details: Exploring the World of Cherry.tv - A Comprehensive Review
Is Cherry.tv Legit?
Given the super high rating of 95 that the business received on scam-detector.com, the cherry.tv review is very straightforward. As an authority website vetted online 2 years ago, the business is, without a doubt, Trustworthy. Quality. Safe.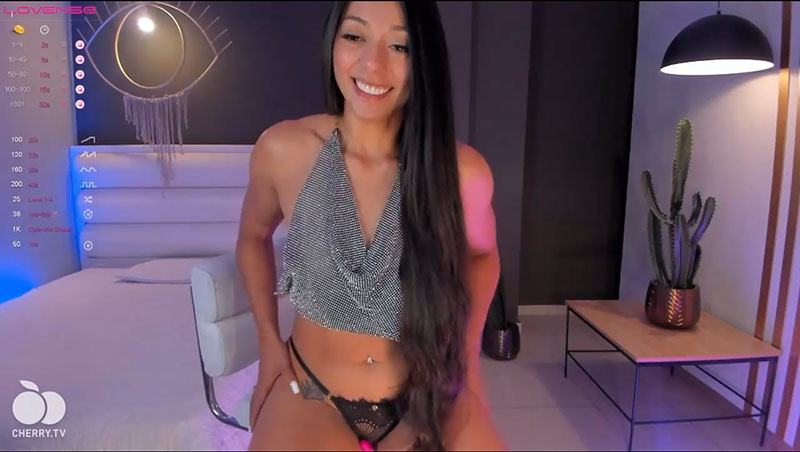 What is Cherry.tv?
You can view free live cam shows of sexy models on Cherry.tv. Free users can browse the website, view live shows, and comment on them, but they are unable to join private shows or communicate privately with models.
Those who have purchased packages of tokens or have access to the Club Cherry VIP plan can direct performers by tipping them and choosing what they want the model to do on-screen. The age requirement is 18 or older. Even couples that engage in sexual promiscuity are welcome to join the service, which admits users of any gender and sexual orientation.
If women desire to work as adult models, they can apply on the platform as live streamers if they first sign up as ordinary users.
Overview
Cherry.tv launched in July 2021, and since then, it has won a number of accolades. They were chosen by two significant organizations that monitor the online adult market as the "Best Emerging Platform 2021" and the "Best Emerging Business 2021." These honors are a true testament to the platform's efforts to get where it is today and provide strong grounds for optimism for its future expansion and success.
Some of the characteristics that are typical features on other cam sites, including cam2cam and purchasable premium material, are not yet available on Cherry.tv because it is still in its beta version. The site's clean, ad-free homepage, fetish-friendly cam models, superb HD webcam feeds, up to 1080p, and optimized mobile platform, however, are all deserving of praise and recognition as some of the glossiest out there.
The Models
The Girls
Cherry.tv's females are some of the hottest we've seen in a long time. The number of models available online wasn't very large ( around 100) , but this is a brand-new service, and we expect a large number of models to flock to it if the quality remains high. When you scroll to find a female on Cherry.tv, you'll notice that each of them has been assigned a level, letting you know whether they're new to the site or have been there for a while. As a user, you have a level that starts at 1, but as you tip them and attend concerts, you begin to level up and gain "status" on the platform. Because you have a platform-wide level and a room-specific level for each model, this lets the models determine whether you are a new member or if you have already visited their room. We adore this function because it informs models about who has previously spent time and money on them, who is new, and so on.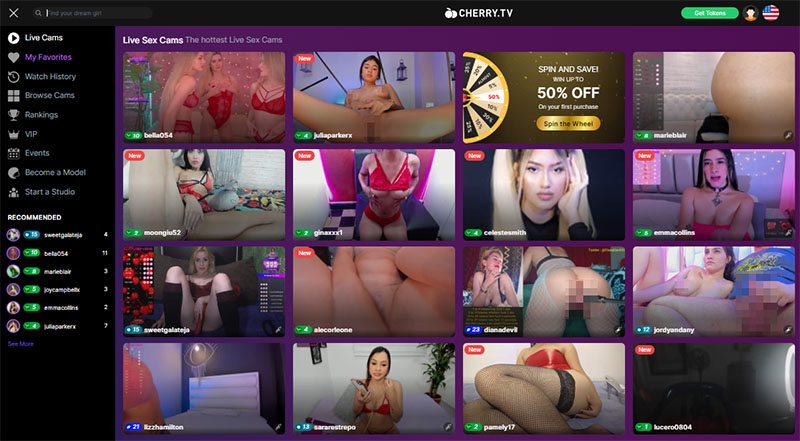 You can also send virtual gifts to your favorite females that appear on the screen, you have rankings for both models and users, you can unlock advantages as you level up, and there is a progression bar in each model room so you know their level status and what they need to get to the next one, and more! It's just a lot of fun to see live concerts because it generates a sense of collective and community, but you can also take your girl to a private or group event.
The Trans
On Cherry.tv there are around 10-15 trans online at any given time. We are confident that this figure will rise as the site continues to seek sexy models of all types, including chicks with dicks.
The Guys
Because Cherry.tv does not have a category listing for male cam models, lovers of gay, bi, and straight guy live cams should visit our list of the best gay cam sites.
Cherry.tv Feature Highlights
Cherry.tv boasts several standout features that make it a unique and exciting cam site. Some of the highlights include:
Rankings: Models are ranked based on their performance and popularity, allowing users to easily find and connect with the top performers on the site.
Live Cams: Cherry.tv's live cam feature allows users to watch models perform erotic stunts and free play in real-time.
Events: Users can join virtual events and celebrate special days with Cherry.tv's models.
Spy Shows: Cherry.tv's Spy Mode feature allows users to watch private shows without being able to communicate with the models.
Private Show: Users can take their favorite performer to a more intimate experience by choosing a private show. Each performer sets the price and minimum time per show.
Group Show: This feature allows up to six users to join a private room with the performer and interact with them.
Free Shows: These popular shows are free to watch, with viewers encouraged to tip and send virtual gifts to the models.
Turn Me On: This feature allows viewers to send tips toward an active goal, with the model performing for the entire room once the goal is reached.
Follow: Users can follow their favorite models to easily find them on the site.
Customizable Chat Settings: Users can customize the color and settings of their chat for a more personalized experience.
Club Cherry: This VIP club offers exclusive benefits, including private chatting with models, animated and seasonal gifts, and more.
Animated and Seasonal Gifts: Club Cherry members can send animated and seasonal gifts for a more enhanced experience.
Status and Level: Cherry.tv features a tiered system of levels for models and viewers, representing their progress on the platform.
Model Profiles
When you are in any of the various chat rooms, you may see the model's profile, which appears beneath the video screen player.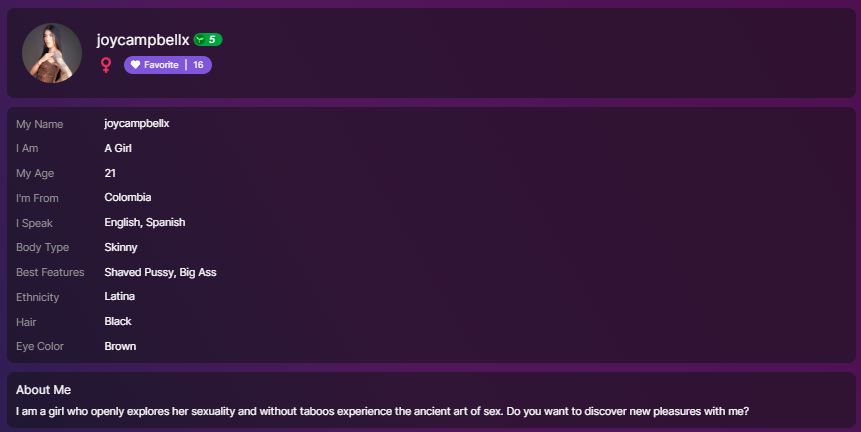 Cherry.tv profiles only have a few details. Only the most fundamental details are displayed, including username, gender, age, location, languages, and the number of followers.
Members can include their social media handles so that their followers can search for them elsewhere, especially for female models. Moreover, profiles have sections like "About Myself" and "Likes." Only one photo can be added by a member to their profile.
Three tiers are available on Cherry.tv: one for the models and two for the viewers. Icons on the left side of the username will show the levels. While models will only have one icon, viewers will have two.
This applies to all Cherry.tv performers at the streamer level. Streamers can move up the levels via streaming, earning tips, and hosting individual and group performances. They start at level 1. To the left of a model's username, a symbol displays her Streamer Level.
Contributor Level: This level is open to all viewers on the platform. The level is determined by the viewer's contributions to models and depicts the viewer's trip across the platform (through tipping, partaking in private and group shows, etc.). To the left of the username, the icon denotes the Contributor Level.
Loyalty Level: This level displays a viewer's progress within a specific model's room (how much they have contributed to that model). Your most fervent supporters will be users with a higher level of devotion. The Loyalty Level is indicated by the tiny round icon next to the username.
Despite the website's efforts to flag dubious accounts, complaints of fraudulent profiles persist, particularly with regard to male accounts.
Chat Options & Prices
Free Chat
The free chat rooms on Cherry.tv provide a lot to watch and take pleasure in. Basic subscribers have access to totally free live cam shows where models can act however wild they like. There are several creative and entertaining emojis that let you ask the model to perform a specific activity. Though there are many options, the most popular requests are Blow Kiss, Flash Tits, and Show Ass .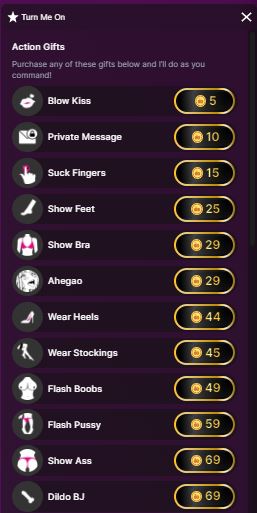 Many cam females online take pleasure in employing interactive sex toys like Lovense and OhMiBod. They are amusing for both the model and you since they trigger the sex toy in a variety of ways that vary in intensity and duration depending on the tokens sent.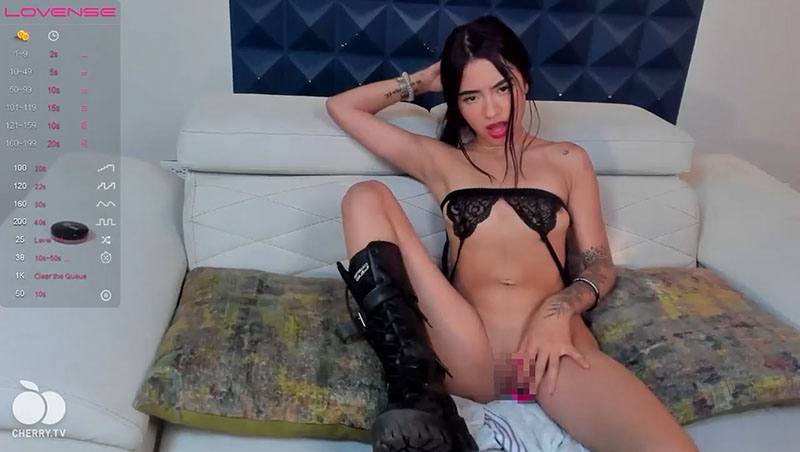 Private Chat
Entering a private chat session is your best option if you are enjoying a show from one of the online performers but would like to control the action a little more or you want all of their attention to be focused completely on you. You can have much closer interactions with the cam model in these rooms. The models specify the minimum number of minutes and the tokens per minute rate.
To begin a 1-on-1 session, the majority of models ask for 3 to 10 minutes of dedicated private show time. There are many models who do not make this requirement and will begin performing at a minimum of 1 minute if you are not into this sort of thing.
Although some models may be found for as little as $0.60 per minute, Cherry.tv's average price for a private show session is $3.00 per minute, making it one of the least expensive cam sites online. This is a fantastic value given the available expert performers and amazing HD cam quality.
Group Show
Simply choose the Group show option if you want to make use of all the wonderful advantages of a private chat session while greatly lowering the cost. With this function, up to 6 individuals can split the cost of the model's private chat while watching a private show. With Cherry.tv, it is by far the most affordable option to watch live sex shows.
Video Quality
Almost all chats on Cherry.tv are broadcasted in high definition at 720p or even better, at 1080p and the picture quality is great. I have spent long hours on the site and I have never suffered any video stuttering or frame rate issues. In addition, like other similar premium live adult cam websites, users can watch shows at full screen, which definitely enhances your viewing experience.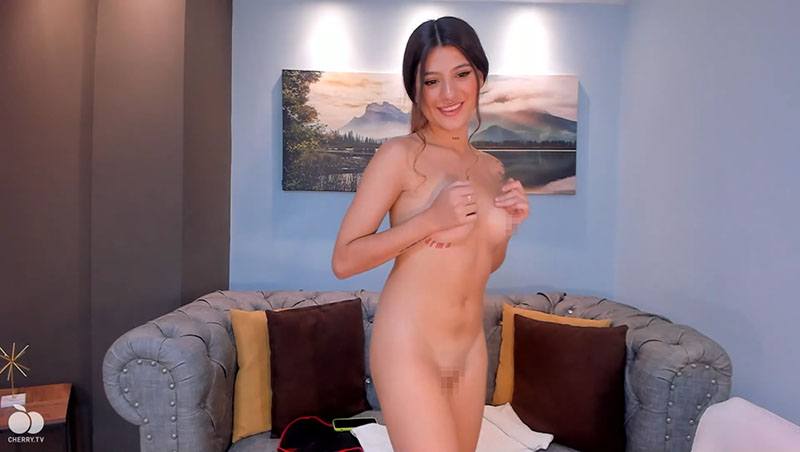 The video player has several different quality settings; if your internet is slow or you have low bandwidth, switching to a slightly lower setting might assist. By clicking the gear icon that can be seen in the video player's lower right corner, you can choose from any of the available streams.
Cherry.tv's Mobile Site
The website works especially well on mobile, perhaps even better than on a desktop. It works fantastically well on the phone and looks great on its smaller screen. If you want some adult entertainment on the go, you couldn't do better.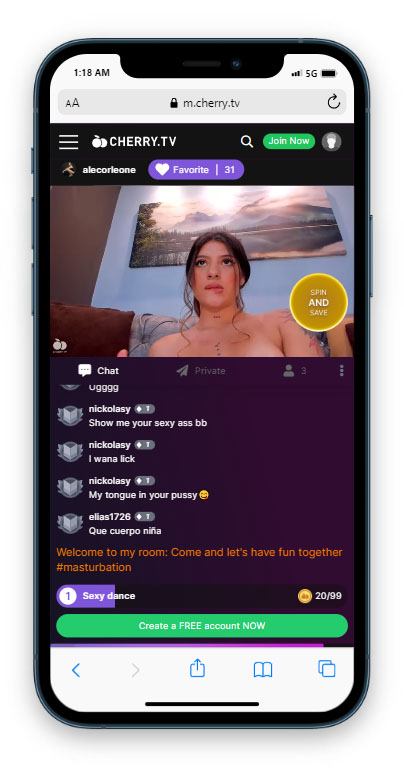 There's no need to download any app, Cherry.tv just works. You open your browser on your phone, go to CCherry.tv, and viola - instant cam porn fun. On top of this, Cherry.tv is possibly the only cam site I know that managed to implement the chat box properly, allowing you to chat without significantly obstructing the action.
Although it is not currently possible on this webcam site, considering the changes made to the site since its release, cam2cam communication from your mobile device does appear to be a real possibility in the future.
Registration on Cherry.tv
On a Desktop you can watch videos in high definition and full screen without having to log in, and there also doesn't appear to be any kind of time limit.
Therefore, if you want to make the most of the site, you'll need to create an account. Signing up is easy because the form is standard and requires almost no personal information from you beyond an email address.
As a registered member you can watch live shows and interact with the models via chat during the open shows. Of course, sending a large tip to a model who catches your eye is the greatest approach to capturing her undivided attention. To do so, you must first acquire some Cherry.tv tokens to spend on the website.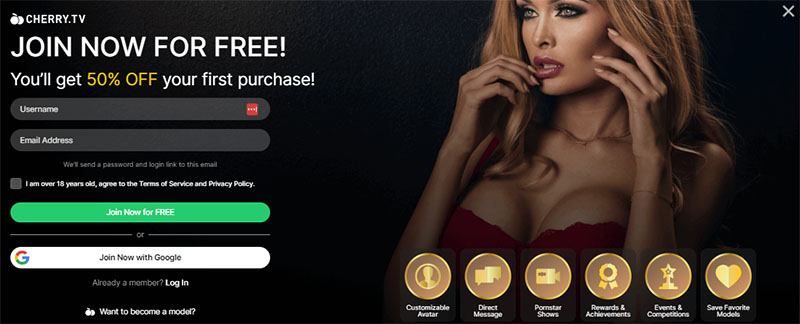 Cherry.tv Currency
The regular credit card deals go from 100 tokens for $9.99 through 1,000 tokens for $99.99 so that's 10 tokens a dollar and no discount. Except there are extra "free tokens" with the larger packs.
$9.99 gets you 100 tokens, that's 10 cents each and no discount
$19.99 gets you 210 tokens, so 10 extra free (+5%)
$29.99 gets you 320 tokens, so 20 extra free (+7%)
$49.99 gets you 550 tokens, so 50 extra free (+10%)
$79.99 gets you 900 tokens, so 100 extra free (+13%)
right up to
$99.99 gets you 1,150 tokens, or 150 extra (+15%).
The larger tokens packages provide the best value because they include bonus tokens, with the largest available tokens package netting 15% more tokens than the token value of the lowest available tokens package.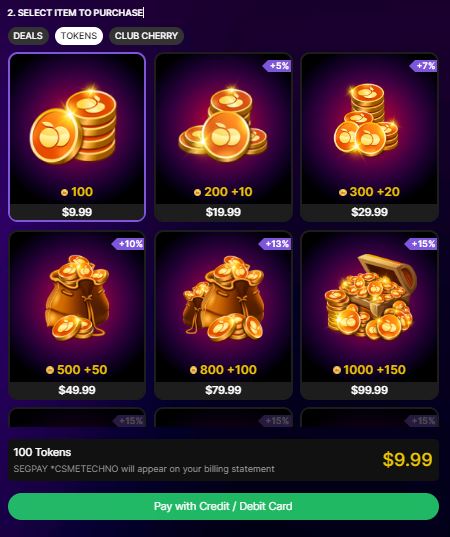 Payment Options
Hit the Get Tokens button and see that there are four different methods to get the tokens:
SegPay – that will be charged as "SEGPAY *CSMETECHNO" to a credit card. Visa, Mastercard, Diners Club, JCB, Discover and Maestro are all accepted.
Epoch – with the same deal minus the Discover card.
Wire transfer – which needs you to contact support and gives no clue as to what the rate will be
Crypto – which means cryptocurrencies such as Bitcoin and Ether. They actually have a very long list of coin options, including Bitcoin on the Lightning Network, as this is processed via the CoinPayments gateway.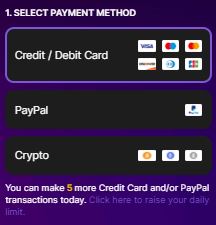 Customer Support
Detailed FAQs are available on the website. You can also leave a message for the customer service staff, and they will get back to you right away. Cherry.tv gives connections to the payment processor at the bottom of the page so that users can contact them with any billing inquiries.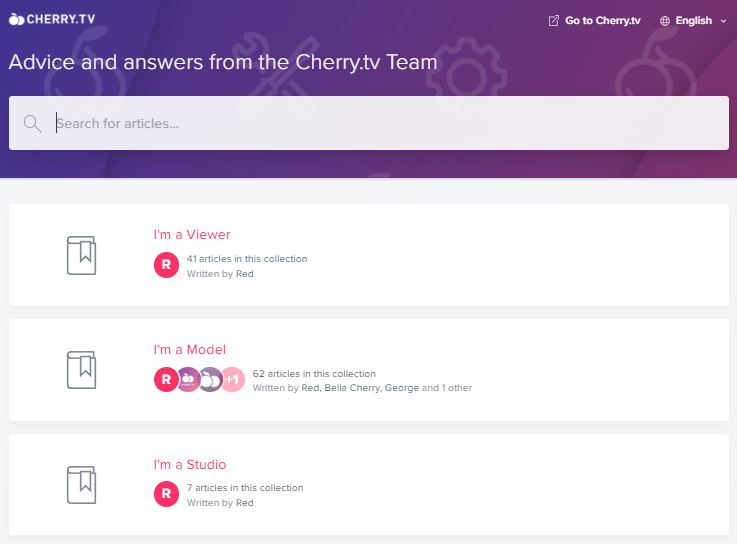 Premium Membership
Cherry TV also offers a monthly membership that is less expensive than other sites but does not include anything beyond the initial 200 free tokens and "XP" or "experience points". It is only valid the first time you purchase a monthly membership; you will not receive it again even if you keep your existing membership.
Membership is $17.99 per month and is renewable. You receive the following benefits as a member:
For the first month, you will receive 200 free tokens.
To attract more attention, use badges and animated entrances while entering the chat.
The ability to communicate privately with the models
The chance, but not the guarantee, of becoming a room moderator
Membership makes you a "ClubCherry VIP," and as a VIP, you may receive some extras, but these are not revealed ahead of time, so you should consider them an extra, not a cause to sign up.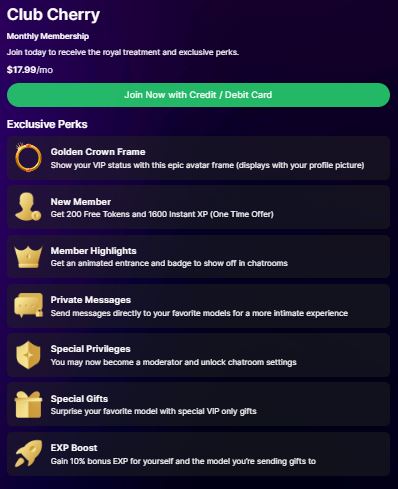 THE PROS & CONS
PROS
✔ Intuitively easy to use interface
✔ HD broadcasting - You won't find girls broadcasting at a quality lower than 720 pixels
✔ Loads of beautiful cam models just waiting to play intimately with you
✔ a point system dependent on the user's level of activity
✔ Clean and uncluttered design
✔ Extremely engaging and interactive shows
CONS
✖ No Cam2cam on mobile or desktop
✖ Small model count
✖ Mainly young and amateur models
Conclusion
In conclusion, Cherry.tv is a promising and unique cam site that offers an immersive adult entertainment experience. With its focus on interactive content and a user-friendly interface, users can enjoy a personalized and engaging experience with performers. The site features a diverse range of performers, from amateurs to professionals, and offers high-quality streaming that enhances the overall experience. While a paid subscription is required for access to premium content, the site offers affordable packages to suit different budgets and preferences. Overall, Cherry.tv is a great choice for those seeking a more interactive and enjoyable cam site experience and is definitely worth considering for anyone interested in exploring the world of online adult entertainment.
---
Cherry.tv Reviews
We don't have any reviews yet. Please share your experiences with other visitors and write a review about Cherry.tv.