The straight and gay male hosts from ImLive's platform are included in Supermen, the company's white label. We want to take this opportunity to remind you once more that while the model catalog, technology, and features for white labels are identical to those on the main website, the accounts, credits, customer service, and other related components are not.
Supermen Pros
Cheap private chats
Free C2C in privates
Discount Clubs
Great sex chat platform
Supermen Cons
Limited free chat
Few HD chat rooms
Few options for making a payment
---
Supermen review 2023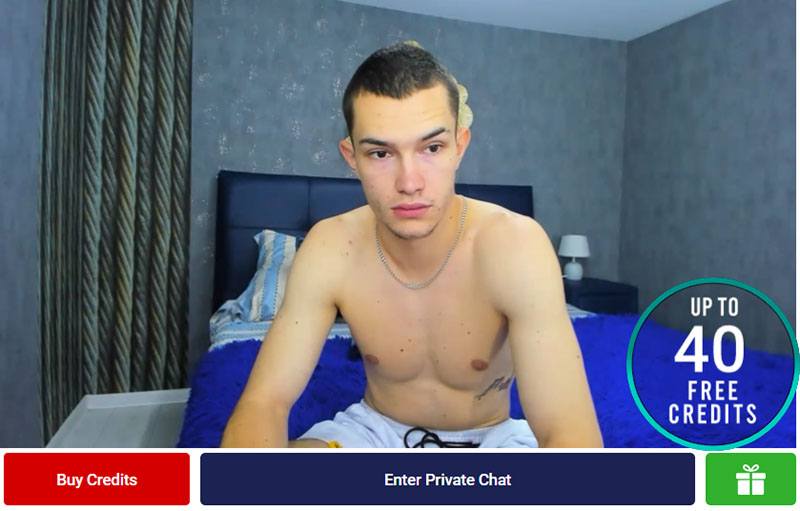 Many websites have the vibe of an amateur clubhouse where anyone can hang out, and there are bodies everywhere you look. But Supermen gives off the impression that you've come to hang out, meet friends, and perhaps even conduct some lewd business. The handsome hotties are hosts in addition to being performers. Most of them are covered up in the free chat, but a surprising number are at least shirtless. When you arrive on the main page, you will have a challenging task to complete: choosing due to quality rather than quantity. But don't worry. You can find your bearings and make choices based on everything from physical characteristics to kinks and sexual preferences using the excellent advanced search in the upper right corner of your screen.
The models
Around 70 or 80 of the 8,000 gay and bisexual men who have signed up for this sex cam paradise will be online and available to chat with you whenever you're in the mood for some XXX shows. You won't have trouble finding a sex chat partner because most men here are amateurs, but they are all attractive.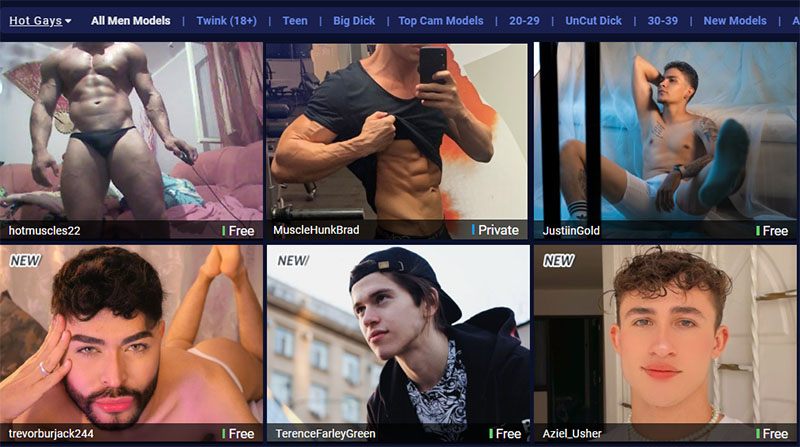 SUPERMEN FEATURE HIGHLIGHTS
Sharing amateur gay videos and other content that might interest Supermen.com members is the main focus of the service. It is a webcam site that lets users share personal videos and connect with like-minded individuals. The webcam chats, views, one-on-one private chats, and other features are the foundation for all of the features. The service is not focused on creating committed gay relationships but on the human desires and close-knit interests that each member can explore here and apply to their private lives.
A button labeled "live sex chat" is at the top of the page. You can engage in live chats in a variety of ways here. Each chat's cost is determined by the gay model. It might cost a lot of money or be free. Free live sex chats, private 1-on-1 sex chats, celebrity shows, videos made by gay models, candy stores, photo galleries, and much more are available here.
You can pick between regular adult videos and porn stars on the website. There are no unoccupied hours during the service's 24/7 operation. Face-to-face communication is the most sensual and private experience on the Supermen cam site, which can result in personal encounters and even relationships.
Other outstanding qualities include:
The streaming quality is excellent
At any given time, there are about 70 live gay chat rooms online.
Happy Hour chat rooms - Discounted shows that run all-day
Members can have private gay chats to engage in one-on-one intimacy
Most hosts provide free chat rooms
The search tool makes it simple to find a low-cost chat room
There is a free search box, a sort tool, and an advanced search option among the search tools
Numerous online studs have accessories and toys
The website provides articles, blogs, and a sizable VOD section, in addition to adult webcams
Members receive enormous discounts, bonuses, and benefits
Information about gay hangouts can be found in the Local Spot section
Users can access the men's photo-filled profile pages.
All mobile devices can access the website
Every private gay chat includes Cam2Cam
The sexiest webcam hosts can be found at Hot Rooms.
GETTING STARTED
To join Supermen.com, you must purchase credits, but other than that, the procedure is quick and easy. You become a standard member by simply listing your information and selecting a credit package. To upgrade your membership, what should you do? Simply collect bonus miles; however, I will go into more detail about this later.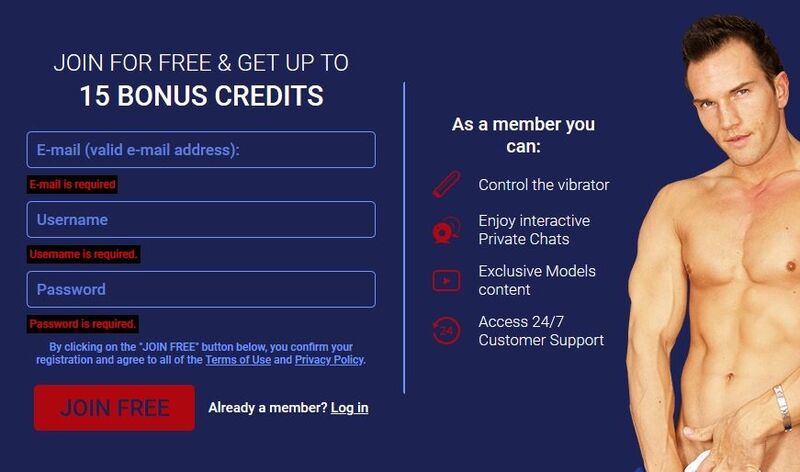 Chat Types
Supermen allows free chat, but the sexy things only take place in paid chats. The free live cams can still be a lot of fun because of how much personal interaction there is, thanks to the attractive professionals who work there.
FREE CHAT
Models with green or blue marks, indicating that they are either free (Green) or already in a private chat, can be found on the main gallery page or in your chosen category (Blue). The free chats allow you to enter, stay as long as you like, and message the host for free. Most XXX pictures and videos are only available to paying members, but hosts who have invested in their profiles will have photos for free.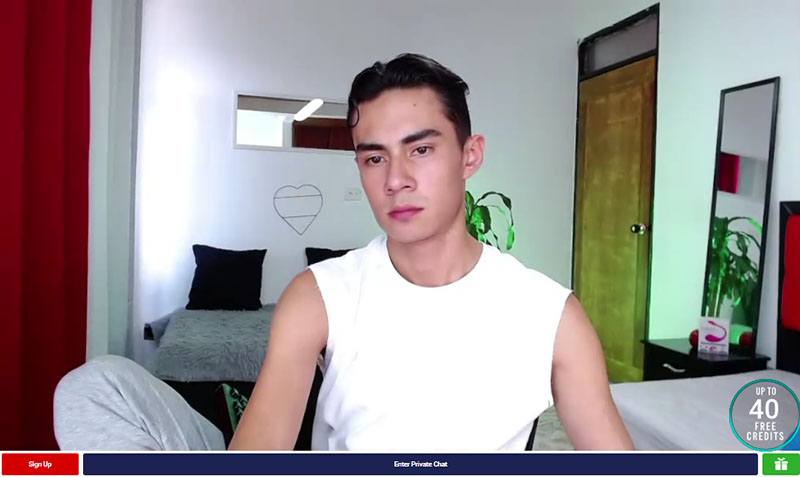 PRIVATE SHOW
The most affordable hosts can go one-on-one for only $1.00/min, while the average private show rate across the site is $2.25/min (these are usually the new hosts). Of course, the amazing cam-to-cam live chats, which are free, are the pinnacle of the experience. Some hosts offer a different way to cut costs, like by 20%, but only if you participate in a chat for a predetermined number of minutes. This implies that you won't get a refund even if you check out early.
CANDY SHOW
Due to the two stages, this affordable chat option allows numerous users to enjoy a performance that feels more like an event. The free preview is the first opportunity to learn more about the host and what he has in store for the show. If you agree, do as other users will be doing and tip and/or gift the model to help the show reach the objective the host has set. The show, which is the second part, will begin once the goal has been accomplished or the timer has expired (this is at the host's discretion). The show will be canceled, and you'll get your money back if the required amount isn't reached.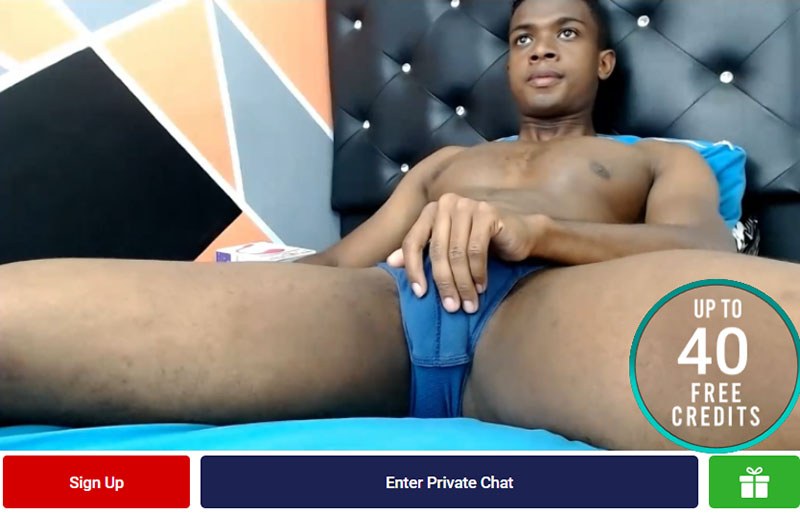 Supermen Price
Some guys think that cheaper is always better when it comes to gay webcams. This is false. Cheaper is only preferable if the sex cam site is of high quality, has plenty of guys, a reliable platform, and live shows you can enjoy; otherwise, you pay little and receive even less. Fortunately, Supermen.com is a very affordable site with naked gays performing for as little as 0.88 per minute, so you won't have to choose between quality and price. If you sign up now, you can get up to 40 credits free at your first purchase.
The frequent flyers program you're familiar with from major airlines is similar to Supermen's mile system. The more credits you purchase, the more miles you'll earn, which translates into greater discounts and free additional benefits down the road.
| | | | |
| --- | --- | --- | --- |
| How Many Credits | The Price You'll Pay | First Purchase Free Credits | The Bonus Miles you'll Receive |
| 25 | $29.95 | 10 | 2 |
| 50 | $58.95 | 20 | 6 |
| 75 | $87.95 | 30 | 9 |
| 100 | $114.95 | 40 | 13 |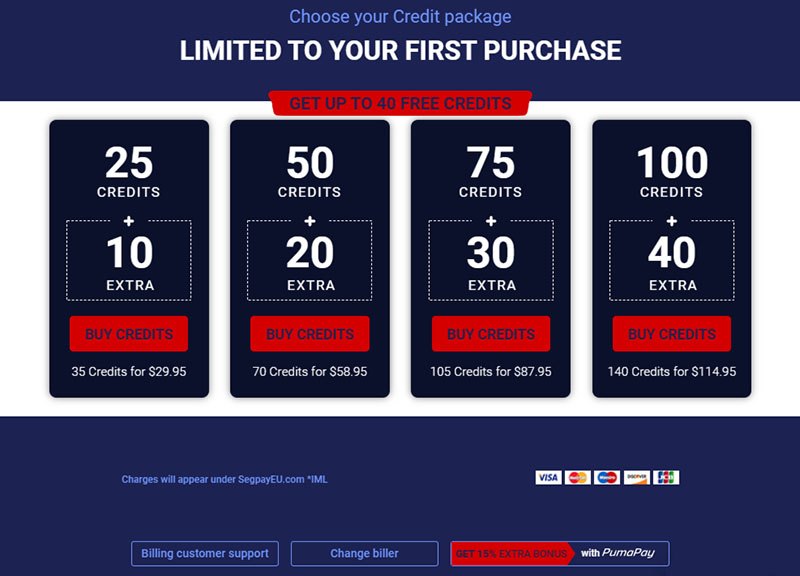 Payment Options
Supermen provides a variety of payment methods and even accepts unique payment methods from European Countries.
The website takes:
Credit and Debit cards including MasterCard, Visa, MC debit, Bleue, Electron, Maestro, Delta, Switch, Solo, Discover, JCB
Paypal
Cryptocurrency
Wire Transfer/Check
Pumapay (Cryptocurrency - By using this method you will receive 15% more credits)
Additionally, from Europe: ideal, Sofort, Paysafe, and Direct Pay EU
Rewards Program
The excellent membership program, which raises your status based on your spending, is an added benefit of sticking with Supermen. Although it takes some time to reach VIP status, you get bonus credits for each level you pass. The four membership levels are as follows:
Benefits for Bronze Members include free access to intro and monthly contest videos, the first 20 seconds of all private chats, full access to hosts' private photo galleries, a discount of 0.60 credits/min on private chats, and free access to pornstar shows.
Silver Member Benefits: Free access to pornstar shows, up to 10 bonus credits per purchase, up to 10 treats per purchase, a discount of 0.70 credits per minute on private chats, and a 25% discount on previous live shows.
Benefits for Gold Members: Free access to pornstar shows, up to 20 bonus credits per purchase, up to 20 treats per purchase, a discount of 0.70 credits per minute on private chats, and a 30% discount on previously held live shows.
Benefits for VIP Members: Free access to pornstar shows, up to 25 bonus credits on every purchase, up to 25 treats, 0.90 credits/min off of private chats, access to group chat rooms that are completely full, and a 35 percent discount on previous live shows.
Certain hosts will offer Discount Clubs for members to join and receive special treatment in addition to the site's general membership. The benefits that each host provides are as follows:
Save even more on 30-minute chats (30% discount) & on 60-minute chats (40% discount)
Get a 0.60 Credits/min. discount on my private video chats
Get a 20% discount per video on all 'Past Live Shows' and videos
Get all your Discount Club membership fee back for video chats
Watch host videos, which regular members pay for, for free
Mobile Site
The site's mobile iteration is even more convenient than the desktop version because it supports two-way video chat via mobile phone. Moreover, the mobile site does not suffer from the same HD and quality problems as the desktop version and operates much more smoothly overall.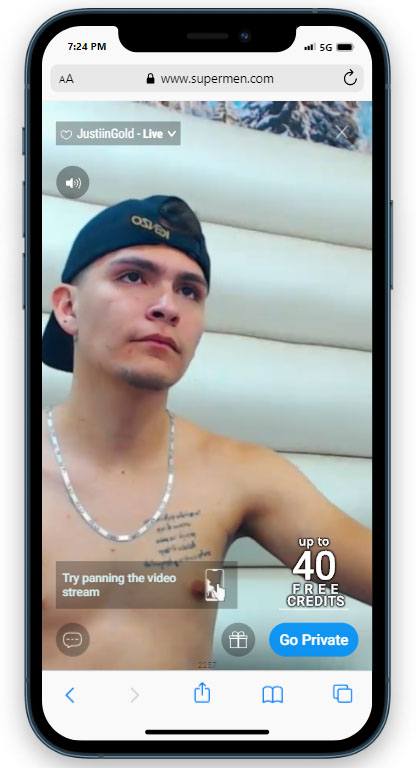 Video Quality
The adult cam site's video chat quality is quite good for a novice site. You can't exactly expect amateurs to all have the best webcams when you chat with them, and sometimes the quality is only ok. Make sure the guy you choose has a decent webcam and lighting. It's simple, there's a free chat, and it should give you a fairly accurate indication. However, resist the urge to start a chat if the camera is pointed in a certain direction. Simply put, you run the risk of seeing a very underwhelming performance.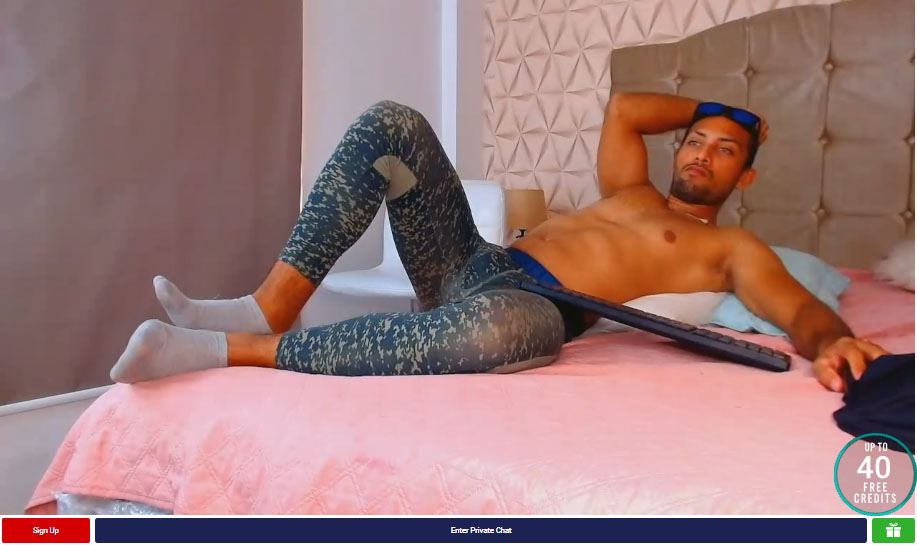 Customer support
There are several options available to you if you require assistance. You can check the FAQ page to see if you can find your solution there to start (notice that you must be a member to see the full FAQs). In vain? Use the "Contact Us" tab, which is located at the bottom of every page, to fill out an online form or send an email.
Pros and Cons
Pros
✔ A wide range of experienced hosts
✔ The mobile site has cam-2-cam feature
✔ The amateur gay men are eager and hot
✔ There are many ways to find the models you're interested in
Cons
✖ The price of a private show can quickly rise
✖ The cost of a private show varies by model
✖ No savings exist when purchasing larger credit packages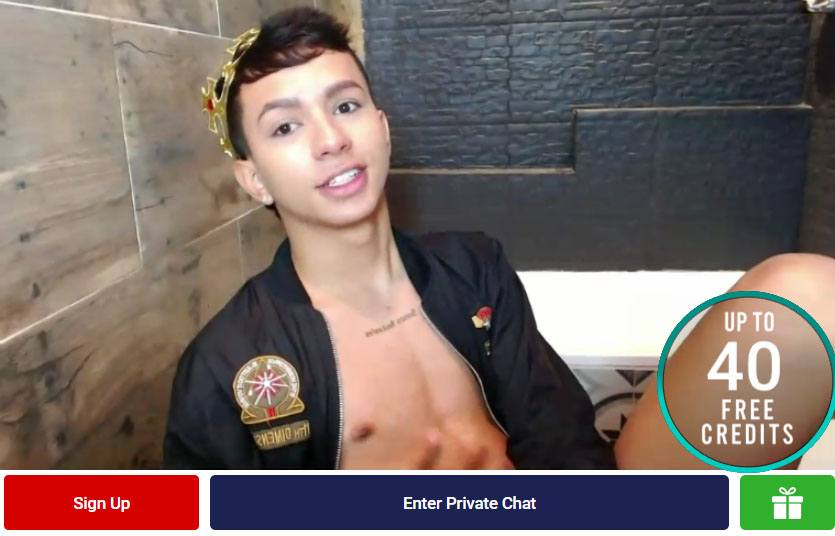 Conclusion
Supermen has a lot going for it, including a large selection of attractive male models, above-average site features, solid functionality, user-friendly design, and competitive prices of similarly featured cam sites. The rewards system and occasional pornstar shows are just a few extras that make this site even more interesting. However, the chat interface could be improved in terms of functionality. There aren't that many models online at any given time (typically only about a dozen), so your options may be limited. Registration and exploration are both cost-free, so there's no reason not to check out the free teaser chats if you're curious. You could end up liking what you see enough to buy for more action...
---
Supermen Reviews
We don't have any reviews yet. Please share your experiences with other visitors and write a review about Supermen.