CameraBoys is a slick website with top-tier males broadcasting in HD from stunning rooms. These men have excellent cameras, seductive charm, and, of course, gorgeous bodies with tasty cocks and giant balls. They nearly radiate sexiness, and when combined with the rest of the site's high-quality features, it's clear why CameraBoys is regarded as one of the greatest gay cam sites.
CameraBoys Pros
Superb video quality
Vast selection of cam models
Exemplary cam2cam implementation
User-friendly and easy to navigate
Perfect for mobile platforms
Fantastic customer support
CameraBoys Cons
Two-way video and audio both cost extra
Limited chat show types
No couples cams
---
Exploring the Hottest Guys on Cam: A Comprehensive Cameraboys Review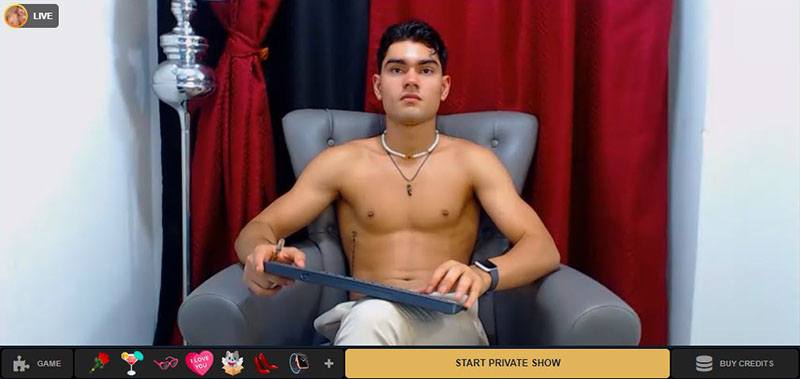 CameraBoys is more than just a premium live sex gay cam site; it's also an A-list premium webcam platform, which means that every model must go through a rigorous audition procedure and be at the top in their field. If you're seeking for a muscle man, the CameraBoys are 8-pack iron boards. Smooth, sensual, and deliciously kinky is what you'll get if you're more of a twink type. There are no shady characters emerging from behind closed doors - these are bold, brazen, and card-carrying members of the horny homo-deviant league.
Unlike freemium sex cam sites, where anybody can register as a sexhibitionist, resulting in thousands of rooms to pick from, CameraBoys has roughly 150-200 hot hommies broadcasting day and night, making it much easier to find a favorite.
The moment the homepage loads, a gallery of male models shows on the screen. Only three pieces of information are included in each heavily staged photograph: the subject's name, age, and user-generated rating. A small green, orange, or grey dot will appear next to their names (I'll explain what this signifies later). A live feed from a model's room will display if you hover over a photo of them with a green dot for a few seconds. It's important doing this before clicking on the image because the photo and reality can occasionally be pretty different (as with anything in life).
The Models
The webcam models available at CameraBoys are incredible. They are not only some of the most professional performers in the field, but they also look like they were plucked from the cover of a magazine.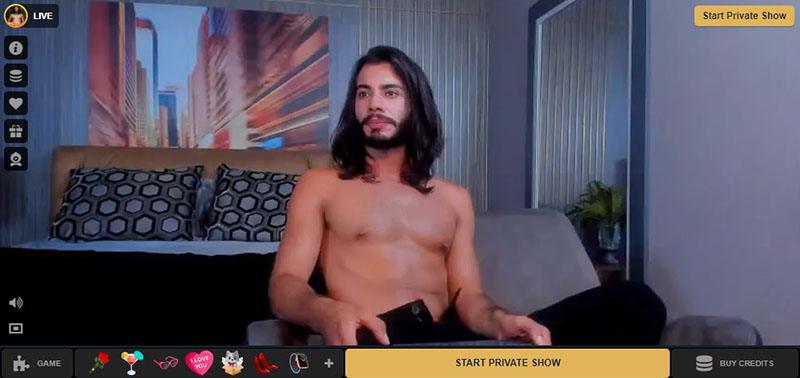 On average, there are roughly 150 live gay cams on the platform, with the majority of them operated by Caucasians and Latinos. You won't waste much time browsing through the site in search of a gay cam show because CameraBoys is specialized to gay cams and features accurate and user-friendly search and classification methods.
The main popular categories can be found on the site's left side. Click the button to the right of the search bar to access advanced search. You can then filter by spoken language, age, price, body type, and other factors.
To access the model's bio, press the I button underneath his small portrait on his stream once you're within a cam room. You'll also see his rating and what he's willing to do in a private show, saving you time from having to ask him.
CAMERABOYS FEATURE HIGHLIGHTS
Let's talk about the colored circles. The guy is hanging out chatting with visitors while waiting for someone to invite him into a private session, as shown by the green dot. The dot turns yellow if this happens. You can't enter the room in this situation since the door is shut and he's getting wet and crazy with someone else. You can always use a Sneak Peek, which is a 20-second door opening glimpse into what's going on if you don't want to wait till his private playtime is complete. It's essentially a peephole through which you can watch but not hear the action.
If the dot is grey, it implies the person is now unavailable, and you'll have to wait till he reopens. Even if he isn't present, you can go into the room and read his bio; many rooms also feature images and short video clips that help you understand his 'assets' and talents. However, unlike the free open rooms, you won't be able to see anything your grandmother wouldn't approve of unless you pay to unlock the premium stuff. All of the good stuff (by which I mean XXX entertainment) is pay-per-view.
An important tip here:
A small box icon with a cross appears in the top left corner when you hover over the photo on the site. A new pop-up window featuring the live video feed and the model's bio appears when you click this. You can open as many new windows as you want without having to close and reopen the feeds all the time.
So now that you know how to find the guy of your dreams, it's time to throw a party - but remember, like anything else, there's a cost. But I know a few things... things that will save you a lot of money.
CameraBoys has sales, just like everything else. Pop-up sales are held by the boys while they are establishing their business or simply bored and want to have some fun. Simply put, they'll reduce their private cam chat charges to a bare minimum - often as low as $1.00 per minute. The discount will last for approximately 24 hours and is not a site-wide event. When he feels like it, each guy has his own sale. My advice is to go to the left-hand nav bar and pick Sale before you begin your search. Look around to see who's present; sometimes the premium posers, who can charge up to $8.00+ per minute, will cut their prices to the bare minimum of $1.00 per minute for a limited time.
Other highlights include:
Spin the Wheel for a chance to double the credits you receive on each credit bundle you purchase.
New users get 10 FREE 20-second Sneak Peaks when they signup.
As a thank you, the site gives you 10 FREE credits when you authenticate your credit card without making a transaction.
Credits can be obtained by redeeming big brand/store gift cards (only available for U.S. visitors).
The site can be viewed in 19 languages.
A high-quality choice of horny guys from all over the world
The webcam hosts are featured in tempting categories including Black, White, Big, Fat & Chub, Monster Cock, Leather and Fetish and many more
Free chat rooms are open around the clock and both registered members and visitors can check them out
Salechat rooms offer nude shows for discounted rates
New chat rooms feature the fresh faces on the site
Any member with credit can join a variety of private gay sex chats
Members can interact with hosts using text or audio
Cam2cam and 2-way audio available, but do cost an additional credit or two, each
The site has a homosexual blog that everyone can access and it includes erotic stories, information and news
There is a separate Award category where users can find the hottest and most popular guys on the site
Members can add men to their Favorite List and receive alerts when these guys are live
Most guys have HD sex cams
The site is accessible from all mobile devices
Picture galleries are available on every guy's profile
Each performer has a profile page where his personal data is displayed
Users can vote for male models they like
Gay couples also perform on the site and you can find them using the categories
The site has a detailed FAQ page
Customer Support is available around the clock
Members can surprise models with a credit gift
Snapshots cost 0.30 credits per minute
Video Quality
CameraBoys' beautiful males aren't the only thing on the menu here. There are also other high-quality video streams available on the site. Most of these streams are in high-definition, and the guys use outstanding cameras to bring you as near to the action as possible. There is an on/off button in every HD-quality room. Unless your network is poor or lacks bandwidth, I recommend leaving it on for the greatest image quality.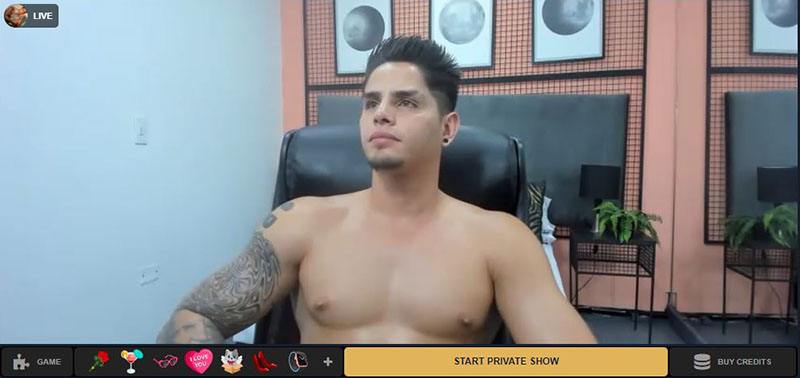 The broadcasts are fast to load and don't have any technical concerns like latency or slow buffering. I can't think of anything negative to say about the video quality on this website.
Not only that, but the shows are excellent complements. The rooms are always clean, the lighting is always favorable, and the camera is always angled so that you can see the full figure.
In short, CameraBoys has a higher production value than most films, whether true or not. The models don't just use the best gear; they know how to use it.
Prices
If you don't filter by price and, say, access the cam rooms on the top row of the web page, CameraBoys, like any premium cam site, can be pricey. However, if you take the time to look around, you'll discover that the site is fairly affordable.
On CameraBoys, a private cam show costs approximately $2.40 per minute, and you can easily locate cams for even less. However, if you enjoy using your webcam, things might get pricey, as both cam2cam and 2way audio will set you back roughly a dollar.
Overall, CameraBoys is not the cheapest gay chat site, but if you opt for the less costly cameras and forgo the two-way video and voice features, it may be very economical.
That's easier said than done, given how beautifully these features are integrated here. You can broadcast back to the model in HD and activate them with a single click. They're available in every private conversation without exception. Despite the higher pricing of its c2c cams, I chose CameraBoys as one of the greatest gay cam2cam services in the business.
It's worth noting that submitting a valid payment method earns you 9.99 credits (about $11.00), which I recommend if you want to try out the site for free to see how you like it.
Chat Types
CameraBoys isn't known for having many chat options. It concentrates on the essentials to provide you with the greatest private shows possible, but this comes at the expense of alternatives. Still, this isn't the place for party cams and the like.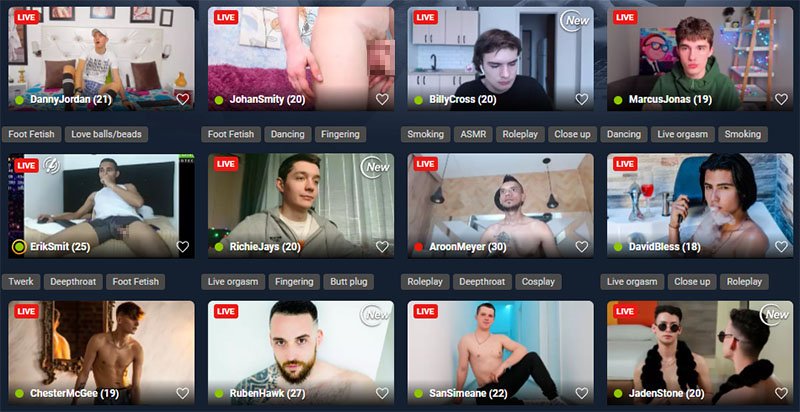 CameraBoys' chat types are described briefly below. You can use the advanced search to find them.
Free Chat
When you initially arrive on CameraBoys, you will see these rooms. They're a good spot to find out what the males like to do in private talks. Because explicit content is forbidden in free chat rooms, you may be led to believe that the males are a little bland. Remember that these gorgeous boys and their dirty bits are all visible in private chat sessions.
Private Chat
The gentlemen can strip, stroke, and play with whatever toys they like during private sessions for your entertainment. In their profiles, individuals describe what they enjoy doing. To mention a few, striptease, dildo, dancing, butt-plug, and leather. The guys below are generally open to various situations, including some kinkier actions not listed in their profile. If you want to know if he'll perform anything you want to see, respectfully inquire, and you'll probably be glad you did.
On CameraBoys, the private chat rates are extremely fair. The typical private chat session is $2.80 per minute, yet you can find guys who charge as little as $1.10 per minute. Cam models who are just starting out tend to have lesser rates, whilst more experienced veterans will demand more.
Other alternatives exist for sharing your camera with the model on the site. The usual private chat rate is increased by a premium for this cam2cam option. Another premium is added if you want a fully interactive c2c session with 2-way audio. On the bright side, these are some of the most thrilling and unforgettable c2c encounters available.
VIP Show
Joining a VIP Show is the third choice and another way to enjoy X-rated amusement online from the boys. Because this option - the VIP Show - is somewhat of a fortunate dip, I said 'in theory' there are three distinct ways to get to know the guys. A guy rarely hosts a VIP Show, but if you do, take advantage of it. The guy places a VIP crown sticker on his window. After that, he has a predetermined amount of time to reach his credit target. If he does, the concert will begin; if he does not, the show will be canceled. To achieve his goal, a sufficient number of us vulgar boys watching must purchase a ticket to the show. The guys get wet and wild quickly, and seats (access) to the event start as low as $1/min. It's a fantastic chance to see the finest peckers for a very modest price. If you buy a ticket and the performance is canceled, your credits will be promptly refunded to your CameraBoys online wank bank.
Peep Show
You might be disappointed if your partner is currently providing a private show to another lucky visitor, but it can actually be beneficial. When you click on his photo, a pop-up box appears, informing you that you can take a look for a reduced price. Although these glances are just approximately 20 seconds long, they are nevertheless entertaining, sexual, and delightful.
Video Call
This is a special CameraBoys conversation type. It allows you to make a video call to a model who isn't online right now by simply dialing his phone number. It's similar to having phone sex, but with video and someone who can truly make it exciting.
Unique Features and Extra Content
By now, it shouldn't surprise you to hear that CameraBoys is light on unique features and extra content. There are the usual photos and videos, both free and paid-for, that nearly every model offers on his page, but other than that; there's nothing else that deserves your attention.
Mobile Site
Assume you're out running errands and have some spare time. You must do something to keep yourself occupied before losing your mind. Of course, you could look at photographs of puppies and kittens on Facebook or Instagram. You may also open CameraBoys and talk with a bunch of hot guys.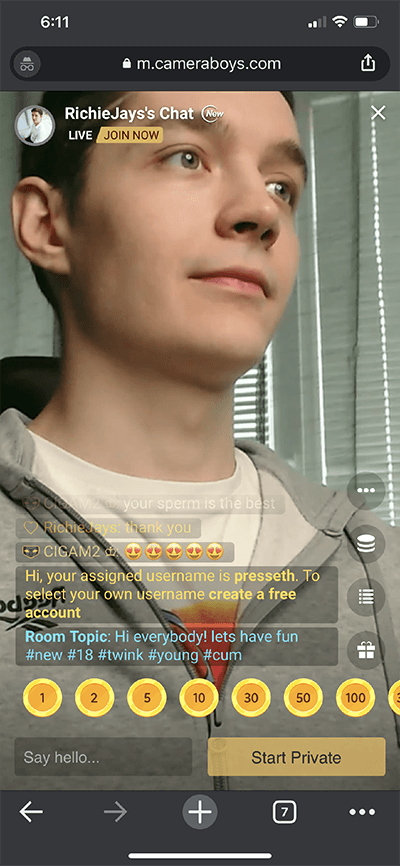 CameraBoys' tech team knows how to create a great mobile experience. The key options and features are exactly where you'd expect them to be, and nothing gets in the way of you enjoying the view. In terms of stream consistency and quality, mobile video quality is comparable to desktop. CameraBoys stands out even more from the competition by offering mobile cam2cam with and without 2-way audio, easily ranking among the finest gay chat sites for c2c.
If you're seeking for guys who are streaming live from their mobile devices, the site has a function called Mobile Live, which displays you who is streaming live right now. The camera adjusts itself to keep the spotlight on these handsome studs and their amazing bodies. They occasionally stream from breathtakingly beautiful locales for your viewing pleasure. Of course, they may be relaxing at their favorite neighborhood coffee shop. Following your jizz-filled boyfriend around town, regardless of location, is immensely enjoyable and intimate.
MEMBERSHIP BENEFITS
There is no premium membership or rewards program on CameraBoys. Nothing on the site is restricted to premium users; all features are available to all registered members. The site is also of sufficient quality to avoid enticing its users to stay via a rewards scheme.
There are, however, unique bargains and promotions that the site offers from time to time, such as the "Spin the Wheel" promotion that is currently available on the site. For example, this deal allows you to spin a wheel for an additional percentage of bonus credits on your first purchase. It's good to have, but it's mostly a means of attracting new clients. CameraBoys' creators trust their product to keep them on the site once they've arrived, and it typically does.
BECOMING A MEMBER
Becoming a member of the site is completely free and simple. You'll need a valid email address, a password (that you choose), and a username (yes, it's time to reveal your secret identity). The website does not request any personal information. And, while we're on the subject, if you're looking for porn and a site asks for more than those three things (plus, perhaps, your year of birth - after all, it's adult entertainment), I'd be wary.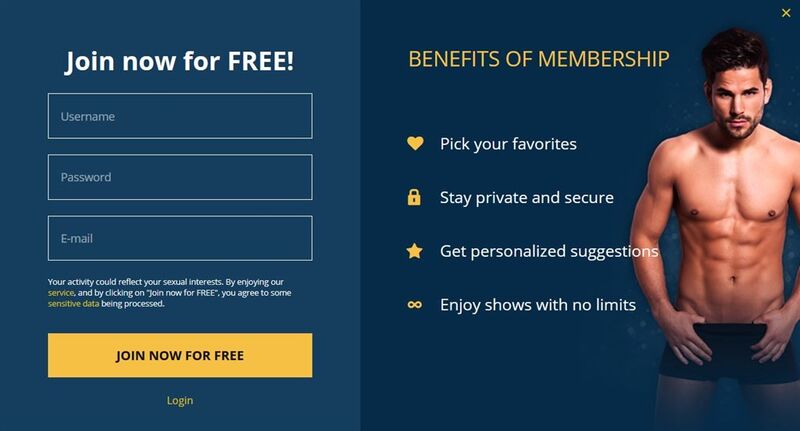 Every site I recommend has been thoroughly investigated to ensure that it is legitimate, secure, safe, and completely trustworthy. I leave a website if I have a fuzzy sensation about it (not in a nice way).
There are a few compelling reasons to become a member (especially since it costs nothing and takes less than a minute). If you aren't logged in, you will only be able to stay in a cam host's public chat room for a few minutes. A pop-up box will appear, requesting that you join the site. If you don't want to for any reason, you must exit the area and either refresh to enter or try your luck in another dude's realm.
But what's the most compelling reason to join? Those fantastic FREE Sneak Peeks.
After enrolling, input a valid credit card to collect your free 9.99 credits (about $12.00). The site will charge you one credit to verify that it is authentic, then reimburse you automatically.
Accepted Payment Methods
CameraBoys accepts both credit and debit. The accepted card types are as follows:
Visa
Visa Electron
Visa Bleue
MasterCard
MasterCard Maestro
Diner's Club
Discover
JCB
And these are the available alternate payment methods:
PayPal
PayGarden
WebMoney
Bitcoin, Litecoin, and more than 50 other Altcoins
Bank wire transfer
Security and Quality Assurance
CameraBoys is one of the safest and most private gay cam sites around. It uses the most up-to-date internet security methods to protect your connection, encryption to protect your data, and reputable billing processors to protect your payments.
Furthermore, transactions display on your statement under a generic name, so no one but you will be aware of your hobby.
Regarding quality assurance, CameraBoys makes every effort to ensure that you receive exactly what you paid for and that you are fairly repaid if you do not. You'll receive your money back if a model refuses to perform what he specifically wrote down in the In Private Chat. I'm willing to perform a piece of his bio, because the model is contractually bound to do so.
There's no way you'll ever feel duped after visiting CameraBoys. On the contrary, based on my experience with the site, you'll usually get a lot of bang for your buck. The fact that the quality isn't up to par with the site's claims should be the last thing on your mind.
Customer Support
CameraBoys is a premium site through and through, thus they have an excellent customer care team available to you 24 hours a day, 7 days a week. You can always contact us by email, phone, or live chat if you have any problems while using the site. They also provide phone numbers for billing questions and issues.
By scrolling to the bottom of the page, you can access both the customer service page and the FAQ section. It will keep loading more cams. Therefore I recommend pressing the End key on your keyboard.
THE PROS & CONS
PROS
✔ All rooms have high-quality video streaming.
✔ When you validate a credit card, you'll get 10 free credits (no purchase necessary)
✔ When you first register on the site, you will receive 10 FREE Sneak Peeks.
✔ Cam2Cam on a smartphone
✔ A wide range of payment options
✔ Before each purchase, 'Spin the Wheel' to win more credits.
✔ Customer Service available 24/7 including live chat
CONS
✖ Cam2cam and 2-way audio cost extra
✖ No nudity or X-rated action in the open chat rooms
✖ Unrewarding membership program
✖ There are only a few different types of sex shows.
One final word
CameraBoys specializes in catering to the gay community. The site's men provide various services, such as public gay cam shows, private gay cam shows, free content, premium content, and phone sex chat. With device optimization, you can connect with your favorite gay webcam performer whether you're at home or on the go. Sign up and enjoy them on your next business trip if you like. CameraBoys has done an excellent job of attracting the most attractive men. The site's diversity is impressive, and the models on the site speak a variety of languages. Let them show off their bodies and entice you with their passion, personality, and seductive abilities. To access more features, visit Adult Cam Reviewer and create an account. An account is free, the men are stunning, and there are fantasy studs online all day and night.
---
CameraBoys Reviews
We don't have any reviews yet. Please share your experiences with other visitors and write a review about CameraBoys.