SexLikeReal is a revolutionary virtual reality porn platform that takes adult entertainment to a whole new level. It's like having your own personal sex genie who can make all your wildest fantasies come true. With cutting-edge technology and a massive library of high-quality content, SexLikeReal will transport you to a world of intense pleasure and excitement. Imagine being able to step into the scene and feel like you're actually part of the action. That's precisely what SexLikeReal delivers. Whether you're into BDSM, threesomes, or just good old-fashioned one-on-one sex, SexLikeReal has something for everyone. It's the ultimate porn experience; once you try it, you'll never return to regular porn again.
SexLikeReal Pros
High-quality streaming up to 4K and over 6K for videos
Over 11,000 videos to choose from with more than 18,000+ scenes available
Unlimited time in free open rooms with explicit content and models are VR ready
Mobile app for convenience and accessibility
New scenes added daily, and over 200 new scenes each month
Pay-per-view options available for flexibility
Virtual reality cams integrated
All models are experienced and passionate about performing
User-friendly interface and navigation
Regularly updated content from various studios
SexLikeReal Cons
Lack of customer support options other than writing in, and no FAQ section available
Limited number of live chat minutes
Small number of cam rooms and no categories for sorting
Higher pricing for both pay-per-view and subscription options compared to some alternatives
---
SexLikeReal Review - The Ultimate Virtual Reality Cam Experience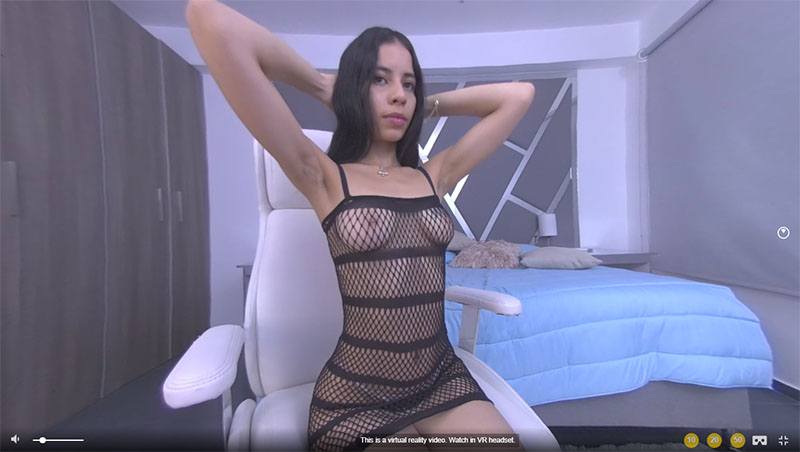 Overview
SexLikeReal is the ultimate virtual reality porn platform taking the adult entertainment world by storm. With its impressive library of high-quality content, cutting-edge technology, and passionate performers, SexLikeReal offers an unparalleled porn experience that will leave you begging for more. Imagine stepping into your favorite porn scene and feeling like you're part of the action; that's precisely what SexLikeReal delivers. Whether you're into kinky BDSM, steamy threesomes, or just good old-fashioned one-on-one sex, SexLikeReal has something for everyone. You'll have access to over 11,000 videos, all in high-quality streaming up to 4K and over 6K for videos. You'll never run out of options with new scenes added daily and over 200 unique scenes each month. While it's true that the pricing for both pay-per-view and subscription options is higher than some alternatives, the platform's unparalleled content and performance make it well worth the investment. If you're looking for an immersive porn experience unlike anything else out there, SexLikeReal is the way to go.
The models
The models on SexLikeReal are the cream of the crop for virtual reality live cams. While there are no categories to sort the models into, there are incredibly attractive and passionate women who are absolute experts at what they do. These women are in their twenties and ready to provide an experience unlike any other. They're ecstatic to show off their bodies in open rooms brimming with nudity and sex, all in superb VR quality. While no mature models or specific fetishes are accessible, these women will satisfy even the most discriminating viewer. Some female webcam ladies may even invite a male partner for a passionate threesome. Thus, if you want an immersive and unique VR live cam experience with beautiful and passionate models, SexLikeReal is the place to go.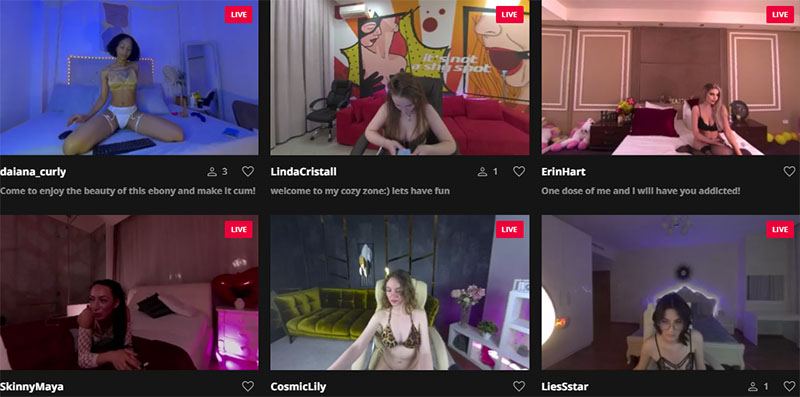 SexLikeReal Feature Highlights
The mobile app from SexLikeReal is a remarkable feature, providing VR porn viewers with unmatched accessibility and convenience. The software offers access to a vast movie library that can be watched from any smartphone or tablet connected to your VR headset and is compatible with a wide range of devices, including well-known VR headsets like the Oculus Quest and HTC Vive. The experience is elevated to a new level by the ability to sync with sex toys like the Fleshlight and Lovense.
Another unique element of SexLikeReal is The Hub, which offers customers a streamlined and user-friendly layout to traverse the website and find the material they want. The Hub compiles all the information you require in a handy spot, whether you're looking for online models, particular categories, or video content.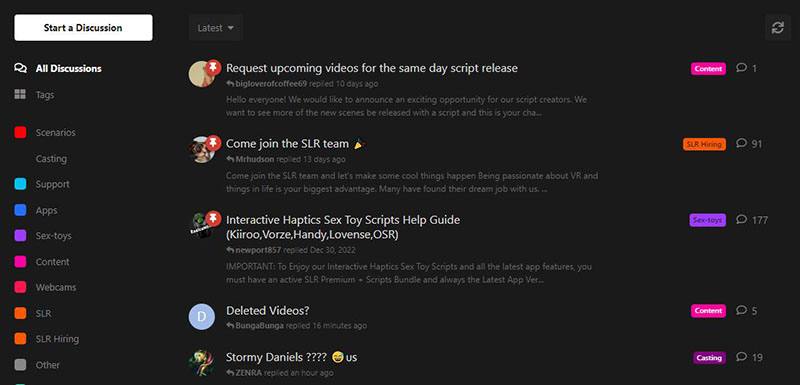 Members can engage with one another and the site through the forum on SexLikeReal to seek support, make suggestions, and more. The forum provides various information and resources, whether you're a tech-savvy user eager to learn more about the platform or need assistance.
Other benefits of SexLikeReal include the following:
- Accessibility with a wide range of VR headsets and devices
- Compatibility with over 11,000 high-quality films, with fresh content added every day
- Options for pay-per-view for more flexibility
- Syncing with sex toys for an immersive experience
- VR cams integrated with the platform
- Constantly updated content from different studios
- Possibility to save videos for offline watching
Chat Options and Prices
For an interactive and immersive virtual reality porn experience, SexLikeReal provides two chat options: Free Chat and Private Chat.
Free Chat
Users can enjoy the activity without any time restrictions in Free Chat's open and explicit VR live rooms. This freemium feature, uncommon on premium websites, is a fantastic opportunity to try out the platform.
Private Chat.
On the other hand, private Chat is where hardcore action takes place, and unique requests can be made. Users can choose a fee and ask the model to approve it by clicking the Start Private option under the chat box. SexLikeReal's VR live conversations are an economical choice for everyone, even though the models retain the final say over what appears on their pages. Chats begin at a reasonable $1.39 per minute and cost an average of $5.20 per minute.
Registration
While the free rooms on SexLikeReal don't require registration, those looking to tip models or access the platform's extensive video library will need to create an account. There are two options for registration: registration with token purchase, and registration with membership purchase. It used to be free registration in the past, but it doesn't exist anymore. Regardless of which option you choose, registering is a straightforward process that only requires an email, password, and username. Once registered, you'll have access to all of SexLikeReal's features and be able to fully immerse yourself in the virtual reality porn experience.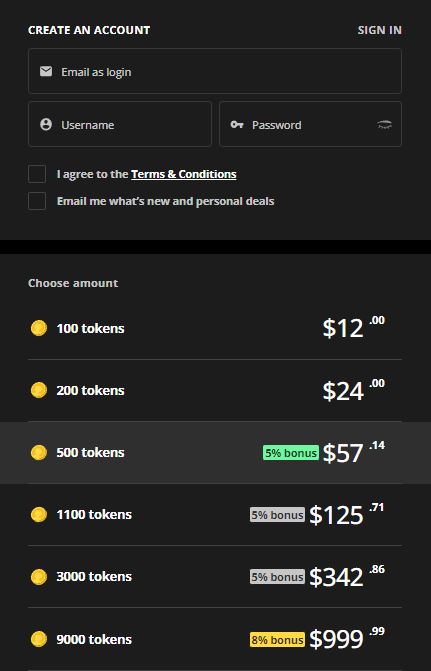 The token packages
SexLikeReal offers well-priced token packages starting at only $12.00 for 100 tokens, with a 5% bonus for purchases of 500 tokens or more. These tokens can be used to tip models or for private chats but cannot be used to purchase or watch videos. For that, you'll need to buy a premium membership or pay the dollar amount by adding to your cart and paying like any other e-commerce site. With these affordable token packages, users can fully engage with the platform's VR live chats and immerse themselves in the action.
Payment Options
For the convenience of its customers, SexLikeReal accepts three alternative payment methods: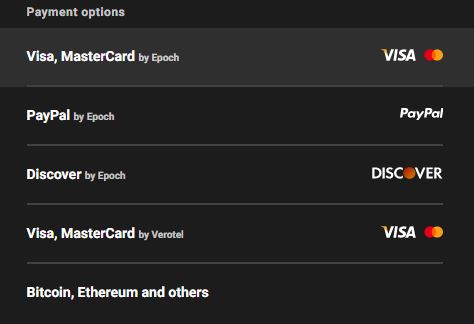 Premium Membership
Although SexLikeReal provides a range of subscription choices, the Premium Membership is best if you want the best viewing experience. The most comprehensive collection of VR pornography in the industry is yours to enjoy at any time with this membership. It features more than 11,000 films that are updated daily, including SexLikeReal videos exclusive to the website.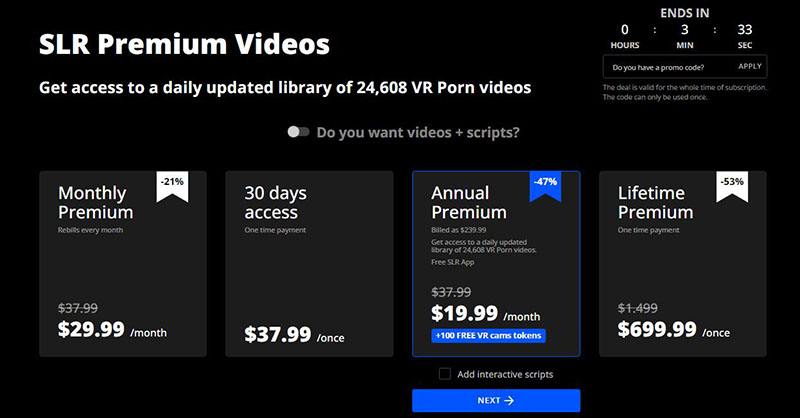 Several solutions are available, so don't fret if you're worried about the price range. One-time payments for one month, annual renewals, and lifetime subscriptions can all be purchased. Monthly subscriptions automatically renew on their own. Whichever package you decide on, you'll get access to a library of premium material, HD resolution that goes as high as 8K, and a mobile app that lets you have the finest viewing experience wherever you are.
Think of it as a golden ticket to the most extensive and best VR porn library, featuring thousands of hours of entertaining content starring well-known porn actors. Hence, join SexLikeReal as a Premium Member if you want only the finest.
Video Quality
When it comes to virtual reality porn, video quality is everything. Fortunately, SexLikeReal delivers like no other in the live cam world. The video quality is simply impeccable, with no SD in sight. From the HD rooms to the impressive 4K quality, the highest possible on premium sites, you're guaranteed a mind-blowing experience. But it's not just the resolution that's impressive. The lighting, camera work, costumes, hair, makeup, and performers are all top-notch.
Notably, all rooms are available in VR, allowing you to use your finger on your mobile and your mouse on your desktop to look around the room. You can even filter videos by quality, including 6K, 5K, 90fps (Frames Per Second), 120fps, and sex toys. With thousands of videos available in the highest quality possible, you can fully immerse yourself in the experience.
It's like having a front-row seat to the action, with the performers in front of you, their every move and expression captured in vivid detail. It's truly a feast for the senses, and once you try it, you won't want to go back to anything else. So, if you're looking for the ultimate VR porn experience, look no further than SexLikeReal.
SexLikeReal on Mobile
Are you tired of trying to watch VR porn on your mobile device only to be met with frustrating barriers and poor video quality? Look no further than SexLikeReal, the live cam site that has revolutionized the mobile porn experience with its VR app.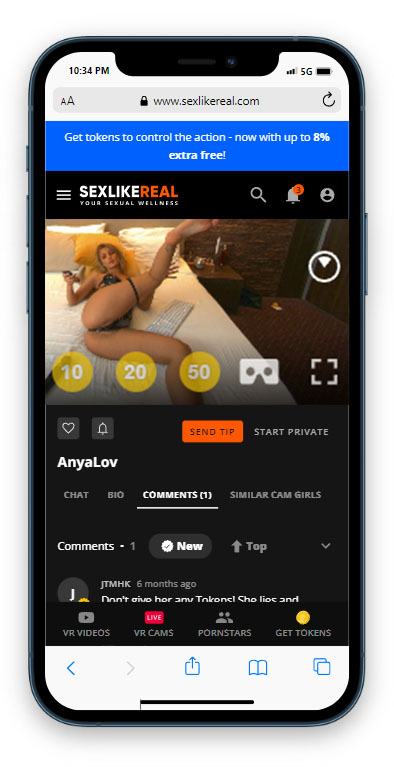 The SexLikeReal app makes browsing and streaming VR porn on your mobile device a breeze and eliminates the need for multiple steps like downloading and saving videos to a specific location. And the best part? You don't need to download different files for different types of headsets. The SLR app is available for every platform and includes 24 free full-length VR porn scenes to get you started.
But SexLikeReal doesn't stop at making the mobile porn experience more convenient. Their recently launched SLR Interactive feature allows you to sync your favorite porn videos with your sex toy, taking your VR experience to a new level. It's like having your adult movie theater right in your pocket.
So why settle for subpar video quality and a frustrating experience? Download the SexLikeReal app and join the revolution of convenient, high-quality VR porn on mobile devices. Kudos to the SLR team for making our lives easier and more beautiful.
Customer Support
SexLikeReal has a limited customer support system, as you can only contact a representative via email. The site has no live chat option, just a tiny FAQ page. However, the Forums are a great resource for quickly answering your questions. It typically takes less than 24 hours to receive a reply from the SLR team, whether related to billing or operating your VR headset.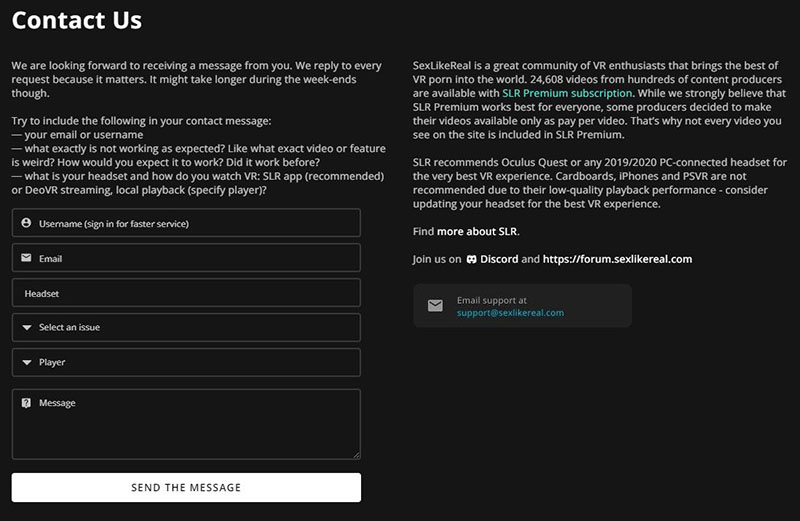 Security and Quality Assurance
SexLikeReal takes the safety and satisfaction of its users very seriously. They make use of top-notch encryption technology to secure personal information and ensure privacy. The platform regularly undergoes rigorous testing and quality assurance checks to guarantee a smooth and enjoyable user experience. At SexLikeReal, they value their users' safety and strive to provide a secure and comfortable platform.
Conclusion
With the help of the ground-breaking platform SexLikeReal, virtual reality porn has never been more advanced. This website provides a genuinely immersive experience that will leave you speechless with a vast library of high-quality videos and live VR cam conversations with gorgeous ladies. With unparalleled HD and 4K resolution, the video quality is unequaled, and VR technology enables you to glance at the room and experience being there in person. Everyone may easily access and utilize the website because of the user-friendly and reasonably priced chat choices, registration process, and token packages. SexLikeReal has something to offer everyone, regardless of your level of experience in the porn industry or your desire for a novel experience. Don't miss the chance to enter the virtual reality world and discover your deepest desires.
Moreover, if you're eager to explore the fascinating world of virtual reality in live chat rooms further, we invite you to visit our blog post "Step into the Future of Adult Entertainment: The Only 2 Cam Sites with Live VR Chat Rooms!" There, you'll discover a wealth of information and insights on this cutting-edge innovation in adult entertainment.
---
SexLikeReal Reviews
We don't have any reviews yet. Please share your experiences with other visitors and write a review about SexLikeReal.