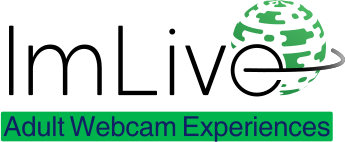 Males seeking men should take a peek at this site's fantastic collection of male chat hosts. With such a large and diverse model roster, you're sure to find Mr. Right! Read why we consider ImLive to be one of the best gay cam sites, and how being a paid member puts you on the path to low-cost chat.
Imlive gay Pros
Cheap private chats
Free C2C in privates
Discount Clubs
Live chat support
Imlive gay Cons
Tame free chat
Limited HD rooms
Just few payment options
---
Imlive Gay review 2023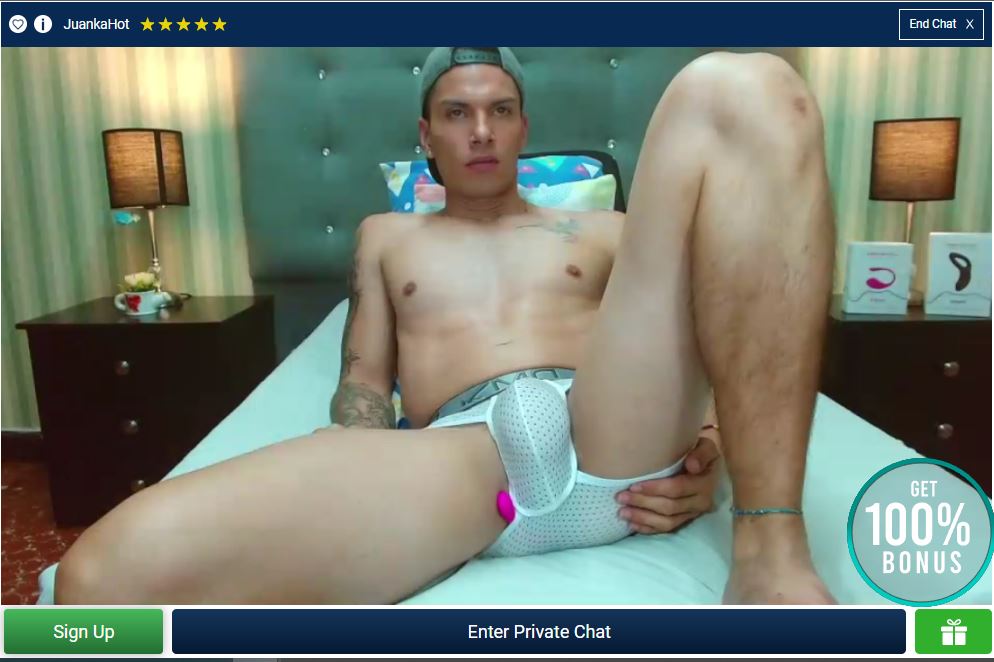 ImLive is a premium site with a generally user-friendly interface. They have a multi-tiered reward scheme, presents for users who purchase tokens, multi-viewer views, pornstar appearances, interactive toys, and a number of other amazing features, in addition to a wonderful web design. When you choose men as a category on the landing page, the screen populates with picture thumbnails that are changed by streaming live video as you hover over them.
The additional categories are useful and might help you find a specific sort of m4m cam guy much faster. Individual sorting options are accessible, as well as a tab that shows all sorting options: price, ethnicity, penis size, special, show type, appearance, and age. Any of these options will refresh your homepage. Don't be surprised if the number of available cam guys drops to a handful when you select filters. On average, there are roughly 40 cam guys online at any given moment, compared to the hundreds of women who frequent the site.
THE GAY CAM MODELS
I wish there were more of these pleasant, beautiful, and fascinating guys to chat with on ImLive. So, what kind of guys should you anticipate to meet throughout your visit? The majority are between the ages of 18 and 30, and the majority are gay, while there are some bi and heterosexual men there. You may choose from a wide range of body sizes and ethnicities, and with the free chat option, you can get hot with your papi in no time.
The only guys you'll find on certain premium sites are classically attractive, muscular, and looking like they just left a hair salon. ImLive has a slightly varied selection of guys, which I think is a plus. Think less supermodel and more guy-next-door. Chatting with strangers might be intimidating, but these ImLive men make it incredibly comfortable and simple straight away.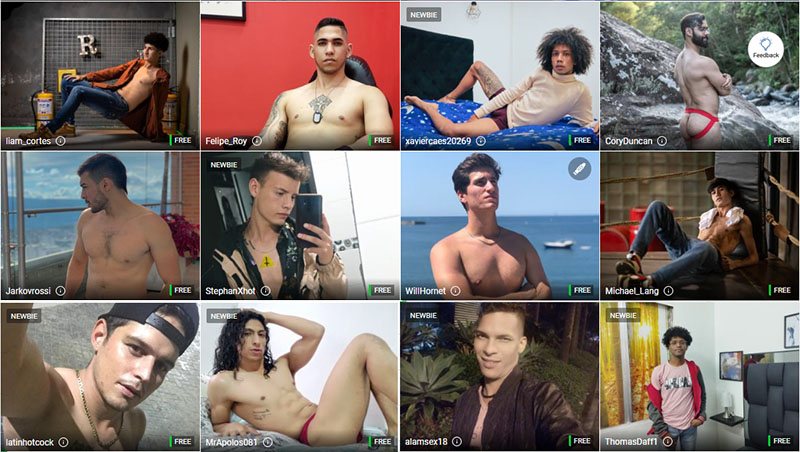 IMLIVE FEATURE HIGHLIGHTS
Do you have a sizzling fantasy about gorgeous men that you've been mulling over for as long as you can remember? What if I told you that ImLive could assist you in realizing your lustful fantasy?
ImLive has a simple way for you to submit your desire, and only the cam males will see it.
A variety of pages appear when you tap the arrow next to your login. The Member page is the first on the list and also has a number of fascinating features, such as a section called Fulfill Your Fantasy. These entries are forwarded to the cam guys, who will be glad to contact you and do everything possible to see if they can offer a hand, or any other body part, to make your fantasy come true.

The multi-viewer option is another excellent feature. Selecting this brings up six live video streams from the site's gorgeous and engaging cam men' free chat rooms.
If those free chat rooms aren't cutting it for you, and your heart and other body parts are intent on diving deep into this pool of seductive cam males, you can easily pick full sex mode on the multi-viewer page to get a juicy feed of live video streams from 6 private cam shows at the same time. This is a fantastic alternative for those of us who can't decide which cumbersome charmer to bring into a private chat.
Candy shows are a fun ImLive feature that can help you save a lot of money. This show type allows the cam guy to establish a tip goal, and once he meets it, he'll put on a spectacular and seductive display for everyone who tipped at least the minimum amount. The guy ahead will advertise the substance and length of his presentation, as well as any special equipment, toys, or guest stars. There will be no show if he does not meet his target; however, you will be returned all of your credits.
Other highlights include:
There are constantly 30-40 male models online.
Every video chat's first 20 seconds are free.
Only members with credit can watch free video teasers.
All private sessions include cam to cam and 2-way audio as part of the fee.
Benefits and savings increase as your membership level rises in the Rewards Program.
Choose how you wish to look through the guys. Change the view of the page to tiles, list, or gallery.
Adjust the video display screen as follows: Supersize View and Large View (default) (extra large).
Multi-Viewer - View six gay webcam rooms at the same time.
Treats - ImLive will give you treats on significant occasions or whenever he feels like it. Credits are obtained by exchanging treats.
Candy Shows - A low-cost, time-limited show with multiple guests performing at the same time.
Celebrity Shows – Monthly shows with well-known celebrities. View current and previous performances.
Monthly Video Contests - The contestants star in and direct videos with inventive themes. Each month, vote for your favorite.
ImLive hosts compete for members' votes in the Top Host Arena by being extraordinary.
Personal Cards - If you fill out your member profile, your favorite hunks can learn some juicy things about you.
ImLive's Diamonds are hot male models that have been performing for a long time and have earned this prestigious designation.
Best Newbies - A selection of newcomers who normally charge the site's minimal for live chat.
The performers who have worked hard and earned the most credits are listed in the Hall of Fame, which is updated every two weeks.
Fulfill Your Fantasy - A one-of-a-kind service that allows you to submit your fantasy for review by just the models. They'll respond if they can assist you.
Virtual Presents - Show your favorite guys some love with virtual gifts.
Discount Clubs - Join a Host's Discount Club and get the same live entertainment for less money (paying members only).
GroupCams - You can add another person from his list of chat pals or from your own Favorites list while chatting with a man.
Teasers are free for credit holders only. To view from a selection of explicit recorded performances, you must be at least a Bronze member.
Mobile access with premium features is available. With your iPhone or Android mobile, you can stay connected from anywhere.
Niche webcams span almost every category imaginable, as well as a few you've probably never heard of.
GETTING STARTED
ImLive has a simple sign-up process and high-level security for your safety. You only need to provide them your email address, a username, and a password to get started.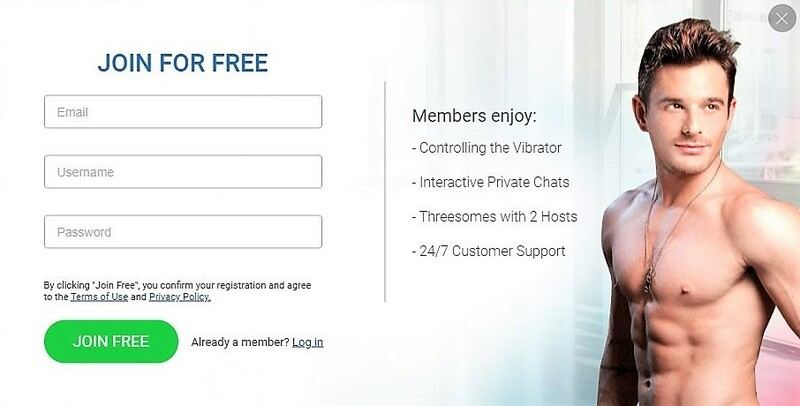 PRICES & CHAT OPTIONS
As I previously stated, ImLive's free chat has evolved into a lot more NSFW playground, where it appears that the cam males can now do whatever they want to communicate with visitors in an effort to warm you up and persuade you to join them in a private conversation. I've seen that these newly emancipated m4m males are having a lot of fun expressing themselves in front of their cameras, as well as in the messages going back and forth between and among everyone in the room.
FREE CHAT
As I mentioned above, free chat has certainly morphed on ImLive into a much more NSFW playground, where it seems like the cam guys now have the ability to do whatever they like to engage with visitors, in an all-out effort to warm you up and get you to join them in a private chat. I find that these newly liberated m4m guys are enjoying expressing themselves in all that they do in front of their cameras and also in the messages sent back and forth between and among everyone in the room.
PRIVATE SHOW
Because relying on tips is, well, not trustworthy, private shows are the main source of money for ImLive cam guys. Fortunately, ImLive has created a simple credit system that eliminates the need to look for a calculator every time you log on. One credit costs one dollar. Chat costs $2.25 per minute on average, with the lowest chats costing $1.00 per minute. ImLive is one of the cheapest cam sites online, with a discount club for many of the models, a membership reward program, and numerous other discounts, credits, or freebies.
Because they are so anxious to get you into a room, I believe it is vital that you have a clear discussion about what you want him to do and what you intend to do while he performs a private show for you. ImLive includes c2c as well as 2-way audio for all cam guys with any private show, and I would recommend letting them know if you plan on participating on cam. Better planning and communication improve the quality of the event and ensure that everyone is happy.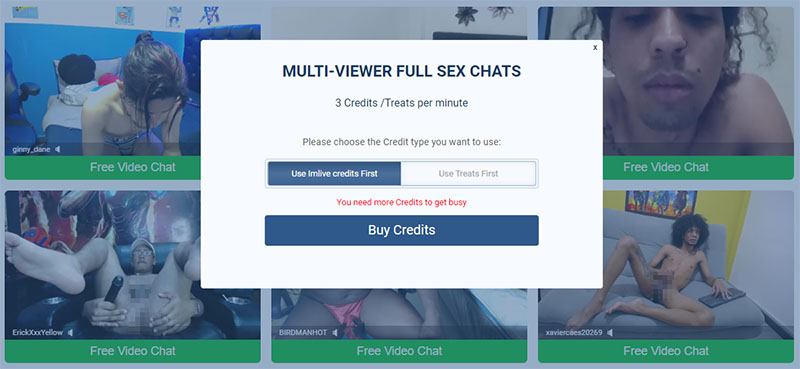 MULTI-VIEWER CHAT FOR FREE
When you select the multi-viewer option at the top of the page, a window will appear with six video feeds from free chat rooms for you to enjoy. You'll want to alter the default setting to guy-alone-straight, guy-alone-gay, or guy-on-guy if you want to watch a feed of your favorite men.
MULTI-VIEWER CHAT IN FULL SEX MODE
Selecting full-sex mode will take the activity to the next level and offer you a lot better appreciation of those phalluses in their full splendor, for those who enjoy the idea behind the multi-viewer conversation but want a much more intense experience. ImLive does charge for full sex mode, however it's only 3 credits per minute, or roughly $3.00 per minute.
PAYMENT OPTIONS
ImLive accepts a variety of payment methods for site credits. Have you ever been stuck with a gift card for a place you'll never use? Gift cards are accepted by certain gay cam services, but ImLive isn't one of them. Don't worry, any purchases you make here will reflect on your bank statement invisibly.
The following are acceptable on the website:
Credit and debit cards are accepted.
Transfer/Check of Wires
PayPal

MEMBERSHIP BENEFITS
ImLive is one of the best membership plans around because it pays you for buying and spending credits on the site. With your first credit purchase, you are instantly elevated to bronze membership status. The more credits you buy and use, the higher your membership tier, and the more money you save.
PERKS FOR BRONZE MEMBERS
On all private talks, the first 20 seconds are free.
Full access to the private photo galleries of the hosts
Introductory films and monthly contest videos are available for free.
On private chats, you can save 0.60 credits each minute.
Access to pornstar shows for free
20% off previous live concerts
PERKS FOR SILVER MEMBERS
Every purchase can earn you up to ten additional credits.
Every purchase comes with up to ten snacks.
On private talks, you can save 0.70 credits every minute.
Access to pornstar shows for free
Previous live shows were discounted by 25%.
PERKS FOR GOLD MEMBERS
Every purchase can earn you up to 20 additional credits.
Every purchase comes with up to 20 goodies.
On private talks, you can save 0.70 credits every minute.
Access to pornstar shows for free
Past live shows have been reduced by 30%.
VIP MEMBER BENEFITS
Every purchase can earn you up to 25 additional credits.
Every purchase comes with up to 25 goodies.
Discount of 0.90 credits per minute on private conversations
Access to pornstar shows for free
Previous live shows were reduced by 35%.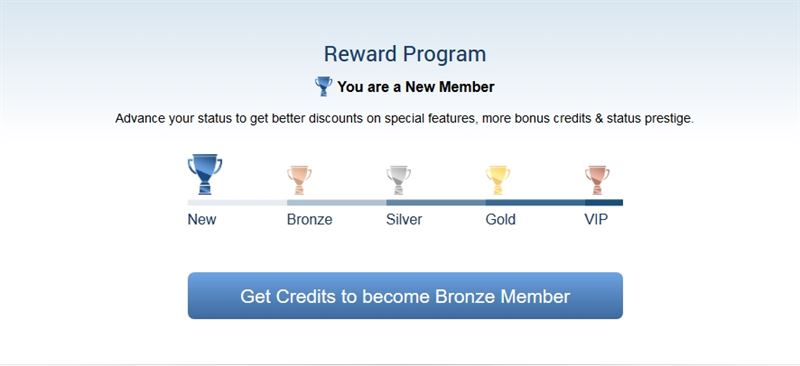 IMLIVE'S MOBILE EXPERIENCE
ImLive is optimized for mobile devices and performs admirably. The size of your screen is the most restricting element when utilizing ImLive on the road. It makes chatting a little less fun if it's too small. The ability to c2c on mobile devices is one function that I always appreciate. If your computer is otherwise visible to roommates, neighbors, or a nosy dog, it can be a lot of fun and quite useful. ImLive does not charge extra for c2c with 2-way audio for desktop or mobile devices as an added bonus.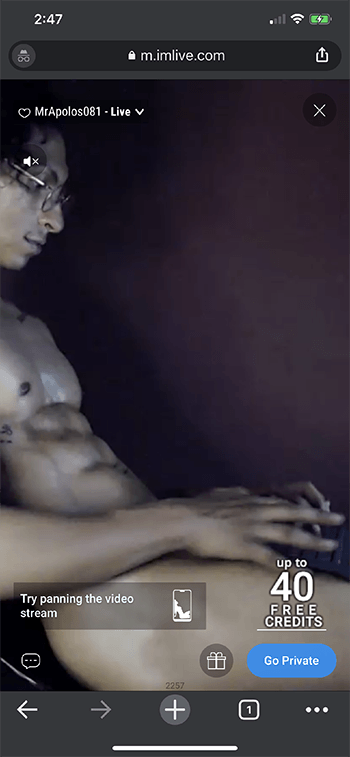 VIDEO QUALITY
I appreciate my visits to ImLive right now, but if their m4m camrooms broadcasted mostly HD broadcasts, I would spend far more time and money there. Currently, the video quality is often in high-definition standard definition. Now, this isn't horrible, and it's still a step up than some cam sites, but I've grown accustomed to incredibly crisp photos with high resolutions and brilliant colors, having spent a lot of time online in a variety of adult cam sites.
ImLive does a terrific job with the rest of their website; the mobile layout is nice, the multi-player possibilities are great, and their customer appreciation program is also really cool. My not-so-secret wish is that the next thing to be updated is video quality.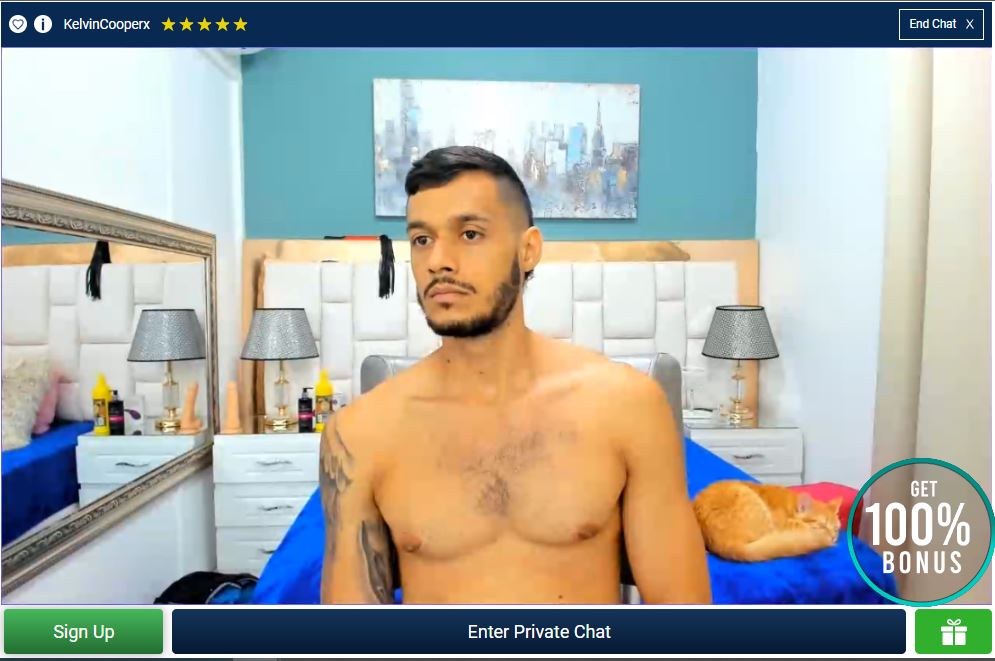 THE PROS & CONS
PROS
✔ A diverse group of males to choose from. Examples are College Boys, Twinks, and Jocks.
✔ Strong camera feeds across the site, with the models broadcasting largely in high definition (some in HD)
✔ Viewing options in the main gallery
✔ Private chat is free and includes c2c and sound.
✔ There are about 4500 male models registered, about 40 males at most hours, and 500+ films of spirited hunks and studs. Intros are free for members
✔ Advanced Search, which provides important filters: To name a few, there's price, ratings, and the Kinks.
✔ Client service is available 24 hours a day, 7 days a week via email, phone, or live chat for technical and general questions.
CONS
✖ Limited high-quality streaming on ImLive Some guys still utilize obsolete camera gear, so their visuals aren't as clear as they could be.
✖ The majority of open chat is bland, with little nuance.
✖ To become a VIP, you must spend a large sum of money.
BEFORE YOU GO
ImLive is a premium service with a number of appealing features, including gorgeous gentlemen, free-chat, c2c, mobile-site viewing, fantasy fulfillment, and a variety of show kinds. ImLive is one of the most popular m4m cam sites, with a responsive customer service staff, reliable high-quality standard-definition video feeds, and a membership rewards program. What's holding you back with such a great mix of guys, site features, and pricing?
---
Imlive gay Reviews
We don't have any reviews yet. Please share your experiences with other visitors and write a review about Imlive gay.