Our Chaturbate evaluations have been updated for 2022, and they now include not only first-hand accounts but also the actual pricing and overall costs of using the chaturbate.com adult webcam site. You can use this page to see if Chaturbate is safe or not, as well as whether they offer excellent value for sex cams when compared to other popular adult video streaming sites.
Chaturbate Pros
Free to Join
The largest number of cam girls on the web
Good Prices
Chaturbate Cons
Cams only, no hookups
Some cam models can be expensive
---
Chaturbate Review: Is it Still The Best Free Cam Site in 2022?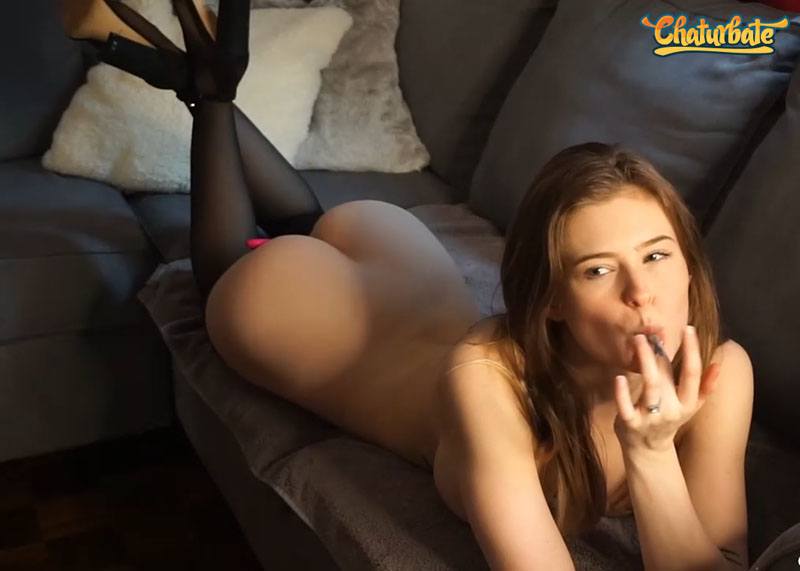 On Chaturbate, you have a choice of over 4,000 rooms streaming 24 hours a day, seven days a week. Fortunately, based on your interests, you can quickly narrow down your options. Girls / guys / trans / girls with guys / girls with girls / trannies and dudes / trans with girl – the list is endless. And that's before we get into straight/bi/gay preferences. Almost every gender and sexual orientation is represented.
You can't deny that you're on a live cam site the moment Chaturbate appears on your screen. Static images from live feeds emerge, with many showing a preview of the intense action if you click on the photo and enter the public chat area.
Chaturbate is a freemium site, which means that in addition to full nudity and sex games in open cam rooms, you'll notice advertisements here and there. Don't worry, they're not too bothersome. They stay on the right side of the screen or at the bottom, so they won't get in the way of your enjoyment.
Overview
Chaturbate has remained a free sex chat platform since its beginning in 2011, while still providing a superb user experience to its members. The top page of the site is filled with a grid of nude webcam ladies, transgenders, and males, nearly all of them are breathtakingly attractive. This will most likely completely distract you from the few advertisements (one on the right side of the website and one at the bottom) and give you a solid picture of what's going on in the cam rooms.
All is not perfect, though, as Chaturbate lacks the standard feature of hovering your cursor over a cam show to sample it. Chaturbate, on the other hand, simply refreshes the page every 30 seconds to keep things current. It's not ideal, but given how quickly the cam service loads its naked live cam shows, it's never been an issue.
However, the search function did. Chaturbate, like many other free sex chat sites, uses the tag system, which saves them time by allowing the models to categorize everything for them. To make themselves more apparent to people looking for a specific kink, all cam models on the site can tag themselves with the categories related to their show. Unfortunately, it is unregulated, much like other cam sites that employ this feature, and hence does not work. To improve their view count, many models wind up labeling themselves with categories unrelated to their show.
The primary tags and "Advanced Options" filter at the top of Chaturbate's home page, as well as the key categories at the bottom, help to alleviate this difficulty.

Overall, we discovered that searching through the sex talks in search of something specific was more of a pleasure than a pain. Chaturbate's massive selection of quality cam shows ensures that even if you have to spend some time looking for your kink, it won't take more than a minute, and the ones you do find will most likely meet your expectations.
Cam Models
Most online webcam performers are single girls waiting for a masturbation mate, but there are generally hundreds of guys, shemales and couples/groups also looking for a partner to play some dirty games with.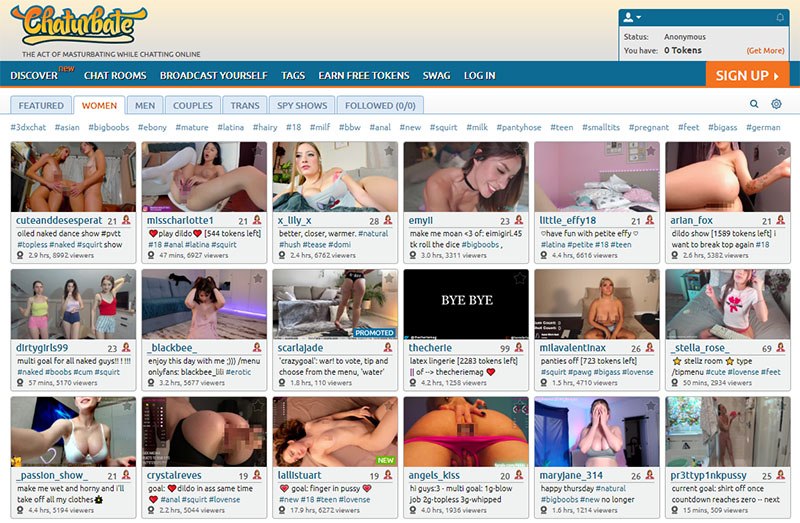 A few basic details are included on each shot so you can observe what's going on in each space at a glance. A small blue HD icon on the sample shot may indicate that the room is streaming in at least 720p HD, and if there's a '+' sign there, you're staring at the crystal-clear bliss of HD+ (1080p and above). The models' age, location (though if you're expecting a specific location - you'll be disappointed), and the most essential information – how long they've been online and how many people are viewing them – are all listed beneath the photo.
My friends, the wisdom of the multitude... Simply put, the more people watching the action, the better it is – so keep an eye out for those huge numbers — it typically implies something good is going on.
GIRLS
Chaturbate's girls definitely do cover everything. Some are horny housewives who want to have some sexual fun while their significant other is away. Others are sex-crazed students having a dorm room party. Frequently, you'll see a group of them attempting to perform a live version of 'Girls Gone Wild.' And you get to be a part of the studio audience for free. Of course, there are hundreds of professional and semi-professional adult cam models willing to get down and dirty in a filthy private chat session, and every now and then you'll come across a verified porn mega-star welcoming her admirers in the only manner she knows how — nude and nasty.
Keep in mind that many of the ladies (and guys) on Chaturbate are kinky sexhibitionists eager for people to watch them wank and squirt. So, don't take it personally if they ignore you and refuse to allow any paid-for discussion — you're there for their entertainment, not the other way around.
GUYS
Chaturbate is a great sex chat site for those wanting some masculine action, as well as an outstanding cam site for those looking to watch nude webcam girls perform. On Chaturbate, there are plenty of homosexual models ranging from the twink to the bear. Many of them are in shape or ripped, and they all enjoy the attention.
However, keep in mind that the majority of the males on this site aren't actual cam models, but rather men who enjoy being viewed. If you're looking for a bigger collection of professional or experienced hunks, try our list of the best gay webcam sites.
COUPLES
In the couples category, you'll find not only couples, but also trios, groups, and even orgies with cameras set up from every angle, allowing you to join in on someone's private sex party. While the pair grouping should ideally show only live sex sessions with two or more people — some of the rooms have established themselves as two-plus rooms, but only one of them may be online – be prepared for disappointment as you navigate through the online rooms.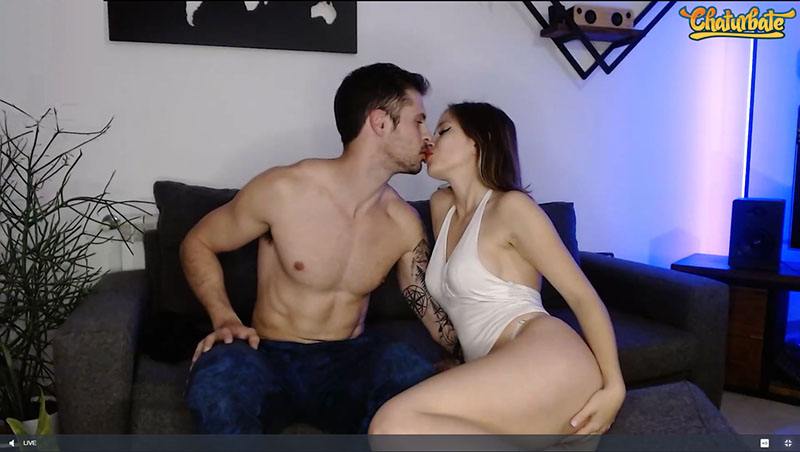 Chaturbate Feature Highlights
Chaturbate is all about live sex cams, so there are no frills to take your attention away from the task at hand (well in hand). When you enter a room, the first thing you should do is modify the size of the video window to your desire.
A tiny arrow approximately halfway down the right frame of the video can be selected and pulled in or out to resize the video screen to your preferred view. Hovering over the image will reveal a little screen icon on the bottom left of her window if you're all in and just want to view her up and personal. You can enter full-screen mode by clicking or tapping on here.
When it comes to using Chaturbate to look for a specific kink, fetish, or if you're in the mood for a specific look or race, things get a little more complicated.
A new feature that was added to the chaturbate at the beginning of September 2021 and I really love it is the "discover". This new discovery platform is personalized for each user so it's easier to find broadcasters that you will love. To test it out, visit https://chaturbate.com/discover/
A word of caution: Because most of the performers want as many pervs to see their squirting and squelching as possible, they'll use search tags that aren't relevant to them in the hopes of appearing in more results. All of the most popular search tags are displayed at the top of the photographs. If the hashtag group you're looking for isn't there, pick (more tags) on the right and hundreds more will emerge. Each category has the number of viewers, the number of rooms that are now active, and photographs of the most popular online cam beauties.
Other cool features include:
Free sex shows on this website mean exactly that: The camgirls strip for free and users get to watch
Users that want the camgirl to give them any attention or to do what they suggest need to tip or they will be ignored
The currency used on this XXXcam site is called Tokens and they are used to either tip the webcam models or pay for private shows
Membership is completely free and the only difference is between users that have credit in their account and can access everything, and users with no credit that are a bit limited, but can still watch the naked public sessions
Cam2Cam is available on most private webcam sex shows
Users are invited, and even encouraged, to broadcast their own web camera feed in amateur porn shows and possibly earn money
Users are rewarded with up to 10 tokens for every person they invite and actually joins the site
If friends you invite end up broadcasting their own web camera, you can get up to 500 tokens
Users receive bonus tokens for increasing their daily spending limit
Supporters can send private messages to any other user
Message boards are packed with activity on this site
Sexy blogs on different kinky topics
Snapshots are available with naked video chats
Becoming a member
Chaturbate registration is free, simple, and takes only a few seconds. Only a username and password are required (of your choosing). If you don't want to receive updates or other site-related information, you don't even have to give them your email address. Simply enter your age and gender (male/female/trans or couple) and you're done. No financial or credit card information is necessary.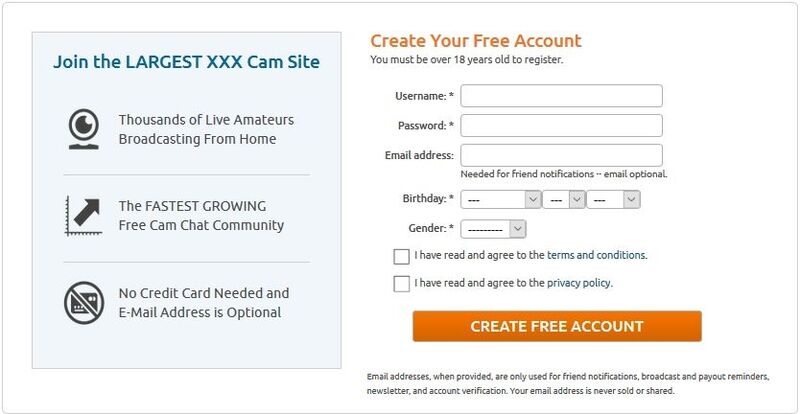 Chat Options and Prices
There are five types of live sex shows available on Chaturbate: the omnipresent free open chat room, the paid-for private chat option, spying on someone else's private show, group shows, and exhibitionist show.
Free Chat
Chaturbate's specialty, and one of the greatest places to see naked live cam girls on the internet. A lot of adult models here are willing to go to any length to please their tippers. We had a lot of fun interacting with the nude webcam girls in the open chat while composing our Chaturbate review. Even though you have yet to spend any tokens on their cam show, they have proven to be charming and attentive.
But until you tip or take them to a private chat, you're not going to get very far with them. If you dig deeper into the site, you'll discover that many Chaturbate cam girls won't reveal any flesh until you take them into a private session, so know that you'll always get more if you're ready to pay.
Note that certain models won't let you write in their chat unless you have some tokens in your account, so make sure you have some if you want to talk to her.
Private Show
You'll have no choice but to take down the virtual curtain and pay your favorite sexhibitionist if you want them to focus completely on you. However, keep in mind that not all cam sex hosts will go private; many prefer to stay in the open rooms and pick up gratuities from the crowd.
If they do hold 1on1 sextaculars, though, fees tend to be around $2.30 per minute. Having said that, several rooms offer exclusive kink sessions for as little as $0.60 per minute.
The cam2cam feature is only available on Chaturbate's desktop, however, it can be used in both public and private rooms.
Spy Show
Has your curiosity gotten the best of you? So you've found the perfect princess, but she's in a Private Show. If you're curious about what she does behind closed doors, many may allow you to watch a Private Show they're hosting. You can't interact with them, but you may watch while they live out their fantasies. This is, in my opinion, a waste of money. Spying on a show is usually the same price per minute as taking the chick private.
Group Shows
Although there is no defined category for group shows on Chaturbate, they are tagged as "#crazyticket" shows. They offer a simple concept: you can buy a "ticket" for a show, such as a blowjob and facial show or a squirt show, for around 50 tokens (around 5.00 US dollars). If enough tickets are sold, anyone who has one obtains access to the performance and can watch it until the objective is met. The concert will be canceled if not enough tickets are sold, and you will be refunded.
It is primarily utilized by couples and groups and has no specific time. The presentation normally continues as long as the models get tips.
Exhibitionist Shows
Not everyone who watches Chaturbate does so for the tips. As you may know, getting off as others watch you is incredibly thrilling, and some people join Chaturbate solely for that reason. The "Exhibitionist Cams" section has the majority of men, as well as the rare horny women.
It's a really relaxed and stress-free experience, and knowing how much the girl wants to be watched and then letting her know that she has your complete attention can be incredibly satisfying. These shows can be found in the "Free Cams by Status" section at the bottom of the site.
Prices on Chaturbate
On Chaturbate, the token-to-dollar value ratio is a simple 10:1 (10 tokens are worth around 1 dollar), and the cam site offers numerous opportunities to obtain free bonus tokens. The following is a list of the various packages available on the website: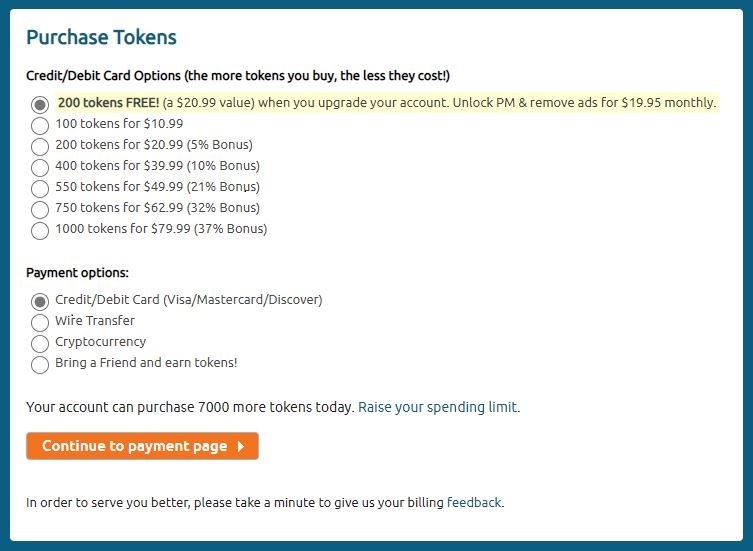 As you can see, each package has a helpful hint that tells you how many free extra tokens you'll receive. The greater the deal, the better, so if you're serious about spending money on Chaturbate, grab the biggest package you can. After your first purchase, you'll be able to unlock larger packages, allowing you to save even more of your hard-earned cash.
Payment Methods
Chaturbate tokens must be acquired in advance to pay for private shows or tip the performer. The site offers a variety of packages, with extra tokens based on the value of the bundle you choose.
While Chaturbate supports all of the standard payment options (which are all listed below), it's also one of the few live video chat sex sites that accepts American Express (but only for those Amex holders based in the U.S.)
Visa
Mastercard
Mastercard Maestro
Discover
Diners Club
American Express
Wire Transfer (instructions included on the payment page)
Cryptocurrency (many, many options)
Membership Benefits
We don't always think it's necessary to describe what you get with different memberships, but it's required in the Chaturbate evaluation. This adult cam service attempts and mainly succeeds in being basic, but there are two membership levels to choose from, both of which are worth discussing, particularly the enigmatic concept of Supporter.
BASIC MEMBERSHIP
Watch all public nude shows
View all profiles and public galleries
Stream your own web camera feed, if you feel like it
Purchase tokens and use them to watch private porn shows
Tip webcam models (if you have tokens in your account)
Text chat with all camgirls
SUPPORTER
This is Chaturbate's paid membership, although it's not entirely apparent why it's called a supporter. Are users encouraged to donate to the site? Will they be entitled to a portion of the profit? Simply call it a premium membership and call it a day.
Get highlighted on the webcam chat rooms.
Receive 200 free tokens (worth about $20.99)
No ads
Access special text features
Send PMs to other members
Watch multiple sex cams
View the webcam sex shows in full-screen mode
Mobile Experience of Chaturbate
The smartphone version of Chaturbate is highly user-friendly. On most mobile devices and smartphones, the site loads quickly. When you're in a room, simply drag the window to the bottom of the screen to enlarge the view. Only prior messages and calls to action in the girl's message box will be obscured by this. Even when the video is blown up to its maximum size, a little bar at the bottom of the feed allows you to send messages. This is superimposed on the image in a transparent manner so you don't miss a single action.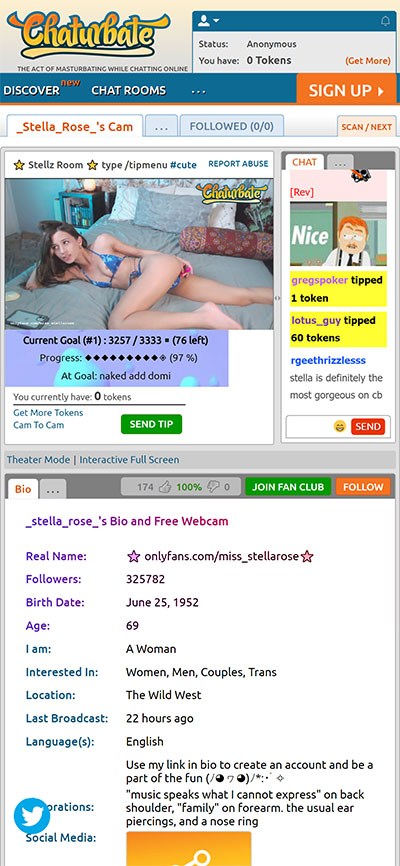 Video Quality
Chaturbate has some of the highest video quality available, and it even boasts the best hi-def cameras – and by that I mean those magnificent 4K streaming rooms. Unfortunately, there is no method to search solely for 4K heavenly abodes; instead, you must enter a room marked with the HD+ emblem and look around.
If you're in an HD-enabled room, check sure the stream is coming in at the highest possible resolution. Simply hover your mouse over the image, and a small white HD box will appear on the bottom left. Make sure the highest resolution is selected by clicking/taping on here. It has the potential to make a significant difference.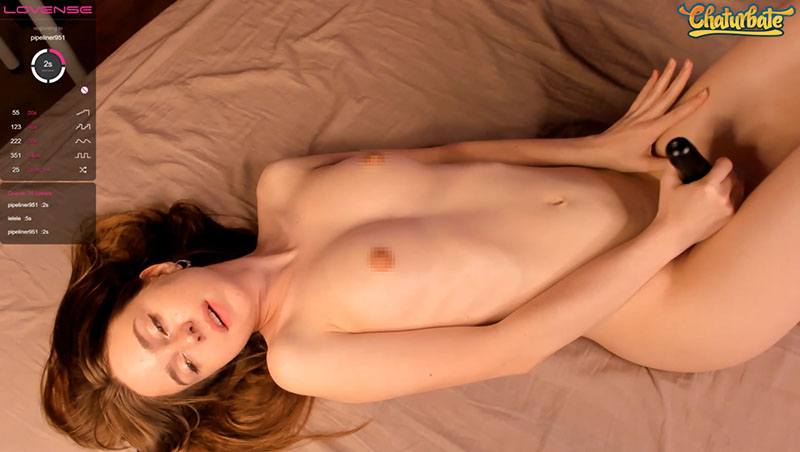 THE PROS & CONS
PROS
✔ Free nudity and explicit action in the open chat rooms
✔ Over 4,000 rooms to choose from 24/7
✔ Extremely cheap live sex chat rates
✔ You don't have to pay to play, and even then the tipping process won't exactly break the bank
✔ If you fancy your chances of being the next porno star, you can go for it
✔ Real sex from real folks for real folks
CONS
✖ Models incorrectly tag themselves.
✖ no video preview of the chat rooms.
✖ Popular models stay in open rooms, and won't go private
✖ Weak search engine filter
✖ Ads on the homepage for basic members
Summing it all up
I would encourage anyone interested in the site to visit and register. It's quick and simple, and it unlocks a slew of new features that help the site stand out even more. Is it perfect? No, but it is excellent value for money. I honestly believe that if the site continues to improve while maintaining its core beliefs, it has the potential to become one of the best websites available. The action accessible in the live free chat sessions, which are open to both registered and guest users, is its main selling feature. If they can maintain that, the women and gentlemen of Chaturbate.com have a bright future ahead of them.
---
Chaturbate Reviews