LoveTrans doesn't have the biggest selection of trans cam models, and in fact has quite a limited number of them streaming at any point in time. However, and this is a big however, that isn't necessarily a bad thing. The tgirls that call xLoveTrans their online live video chat home are all highly skilled models and not one will waste your time (or money). Like the site itself, the models are all about the business at hand - live cam shows, preferably 1on1 live cam shows with viewers that appreciate their unique assets.
XloveTrans Pros
European models
Cheap private chats
Good HD streaming
Nice fetish selection
XloveTrans Cons
Limited selection of trans models
Limited preview in chat for non-members
---
Get Hooked on XLoveTrans: A Review of the Hottest Cam Site for Trans Lovers!
Overview
The transsexual webcam category is a secret club for guys who appreciate amazing sex chats. This section of the top adult webcam sites is simply ignored by some guys. They may not want to go there. They are undoubtedly tempted to sneak a peek but resist out of embarrassment, worry, or uncertainty about whether the sexy trannies will make them feel welcome. According to my personal experience with XLoveTrans, this is the kind of tranny webcam site where people can peacefully, privately, and discreetly celebrate their sexual preferences. However, the women on this site are also very wild and into the nude shows. This service isn't huge, but it's also not particularly tiny. Finding a busty Femboy I wanted to chat with was fairly simple for me... Actually, I discovered about a dozen and had to make a decision.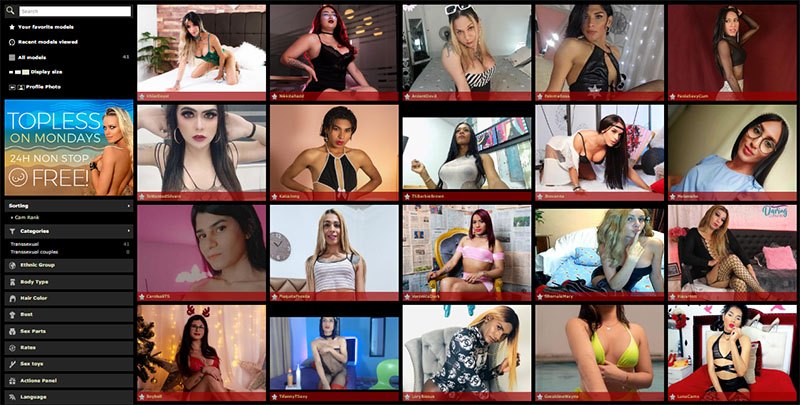 The video chat rooms, the video library where you can watch the horny transsexual babes in action, and the profile pages where you can read more about a specific babe with dick are all accessible. Assuming you've already registered as a member, you can visit all the chat rooms for free, unless the big boob tranny is in a private sex show. Once you're chatting with the babes, you can evaluate their abilities better. The camgirls' sweetness and beauty captivated and intrigued me, and I was even happier to learn that they all spoke good, fluent English, making the dirty talk even more exciting. I don't know about you, but I enjoy the soft, naughty conversation before a live pornographic show. It can be challenging to do this with a pretty Asian ladyboy who simply smiles and nods whenever you ask her a question.
The Models
According to the website, thousands of models have signed up as xLoveTrans performers. That may very well be the case, but during my visits there at various times and days, I've never noticed more than a few people streaming at once. According to my observations, 20–30 xLoveTrans models should be available online.
The only content on the homepage is a menu bar and images of the tgirls. While the images are stylized (and somewhat digitally altered), all you have to do to see a live feed of what the performer is doing in real-time is hover over the image.
You can always substitute candid photographs for the stylized ones if, like me, you don't want to see a girl in her "version." A link to Profile Photo can be found on the menu bar. By simply clicking this, Webcam Snapshots will be set as the default. Real-time screen grabs have taken the place of the stylized images, allowing you to see what's happening immediately.
Like other trans cam sites, most models on this one are transgender people from Asia and Latin America, with a few from Europe. Despite the limited number of options, the selection is still comprehensive. Surprisingly, you'll always find a few rooms with two girls and frequently a couple of different genders. The single trans stars are not the only focus of this.
However, at xLoveTrans, I'm going to take a different tack. When I review most sites, I discuss how to find a specific type of model that suits your preferences, be they age, appearance type, or even particular kinks. You can quickly determine whether a model merits a second look with just 20–30 rooms.
The menu's search groupings include the typical options like Body Type, Hair Color, Bust size, and even Weight. The size of their cock or even what fetishes they enjoy are not listed. In my opinion, that's a bit of a miss, but hey, most are more than happy to lift up their tiny, short skirts or remove their flimsy underwear to show you the size of their magic wands.
XLoveTrans Feature Highlights
Nobody will likely complain about the features of XLoveTrans, in my opinion. With the Cam2Cam, you can easily let the cam model know what you're up to (no, I don't really need you to tell me), send her emoticons if you're too lazy to type, and send her "Love" to give her a virtual kiss, or, if all else fails, reward her with a bonus with a single button click. I'm positive that will catch her attention.
Other great features include:
The Help link at the top of the Home Page will take you to the FAQ page.
Stunning transsexual webcam models are available but in small numbers.
Members can "VIP," which entitles them to access a particular horny tranny's fan club and additional content.
There are also nude shemale porn chat rooms available, but you must pay per minute.
Free membership – no credit card needed, no upgrade necessary
Members can rate the models, and the ratings are visible to other members.
The free shemale chat rooms are open to all users and uninvited guests.
You can peek into other members' nude chats by clicking "Take a Look."
Streaming works well.
Viewers can watch a lot of tranny porn videos.
Each Tgirl has a personal profile page with identifying details, images, and videos.
A few of the models are HD webcam owners.
On the naked chat rooms, you can use Cam to Cam.
Through their profile pages, users can message the hot women.
On both free and paid shemale webcams, users can use free emoticons.
You can search for particular models using various criteria, such as price.
Almost all Tgirls provide two-way audio.
The menu system is very easy to use.
Registration
The signup procedure takes mere minutes to complete. Once you fill out the standard information fields (i.e., choose a username, password, and email address), you will gain access to the site at no cost. Neither a credit card number nor the purchase of credits is required for membership, which is how it should always be.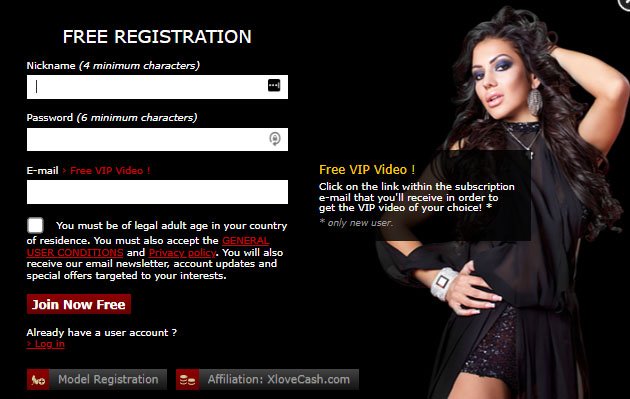 As a thank you for signing up and verifying your email, you'll get a free VIP video (a recording of a private session of your choosing, valued at $15).
Chat Types
If you're a registered user, you are welcome to linger in the model's free open chat room for as long as you like. After a minute, you'll be kicked out of the room if you haven't yet signed up for the website.
Open Chat
Once you log in as a member, a message box next to the model's live video feed enables you to communicate with her in her open room. If you so choose, you are welcome to leave her a tip, known as a "Bonus" on xLoveTrans. Although, in theory, this is meant to express your gratitude to her, many will carry out particular acts (as long as they aren't too outrageous) for a predetermined Bonus value. Don't, however, give a bonus and then anticipate receiving something in return right away. If you do, talk to her first to make sure she's willing to comply with your request and discuss how much of a bonus it will involve.
Private Chat
A private chat is exactly that—a conversation between just you and her, with other people present but remaining silent. The models participate in these shows where pretty much anything goes, including getting wet and wild. Again, if you're looking for a particular fetish, ensure the host is into it and, if necessary, has the required equipment.
A private cam show with one of the chosen transgirls will typically cost around $2.00 per minute. There are always a few rooms streaming at those extremely low prices, with the cheapest rooms starting at just $1.10 per minute. This is one of the most affordable premium trans-centric live cam sites because all fees are c2c inclusive.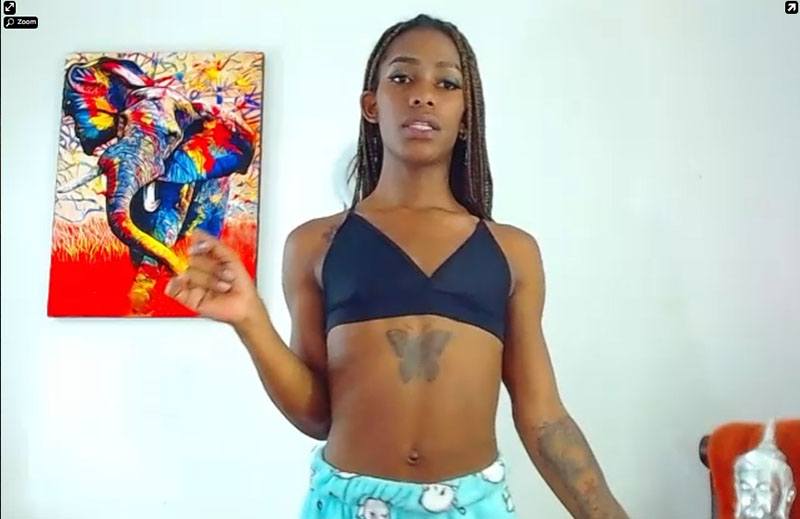 Xclusive Chat
When no one else can watch your games and fun, it's Xclusive. This mode is more expensive than a private chat, with some trans charging twice as much per minute if you want to keep out any silent intruders and an extra dollar per minute if you want a genuine one-on-one session.
SneakPeek
You can get a behind-the-scenes look if the girl you're interested in is on a private show, and you want to know what she gets up to online. You can't engage with the performer in any way during the 20 seconds that make up a sneak peek. A private show where you get to direct the action costs almost as much per minute as these 20 seconds, with the cheapest rooms charging just under $1.00 for them.
However, once the clothes are off and the boundaries are broken, they're a great way to quickly learn about the girl's personality.
Video Quality
Although the streaming is subpar, the sex chat quality is excellent. While the picture quality is just kay - no HD or anything - and this is more than enough for me, it might irritate guys who are sensitive to such things. I have watched a number of tranny porn shows on X Love Tran and have always enjoyed my time there. However, I recognize that for some men, a live porn show is not worth it unless it is in high definition. In my opinion, if there are TS tits and some pre-op sex, the rest is irrelevant.
Mobile Site
Mobile trans cams are one thing that xLoveTrans probably does better than any other transgender live cam site. You'll be met with a very simple and intuitive layout when using a smartphone, tablet, or other mobile devices to access the website. You can choose to view the live video stream in full-screen mode, and the platform intuitively loads based on the size of your screen.
Besides, it offers the unusual choice of maintaining a full-screen live view while you are messaging the model. It includes a transparent message box overlaid on the stream, ensuring you don't miss any of the action.
Additionally, perhaps most significantly, it's one of the few trans cam sites that can support a mobile cam-to-cam chat.
Prices
Even though the broadcasts might not be in HD, the lower resolution also affects something else: the per-minute costs for private cam shows. These are also minimal; if you want to open your webcam, they cover cam-to-cam usage.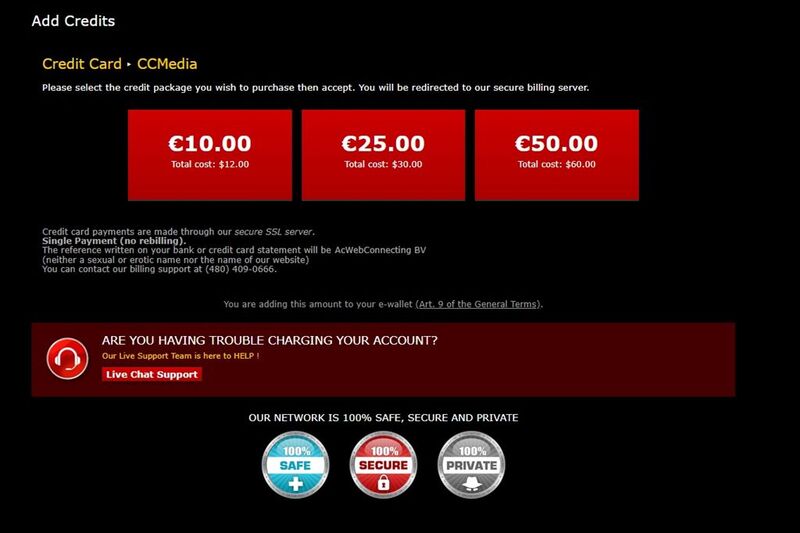 You'll need to fill up on-site credits before beginning a private cam show with any of the trans models. In essence, one credit is equal to one euro (just slightly over one dollar according to the exchange rate at the time of writing).
Accepted Payment Methods
The website accepts numerous forms of payment, including:
Credit Card: Visa, MasterCard, Discover, Diners Club, Maestro, JCB
PayPal
Epoch
Digital Currency
Bank Wire Transfer
Not every option is accessible everywhere. Regional differences in payment procedures exist.

Customer Support
The customer service at xLoveTrans is excellent. The website's live chat support room lets you talk to the administration team whenever you need to. A messaging box is opened by clicking the Contact Us link at the bottom of the homepage. After that, you can type in your inquiry and expect a response in a few minutes. However, the extensive website FAQ page answers most of the important queries.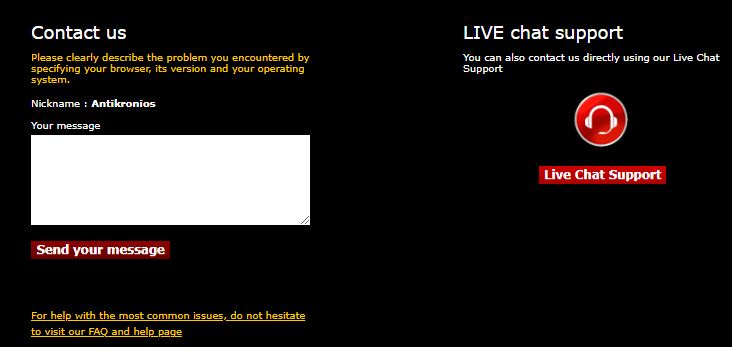 Security and Quality Assurance
The xLoveTrans team takes every precaution to keep the details of your webcam encounters private (i.e., between you and your chosen tgirl). All the sites I evaluate here employ industry-standard security protocols like HTTPS and SSL/TSL encryption to keep your personal details safe.
Never give out any financial information to cam models, and I know that this goes without saying. The website handles all money problems itself.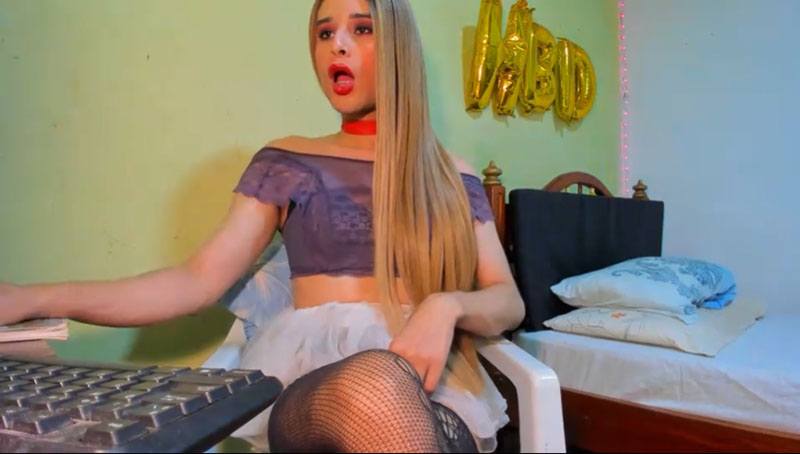 The Pros & Cons
PROS
✔ Good selection of attractive transsexuals
✔ Fantastic tranny sex shows
✔ Less than 1.5 credits per minute in sexy shemale chat rooms
CONS
✖ Quality of webcams varies
✖ When purchasing larger credit packages, there are no discounts available
Conclusion
Finally, I have reached the end of my review of XLoveTrans. If you think this will be a final recommendation, then you obviously don't know me very well. There aren't many tranny sex cam sites that are perfect, and this one isn't one of them, but it's still fun for guys who like trannies. There are enough transgender women for you to find at least a few that you like, nude chats are affordable, and you can sign up for free. Would a qualified webcam expert please offer you some advice? I'd give this website a shot, so to speak; sign up and take a look around. Why not give those horny Tgirls a try when you can enjoy quite a bit of chatting without paying anything and join without providing your credit card details?
---
XloveTrans Reviews
We don't have any reviews yet. Please share your experiences with other visitors and write a review about XloveTrans.