Livejasmin Shemale Pros
Exclusive models
Great video quality
Time-saving search
Live chat support
Livejasmin Shemale Cons
More expensive
C2C costs extra
Tame free chat
---
Step into a World of Diversity with Livejasmin Trans: A Review of the Hottest Transgender Models on Cam!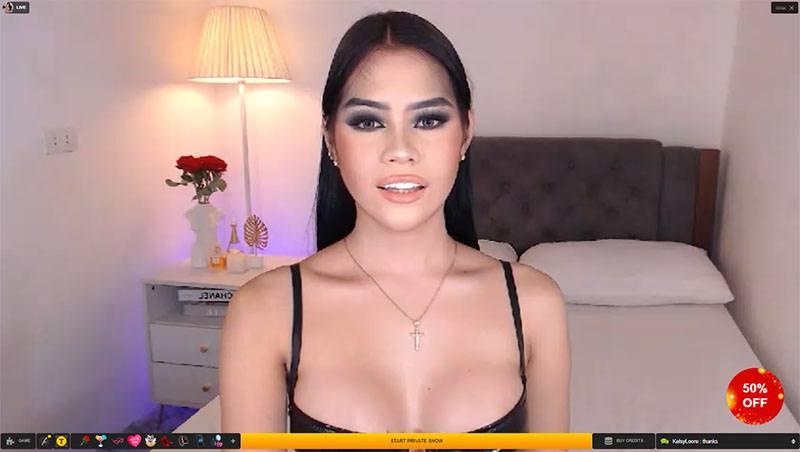 To help you locate the transgirls who genuinely pique your interest, LiveJasmin offers a wide variety of body types, nationalities, and ages. However, the cam stars' on-screen charisma and approachability may be the only qualities that equal their extraordinary level of splendour. You've come to the right place if you want to spend time with a seductive transgirl who is fun to talk to and looks like a model walking down the catwalk. These t-girls are the epitome of excellence and refinement.
The website structure is straightforward, as you would expect from a Premium site, and hovering over any of the thumbnail images plays a live video feed of the area to help you find what you're looking for faster. To choose from the various possibilities, click the button with three horizontal lines at the top of the page: Trans, High Definition, VIP Shows, Breast Size, Piercing, Stockings, etc. You are immediately sent to her active chat room by clicking the image. In addition, you can access additional information, such as the cam girl's ratings, free/premium content pictures, and the live video stream and chat box.
In the chatroom, a variety of quick-choose buttons on the left side of the screen let you quickly access everyday tasks and information. For example, select the model's bio button to view the model's biographical information. Add the camgirl to your list of favorites if you know you'll want to revisit her. Additionally, LiveJasmin's top-notch customer care is available 24/7 if you ever experience any problems.
The models
Your options on LiveJasmin should satisfy you if the quality is more important to you than quantity. Compared to the more than a thousand female models accessible at the same site, there are often 100 to 200 sexy transgirls available at any given moment. But do not worry my brave transfan! These reservations will go as soon as you are met by this site's excellent collection of sexy tgirls. These trannies are extraordinarily talented and have an outstanding cam presence.
One of the standout features of LiveJasmin's transgender models is the quality of their video streaming. Many of them broadcast in HD or higher, which ensures that users have a high-quality viewing experience that is both enjoyable and immersive.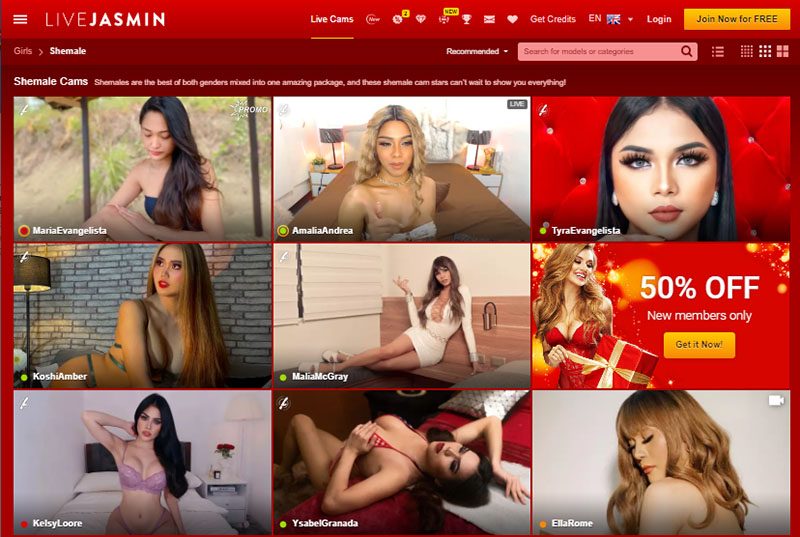 These gorgeous women will be more than eager to help and make you feel welcome, regardless of whether you are a seasoned pro on premium adult cam services or just starting to investigate webcams and/or transgirls. They frequently wear an ensemble that straddles sensual lingerie and dinner costume in public chat rooms, contributing to their lustful attractiveness. As I indicated, you may see a live video preview of the model by hovering over a picture. When you want to browse the various transgirls and select one you like rapidly, this is quite helpful. You can enter the live chat room of the lady with the dick of your choice by clicking on the image.
LiveJasmin strictly enforces policies against all forms of sexually explicit content, including both text and images. These models are more than willing to fulfill your wildest fantasies but are not allowed to do so in the open and free rooms.
How does this affect you? The cam models here will do their very best to pique your attention and engage in some light conversation. But you'll need to use some credits to go beyond flirting and conclude on a high note. Unfortunately, there is no such thing as a free lunch, and LiveJasmin, one of the best tranny cam2cam websites, is no exception.
LIVEJASMIN FEATURE HIGHLIGHTS
This website offers a fantastic colour-coded system that can assist you in identifying a transgirl that suits your fancy and is available. She is online and active if her picture has a green activity dot. If that dot is red, she is now performing an intimate performance, which you can view for 20 seconds by purchasing a 20-credit fast peek or fully join for the indicated price. She is not currently broadcasting but is still ready to take calls if you see an orange dot. When models are both unavailable and offline, grey dots are displayed. Because, alas, even gorgeous and seductive trannies occasionally need to sleep!
Additionally, LiveJasmin has a feature called Mobile Live that lets you view models currently live broadcasting from their mobile devices. The chat screen that opens when you choose one of these women is designed to put her front and centre. The more personal atmosphere these mobile live sessions provide will likely appeal to many trans fans.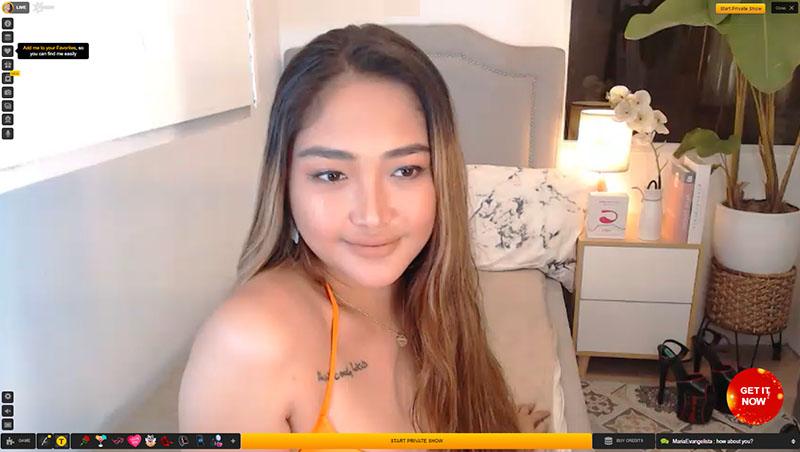 Any color status dot with a gold circle around it indicates that that particular cam model has posted a story. Similar to Instagram stories, these ones function similarly. These stories are images or videos the model has posted that you can scroll through to see what she has been up to recently if you aren't very active on social media platforms. On LiveJasmin, several models publish a wide range of stories. Some are available for public viewing, and they typically feature attractive tgirls in flirtatious and enjoyable pictures as they go about their day. You must use the specified number of credits to unlock more graphic images and movies that are protected as private.
LiveJasmin's chat interface offers icons that make it simple to tip a specific amount. In addition, you may start a private game of Truth or Dare and tap to deliver virtual drinks, flowers, and more!
Other outstanding features include:
Two-way audio for live chatting in private
Spin the Wheel promo offers great discounts on purchases
Free membership and no additional fees
When you run out of credits, the Smartbuy option automatically purchases credits.
There are amazing-looking HD tranny chat rooms available.
Ability to save Favorites
There are a large number of transgender live chat rooms.
VIP Shows to save you money!
There are many transgender Latinas and gorgeous transgender girls.
Users can peep into other users' private tranny chats for a nominal fee.
An efficient platform for advanced video chat
Both desktop and mobile users can access cam-to-cam.
Online customer service, offering members high-quality support around-the-clock
The website's navigation is straightforward and easy to use.
Advanced search tools that are thorough and beneficial to members
only employs reliable payment processors
The nasty shemale chicks have high-quality images and occasionally videos.
There are no membership fees, and registration is quick and simple.
There is a comprehensive FAQ page online.
Members and visitors can both access Shemale biographies.
Registration
To register with LiveJasmin, you only need a working email address and a few basic facts (no personal information is required). After that, you confirm the validity of the email address with an email from LiveJasmin, and you're done. Free, easy, and straightforward.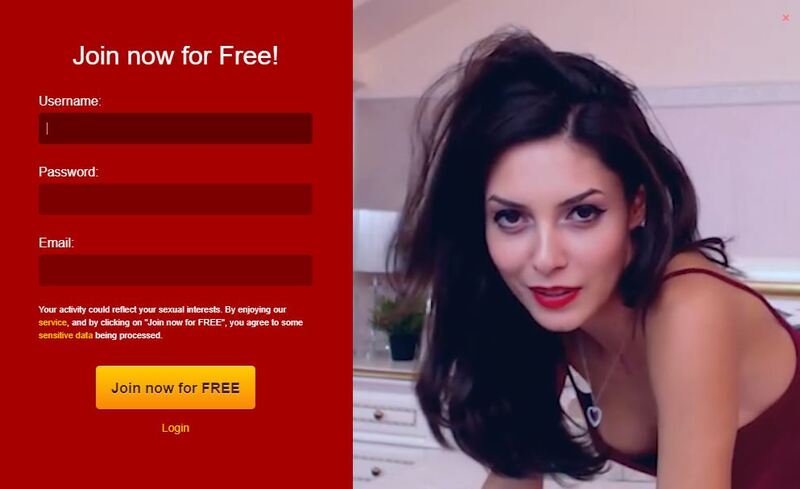 Chat Options and Prices
LiveJasmin is not renowned for offering a wide variety of chat modes. It sticks to the basics while doing them well. The selections below, however, will satisfy the vast majority of individuals because they pretty much cover everything.
Free Chat
Open chat is still offered for free here, but the other freebies are relatively few and primarily feel like advertisements for sensual, expensive lingerie. However, if all you require and desire from your transgirl is an appropriate interaction while she is dressed, excellent! However, if you want to truly satisfy your appetite for trans pleasure, you should check into private performances and other paid choices in addition to the freebies.
Savings advice: With the Spin the Wheel promotion, you may save up to 99% on your initial purchase! Don't defraud yourself at the end after all you've gone through!
Private Show
There's a reasonable probability that you're having a great time if you're in a private show on LiveJasmin. The models chosen by LiveJasmin are chosen for more than just their aesthetic appeal. They take their professions seriously, are charming, and are professionals. All of them are full-time LiveJasmin employees that have experienced everything and still adore what they do.
There are a few, but not many, amateurs if you're looking for them. Search for a cam show marked as new to find them.
Even while the cost of a private can be high, if you browse for just a few minutes, you can discover one for as little as $1.10 per minute.
Keep in mind when searching that not all models support two-way audio if you're in the mood for some extra intimacy. Even though it is more expensive, I urge you to at least give LiveJasmin's two-way audio a shot. Other adult chat rooms may give you the impression that you are speaking to a female in a loud bar who partially hears what you are saying. You may transmit video and audio back to the model at a high quality and with little to no delay using LiveJasmin.
A member can spend 1 credit to watch a private cam show in progress for 20 seconds, but other than this, LiveJasmin doesn't offer a real voyeur chat option.
VIP Show
Check out a VIP show to see a fantastic show while saving money. You can let off some steam by watching these shows without using your most recent work bonus. With the VIP Shows, you can watch a live show among other Thranny fans on the website. This dramatically lowers the cost per credit/min! Check out my article on the best trans cam sites if you can appreciate the quality of the site and the transgirls on LiveJasmin but are more concerned with price.
VibraToy Chat
Do you like controlling the sex toy of your model? Then you should watch this kind of show. A model is given permission by LiveJasmin to utilize a button-activated Lovense toy. You can tip her and get her to cum. Simple, seductive, and fulfilling.
Unfortunately, while many LiveJasmin models use the VibraToy, not many shemale cam models do. Still, be vigilant. I would advise you to take advantage of the experience if you come across a lovely trans female with the VibraToy tag.
Video Call
This choice lets you phone your preferred model after business hours and begin a mobile video conversation with her. Obviously, this costs a little bit more than a typical private show, but it is well worth the money. On LiveJasmin, I've sadly only come across a handful of tgirls who offer this feature.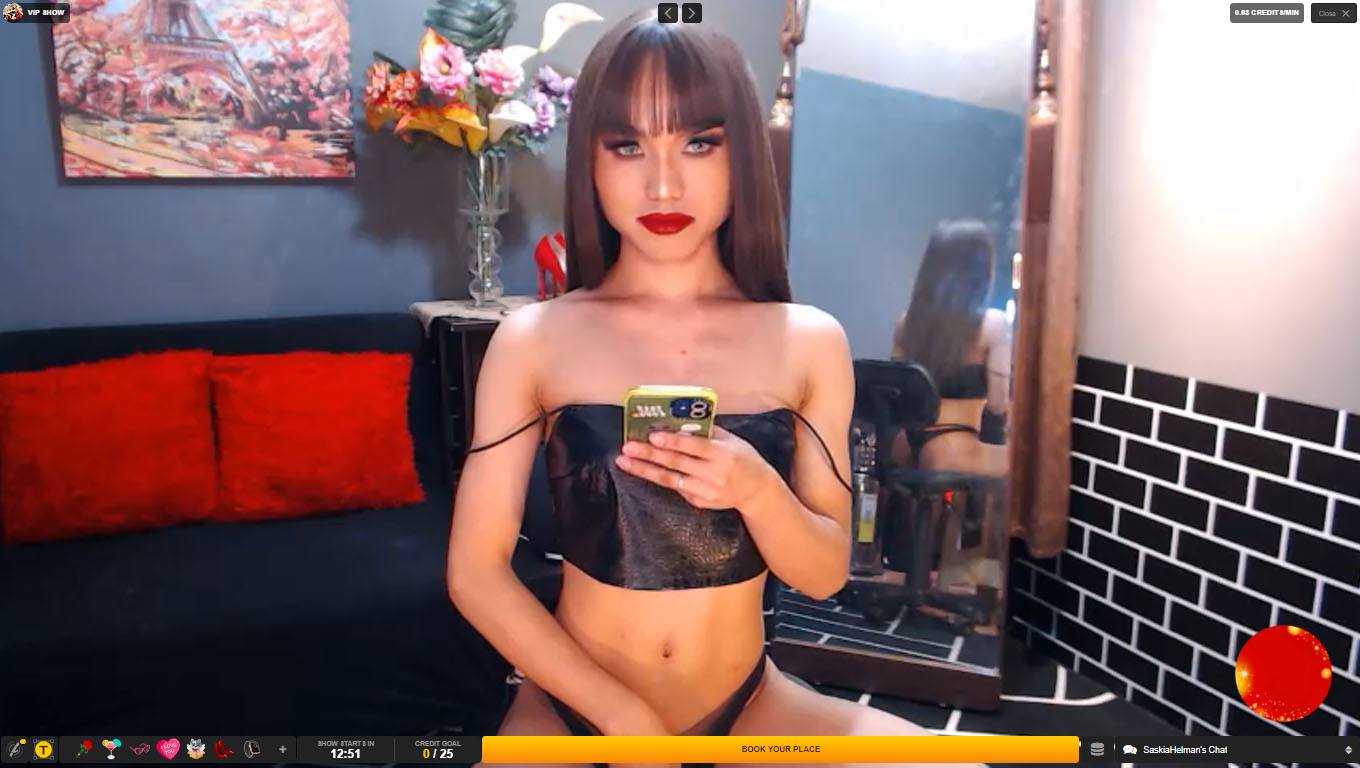 Payment Options
Purchasing credits on LiveJasmin is accessible and secure using any of the various payment options they offer. Concerned that someone might check your credit card statement? Do not be alarmed, my fellow trans lovers, as these transactions have innocent-sounding names.
This site accepts:
Credit/Debit Card
Skrill
PayPal
Cryptocurrencies
Gift Cards
Additional Payment Methods from outside the US:
Pay by Phone
Paysafecard
WebMoney
Bank wire transfer
GiroPay
Sofort Banking
European Direct Debit
Membership benefits
While free chat with the models is fun for basic members, LiveJasmin's premium services are the best. When you buy credits, you sign up for a VIP membership for life, and the models will treat you as such, so you'll get a lot more attention. Additionally, you get the chance to communicate with your preferred cam girls offline, which is always a bonus.
In addition, LiveJasmin has a customer recognition program named Club Elite that offers you points for each credit used in any room. Spending more money will elevate your status and guarantee you more attention from these hot camgirls. Additionally, it's amusing to witness how other fans respond to you when they see that you are Club Elite and how the t-girl acknowledges you when you enter the room. Upgrading has never been more enjoyable!
Livejasmin on Mobile
LiveJasmin's cam2cam service is well adapted for mobile devices. It's simple to use, and when you enter a chat room, the camera zeroes in on the model instead of the entire space. Moreover, unlike several freemium cam services, the video stream quality is not diminished.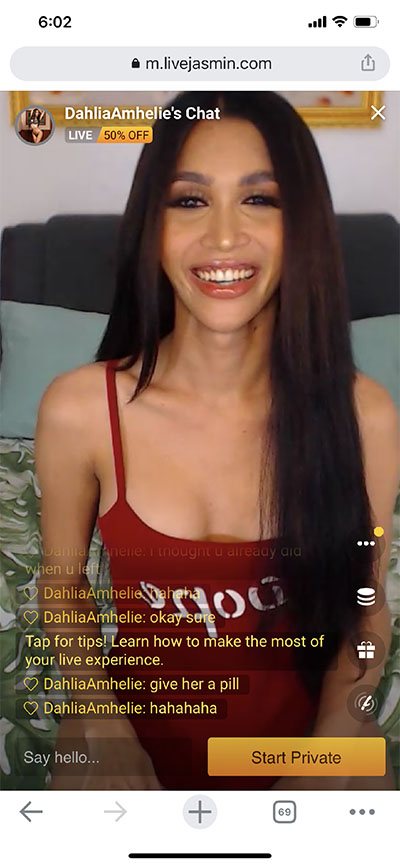 The text box is transparent while sending messages from a mobile device, so you can still see all of your ladyboy's naked body!
Video Quality
LiveJasmin completely dominates its rivals in this area. Its site actually gives models the directive to stream with HD equipment and a steady internet connection or risk being banned. All of LiveJasmin's rooms transmit live video in high definition, with HD 720p being an option in the cam rooms with most models. Nothing is worse than discovering the perfect girl for you; poor video quality makes it impossible for you to see her. A button in the lower left-hand corner of the screen in HD rooms lets you switch between HD and high-definition SD. This is helpful if your connection is slow or you have limited bandwidth.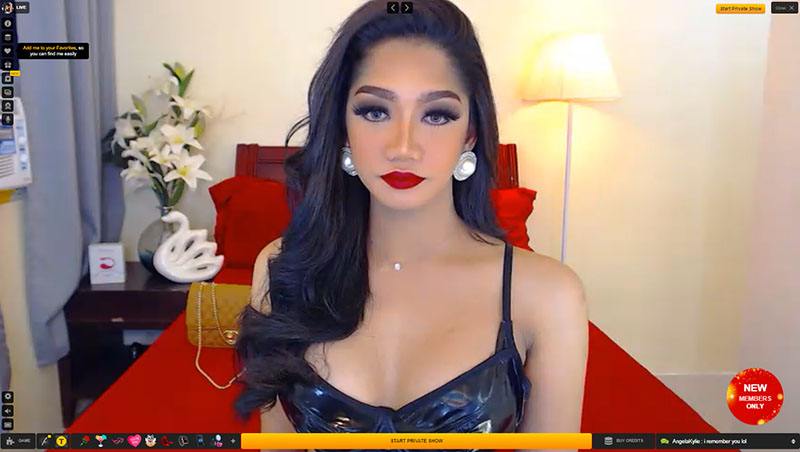 Security and Quality Assurance
In my opinion, LiveJasmin is the most secure adult chat service available. Like many others, it employs HTTPS to protect the privacy of your connection and SSL encryption from safeguarding the security of your data. To maintain the highest levels of information security and ensure your transactions' confidentiality and secrecy, it also uses the services of Escalion, a reputable billing processor, and Advantio, a trained security assessor.
While talking about secrecy, LiveJasmin guarantees that no details about your ordered services won't show up on your bank statement. I assure you that you don't want any nosy eyes to catch wind of your transactions. For this reason, LiveJasmin transmits all critical information, including transaction receipts, to your registered email address and nowhere else.
In terms of quality control, LiveJasmin's return policy is quite reasonable. For example, you cannot ask for a cash refund unless there was a billing error, but you may request a credit refund if you had any issues seeing a paid-for show, whether they were technical or not.
I'll just use this as an illustration: A model agrees to perform a specific sexual act that you want when you enter a private performance with her, but for whatever reason, she declines when you ask her to. You can ask LiveJasmin for your credits back because that is thought to be misleading, and they will obediently comply. It really is that easy. Just be careful not to misuse the system, or they will notice it.
Customer Support
The customer service at LiveJasmin is excellent. It is offered around the clock and managed by a group of friendly employees who are proficient in their field. Select your preferred contact method from live chat, phone, or email to get in touch with them. They'll be delighted to assist.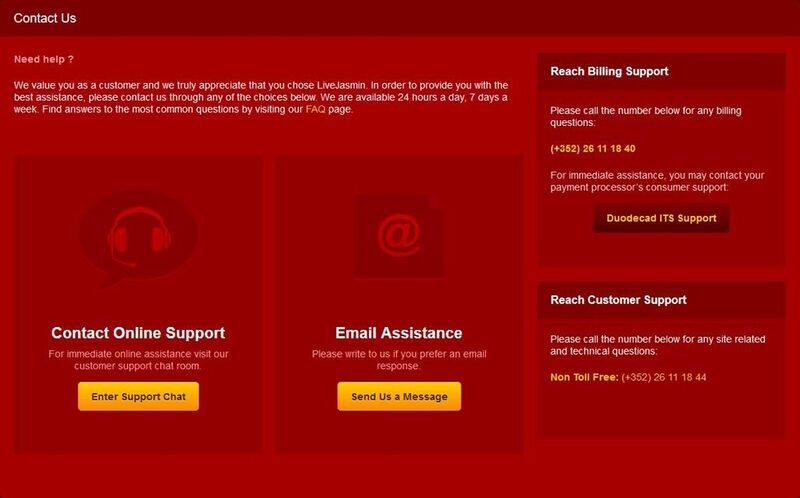 Expect to use the support sparingly, if at all. The website doesn't have any problems worth highlighting, and in most circumstances, its FAQ section will suffice.
THE PROS & CONS
PROS
✔ All models on the site broadcast in hi-def quality, significantly enhancing your user-experience
✔ Top-quality tgirl models
✔ VIP Shows help you to save money
✔ Two-way video and audio work fantastically well
CONS
✖ As a Premium site, It may become costly
✖ No free nudity. You will have to pay if you want to see some tits and dicks
Conclusion
This LiveJasmin shemale review should have clarified how much we adore this gorgeous cam service and its roster of gorgeous trans women. You ought to visit this website if you enjoy shemale webcam chat. LiveJasmin is a top website to check whether you're new and intrigued or an experienced user looking for better options. Users that pay will receive the entire meal, while free users will only receive a sample.
---
Livejasmin Shemale Reviews
We don't have any reviews yet. Please share your experiences with other visitors and write a review about Livejasmin Shemale.