Do you ever get the hankering to view something different? Perhaps you have a specific desire that you'd want to see a cam model indulge in real-time and in high definition. Let's talk about the kink experience on CamSoda, the free sex streaming and chat mega-site where you can find X-rated performers doing anything you can think of and some steamy stuff you never knew existed.
Camsoda Fetish Pros
Free performances
Cheap private chats
Free C2C in privates
Mostly amateurs
Camsoda Fetish Cons
No UHD or 4K video
Limited Search Options
Confusing to navigate
---
Exploring the Kinky World of Camsoda: A Fetishist's Review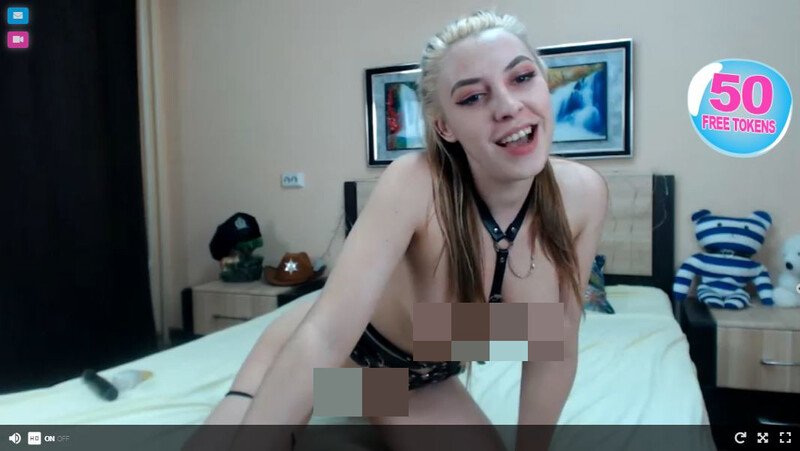 Regarding freemium cam sites, CamSoda claims the number-one spot. The volume of activity will blow your mind; we're talking hundreds and hundreds of models online during most hours of the day, performing for the camera in the hopes of earning your tips. whether you're into girls, guys, or trans, CamSoda has you covered. However, there's no denying the majority of the models are female.
Is volume the only thing that makes it the best freemium site? No. It's also their preview format. All the preview screens run simultaneously at no cost to the viewer. That means you can browse all you want, which is great when searching for the raunchy but rare. And while it's not as easy to find as the so-called "regular" stuff, the kinky material is there: bondage, domination, humiliation, spanking, role-playing, it's all there. Oh...and feet. How could I forget feet?
THE CAM MODELS
There are so many models on CamSoda that you're bound to find that special someone, but I have to warn you: Finding the wild, wacky, and weird isn't as easy on their site as on some others. CamSoda doesn't have a "fetish" filter you can click and start watching. It does have a few topical hashtags (including one titled "fetish"), but since the models can tag themselves, you often land on an irrelevant page. In fact, I wouldn't bother with the hashtags at all. They're not very helpful. You also can't search for "spanking" or "cock-and-ball torture" because their search engine only spits back the names of models.
Getting discouraged? No need! Camsoda's volume and format mean you can window shop like nowhere else. Scroll all you want. Click on page after page. It's free! You'll find that anime girl or bondage mistress with a little extra effort. Also, remember the page is interactive, so you can always try talking one of the models into doing something new...for tips.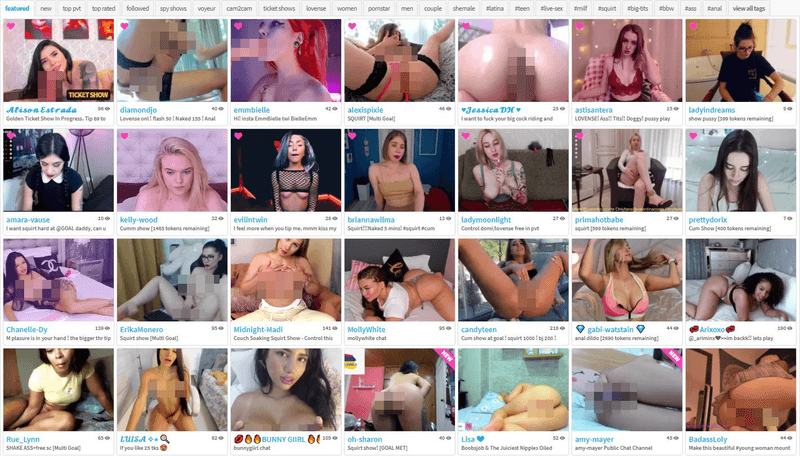 FEMALE
CamSoda, like most sites, has more females than anything else. As you scroll through the pages and hashtags, you'll find teens (18+), African, mature, Asian, Latina, heavyset, green-haired, blue-eyed... anything you can hope for. On average, there are a few hundred models online at any given moment, and about a third of them are into kinky stuff. A few tips, and she'll spank herself, use her feet to play with a toy, put on some clamps, or...well, I'll let you use your imagination.
MALE
On the left side of the CamSoda homepage is a filter tab titled "males." During most times of the day, around a dozen guys are online. I'll be honest: CamSoda's selection of males is very limited, so if you're looking for a guy with some kink in his step, you'll have to get lucky.
TRANS
There are more trans models on CamSoda than males, but the selection is nothing compared to the number of female performers. Typically, there are between 20 and 30 transgender models online, and most are very kink inclined.
CAMSODA FEATURE HIGHLIGHTS
I expect a few things from a great cam site. I expect a variety of models cause, no matter how hot she is. I won't watch the same model each time. I also expect there to be access to the models. I want to chat with them and get them to perform for me. I want to operate interactive toys and get that sense of control over the model. If all I can do is sit passively, I will get bored very quickly. CamSoda suits my needs perfectly. There are more models than I'll ever need, and the following option lets me keep track of the girls I like. When I log on, I can check the little pink heart at the top of the page, indicating how many models I follow are currently online.
Regarding interaction, every model I've observed responds in the chat and uses interactive toys, Lovense being the most popular. When you add the ability to record private shows, you feel you're getting your money's worth. There are also some hilarious features like the Spin It wheel, which allows you to spin a wheel to determine what the model will do. Similarly, the Pull It and Scratchoff options are a lot of fun.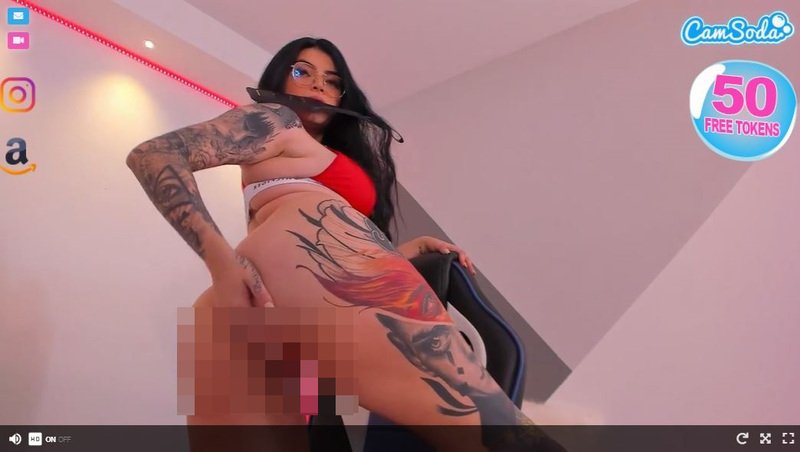 Speaking of interactive features, I will let you in on a feature that can save you some hard-earned cash. Sometimes models set token goals where they promise to perform a certain act once they reach a certain number of tokens, for example, "put on clamps at 1000 tokens." Now, if you're dying to see her perform, but don't want to tip so much at once, look for the Split goal with others button (below the tip button). This will allow you to tip as part of a group, reducing viewers' expenses. Not every model offers this feature, but it's quite common for larger goals, so make sure you look out for it.
Other great features include:
Interactive games and toys
Cam2cam available for Private Shows
Notifications for when your favorite models come online
Option to purchase pre-recorded content
GETTING STARTED
OK, let's do this! You've opened CamSoda on your browser and you want to get started with the experience. The great news is that if all you want to do is watch, you're there! Sit back and enjoy the show...or should I say shows. There are hundreds. Since you're browsing as a guest, you might get booted from certain rooms after a minute or so, but you can always move on to the next sexy vixen.
Being a guest is easy enough, but I advise registering an account. It only takes a few seconds, is free, and has enough features to justify the effort. Just click the Join Free Now button on the page's top right corner. CamSoda doesn't ask for much: a username, an email address, a password, and a gender. You will not be asked to provide any financial details unless you choose to buy something.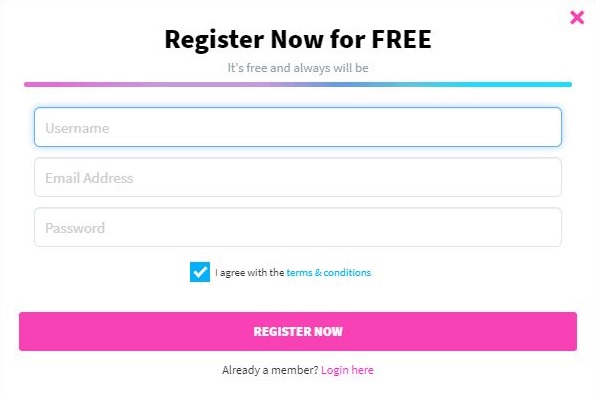 CHAT OPTIONS & PRICES
Chatting up a model can be great fun. They usually answer back, which bolsters the interactive nature of the experience, and if you use the chat section wisely (along with some tips), you can get a model to do just about anything. CamSoda offers a few chat options: If you're not signed in, you won't be able to chat. If you are, the scope of your access will be determined by your membership status.
OPEN SHOWS
The basic membership package allows you to enter the chatroom of any model on the site. You can watch, comment, ask her to do something unique, ask politely, and use tokens to control toys. The only problem is there could be 30 other people in the chat room, which makes it difficult to maintain the flow of conversation. Next, you're debating sports with someone instead of watching a hot model get undressed. You could try finding a model no one is watching, but there's usually a reason for that. The joy of a one-on-one session with a model is why you'll find so many people in the free chat asking to "go private."
PRIVATE SHOW
Why share a model when you can enjoy a private show? If you're willing to invest some tips, you can enjoy one-on-one attention from a gorgeous model who will likely be willing to engage in just about any activity you ask for. CamSoda even allows you to record and save the private session to view later. Not all models do private shows it's entirely up to them. Those who do, set their price points for various activities, and it's best to clarify ahead of time whether your model is willing to do "that thing" you're hoping she'll do. Communication is key, so be clear about your desires and make sure she's clear about her scope of activities. Some models even offer a wonderful feature called "cam2cam," which allows you to interact face-to-face with the model. As with the private shows, the choice of whether to participate in a cam2cam session is up to the model, as is the price.
By clicking Go Private, you can see the price-per-minute (in tokens) for the show, as well as the conditions for the show: allows/does not allow private recordings, allows/does not allow cam2cam. If you want to shop by price, try the Private Show Price filter, which is organized by price points ranging from 6 tokens per minute all the way to 120. "Forget tokens!" you say. "What is that in dollars?" you ask. The answer is it depends on how many tokens you buy. CamSoda offers scaled prices, so the more you buy the less each token costs. On average, however, a private chat will cost about $2.75/min, with the least expensive models charging $0.55/min.
TICKET SHOWS AND SPY CAM
In between public and private shows are two interesting options to consider: ticket shows and spy cam. The ticket shows are performances given to members who purchase a ticket, and the spy cam is a way to spy on a private show. Either will cost less than a private show and often provide much more entertainment.
PAYMENT OPTIONS
Tipping the models is the only way to get your desired personalized attention. When you feel like activating a toy, chatting up a model in private, or paying for pre-recorded media, tokens are the keys that open the models'...doors. Years ago, you might have needed to jump through several hoops to pay a site like this, but times have changed. CamSoda offers many ways to pay for tokens, from all major credit cards to old-fashioned wire transfers (from some countries). They even accept modern cryptocurrencies like Bitcoin and Ether. Paying by credit card or PayPal is fast, simple, and secure. Paying by wire transfer is a bit of a hassle because you need to send them an email request and go through several other steps, and that's assuming they accept wire transfers from your country.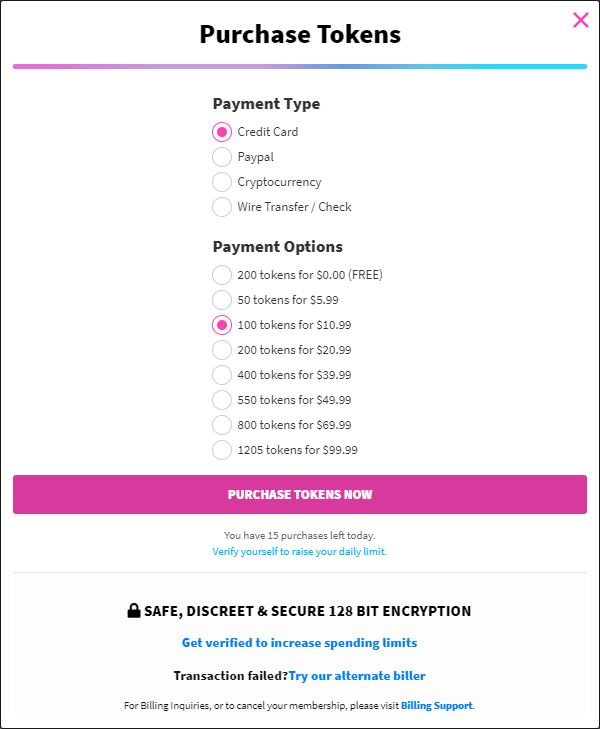 The site accepts:
major credit cards
PayPal
cryptocurrencies
wire transfers / personal checks (from certain countries)
MEMBERSHIP BENEFITS
Freemium is great, but there's something about a full-access pass to a cam site that's so much better. Knowing you can send a private message anytime is reason enough to get the Premium membership. I also enjoy browsing and chatting without constantly seeing an ad. When you first sign up for a premium account, CamSoda will offer you a token bonus. They also have promotional events on holidays, including Cinco de Mayo and even Mother's Day.
A Premium membership is also the only way to enjoy private messaging and Stealth Mode. Private messaging lets you connect with the model without jumping straight into a private show. It's the best way to gauge how receptive the model is to your unusual requests. When you're in stealth, you enjoy total anonymity. You can still chat and tip; only the model can see what you've tipped or written. Furthermore, as a premium member, you can adjust the tipping volume, which helps you convey your level of interest.
How much will that set you back?
A premium membership on CamSoda costs $19.99/month and provides access to all the benefits listed above. In addition, the premium interface doesn't have any annoying ads you usually see on cam sites. You'll also get 200 free tokens as a sign-up bonus.
MOBILE EXPERIENCE OF CAMSODA
Remember when you had to hide behind the shed with a magazine? Not these days! All the girls your heart desires are available anytime, anywhere. Cell phones have changed the way we live, and CamSoda understands that. Like many other modern platforms, they've developed a cellphone interface that allows you to enjoy something very similar to your computer experience. You can view the models, tip them as you normally would, and participate in the various shows: public, private, spy, and ticket. The mobile site has two major differences: the preview windows are stills, and the chat history travels in the opposite direction. I would prefer active preview windows, but I suspect that would create serious RAM issues for some phones. Regardless, the mobile site works very well. You don't feel as though you're missing out on any key features.
VIDEO QUALITY
I'm a huge fan of sharp, crisp HD+ and 4K heck, even 8K for movies, gaming, and especially for cam girls. So, I'm glad CamSoda offers an HD tag to locate the best high-definition streams. Obviously, the biggest factor is the model's camera, but plenty use high-end gear resulting in the kinds of clean, clear images viewers demand. I hope they add UHD and 4K options soon, but CamSoda's overall video quality is good for a freemium site. You certainly won't find any fuzzy or frozen feeds. Those days thankfully, are behind us.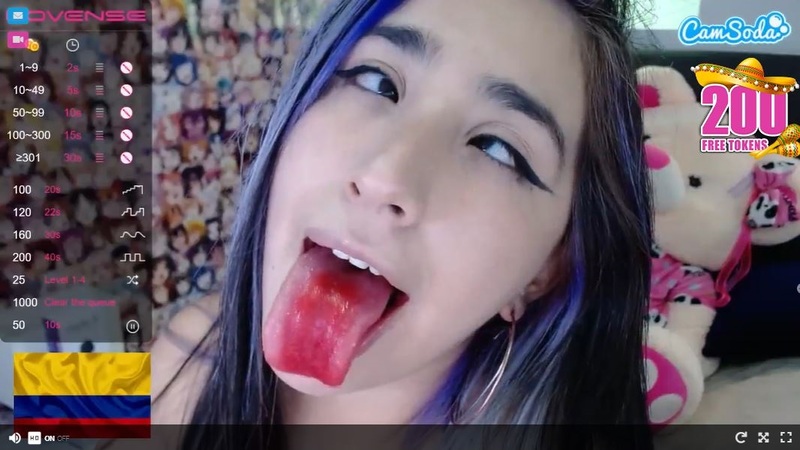 THE PROS & CONS
PROS
✔ Huge selection of fetish models
✔ Many free and inexpensive options
✔ Sign-up bonus (tokens)
✔ Option to record private sessions
✔ Cam2cam available on desktop and mobile
CONS
✖ Problematic search functions
✖ Private chat rates only visible to token holders
✖ No HD+ webcam rooms
BEFORE YOU GO
There's a reason CamSoda is so popular: You get a lot of material for little to no cost, and the overall experience is great fun. The large selection of models means you're not likely to get bored, and the interactive features mean you get to be part of the action. There's something for everyone, and the ability to record your private sessions means you'll always have a nice memento. To be fair, the site has a few flaws: It needs to be reorganized so that it's easier to navigate, search, and filter. But when you consider that the membership is free and the tokens are inexpensive, you realize it is one of the best fetish cam sites out there.
---
Camsoda Fetish Reviews
We don't have any reviews yet. Please share your experiences with other visitors and write a review about Camsoda Fetish.