LiveSexAsian Pros
Great video streaming quality in all rooms
10 FREE credits when you validate a credit card
10 FREE peeks into ongoing private shows
'Spin the Wheel' to win extra credits before every purchase
A wide variety of payment methods
Cam2Cam on mobile devices
LiveSexAsian Cons
Advertised rates don't include cam2cam and 2-way audio.
No nudity or X-rated action in the open chat rooms
Weak membership program
---
Livesexasian review 2023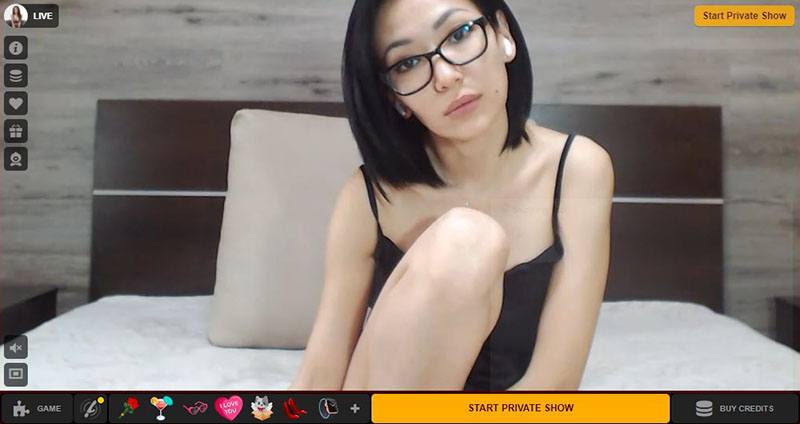 LiveSexAsian isn't without its faults, though, and before enjoying it one should familiarize itself more with its services. As always, a test drive may be optional, but is more than recommended. I've made a full LiveSexAsian review just for this, so read on for some handy tips and important information.
The Models
At any given time, LiveSexAsian has roughly 150 models online on its platform. The majority of them are women, followed by ladyboys, and Asian males in third place. If you're into females or tgirls, you'll have a wide range of options, as most of the models on LiveSexAsian are as hot as they come. Their ethnic diversity is also commendable, with girls from China, Vietnam, Thailand, Japan, and Korea in abundance.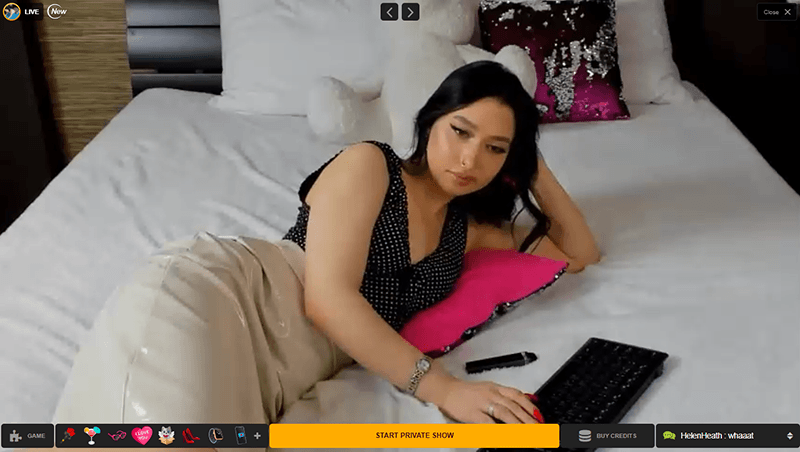 LiveSexAsian appears to have some sort of model screening process in place; otherwise, the choices would not be as constant. Even the rooms are well-framed and appear to have been set up and organized by a professional, if not a team of professionals. Everything is quite professional, and you can enjoy the show without worrying about a camera that is out of focus or doesn't have the model in the appropriate frame.
There aren't many amateur cam females on LiveSexAsian. Because of this, the majority of the cam models on the LiveSexAsian platform are seasoned professionals who were accepted to work on the site. The majority of the girls on the site are young, cute, and small, but you won't have any trouble locating some sultry mature babes or a BBW on cam. There are a few lesbian couples on the site, but the majority of the cam rooms are solo shows.
The model's profile page is also a cam room. Although not many models reveal these facts on their page, you can read about the model's sexual orientation, turn-ons, and turn-offs under the stream. You can also see any explicit images or movies she may have taken in her spare time. Some of these will set you back a few dollars, so start with the Free Content tab before moving on to the Premium Content tab.
If you want to learn more about a model, click on the information icon to the left of their stream (looks like the letter "i"). You may see the model's age, as well as what she's willing to do in private and her rating. It can offer you an idea of what she'll agree to and how much fun you'll have with her.
Livesexasian Feature Highlights
You'll notice a tiny circle to the left of their names as you read through the hundreds of photographs of Asian angels enticing you into their realm of exotic extremes. A green circle indicates that she is online and ready for you to enter her open room. Who knows, a simple discussion could lead to a private party.
A yellow circle means she's online, but she's previously been hidden in a private show by someone else. In this situation, you'll have to summon all of your patience till she returns to her room - it could take a minute or an hour - first come, first served.
If there's an orange circle around the dot, it implies she does an Instagram-style story if you follow her, and if there's a nasty grey dot, it means she's not at home and you'll have to check again later. You can also Favorite her to receive an alert when she activates her webcam.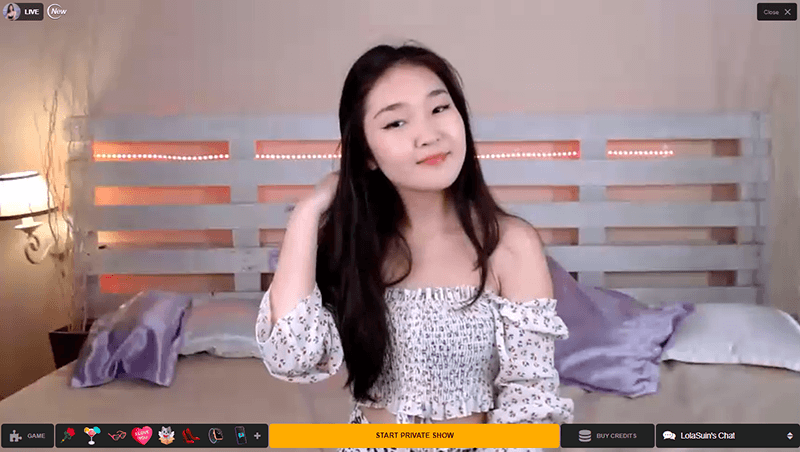 But enough with the facts; how about a time-saving tip?
FREE STUFF... we all appreciate free stuff, so take advantage of the freebies available at this XXX cam site. You'll get 10 FREE Sneak Peeks as a welcome present when you sign up for the site for free (which I'll explain how to do in a minute). If a chick is performing in a private show, you can use a peek to see what's going on behind her virtual curtain for 20 seconds. You can't talk or message her because it's someone else's show, so you're a silent voyeur, but it's a terrific way to get an idea of what to expect if you decide to go 1on1 with her.
Other highlights include:
Spin the Wheel for a chance to double the credits you receive on each credit bundle you purchase.
There are generally around 100 Thai, Philippine, Korean, and Chinese camgirls live porn performers streaming at any one time.
When you validate your credit card (without having to make a purchase) the site gifts you 10 FREE credits as a thank you.
SALE - girls slash their chat rates for a limited time in pop-up sales
Most rooms stream in HD or a minimum high-quality SD.
Free live chat rooms are open to visitors and members
Peeks are available when a model is in group or private shows and they costs 1 credit
Private Asian porn chats are the most popular option
Awards are given to the top Asian webcam models and users can vote and see who won
Favorite List is available to both regular and premium members
Cam to Cam availability. 2-way is guaranteed to work when you pay for it
Users can take Snapshots during private or paid session and it costs 0.3 credits per minute
Surprise button enables users to send a gift to an online or an offline host
Streaming quality is fantastic – much better than what you'll find on most other Asian sex cam arenas
Easy navigation
24/7 Customer Support
Most camgirls offer HD sex chats
Captivating phot galleries featuring the Oriental camgirls
Sale hosts offer live sex shows for less than a credit per minute
Many of the hosts have sex toys on demand
Instant mobile access with a specially designed app
The site is fully accessible in 19 languages
Simple search tool from the drop-down menu
Video Quality
LiveSexAsian's video quality is simply superb. It's nearly impossible to find a cam room on this site that isn't in 720p HD, with a decent amount of them streaming in 1080p full HD. Most of the models you'll see on LiveSexAsian that stream in HQ, which is the lowest video quality you'll come across on the site, are amateur models that have yet to purchase HD streaming equipment.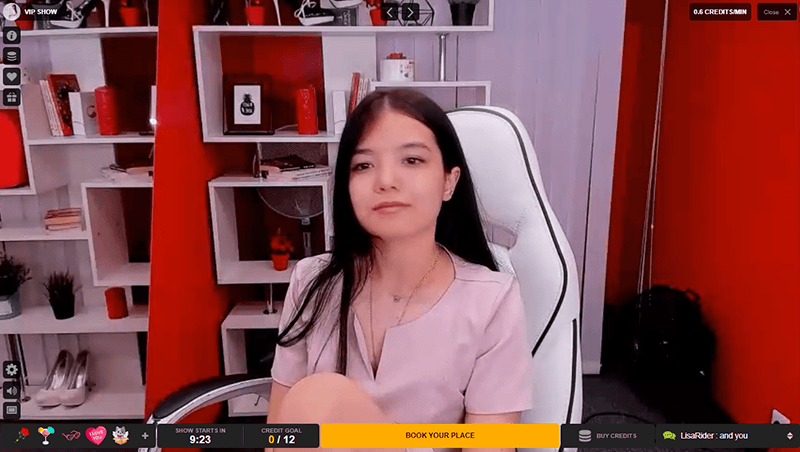 While the previews of the cam rooms take a few seconds to load, the rooms themselves load even faster. The shows lack any stuttering or buffering issues you may see on other cam sites. It seems that LiveSexAsian has strict rules on the kind of internet connection you need to have to become a model on its platform, aside from its many other qualifiers. The stream delay is also fairly insubstantial, making every show feel responsive and intimate.
You don't have a way to adjust the video quality, nor will you need to, since LiveSexAsian does a great job adjusting the video quality to suit your internet speed. You do have a way to adjust the screen size of the show, and I suggest that you do so in private. Enlarging the show to full screen doesn't hide the chat, so you can do so while still being able to communicate with that hot Korean girl you're watching.
Prices
LiveSexAsian isn't too expensive, but it is slightly pricier than most other premium adult chat sites. While a private show on most sex cam sites costs an average of $2.50 a minute, one on LiveSexAsian costs around $2.70 a minute. It's not a huge difference, but it can add up if you find yourself spending a lot of your chatting with Oriental cam girls.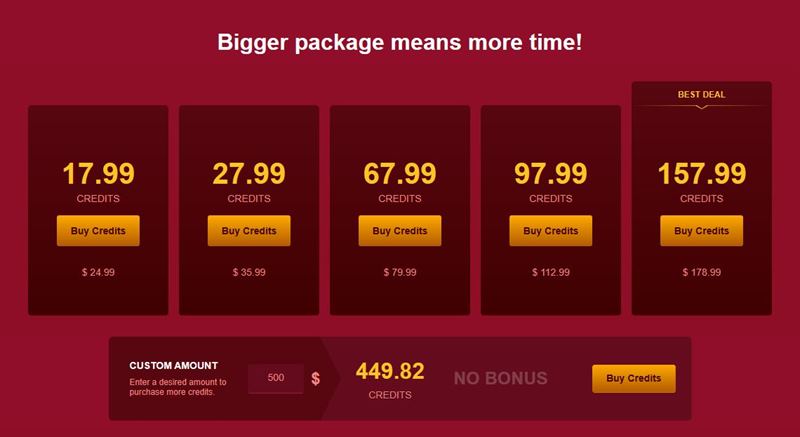 Another thing that can bump up the price is the lack of free two-way audio. Unlike most other sex chat sites, LiveSexAsian guarantees you cam2cam in every private chat on desktops. This doesn't come with two-way audio, though, and they both cost an average of $1.00 per minute (each) to add.
LiveSexAsian offers 5 basic credit packages, but also offers the option to pay any amount you want, with a credit being worth around $0.88 in both cases.
The prices greatly differ depending on which show type you're watching. For more on that, check out the different chat types below.
Chat Types
LiveSexAsian covers the basic chat types, but doesn't offer anything beyond that.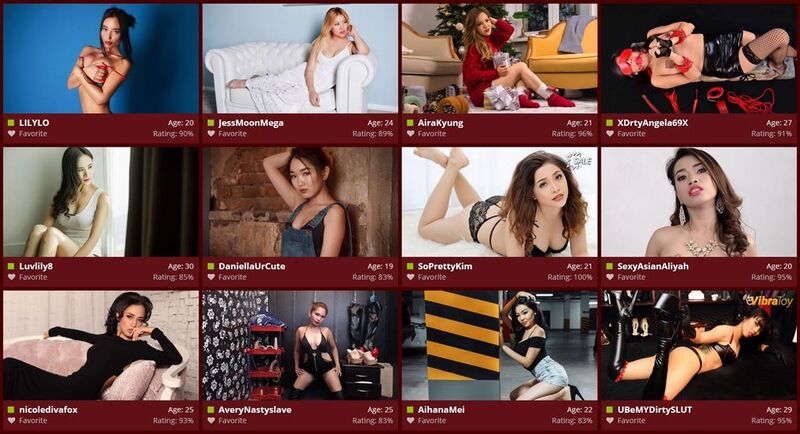 The chat types you can find on LiveSexAsian are as follows:
Open Chat
Obviously, the first stage in your Far East totty journey is to visit a babe's open chat room. You can get a sense of who she is, what she's into, and whether she looks like her photo in the gallery in these rooms. When you hover your mouse over the live feed, a small info icon appears in the upper right corner of the window; by selecting it, you can learn more about the girl, including her kinks and how highly other users have rated her shows. Many people have access to additional media, such as images and brief video snippets. However, don't anticipate anything wicked to happen in these rooms; they are entirely non-nude.
Private Chat
A private show on LiveSexAsian is quite the experience. This is a high-end adult cam site, and it feels like it. Due to the short stream delay and the professional models working on the site, every chat feels very intimate, especially with cam2cam. While the average per-minute price on LiveSexAsian is around $2.70, you can find shows for as low as $1.20.
You can pay $1.30 to peek at an ongoing private show for 20 seconds. Aside from this, though, LiveSexAsian has no spy or voyeur chat option, so if you want to spy on some Chinese hottie jacking off, you're probably better off trying out a sex chat site like ImLive instead.
VIP Chat
My personal pervy favorites are VIP chats. In fact, whether or not a female is on my list of obscene lovelies, if I see a girl holding a VIP performance, I'll probably pay to have a seat (some of the shows start as low as $0.50/min). The model announces that she will begin a VIP Show in 'approximately 10 minutes.' She has that much time to entice enough people to come to the closed X-rated sextravaganza and pay in advance. The show will commence if she meets her credit goal. These shows can be quite explicit at times. And if you ask nicely ahead of time for her to do something specific (they like dildos, by the way...), she'll most likely do it during the show. These are one-way shows; you can't utilize your webcam or turn on 2-way audio; it's a type of entertainment where you can see but not be seen. By the way, if she doesn't meet her goal, the show will be canceled, and your credits will be reimbursed instantly.
VibraToy Chat
If you like controlling your model's pleasure, this is the show type you should be looking for. In these shows, the models use special remote control sex toys you can activate by tipping them. Yes, you'll actually be able to make that cute Thai girl squeal on command. It's glorious.
There aren't many VibraToy chats on LiveSexAsian, so keep an eye out for them. They are marked with a special VibraToy banner, so they're pretty hard to miss.
Unique Features and Extra Content
LiveSexAsian doesn't really have much in the way of special features. It keeps things simple and invests its money in making sure your experience is as good as it can be.
Mobile Site
LiveSexAsian is optimized for a superb on-the-go experience on smartphones, tablets, and other mobile devices. All of the features of the regular desktop version are available on the mobile edition, as well as the option to practice your swiping abilities by moving from one live cam room to the next.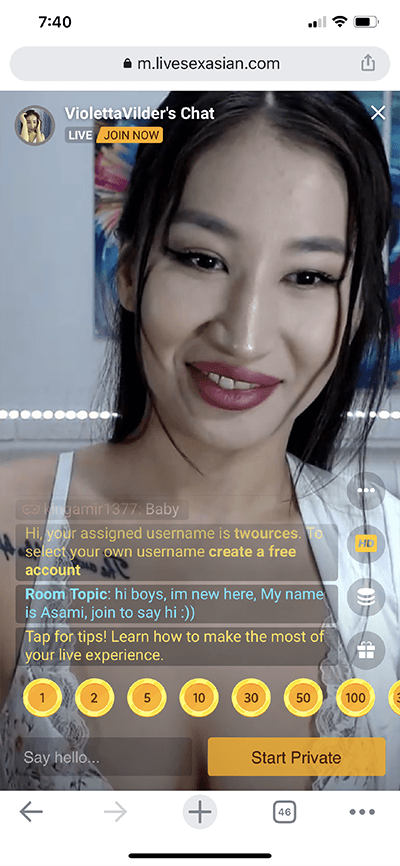 It's also one of the few live sex cam sites that offers private mobile cam2cam shows. For a 1on1 C2C mobile sex chat, the interface and ease of use are excellent. Adding the cam2cam features to the sex cam show costs $1.00/min in addition to turning on the camera and microphone on your mobile device.
In conclusion one tip: If you're viewing the site in portrait mode (holding your phone vertically), you can pan the camera by pressing and holding the screen and tilting your phone. To make the chat disappear or reappear, push and release on the screen.
Premium Membership and Rewards Program
LiveSexAsian has a program called Club Elite, which is basically a way for loyal members to become more visible to the models. You earn points by spending credits, and these points go toward increasing your rank. The higher your rank, the more attention you'll get from the performers.

LiveSexAsian doesn't offer anything more than this and the bonus credits you can get on certain purchases. It just doesn't need to incentivize anyone to stay; the site's quality does it on its own.
Registration
Follow these steps: Choose a username, password and enter a valid email address. Then, verify your email by using the verification link sent after your registration to the site. You are now done, and it should have taken you less than a minute. Feel free to enjoy LiveSexAsian at your leisure.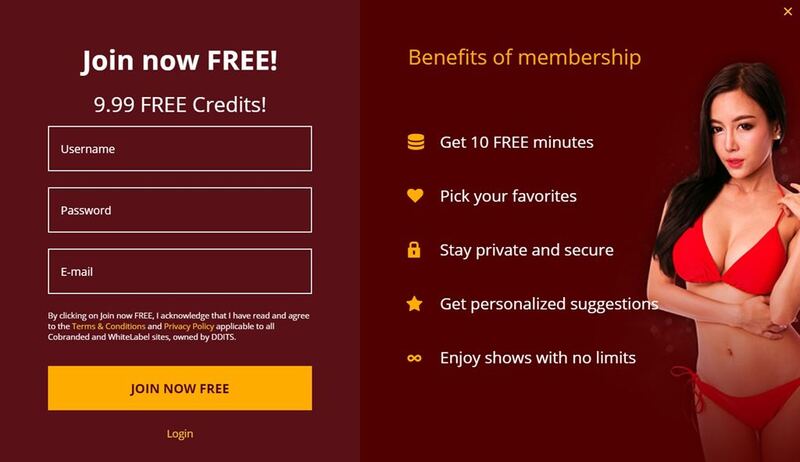 As an aside, LiveSexAsian offers 9.99 credits (valued at around $13.00) for entering a valid payment method after registering. You don't have to do so, but if you do, LiveSexAsian will charge you $1.00 to check if the card is valid, then automatically refund you and give you 9.99 credits for free. This is pretty much free money, so I suggest you do this and use the free credits to try the site out. That way, you'll get a better feel for it before even having to pay for anything.
Accepted Payment Methods
The accepted credit card types are as follows:
Visa
Visa Electron
Visa Bleue
MasterCard
MasterCard Maestro
Diner's Club
Discover
JCB
And these are the available alternate payment methods:
PayPal
PayGarden
WebMoney
Bitcoin, Litecoin, and more than 50 other Altcoins
Bank wire transfer
Security and Quality Assurance
LiveSexAsian is completely private and secure. Apart from encrypting your connection with HTTPS and SSL, it also ensures that no information appears on your bank statement that could reveal the services provided by the site. Any receipts for your transactions, as well as any other sensitive information, will be sent to your registered email address alone.
Furthermore, LiveSexAsian provides a reasonable return policy to ensure that you are delighted with your experience. You can get a refund for a show if it cuts out in the middle due to a problem with the model's stream, or if a model refuses to perform something she clearly placed down in her bio under "In Private Chat, I'm willing to perform," and you can reclaim any credits you paid on it.
Customer Support
veSexAsian offers round-the-clock customer service by email, phone, and live chat. They are pleasant to speak with, quick to answer, and really attentive.
However, make sure to check out the site's FAQ section first. It's quite sturdy, and it could be able to solve your problem. Because LiveSexAsian is so reliable on almost any device and platform, the answer to your problem should be straightforward.
In Conclusion
AdultCamReviewer has found Live Sex Asian to be one of the top live Asian porn chat services. It has all of the typical characteristics of a sex chat site. The site's biggest features, though, are the Asian females themselves.
It's also not as pricey as some other sites. You can also try out the site with 9.99 free credits because creating an account is free.
If you've never tried adult webcams before, Live Sex Asian is one of the best. Strongly suggested!
---
LiveSexAsian Reviews
We don't have any reviews yet. Please share your experiences with other visitors and write a review about LiveSexAsian.