XloveCam has a lot to offer, but it won't appeal to all users. Mainly, XloveCam is a great site for you if you are looking for cheap video chat rooms with stunning European women. XloveCam has been around since 2006. They've undergone a lot of changes, but the basic layout remains the same. Join us, as we explore XloveCam and share the valuable insights we have collected about the site over the years. The site might not have as many live amateur chat rooms as other sites, but the girls over here speak more languages on average.
Xlovecam Pros
European models
Cheap private chats
Good HD streaming
Nice fetish selection
Xlovecam Cons
Limited English chat
Tame free chat
---
Discover the Intimate World of Xlovecam: An In-Depth Review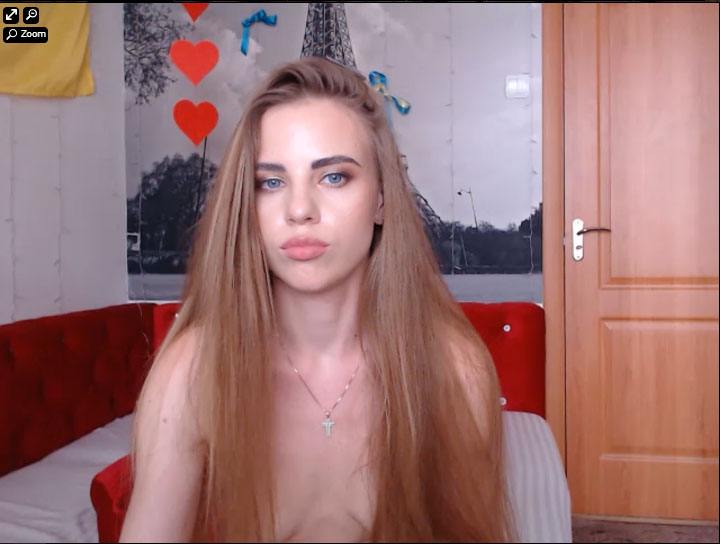 The focus on stunning European cam models distinguishes XLoveCam. There are lovely ladies from every continent, but if you're looking for a cam partner with a Euro flavor, this is without a doubt a must-visit location.
While the site claims to have 100,000 registered models, just about 1% of them are visible online. There are usually approximately 600 videos streaming at any moment, but that's more than enough to choose from. In fact, narrowing down the options to just a few will be your first challenge. I claim it's impossible!
The Models
XloveCam.com's models are the highlight of the site, with an impressive selection of attractive European cam girls who are eager to chat and show off their skills. With around 400 cam girls online at any given time, there is always a new face to discover. The majority of the models are bilingual, with a comfortable grasp of English and their native tongue, making communication easy for users from all over the world.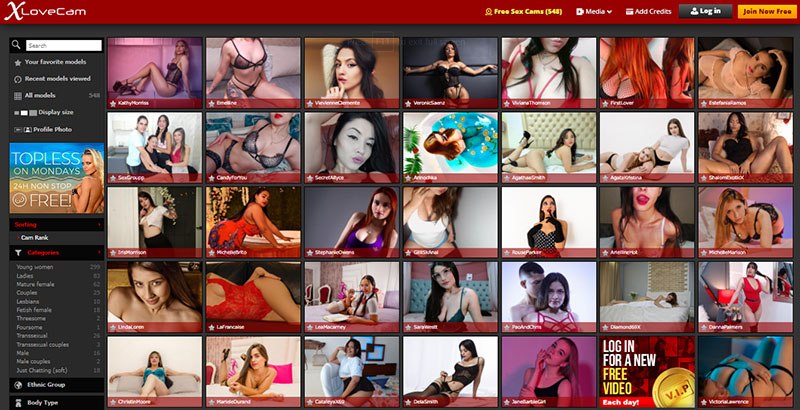 The models on XloveCam range in age, body type, and sexual preferences, ensuring that every user can find someone who suits their tastes. From sultry blondes to fiery brunettes, and everything in between, XloveCam has it all. Additionally, users can filter their search based on a variety of criteria, including hair color, body type, and kinks, allowing them to quickly find their dream model.
XloveCam Feature Highlights
You'll see a small indicator on the bottom right of the live feed showing a square overlaid on another square while hovering over the photos. By selecting this, the room will open in its own window, eliminating the need to go through the irritating shuffle ritual that most websites require when returning to a room. Also, if the girl has gone away from the camera at that particular moment, you'll be able to tell when she returns.
If a small red square appears on the right bottom of the static photo, it signifies the girl is in a private performance and has locked her room door. If you see this, leave or return at a later time.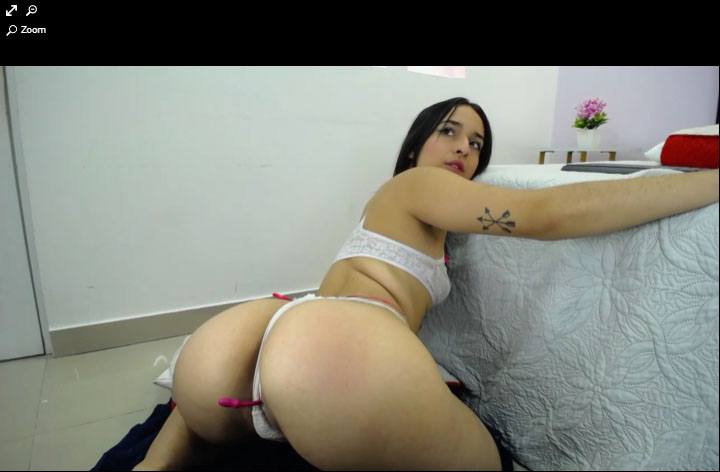 At XLoveCam.com, get up close and personal with a cam model.
This information is valuable, but there's one more trick that will help you obtain even more X-rated action without spending a dime. Monday is the key to unlocking this mystery... Every Monday, the site throws a topless sextravaganza, where the majority of models chat, party, and pose in their open rooms from 2 a.m. (New York time) for 24 hours (well from the waist up)
Other highlights include:
The website is accessible in 27 different languages.
When you sign up, you'll get a FREE XXX video of your choosing.
Some models have interactive sex toys that can be turned on and off remotely.
Many models have a timetable of when they'll be available online, so plan your visit appropriately.
Every area has its own star rating system that members may utilize to identify models quickly.
A large number of European cam girls are available.
Mature Females, Lesbians, Couples, Threesomes, Foursomes, and Fetish females are just a few of the categories where models can be found.
You may use user ratings to identify more popular webcam models.
Every cam girl's bio page also has a comment section.
An Xclusive Show costs 30-50% more and stops other people from entering your private show as participants or spies.
Private chats are available on Cam2Cam, whether on your PC or on your mobile phone.
Webcam models post clips, and customers can pay to watch or buy access to a specific cam girl's videos.
Everyone is welcome to use the free chat rooms, which are available for an endless amount of time.
You can keep track of hosts whose company you've enjoyed and would like to meet again using a simple Favorites list.
Users can send private messages to any model, allowing them to communicate with hosts who are not online.
Models' schedules are available, however, keep in mind that not all of them care to fill them out.
Emoticons are available in both free and premium chat rooms.
Users can gift models Love, which is equivalent to a virtual kiss.
On both free and paid chat rooms, users can give models a bonus.
Registration on XloveCam
Registering on XloveCam is a breeze, and you'll be up and running in no time. All you need to do is provide a username and a password, and you're good to go. However, it's recommended that you include your email address during the registration process, as you'll receive a free VIP video as a reward. This video, which is worth $15.00, is a premium recording of a model's private show that you can access for free.
Once you've completed the registration process and verified your email address, you can browse through the site's extensive collection of models and start chatting with them right away. And if you decide to purchase credits, all the necessary information will be sent directly to your email, making the process as smooth and hassle-free as possible.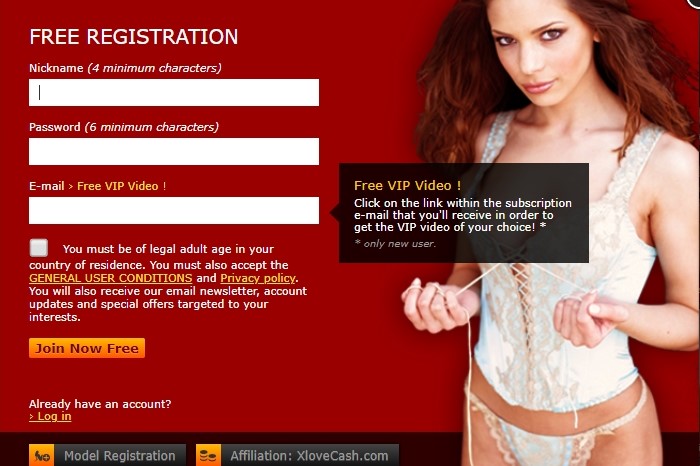 Chat Options
There are free amateur chat rooms and premium amateur chat rooms on XloveCam. The free video chat rooms, unlike other premium sex cam sites, aren't just for going private. For requests, you can actually tip. In the free chat, nudity is permitted, so what you see is determined by how much you spend and how charming you are.
Free Video Chat
The free video chat on XloveCam is a great way to get a taste of what the site has to offer. As an unregistered user, you'll have a one minute time limit per room, but once you sign up for an account, you'll have unlimited free chat time. This allows you to browse through the available models and get to know them a bit before deciding to take things to the next level.
In the free chat rooms, you'll find amateur cam girls performing for tips. Many of the models use Lovense toys, which are popular interactive sex toys that can be controlled by tips from viewers. This can make for a more engaging and interactive experience in the free chat rooms.
Once you purchase credits, you'll be able to invite models into private chat shows. This is where the real fun begins, as you'll have the model's undivided attention and can make requests for a more personalized experience. Overall, the free video chat on XloveCam is a great way to get started and explore the site's offerings.
Private Video Chat
Private video chat on XloveCam is where the real fun begins. Once you've purchased credits, you'll be able to invite models into a private chat room, where you can have one-on-one interaction with them. The private chat mode is where you can ask the model to perform specific actions or requests that you have, and they will cater to your desires.
n private chat, the Cam 2 Cam feature is available but disabled by default. If you want to turn on your webcam and show the model what you're up to, you'll need to enable the option. This feature is popular among webcam girls, as they love to see their clients enjoying themselves.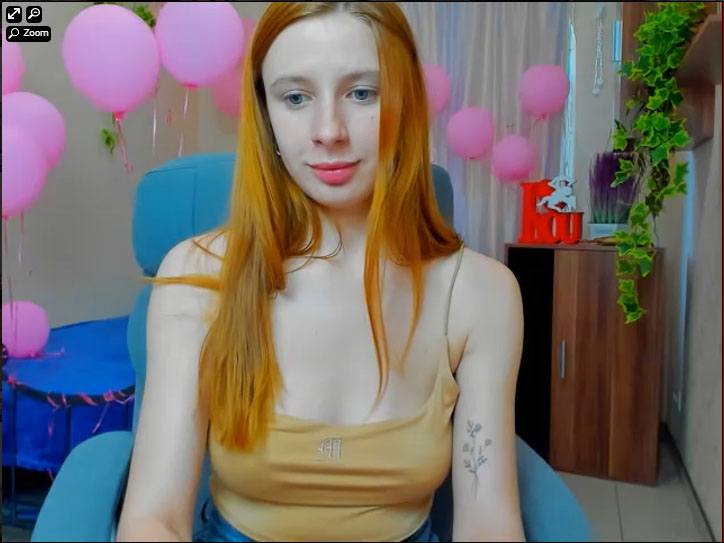 It's worth noting that other users can pay to join as spectators in private chat but won't be able to communicate with the performer. Spectators are given 20-second glimpses for every credit invested, which is a fraction of the cost of a private discussion. So if you're looking for an intimate and exclusive experience with the model, private chat is the way to go.
Xclusive Video Chat
Xclusive Video Chat is a premium feature on XloveCam that allows you to have a completely private and exclusive experience with the model of your choice. In Xclusive Chat, no one else can join or watch the show, giving you a one-on-one experience with the model.
One of the unique features of Xclusive Chat is the ability to directly control the model's Lovense or OhMiBod toy. You can adjust the vibration speed, rotation speed, and direction of the toy, providing you with a personalized and interactive experience.
This feature is available to all users, but VIP users have the added benefit of having all their private chats automatically upgraded to Xclusive Chat. So if you're looking for a more intimate and personalized experience, Xclusive Video Chat is definitely worth checking out.
SneakPeek
SneakPeek is a unique feature offered by XloveCam that allows users to take a peek at ongoing private shows of other models for a small fee. For just under a dollar, users can watch a 20-second preview of someone else's private porn performance. This is an excellent way to check out a model's performance before committing to a private show. It is important to note that SneakPeeks are only available if the model is already in a private show with someone else. So, if you are curious and want to see what's happening behind a locked door, SneakPeek is the perfect option for you.
Prices on XloveCam
When it comes to pricing on XloveCam, the site offers a range of options for users to choose from. Credits are the currency used on the site and can be purchased in three different bundles, with the cost ranging from $0.83 to $0.85 per credit.

The models themselves establish their own pricing for their private shows, with rates varying depending on the performer's experience and popularity. Newer or less experienced models can charge as little as $1.20 per minute, while the average rate for an average model is around $1.80 per minute. More experienced models can charge up to $3.00 per minute. However, even these prices are still relatively affordable compared to other adult webcam services.
Exclusive chat can cost anywhere from 30% to 100% more than a private chat, and sometimes even more. If you want exclusive chats with your favorite model all the time, you should consider paying for a VIP subscription. This will turn your private shows with her into a one-on-one conversation.
It's worth noting that the cost of credits may vary depending on the payment processor you choose. For example, using PayPal may result in higher fees.
Overall, XloveCam offers a range of pricing options to suit different budgets and preferences. The security of the site's databases and users' credit information is also guaranteed, providing peace of mind for those who are concerned about online security.
Payment Options
One dollar is equal to one site credit. The rates charged by each model are shown as a dollar amount per minute.
The following forms of payment are accepted on the website:
Visa
Mastercard
Diners CLub
Discover
JCB
Wire transfer
iDeal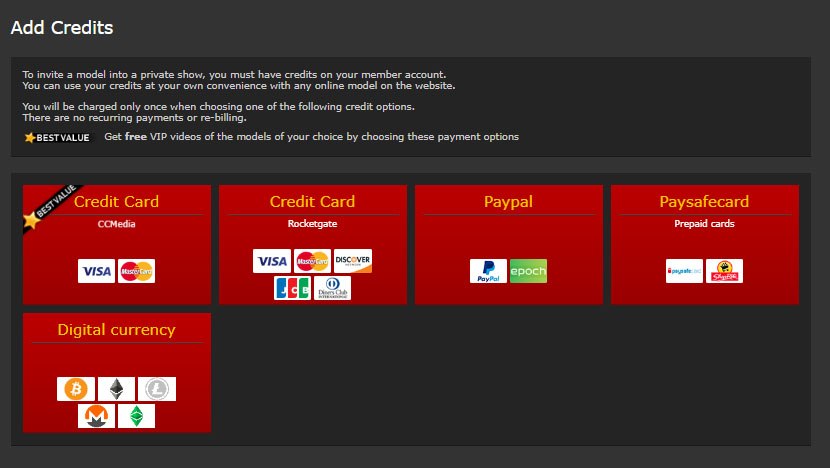 Security and Quality Assurance
XloveCam takes security and quality assurance seriously. All transactions are encrypted with SSL technology, ensuring that any personal and financial information is kept safe and secure. The site also has a dedicated team that monitors the platform to detect and remove any fraudulent or malicious activity.
In addition to this, XloveCam has strict policies in place to ensure the quality of its models and their performances. All models are required to submit identification documents to verify their age and identity. XloveCam also has a team that reviews all new models and their performances to ensure they meet the site's standards.
Moreover, XloveCam has a feature that allows users to report any issues they have with a model or their performance. This ensures that any concerns are quickly addressed and resolved by the site's support team.
Overall, XloveCam's focus on security and quality assurance ensures that users can enjoy a safe and enjoyable experience on the platform.
Customer Support
XloveCam.com is known for its excellent customer support, which is available 24/7 via email and live chat. The site also has a comprehensive FAQ section that covers most of the common questions that users may have.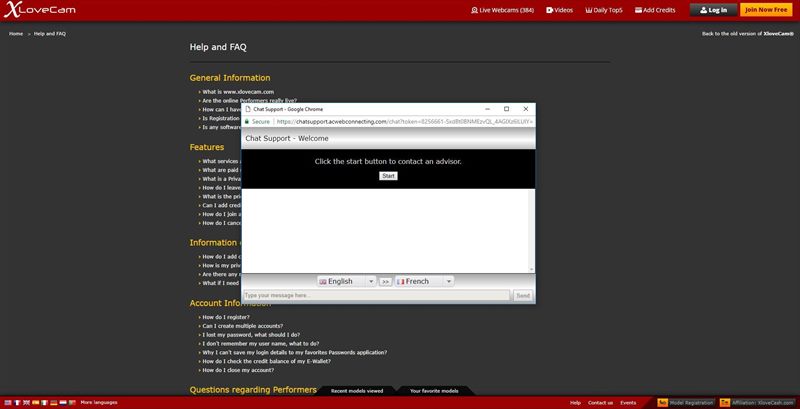 One of the best things about XloveCam's customer support is that their team is in-house, meaning that they are not outsourced from a third-party support center. This ensures that users receive prompt, professional, and personalized assistance from knowledgeable staff members who are familiar with the site and its features.
In addition to providing technical support, XloveCam's customer support team is also known for engaging with users on a personal level, making them feel more connected to the site and its community. Whether you have a question about a technical issue or need help navigating the site, XloveCam's support team is always ready to assist you in a friendly and professional manner.
Membership benefits
There is no such thing as a site-wide membership program. Some models have their own VIP program, which you may join to have unlimited access to their paid-for portfolio of photos and videos. The VIP membership for the models is based on a monthly recurring cost that can be canceled at any moment. Models may have anywhere from two to three videos posted to several hundred, and prices per month range from roughly $17 to $40. It's a very one-on-one situation.
XloveCam's Mobile Site
XloveCam's mobile interface provides users with a seamless and enjoyable experience when browsing and viewing live cam shows on their mobile devices. The site's search function, while similar to that of the desktop version, is optimized for mobile, making it easy to find your preferred model.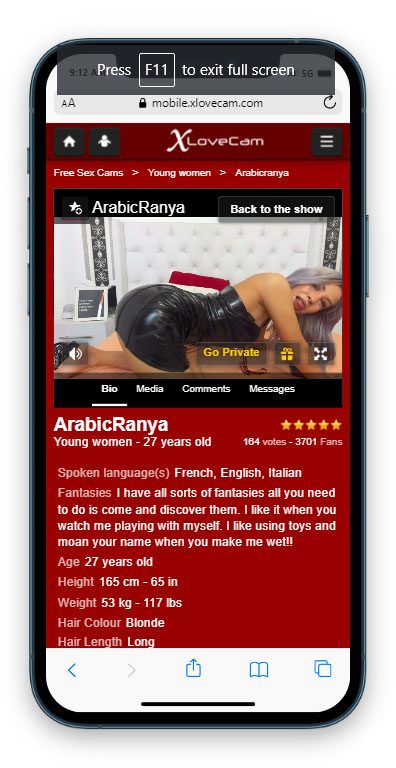 The video stream is presented in a larger format in a vertical orientation, and the chat window is also displayed better. Users can quickly switch between shows by swiping left or right, which eliminates the need for clunky tab switching.
One of the standout features of XloveCam's mobile experience is the ability to use cam-to-cam while on the go. This feature is not available on many other cam sites, making XloveCam a top choice for mobile users who want to get up close and personal with their favorite models.
Overall, XloveCam's mobile interface provides a smooth and user-friendly experience that is perfect for browsing and viewing live cam shows on the go.
Additional Media
XloveCam has a large amount of different media. The vast majority of models included will have a free, large gallery of sexy, entertaining photographs from private photo shoots that any user can browse at their leisure.
The video galleries held by the XloveCam.com models can only be accessed by interacting with another of XloveCam's semi-unique features, a V.I.P. program in which you register as a premium user for each particular webcam model, rather than for the site as a whole.
Each performer determines the price of a V.I.P. subscription, so you'll have to browse around. It's an excellent system, as it allows people to pay only for the content they want to see.
Video Quality
XloveCam offers a wide range of video quality options, including SD, HQ, and HD. Although not all models stream in HD, the quality of the video streams is generally excellent. While some rooms may not offer true 1080p HD, many do provide clear and crisp video quality that is enjoyable to watch.
One of the things that sets XloveCam apart from other cam sites is its focus on European models. As a result, you'll find many stunning European performers who are eager to put on a show for you. With the option to choose from various video quality options, you can select the stream that best suits your needs and preferences.
Overall, XloveCam provides high-quality video streams that offer a satisfying viewing experience. Whether you're using a desktop computer or a mobile device, the video quality is top-notch, and you're sure to find plenty of beautiful models to chat with and enjoy.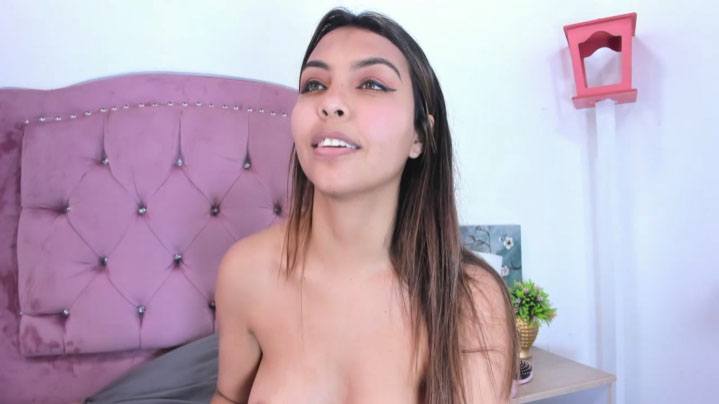 THE PROS & CONS
PROS
✔ Medium-sized model catalog with a respectable number of models online at any given time
✔ A large number of solo female performers and a good smattering of all other orientations and genders
✔ Standard cam site features are all present and work well
✔ Credit costs are easy to follow with transparency in real-world currency
✔ Show costs are generally low compared to many other major cam sites
✔ Membership is totally free, with no paid/subscription membership levels
CONS
✖ The cost of a private show varies considerably based on the model, features, and amount of time spent in a private chat.
✖ Because private show cost varies per model, models in more demand may charge far more than the average.
✖ VIP memberships are also set by the models on a per-model basis, which means that if you're a particularly active model, you can rapidly rack up a lot of extra subscription expenses.
✖ If you're looking for something other than solitary female performers, you won't find it on some of the other giant cam sites.
✖ Compared to other sites, there are extremely few fully explicit free shows (tip-based) — most are just topless teases to persuade you to pay for a private performance.
SUMMING IT ALL UP
XloveCam is a fantastic adult cam site that boasts an impressive selection of attractive European models who are eager to chat and show off their skills. With its user-friendly interface, numerous features, and excellent customer support, it's no wonder that XloveCam has become a popular destination for adult cam enthusiasts around the world.
Whether you're looking for a free video chat or a personalized experience in private or exclusive chat, XloveCam has you covered. With its wide range of pricing options and payment methods, users can choose the plan that best suits their budget and preferences. And with its focus on European models, users are sure to find stunning performers who are ready to provide an unforgettable experience.
It may not be as well-known as MFC, Chaturbate, or LiveJasmin, but it's definitely worth trying. For less money, sexy girls, private shows? What's not to appreciate about that?
---
Xlovecam Reviews
We don't have any reviews yet. Please share your experiences with other visitors and write a review about Xlovecam.