I did enjoy my time on the site, and have not had a bad experience on there to date, which in itself is a very positive point, but I just finish every session with a feeling that there was something missing, and that is not what you would expect from one of the best live adult chat cams sites. All is not lost for Streamen. They are, in essence, doing everything right, they just need to start looking to take it to that next level. I think they are ready for it and am eager to see how they develop. Obviously, you do not need to take my word for it. Pop on over to the site, sign up – it is free and very simple to do after all – and allow your own mind to be made.
StreaMen Pros
Time-saving search
Free C2C in privates
Good HD streaming
Pay-as-you-go
StreaMen Cons
Pricey top models
Small model count
---
Discover Your Perfect Man on Streamen: A Review of the Hottest Cam Site for Gay Men!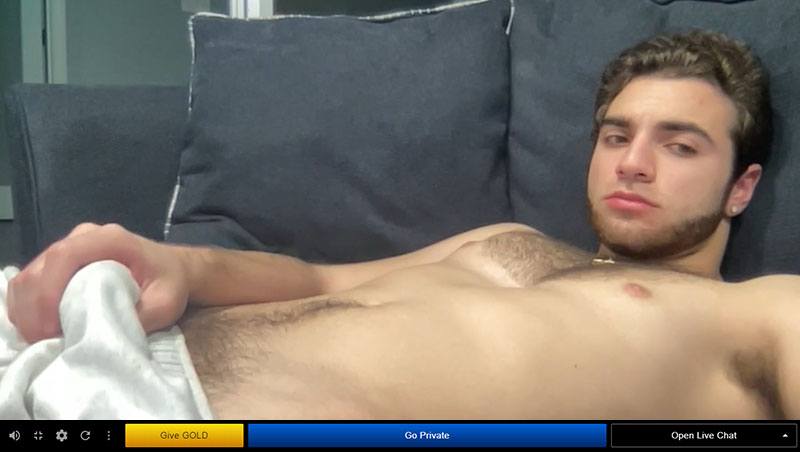 You may watch men masturbating in real-time in front of their webcams on Streamen, a gay cam service that is an alternative to the well-known Streamate network. It offers more straight and gay webcam models and better video quality than most other sites we've reviewed.
Members can have free chats in the video chat rooms with hot guys. Or, for as little as $0.99 per minute, go private in a one-on-one masturbation show. The website offers special services, such as GOLD SHOWS at a discount and limitless gay video streaming for just $14.99 a month.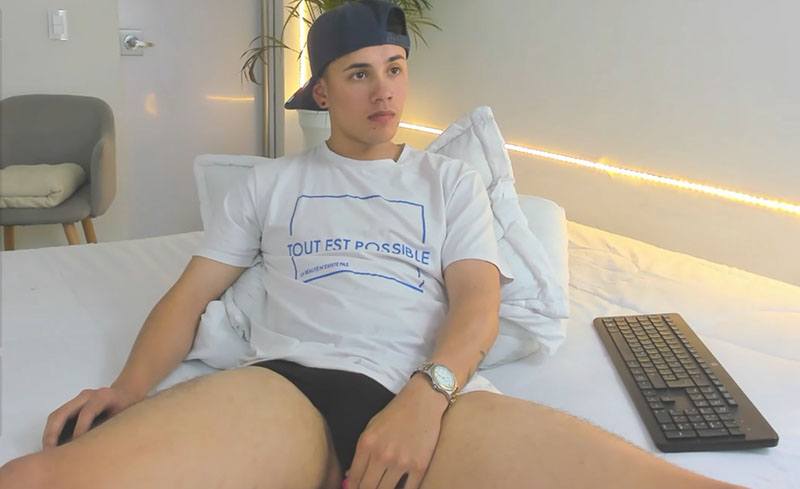 The Models
You'll see all the rooms currently operating live as you arrive on the home page. You can see the model's nickname, age, nationality, and a red-lined heart next to the nickname on each photograph. When chosen, the heart will turn completely red and be added to the My Favorites list in the top left corner of the screen.
The nav bar on Streamen is quite user-friendly and enables you to find the specific kind of gay model you want to interact with. You can select a model by using filters for geographies, ages, features, and other criteria. You can also select the ethnicity of the model among the many alternatives. Let me tell you, they are all here, waiting just for you: Asians, Whites, East Indians, or Pacific Islanders. They are all well represented.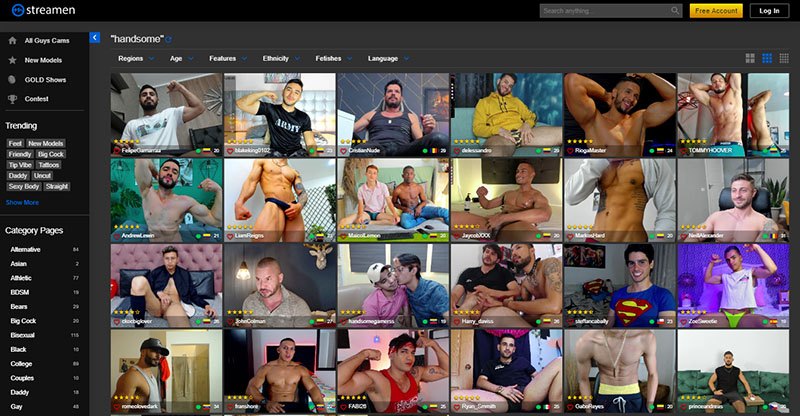 Do you have a particular fetish? By selecting the Fetishes button in the top search bar, you can easily narrow down the results and watch your guy deepthroat, gag, or even wear stockings. All the options the models have mentioned as services they can provide for you are yours to receive. So pick your favorite kink, and you'll have plenty of possibilities to indulge your most fanciful desires.
Since there are both gay and straight male models on Streamen, both amateur and professional, you'll notice that most of the rooms are very similar: Waiting for a serious spectator to watch them get nastier are a few topless sexy men who are sitting and typing. Even some individuals who were sound sleeping I have seen. And if it isn't a brand-new fetish I haven't come across yet, it's just plain unprofessional.
And I think that's the primary problem with the website, which didn't look very appealing. But if you figure out how to utilize the filters most effectively and select the guy who will do exactly what you want, you could find that this live sausage party is a lot of fun.
Streamen Feature Highlights
I must admit that Streamen's features are so distinctive that I frequently forget it is an X-rated gay webcam service. It simply gives off the impression of a dating app where you may talk to anyone. You can talk to these attractive twinks, studs, and hunks webcam models in such cases.
It's all about commitment in Streamen. Discovered a guy who completely rocked your world? You can watch him whenever you like by adding him to your Favorites list, or you could write him a note while he's offline to let him know you miss him. To do so, click the Private Message Me icon to the left of the model's screen.
You can also view your guy's schedule on the website and find out exactly when he'll be online over the upcoming week. You can get alerted if you really must know when a particular model is online because you simply can't get enough of him. You can receive notifications whenever your man is around by choosing the Get Notification option, located directly beneath the Private Message Me button. By changing the settings for this unique function, you may even decide whether to receive an SMS notification.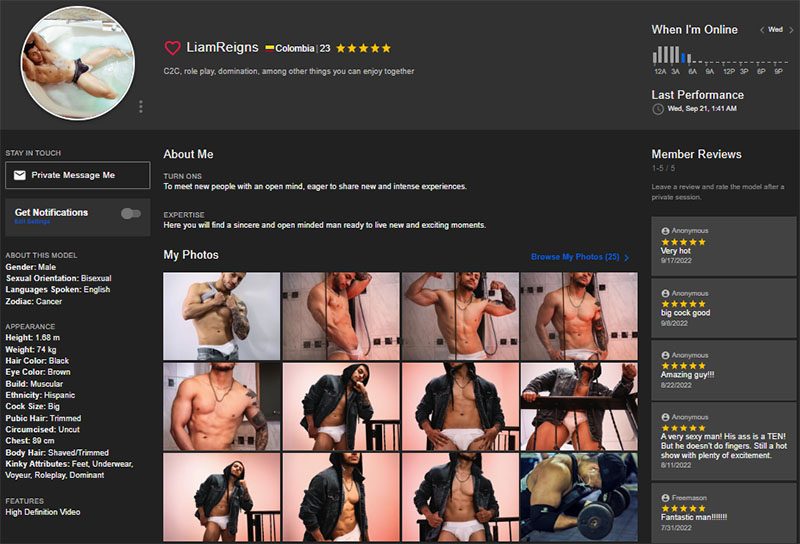 Giving gold is the way to tip on Streamen. These hot gay cam models love everything shiny, so any gold you can gift them will be greatly appreciated. You can choose how much you wish to gift by clicking the Give Gold button or sending Quick Gold (1, 3, or 5). You can type in the amount of gold you desire to contribute in the tiny window that appears. The models are grateful for these kind gifts and may act more impolitely as a sign of appreciation.
Other great features:
Everyone can access free homosexual chat rooms.
A variety of gay pornstars and unprofessional men
Basic and Premium memberships are both free, but the latter just requires a credit card for validation.
User comments can be seen in free chat rooms called party chat rooms.
The cost of one-on-one naked homosexual chats is reasonable and provides absolute privacy.
A single man acts before numerous men during Gold Shows, discounted homosexual sex cam sessions.
Users are guaranteed to find the ideal homosexual chat buddy thanks to intuitive navigation and effective search options
Users can select to receive notifications when their preferred models go up
You may order gay flicks on demand
The profile pages for each host feature images and biographical data
Users can rapidly find guys they like by using a Favorites List each time they log on
There are numerous HD chat rooms
Streaming in top-notch
For a complete, private encounter with cybersex, Cam to Cam is available with private chat
The hot gays can be found in the Guy Next Door, Bisexual, Asian, Athletic, and Latino categories of the XXX webcam network
Voting and rating the webcam hosts is recommended for members
Registration
On Streamen.com, there is only one subscription, and it is costless. To finish the registration process, you must enter your payment card information.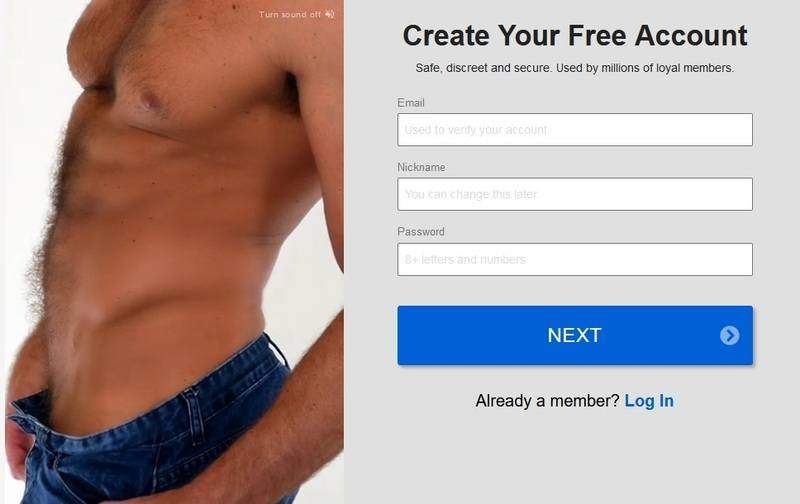 Chat Options
On Streamen, there are three main chat options: a free open chat room, a private chat divided into two sections (Private & Exclusive), and the Gold Shows, which are pre-scheduled performances chosen by the model.
It is possible to share your camera with the cam model and gratify your wishes if you want your hot gay man to watch you. To use the cam2cam function on Streamen, start a Private Show with a model and then click the Cam2Cam icon in the lower right corner of the broadcast. Even though this tool is only accessible in Private and Exclusive chats, it is free of charge.
FREE CHAT
Models with the statuses ONLINE or PARTY CHAT are accessible for free chat. You can access his public chat room by clicking on these profile images. You may still see the model as an unregistered user and hear him speaking into his microphone. However, you can't communicate with him unless you register for free. It is easy and simply needs a password and email.
PRIVATE SHOW
It's time to take things seriously now. Make sure you are signed up and logged in before beginning a Private Show with your beautiful gay model; else, you won't even be able to view the costs. Select the big blue "Go Private" button next to the model's live stream to continue.
A small window will appear with two choices: an Exclusive Show, which is much more private and puts you in a 1-on-1 session with the model, or a Private Show, which includes other viewers who will be able to talk with the model. Private Shows typically cost roughly $3.00/min, though if you look hard enough, you might find some newer performers who start off at around $1.00/min. Exclusive Shows could cost more than average.
Cam2Cam is accessible only in private shows and exclusive chats. The feature is terrific. However, whether it is optional or extra depends on the performer.
GOLD SHOWS
If you notice a Gold Show sticker on the preview photo, the model is either presenting a show or getting ready for one. Want to take part? Simply see if a live feed appears; if it does, you'll know this person is getting ready to start a show and might soon get naked. Each model sets its own minimum fee, so use Gold to reserve your position in this exclusive presentation. On the left side of the website, there is also an entire category devoted solely to Gold Show.
So how exactly does a Gold Show operate? Consider it a private performance for you and other hot men who purchased golden tickets to gain in. The model has a fixed amount of time to complete his task, which typically takes 5 to 15 minutes and costs anywhere from a few bucks to more than $20. (depending on the length).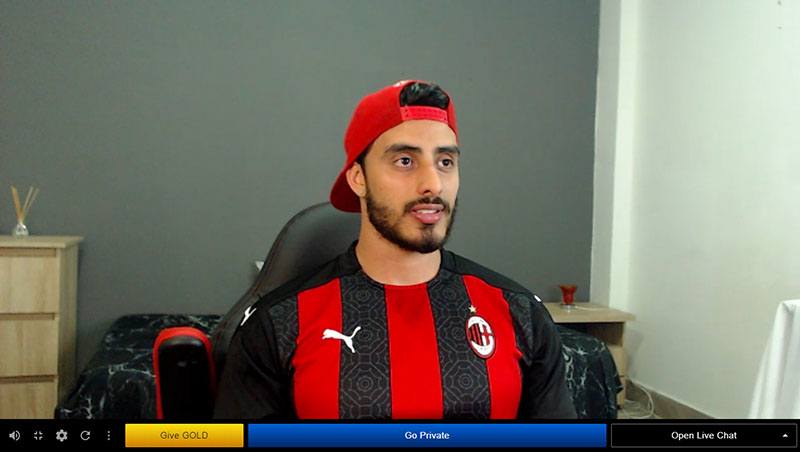 Price
Models charge a predetermined rate each minute, with each guy establishing his own rate per minute, similar to most live homosexual sites. Although there is a significant pricing difference between $0.99 and $9.99 per minute, most models fall between $1.99 and $2.99.
Members also have access to gay webcam shows that have already been recorded. Despite not being live, they are a fantastic alternative if you don't want to pay for live performances on a per-minute basis. These videos may be bought separately for $2.99, or you can subscribe for $14.99/month to gain unlimited access.
You will see one of the following names on your transaction if you decide to pay Streamen: ccbill.com, ECHST.net, or EPOCH.COM.
Payment Options
Because Streamen is a pay-per-use cam site, you are charged for each minute you spend in a chat room. There are no pre-packaged credits/tokens that may be bought. The website offers one of the simplest payment options: PayPal or a credit card like Visa, MasterCard, or Discover are both acceptable payment methods.
Are you a big tipper? Do you frequently spend too much money watching dicks before feeling the need to take back control of your life? Just for that, Streamen has the ideal solution. Select Daily Spending Limit, the third option on the list, by hovering over My Account in the top right corner of the website. Your daily limit, which you can adjust from $25 to $50 there, can be set.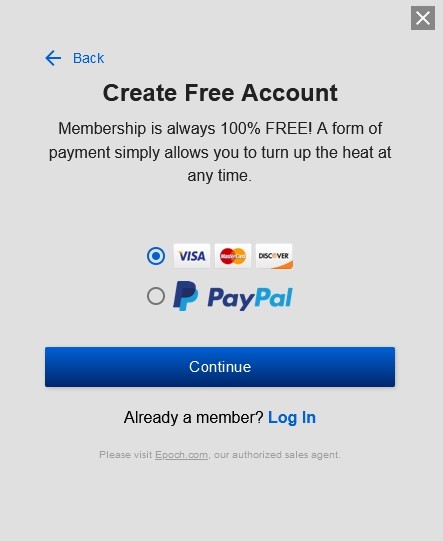 The accepted payment methods are as follows:
Credit card – Visa, MasterCard and Discover
PayPal
Membership Benefits
The rewards program at Streamen rewards loyal users. Once you have signed up and purchased your first private session, you will be registered as Level 1 on the award system. Your level will increase as you spend more time watching paid shows, up to Level 10, on the website.
Every level corresponds to the percentage returned to your account because this system operates on percentages. For instance, 10% of every dollar you spend will be reimbursed back to your account after you achieve Level 10. The credits automatically apply to upcoming qualified purchases and are provided weekly based on your completed transactions.
Mobile Site
The smartphone version of Streamen is surprisingly good. It is identical to the desktop version and retains most functionality and ways to interact with the models. It worked incredibly well when I had a private conversation with a hottie. The video streaming was flawless and of the highest possible quality. The chat box entirely takes up the bottom right corner of the screen. Simply watch the hot model on the big screen to make the chat box disappear if it annoys you. Unfortunately, mobile devices do not support the Cam2Cam feature.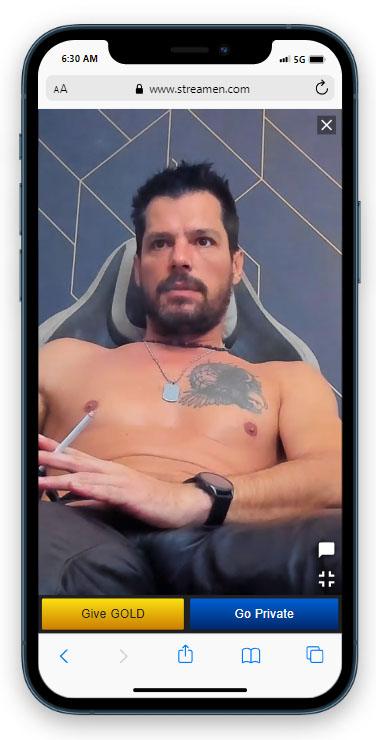 VIDEO QUALITY
Since Streamen is a reputable webcam platform, you may view most models in high definition. Sadly, there is no indication on the snapshot if a room has HD enabled, and there is also no filter that can produce results for such rooms. But you can always try to improve the appearance of your attractive model by clicking the little wheel in the bottom left corner of the screen and picking the highest resolution setting.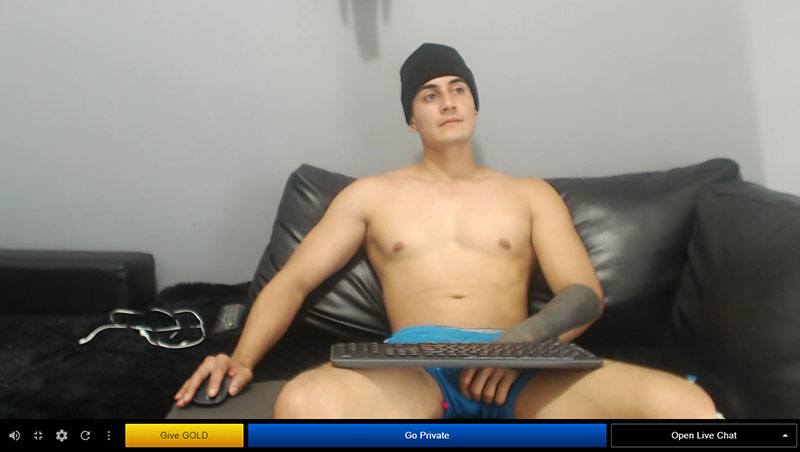 Support
For its users, Streamen.com provides comprehensive online help. Their customer care is reachable by phone, email, or online chat. They always answer quickly and assist you with your inquiries. The most frequently asked concerns concerning the website, your account, technical assistance, and privacy are addressed in the FAQ section.
If you want to close your Streamen account, there is a convenient click under the customer service website.
The Pros and Cons
PROS
✔ User-friendly website
✔ Free membership
✔ Savings-oriented Pay as you go system
✔ Great selection of HD streaming rooms
CONS
✖ Some men charge as much as $9.99 per minute
✖ Little available payment methods
Conclusion
There are compelling reasons to select Streamen.com above other sites, regardless of how seasoned you are as a live gay cam site watcher or how new you are to the gay cam scene. One reason is that the guys prefer performing and masturbating in front of their cameras over other websites. Additionally, the video and audio are generally top-notch.
Depending on the guy you select, it may be expensive, but if you have the patience to hunt for them, you can find some fantastic gay webcam chat at reduced pricing. Overall, I don't see any issues with this gay cam.
---
StreaMen Reviews
We don't have any reviews yet. Please share your experiences with other visitors and write a review about StreaMen.