Streamate is a nude chat and webcams adult site and the company itself is based in Seattle Washington. Right off the bat, I'm going to tell you I'm a level 10 user as far as their loyalty scale meaning I get a full 10% back of every dollar sent on this site because I've been using it for so long. Streamate still offers this to all users and it's just one of many reasons why so many people love the adult cams here. Sure there are opportunities to improve and it would be nice if cam girls could sell their clips and share their social media profiles which currently is impossible, but all in all, this is one of the best live sex cam sites in America.
Streamate Pros
Great selection of HD streaming rooms
Pay-as-you-go system
Nudity in free chat rooms
Money-back reward system
Global selection of live sex performers
24/7 customer service support
Streamate Cons
Prices can get expensive for Exclusive Shows
Limited payment options (only 3 credit cards and Paypal)
Cannot register as a member unless you provide a verified payment option
---
Streamate review 2023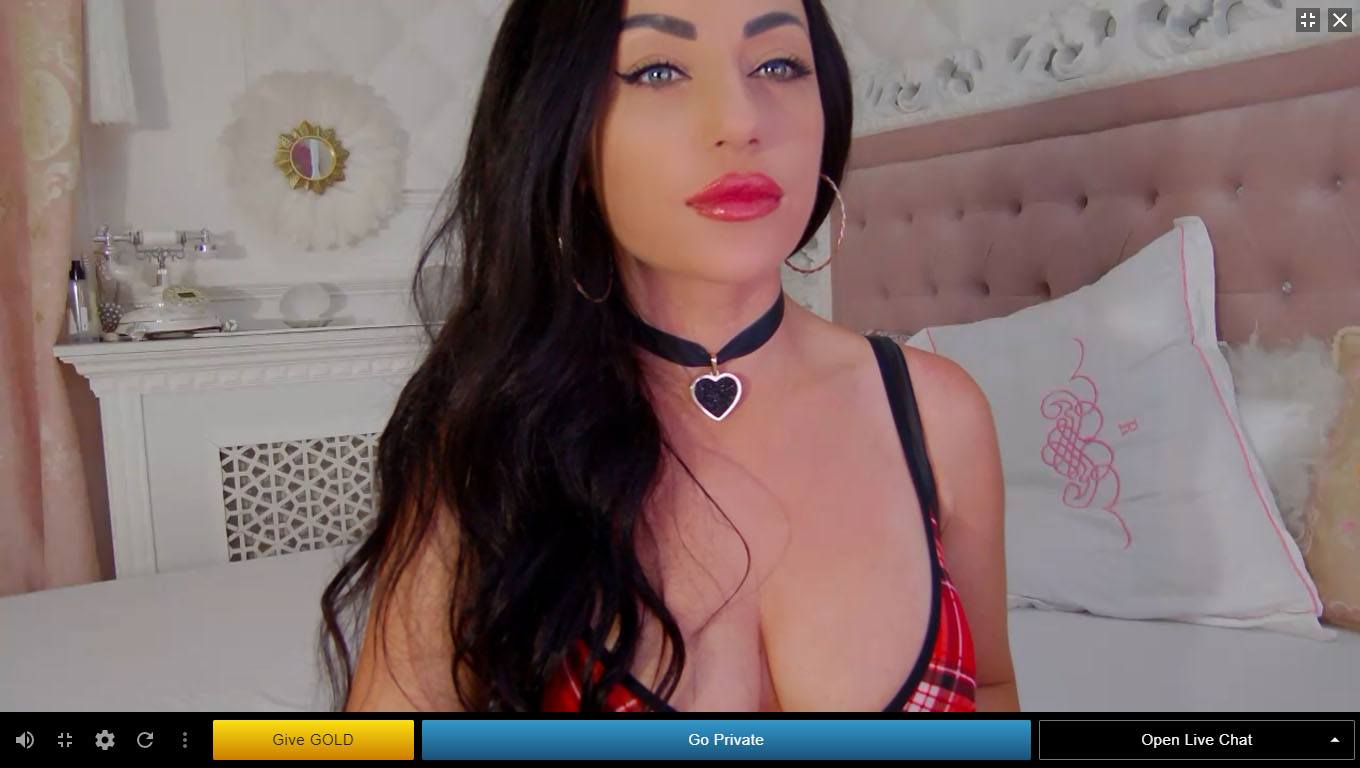 One of the most well-known names in the webcam market is Streamate. They are nominated for and win awards regularly. The website has a lot of excellent aspects, and it predominantly features Western vixens. Nonetheless, many people from other parts of the world are present. The website has a lot of variety, and while ladies from Europe and Asia aren't seen as much as women from other parts of the world, there are still a lot of them.
Overview
While most of their models are amateurs who record themselves at home, Streamate.com also has professional webcam models and even pornographers.
Streamate's design is simple, well-organized, and understated in the best possible way. The color scheme is easy on the eyes while also drawing your attention to essential details.
The environment on Streamate is very calm and enjoyable, but any new user will immediately realize that it is not a place to try to get what you want for free, as is the case with Chaturbate.
A live amateur cam lady can make a lot of money from tips. Still, there's more to their business strategy, including two additional tiers of paid conversation above the free webcam rooms, namely private and exclusive chat.
It is, after all, a fee-based service.
But it doesn't rule out the possibility of finding free content on Streamate.com. Scheduled shows, webcam rooms, model photo galleries, and some free recordings are all accessible for viewing.
The girls
Streamate hosts about 1,000 public chat rooms with models of all types, sizes, and forms at any given time. You can use the site's filter to find chat rooms with specific themes, such as Babes, Asian, BBW, Petite Body, Ebony, Hairy Pussy, Group Sex, Housewives, Mature, and so on.
When you move your mouse cursor over a model's preview gallery, you'll see what's happening in her room. This is her antechamber, where you can meet her and publicly talk with her and other interested individuals.
Streamate is a high-end adult video chat site. As a result, you won't frequently find nudity in the models' public spaces. To see tits, pussies, and asses in high definition, you'll need to start a one-on-one sex conversation. However, every now and then, you may come across a performer who defies the rules and removes her clothing in public (typically her top clothes) to seduce you and convince you to select for a more intimate solo show.
models.

Open chat rooms also show the model's professional images, which you can typically see for free. (Some models may choose not to add photos.) You may come across video snippets that are pretty explicit at times. These clips are for sale. Finally, you will be able to browse member comments and ratings if you are interested in learning what other users think about the model.
The public chat room allows you to do more active things like add the performer to your favorites list, send her a free private message (this is where Streamate differs from the majority of its competitors, who charge credits for this service), tip her, and most importantly, start an HD private sex show where things will escalate as quickly as you wish.
STREAMATE FEATURE HIGHLIGHTS
The naughty cam chat is the focus of Streamate. And the site's entire purpose is to assist you in finding the ideal pervy sex partner. In other words, Streamate isn't the place to go if you're searching for more explicit entertainment. However, it is, without a doubt, one of the most user-friendly X-rated webcam platforms available.
For example, suppose you walk into a room and notice a cheerful girl flirting her ass off and want to see what she's up to. A little live video feed displays at the bottom of your screen as you scroll down her open chat room to read her bio, including her kinks, assets, loves and dislikes, etc. This way, you won't miss a single second of the action in the room while you try to figure out if she's the deviant devil you're looking for.
Another helpful feature is seeing what's going on in the room without having to enter it. Simply hover over the static image on the site or your results page, and a live feed of what the model is up to in real-time emerges within a few seconds. If there's no feed, she's doing a private show with some lucky dude, or she's gone offline. When you log in, keep in mind that it may take a few seconds for the live video to begin broadcasting.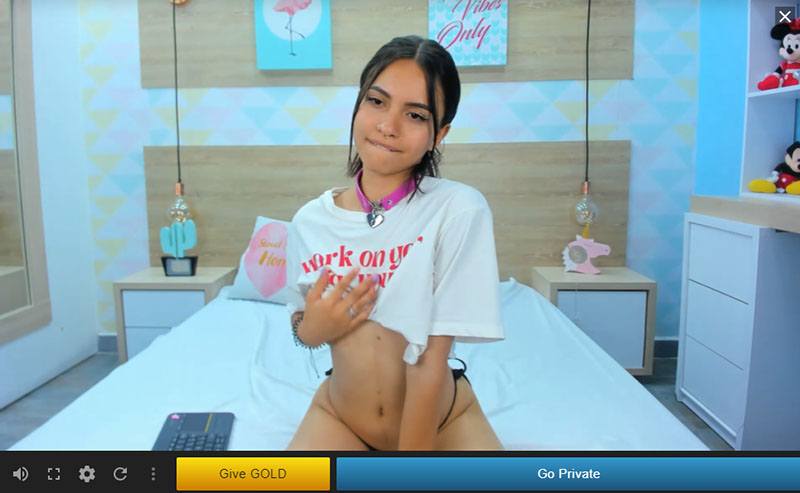 Other great features include:
Most rooms are HD
ALL users have access to full-screen mode.
Credit reimbursements are given in escalating amounts under the reward system.
The website is available in eight different languages.
Videos made for a fee by your favorite models
Even if you are not a member, you can use the free chat rooms.
Party chat is a free video chat where participants can see and remark on each other's posts. The mode is selected by the host.
On group and private nude webcams, members can watch amateurs and pornstars and chat with them.
Many ladies are available for sex chats, and members typically have access to 500 live nude chat rooms.
The new design improves the overall user experience significantly.
Gold shows are group webcam sessions in which members pledge a certain amount of credit, and the show begins after the camgirl's objective is met. These shows can last anything from eight minutes to a half-hour or more, and they can be extremely inexpensive. Of course, it goes without saying that users are not charged if the target is not met.
Premium members get access to a favorites list.
When your favorite camgirls are online and eager to chat, you can turn on notification.
MILF, BBW, Ebony, Asian, blond, fetish sex conversations, and other webcam chat genres are available.
User feedback is offered to assist in the selection of a perfect camgirl.
Viewers can choose between two different sizes of VideoChat boxes.
High-definition sex chat rooms are available, and they considerably improve the quality of live sex shows.
Cam2Cam is compatible with any private pornographic show.
There are three types of search tools: a general search box, an advanced search tool, and a category filter.
Various FAQ sections deal with specific themes and provide helpful information, particularly for first-time visitors.
A customer service team that is quick to respond
If you book a private cam session and pay upfront for a set amount of time - 5 mins / 30 mins / 45 mins or even an hour, you'll get a discount at the rate of 5% / 10% / 15% and 20% accordingly.
REGISTRATION
There is no need to register to utilize Streamate and start chatting with the models in their open chat rooms. However, you will need to sign up to use the site's features, such as asking performers to do unique things for you in exchange for tips or bringing one of them to a private sex chat.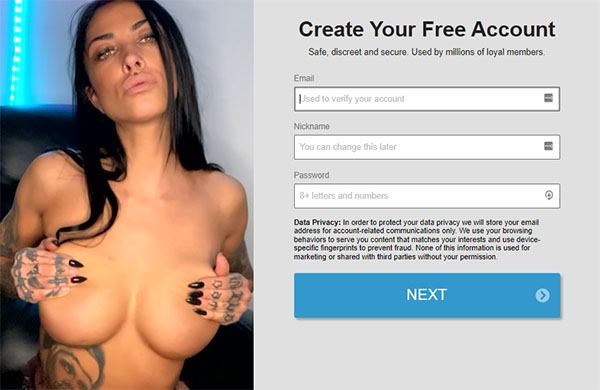 Unlike other adult live porn sites, when you join up for Streamate, you will be asked to provide your payment information in addition to your email, user name, and password. You don't have to make a purchase, but you'll have to set up a financial payment system to complete the sign-up process.
Chat Options
The following are the several sorts of live amateur chat that are available:
Free Chat

Everyone can access the basic level without having to register. This chat level includes webcam models who perform for tips, many of whom are wearing the popular Lovense or OhMiBod, as well as BlueTooth and tip-activated sex devices.

While the models use these gadgets and frequently advertise it in their profiles, it does not appear to be something that the site encourages.

We've dedicated a whole page to the cam sites with the most significant densities of Lovense or OhMyBod toys.

The shows in free webcam rooms are excellent for warming up, selecting your favorite cam girl, and discussing the types of kinks you want her to pursue with you in private or exclusive.

Private Chat

Other users can join the paid session with the live amateur cam girls in private chat and have their demands taken into account.

Users can choose whether their messages are visible to the entire room or just the model's webcam in all group chats.

Cam 2 Cam is a feature only available when the show is private or exclusive.

To enter a Gold Show, the minimum level is 1 Gold per user, albeit the models determine the real cost.

Exclusive Chat

My particular favorite is Exclusive Chat.

It's usually not a significant price difference from private, and the focus is entirely on you. Exclusive chat usually comes with a fee increase ranging from a few cents per minute to double the private price. But, in the end, the amount of individualized play you get in exclusive chat makes it worthwhile.

Discounted Block Sessions

The discounted block sessions are the last type of chat on Streamate. These are pre-planned videos between members and performers, with a discount dependent on the length of the show agreed upon.

These discounted block sessions might be private or exclusive chat sessions.
There's a function called "party chat" that no one seems to understand.
It appears to be the same as the models' "online" status. It was mentioned that it's a state before a Gold Concert when the performer is still collecting tips to purchase into the show, although this isn't always the case.
This appears to be a feature that they've kept over the years, and even the Streamate support staff seemed to have trouble fixing it.
Payment Options
Paying for live porn services on Streamate is unlike anything you'll find on any other live sex cam website. There is no need to buy credits or tokens. Instead, you use your own actual money to pay.
Streamate's standard currency is gold, although each gold is worth one unit of your local currency (1 USD, 1 euro). To put it another way, if you send a model 1 gold, you will be paying her $1 or €1 directly from the payment method you used on the site.
This one-of-a-kind payment mechanism offers advantages and disadvantages. On the one hand, whereas on other cam sites, you need credits purchased in advance for the models to take you seriously and pay attention to you, you don't need anything in advance on Streamate to be noticed by the models for whom you are a potential tipper with resources that aren't limited to a specific batch of credits you might or might not have obtained. As a result, you're on par with the rest of the users.
When you are not confined to a pre-purchased credit package, on the other hand, you have less control over your spending. Except for your bank account, you can spend as much as you like without restrictions. You may find yourself spending more than you expected due to being carried away (which has happened to me several times). Fortunately, new members are protected from themselves by a daily spending restriction of $25. Over time, this daily limit rises. Alternatively, you may always contact Customer Support to increase or decrease the limit.
Prices on Streamate
As the name says, free chat is completely free.
Private and exclusive talks are charged at one dollar per minute, deducted from the registered user's credit card.
The average cost of a private performance is $2.99 per minute, with some going for as little as $1 or even less.
Some professional cam ladies charge as much as USD 12.00 per minute on the higher end, but most won't be much more than the typical cost of a private show.
An exclusive show will generally cost anywhere from a few pennies extra to double the price of a private show, plus some change. Of course, some may be quite a deal more expensive, but for the most part, the rise is fair.
The purchase and use of Streamate.com's Gold currency is another form of exchange. At the very least, each Gold unit costs a dollar.
Users of currency types worth less than a dollar will be required to make up the difference, while those using currencies worth more than a dollar will be required to pay unit per token costs, for as 1.00 Streamate Gold to €1.00.
Payment Methods
The accepted payment types are:
Paypal
Mastercard
Visa
Discover
That's pretty much it for now.
Prepaid options from certain vendors are also acceptable, as long as the funds are available (minimum $25.00 USD).
Other payment options have been accepted by Streamate in the past, but for the time being, that's all you have.
Customer Support
With various contact channels and relatively quick response times, the customer care staff at Streamate.com appears to match our expectations.
They have separate email helplines for technical and billing issues. They also provide live chat support, which we tested during our site review and found dependable and responsive.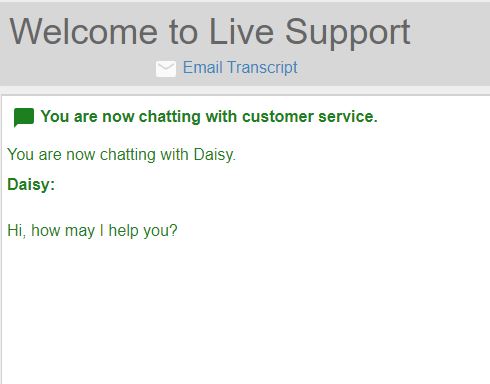 If you're unfortunate enough to be connected with an inexperienced agent, disconnect and try again; the next agent should be more helpful.
The site's customer service is a huge asset, however nothing is flawless in life.
Satisfaction Guarantee
While Streamate does not offer a written satisfaction guarantee, additional safeguards are in place for customers.
For example, if a discounted block session conversation ends due to a connection difficulty, the show can be re-joined for 2 hours with no loss of remaining show time.
If your live performance is egregiously wrong for some reason, Streamate customer service is accommodating and can provide refunds in certain circumstances.
Another element protecting users is their daily spending restriction, which starts at USD 25.00 for all new members. This function protects Streamate.com from overdrawing from user accounts in a way that appears fraudulent or predatory and provides discreet billing.
REWARD PROGRAM
Streamate has several membership levels that reward its subscribers for their purchases on the site. The amount of days a user has been active on the site determines their level. In addition, participating in at least one paid live porn show lasting more than two minutes is considered active.
Each level provides a proportion of the money spent in credits to the user. As seen in the table below, a high level denotes a higher percentage: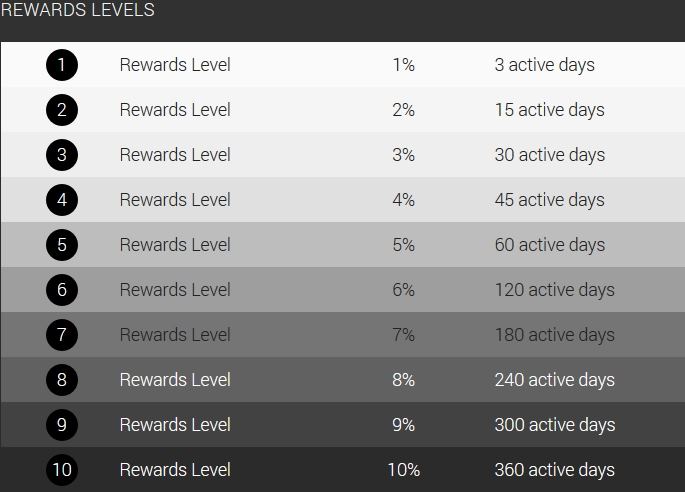 Credits can be used for future purchases. Every time credits are earned or used, the site will send an email message.
MOBILE EXPERIENCE
While the mobile version of Streamate works on all smartphones and mobile devices, there are a few glitches. You can view the live room in full-screen mode, but you won't be able to communicate with the female. In addition, when you enter a room, many other elements, such as their full bios and recommendations for related models, vanish. To locate another horny honey, you'll have to return to the homepage.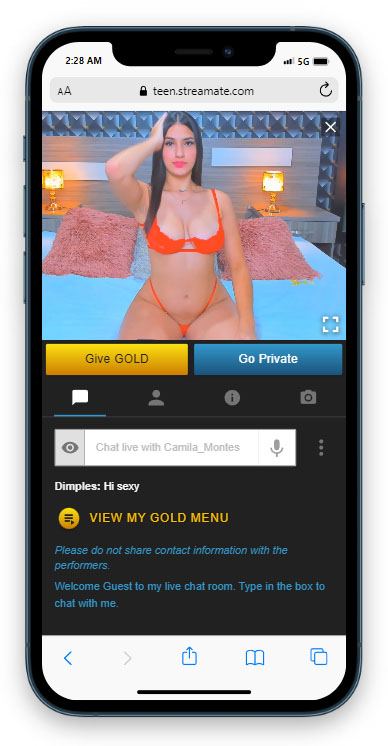 Additional Media
Every model page has multiple sections, including an "about me" profile area, a member comment section, and a schedule section, which the model can fill out or leave blank if they choose.
Furthermore, as previously mentioned, models can host both free and paid photo and video galleries purchased with the Streamate Gold currency.
Many models don't have any extra content, but those who do have a picture gallery tend to show off many photos to promote themselves more successfully.
Streamate also has a calendar where they have exclusive, scheduled shows with their most popular cam girls that air at predetermined times.
VIDEO QUALITY
In terms of camera quality, there is no demand from the website for its models.
However, there is a 720p HD maximum, and most of their models will be at that resolution, with those below getting a decent signal.
Better free webcam rooms are more likely to attract attention and lead to more paid chat sessions. As a result, models that maintain a better level will be paid more.
THE PROS & CONS
PROS
✔ Streamate.com is one of the most trustworthy sites in the industry, and users may talk and watch porn shows without fear of being hacked.
✔ The website is well-designed and caters to the needs of its visitors.
✔ It's not challenging to discover reasonably priced webcam conversations, and the girls are adorable and attentive.
CONS
✖ Private pornographic shows can be costly in various instances.
✖ Although certain elements remain outdated, the site's revamp significantly improved its appearance.
✖ We've mentioned a lot of webcam features in this Streamate review, but a closer look reveals that there aren't that many unique features.
A FEW FINAL WORDS
Streamate has a beautiful range of models to chat with and a variety of site features. There's something to suit any erotic entertainment budget with three different chat types to pick from. The website functions nicely and is simple to use. The cost of shows is roughly average, with some being quite reasonable and others being beyond average (though usually so because the associated models are out-of-this-world hot). The majority of them are comparable to other webcam sites in price. You can have a good, consistent adult chat experience because video streams perform incredibly well without buffering or difficulties. Overall, Streamate is excellent for masturbating to something more interactive and real than plain old porn - though it is more expensive.
---
Streamate Reviews
We don't have any reviews yet. Please share your experiences with other visitors and write a review about Streamate.