Chaturbate is one of the most well-known and popular adult chat platforms on the internet. In this review, we look at the site's membership perks, webcam quality, various fetishes, and premium pricing. Find out more about Chaturbate's pleasure and why it's regarded as one of the best sites for free fetish cyber sex.
Chaturbate Fetish Pros
Great video quality
Many gorgeous models
Huge selection of fetish cam rooms
Proudly freemium, with no intrusive ads
Chaturbate Fetish Cons
Lack of cam2cam implementation
Unhelpful navigation features
Lackluster customer support
No preview system
---
Fetish Fantasies Fulfilled: A Comprehensive Review of Chaturbate for Kinks and Fetishes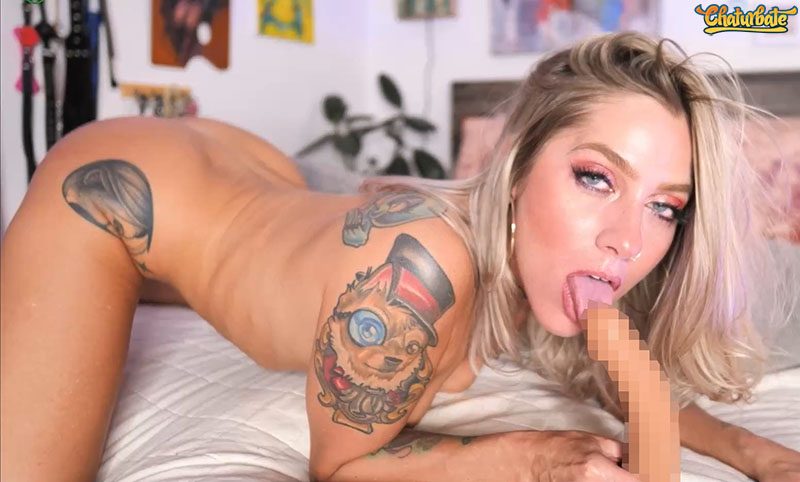 I will do my best to detail Chaturbate's good sides, wrong sides, etc. By the end of this Chaturbate fetish review, I hope you'll have enough information to ascertain whether you should go visit it or skip it and enjoy one of the other fetish cam sites recommended.
The Fetish Cam Models
Once you land on the home page, you can see all the rooms in which the models are at that moment. The order is entirely random unless you decide to filter according to your preferences: The country of origin of the model, the video quality, recommended rooms, floating player mode, HD cameras prioritizing, and the number of seconds the cams will refresh, which is something you can also disable.
Since the site is free and comprehensive, it divides the models according to a slightly rigid division, which simply includes 4 main categories: women, men, couples, and trans. To find the fetish you long for, you must look for it in the search bar. However, you will discover a whole wide world of kinks and fetishes once you do so.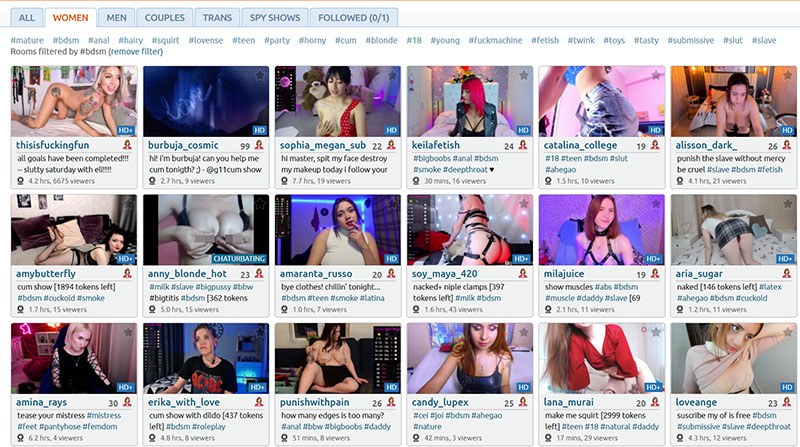 Women
Chaturbate has way more women than men or shemales, and it shows. Thousands of girls are waiting for you out there, willing to do whatever you want them to do. By choosing a suitable kinky tag for you, such as humiliation, domination, bondage, or feet cams, you will get all the rooms of the girls dealing with such kinky stuff.
Satisfying as it might sound, there is a huge disadvantage with this kind of tagging system, which is noticeable at the very beginning of scrolling down the rooms: the tags don't necessarily match your choices, as you may find yourself watching an Ebony chick even though she tagged herself as Asian, and vice versa.
However, Chaturbate presented at the beginning of September 2021, a cool feature called "discover", which solves such issues and is pretty innovative among all the existing cam sites. You can read more about this feature later in the feature highlights section.
Men
Although the site is ruled predominantly by women, you can definitely find many gay cam models waiting for you to join them, as they perform the best kinks around. By the way, not all of them are gay. Some of them are bi, and even straight, who will be willing to turn "gay-for-pay". So whether you are into mature men with small penises, or maybe into fem twinks who like wearing lingerie it has it all.
Couples
The couples category is a fascinating one. In this category, you will notice that every gender goes: straight couples, girls-on-girls, guys-on-guys, etc. You will also see that not only couples are available here, but also groups of threesomes, foursomes, and full-on orgies. And boy, let me tell you, these people are nothing but timid about the wild side. With just a bit of exploring, you will see Strap-on action, gang bangs, or a lovely afternoon Bukkake show.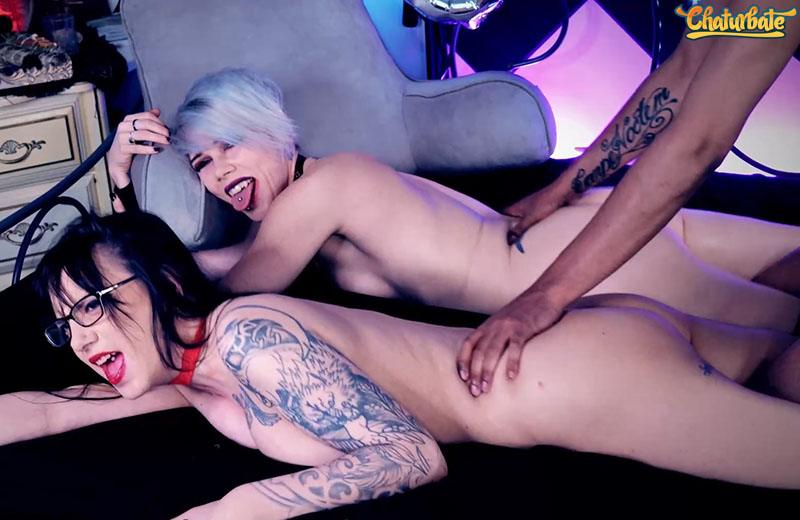 Trans
Most people are either male or female, but some people don't neatly fit into these archaic categories and are in fact both. Did you ever wonder what it is like to see a woman carrying an enormous dick between her legs? Or maybe a man with beautiful round boobs? The Trans genre will definitely satisfy your desires. As for the fetish side, pantyhose are extremely popular among the tranny models, and they love wearing them.
Chaturbate Fetish Feature Highlights
The Theater Mode of the site allows you to view the models on a larger screen, a feature unlike any other in terms of cam sites. While doing so, you can keep on chatting and tipping, whereas the text chat space keeps hovering over the video. I also recommend trying the Interactive Full Screen< to get an even more considerable watching experience of your favorite kinky model.
Chaturbate has recently launched its new beta called Discover Page, which is personalized to help you discover models that match your taste. By clicking on the Discover Page button, which is located at the top of the page (below the navbar), you will get to see a full list of models recommended for you, based on your search history. Try it, you won't regret it https://chaturbate.com/discover/.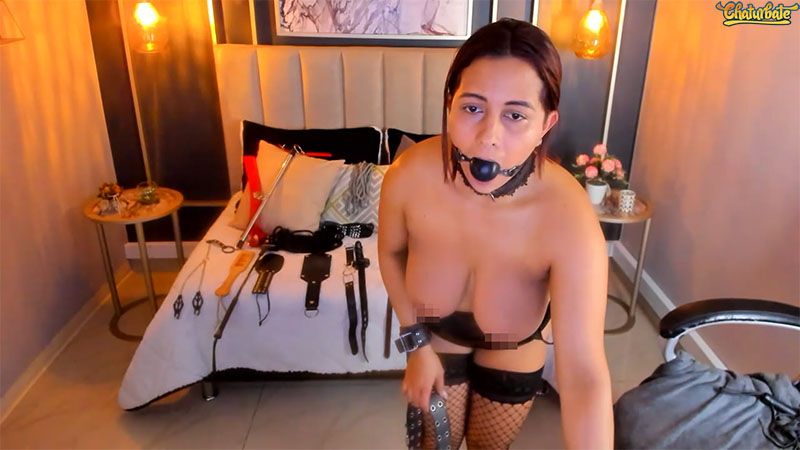 Tipping the fetish models is something you can only do as a Supporting Member. Sending tips shows how much you appreciate their extreme art. Hit the Send Tip green button, which is located below the video box. Choose the number of tokens you would like to tip and don't be too shy you can even thank them by writing a message if you feel like it.
Other great features:
Join and broadcast your cam, show off for fun, and even earn tips
Control the model's sex toys with tips
Relive the action - Private show recordings
Option to earn tokens by referring friends
Getting Started
How do you get this party started? Now, that's quite easy: All you need is to choose a username and password, your birthday, and your gender. And that's pretty much it, even the email address is only optional which makes it extremely secure. No need to put on a credit card either. As I said, easy peasy.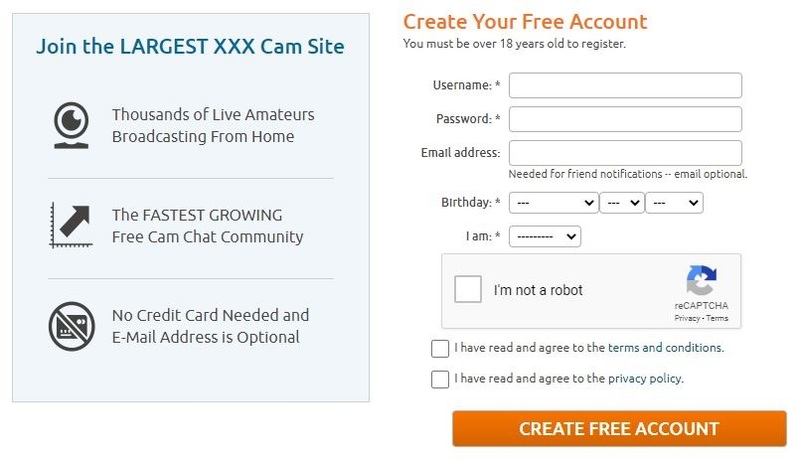 Chat Options and Prices
There are 3 chatting options on Chaturbate: Free Chat, which you can get as a basic member, Private Show, where you need to purchase tokens, and Spy Show , which is far less intimate but allows you to fulfill your perverted fantasies and sneak into a private show.
For those of you who are into SPH, CBT, or any other sort of humiliation and domination, you would want to turn on your camera and get your fetish fully satisfied. To start the cam2cam feature on Chaturate, all you have to do is click the Cam To Cam link below the stream. This works even if you are in the free chat and not in a private show. Great as it sounds, this feature isn't implemented on its mobile site yet.
Free Chat
With your freemium basic member, you can see everything you want and watch all your favorite X-rated kinky girls. Since the action takes place in front of the whole crowd, most models stay here and won't bother following you to a private conversation. I do recommend checking the tips menu though for the right price, some models would get nasty exclusively for you.
Private Show
If you want to show your appreciation to one of your favorite extreme models, you can always purchase tokens and tip them. Show gratitude, it'll pay off when the model will do whatever you are asking for. But if you want to get even closer to that model, you can ask for a private show, and get way more intimate. You will be able to get to know her better, and so will she.
To do so, all you need to do is to hover over the screen and look for the Start Private Show button, which is located just below the webcam player window. This will open a window with the pricing information, which varies from model to model. The average price is somewhere around $2.30/min, but there are of course cheaper options, depending on the model's popularity.
You can also get the cheaper options by simply sorting the "6 Tokens per Minute" models, which you can find on the list at the bottom of the homepage. By doing that + sorting any of the fetish-type tags, you will get all the fetish-oriented 6 token cam models.
Spy Show
Are you a peeping Tom too? Do you enjoy a good peek here and there? The Spy Show feature of Chaturbate will let you do just that, and watch the performers doing the special things they were asked for while in a private show, and for a cheaper price. The lowest price for this type of entertainment is 6 tokens only for a minute peek. It is important to note that not every model allows this, and there is a chance that you will encounter a Disabled panel in some cases. To them, private means private.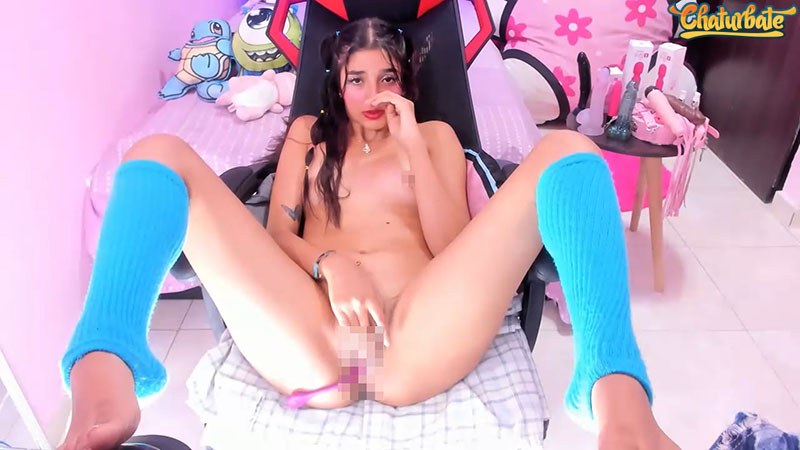 Payment Options
Since Chaturbate is a freemium site, anyone can sign-up and become a basic member. If you are willing to be an active participant, you can upgrade your account and become a Chaturbate Supporter. In order to upgrade your account, you can use a credit card. But if you prefer to play it on the safe side, then you can use Cryptocurrency.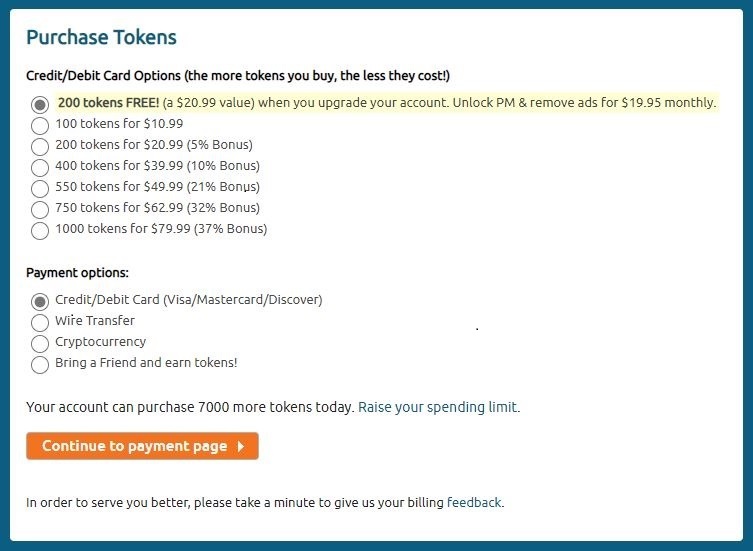 The site accepts:
Credit Cards
Wire Transfer
Cryptocurrency
Membership Benefits
By signing up for $19.95/mo and becoming a Chaturbate Supporter, you will get 200 tokens to spend for free. That's pretty sweet, considering the fact that this amount of tokens cost $20.99 as a basic member. In this status, you will gain a clean, ad-free interface, as well as the opportunity to custom chat font and color options. You will also be able to send free private messages to the models, tipping them anonymously, and turning on the "Animate Room Images" for the preview gallery of rooms.
Another great thing about upgrading your account, is that if you bring a friend you get to earn 10 tokens for every registered user. Besides that, you can earn 500 tokens (!) for referred users who broadcast. So, if you know some people who, like you, are looking for new ways to enjoy their kinky desires, or are into performing in hardcore sex cam shows, the membership benefits are crystal clear.
Mobile Experience of Chaturbate
Chaturbate has a great mobile version, which allows you to peek at your filthy cam girls wherever you are. So, if you are like me, who can't get enough of his babes, you would definitely enjoy the mobile experience. It works just like any porn site on mobile, where you can move between the different rooms by swiping up and down.
I do have 2 issues with the mobile experience though. First, you can only watch the action on a big screen if you rotate your mobile, which I find a bit uncomfortable. Second, it is important to mention that you can't go on private on a mobile device, since mobile access is only for tipping in the free public chat rooms.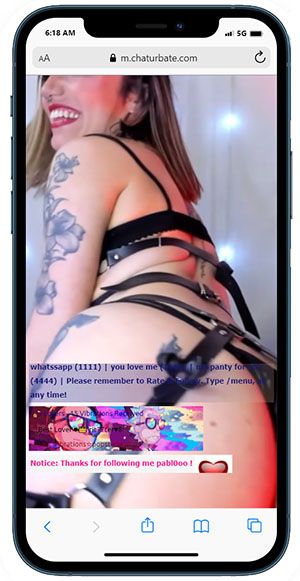 Video Quality
Chaturbate is known for its amazing streaming quality and actually has some of the best HD cams, including the rare 4K streaming in some of the rooms. You can adjust the quality of the video by clicking on the little HD icon in the bottom right of the screen, making sure your fetish or whichever kink you prefer will be as real as it gets.
Another great thing is the possibility to go to the settings gear on the right side of the homepage to reveal the possible interface settings, where you can choose to Prioritize HD cameras. By doing that, you will get to see the models streaming in HD quality before any other room.
Security and Quality Assurance
Chaturbate is a giant, and as such, takes security seriously. It even has a dedicated security center where you can change your password and privacy settings, check how secure they are, and get information on your recent activity on the site to make sure your account isn't being used by someone else.
Aside from this, Chaturbate uses all the newest and most advanced security and encryption protocols, TLS and HTTPS. This way, you can be sure that whatever happens on Chaturbate stays on Chaturbate. To protect your privacy, any charges discreetly appear as a nondescript name on your credit card statement.
Chaturbate has you covered on all sides, so you can enjoy the site without worry.
Customer Support
It is good that Chaturbate works so well on so many systems because its customer support is really not the best. Chaturbate's customer service representatives are as attentive and professional as one can hope, but the only way to contact them is through email. There is a form you can use to enter your message and even upload attachments, such as screenshots of your problem, should they be required.
The FAQ section, on the other hand, is quite extensive. It has information about numerous topics and sub-topics. Each entry is also titled and has a voting field that allows customers to give feedback on how helpful it is and allows the moderators behind scenes to make changes as required. You can find the "Support" link at the bottom-most of the homepage.
In Conclusion
Since Chaturbate never badgers you to spend even a dime, there's really no reason not to try it out. Sure, the fetish cam rooms may be cumbersome to find, and it might not have easy access to cam2cam, but the quality of Chaturbate's cams, their video resolution, and their sheer number make Chaturbate a sight for sore eyes.
If you have a bit of time to spare, sift through Chaturbate's collection of hotties. The search for the perfect room might prove to be long, but it will surely be enjoyable.
---
Chaturbate Fetish Reviews
We don't have any reviews yet. Please share your experiences with other visitors and write a review about Chaturbate Fetish.