C2CPorn is an aggregate site for webcam girls. It takes the models performing on a number of the best sex cam sites and assembles them into one place. Its smart search and filter tools can sort through thousands of online models from multiple sites and query them into one place. When you've found a girl you like, you'll be directed to the site she's broadcasting on.
c2cporn Pros
An absolute massive selection of cams
Accurate search function, filtering and categorization
Simple and convenient to use
No ads, no registration, no payment
Clean user interface
c2cporn Cons
Some rooms lack live video preview
No way to filter for HD cams
If you use an ad blocker, streams will not work properly.
---
C2CPorn Review: The Ultimate Cam Site Aggregator for Finding Your Perfect Match!
C2CPorn is, in a word, huge. It has one of the most massive collections of cam girls out there. There's a straightforward reason for that: C2CPorn includes all webcam models streaming on LiveJasmin, CamSoda, Chaturbate, Flirt4Free, ImLive, Streamate, BongaCams, and Cams.com. Think of it as the Google of cam sites. If you're looking for a specific performer or performance? Then this is the place.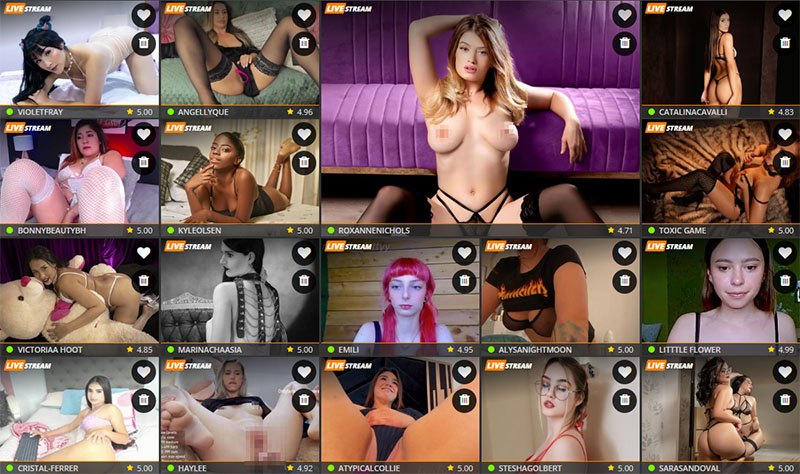 C2CPorn should be viewed as a search engine similar to google rather than a website. It incorporates performing models from LiveJasmin, CamSoda, BongaCams, ImLive, Cams.com, Flirt4Free, Streamate, and Chaturbate.
Overview
C2CPorn stands out from other sites because of the more comprehensive selection and easy-to-use filters. For example, you can sort your results by age, body type, ethnicity, bust size, hair color, and other factors. You can even pick from pre-programmed kinks, such as fetish, feet, fisting, and smoking.
Because C2CPorn searches all of the cam sites' databases, it may show you a far more significant number of girls who meet your requirements than if you only searched one.
You no longer have to sift through a limited selection to find your obscure desire.
The Models
On average, there are around 9,000 people online. That is the number of models from which you will be able to choose. It may be overkill for some, but no one ever perished from having too many fantastic alternatives, and these models are great. They're featured on some of the top adult chat services available.
Consider the number of sites that Google can find for you if the figure above seems overwhelming. Yes, I will use that example again because it's appropriate. C2CPorn is all about gathering the best cam shows, presenting them based on your preferences, and sending you to experience anything your heart desires.
But it will need a unique search engine to accomplish so.
Finding the Model That You Want
Girls, Boys, Couples, and Trans can all be found on this syndicated site.
Additionally, each gender category has its own filtering choices, yet the underlying fundamentals are different.
In my opinion, one option from each category should be chosen at a time. When you pick several types, your search becomes a 'plus' lookup.
To put it another way, if you want to see slender white teens, choose Skinny, White, and Teen. When you select Asian from the drop-down menu, you'll see skinny white and Asian teenagers.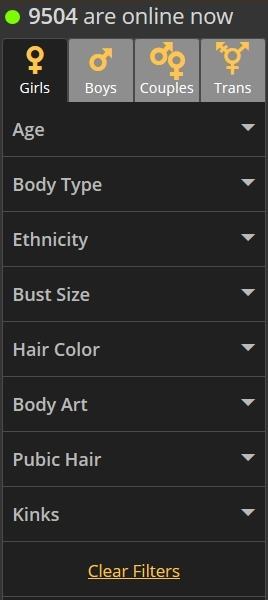 This is an excellent setup for people looking for specific models who value having various search filters to narrow their options.
However, if you pick both Smoking and Pregnant, the search results will not include 'pregnant smokers,' but rather pregnant women and girls who smoke.
You can delete any filter by clicking on it, or you can scroll down to the bottom of the categories menu and choose Clear Filters to start with a new search.
Most C2CPorn profiles have a live preview of the chat host's webcam room. A LiveStream icon will indicate whether or not a room preview is active.
When you access any of the 'live streaming' profiles, you can read and learn more about the webcam girl you're viewing and see her most recent stunning show photos.
You can also view the performer's personal list of attributes and kink tags. You may examine a range of additional models with the same qualities and kinks by clicking on any tags.
The Limitations
C2CPorn is a cam site aggregator, which means it doesn't have its models. It does not pay it to the model's "hosts" in any way. Thus they are unable to profit from their appearances. This means it won't charge you anything and will direct you to the right cam site once you decide to proceed with a model. You need to click the screen and go to her room on the site she's hosted to take a model private, tip her, or speak with her. It would be relatively convenient if it weren't such a simple technique - Like what you see? Make a click on the screen. That's all there is to it.
C2CPorn also doesn't specify the video resolution a cam model streams in, nor does it allow you to search for HD cams. Because the site collaborates with the best sex cam sites in the industry, most shows are streamed in high-definition, but not all are. So you'll have to enter a model's room to see if she's streaming in HD, and if there's no live stream, you'll have to click her photo to go to her cam show on the site where she's hosted. It's a little time-consuming, but it's just two mouse clicks and well worth it if you find what you're looking for.
This leads me to C2CPorn's main flaw: only some models on the site have a live feed you can watch before entering her room. Most internet rooms are labeled LIVE STREAM, indicating that the room has a live feed that you may view by clicking on it and entering or hovering your mouse pointer over it. On the other hand, some rooms do not and, as a result, are not designated in this manner. It's a minor annoyance, especially considering the other cam site aggregators I've seen don't even have live feed previews.
However, as I previously stated, most models have these live feed previews; however, if you want them to operate, you must disable your ad-blocker. C2CPorn does not employ any adverts. However, because its previews are essentially streams hosted on other sites, most modern ad-blockers will block them altogether. You can still use an ad-blocker when browsing the site, but you won't see the models in action. If you're not using an ad blocker and still can't watch the stream (even though the room says LIVE STREAM), check that your browser enables the site to run Adobe Flash by clicking the Manage Plug-In icon in the address bar.
Prices
Because C2CPorn collects cam females from all over the internet, the costs vary greatly. Flirt4Free has the cheapest cam2cam shows on the site, which start at $0.55 per minute. Unfortunately, most chat rooms cost more than that for a private show. Therefore those rooms are few and far between.
The average charge for sex chat on sex sites is roughly $3.00 per minute. Of course, that isn't the highest price you'll find, but it is the price at which you'll start seeing attractive women instead of just some random girl with a camera.
The cost per minute for several models is listed on the model profiles on C2CPorn. The prices displayed are per-minute rates in the site's currency.
On your computer, we propose that you verify the price of tokens/credits on each site. You'll notice that costs vary depending on where you live, with consumers in the United States typically receiving the best deals.
When are the best times to visit?
This networked site features webcam girls from all over the world - it's always a wonderful time!
As soon as you enter through the doors, you get the impression that thousands of girls are yearning for companionship.
Even though adult sites have peak traffic hours and less active hours, most evenings are ideal for watching.
Across all webcam sites, Thursdays, Fridays, and Saturdays show the most model activity.
Sundays tend to be the days when the ladies unwind.
The number of webcam girls lowers to 6000 on Sundays, compared to the 10,000 you can see on most other days.
Even with only 6000 cam girls, you can locate a willing babe that will satisfy your kinks, nasty wants, and extreme tastes.
THE PROS & CONS
PROS
✔ Extensive model range
✔ Interface that is simple and clean
✔ Filtering options that are easy to use
✔ Simple and convenient to use
CONS
✖ No registration options
✖ If you're using an ad blocker, streams won't work properly
✖ There are no cam girls hosted here
In Conclusion
If you're interested in sex cams but aren't sure where to start, C2C is the place to go.
If you have specific preferences for your female, male, or transgender chat hosts, C2CPorn will show you which cam sites to look for them on.
Its extensive labeling system, combined with many rooms (gathered from other live porn sites), results in valuable service for discovering "exactly the right webcam model," while keeping things simple and easy to navigate.
Take my fantastic suggestion and go there to meet attractive webcam girls for live chat that are available right now.
---
c2cporn Reviews
We don't have any reviews yet. Please share your experiences with other visitors and write a review about c2cporn.