TgirlsCams has a lot to offer, so be prepared to be pleasantly surprised. This advanced transsexual webcam site provides low prices, a wide selection of XXX tranny videos, and other aspects of the tranny world like local hangouts and articles. Let us explain everything you need to know about sex chat prices and options. In this TgirlsCams review, you'll find everything you need to know.
TgirlsCams Pros
Cheap private chats
Free C2C in privates
Discount Clubs
Live chat support
TgirlsCams Cons
Limited HD rooms
Free chat is limited
Few payment methods
---
TGirlscams: Unleash Your Wildest Desires with the Hottest Trans Performers!
TgirlsCams is the site to visit if you're looking for a small but diverse group of models who exemplify style, grace, and sex. Despite poor HD quality and a small host count, this site offers delectable treats in free chat and private with tgirls who enjoy seducing, enticing, and making you blush. Seeing top-notch performers is a lot of fun, even more so when it's on a budget.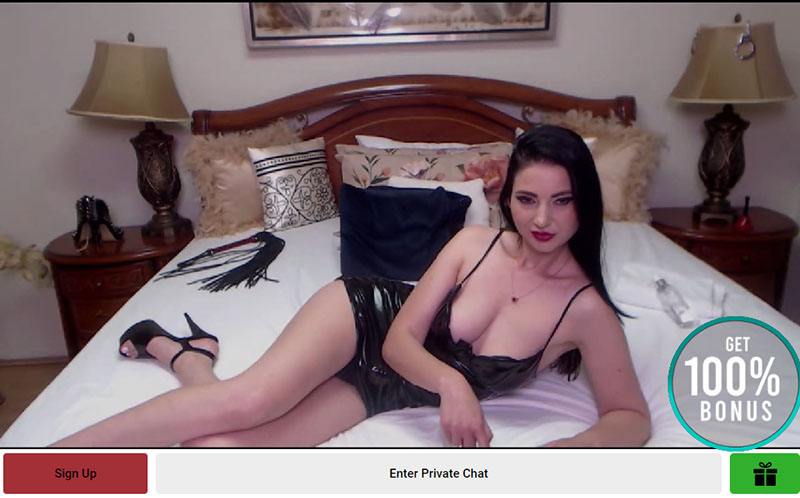 TgirlsCams is not only affordable, but it gets more affordable as you use it. TgirlsCams also has several features that can make your experience even more affordable. It's a lot less expensive. This, combined with many online cam babes, provides a strong foundation for a successful shemale webcam site.
TgirlsCams, on the other hand, is much more. I've done a lot of research, and I've concluded that TgirlsCams is one of the best shemale cam sites on the market right now, and for several reasons.
Read on to learn what makes this site so special and what keeps it from being the best.
The models
Tgirlscams is a fantastic live cam site that offers a wide selection of gorgeous transgender models worldwide. From petite and feminine to curvy and voluptuous, Tgirlscams has it all. One of the great things about Tgirlscams is the variety of models available. Whether you're into shy and submissive trans girls or bold and confident dominant trans women, you'll find the perfect model to suit your tastes.
All of the models on Tgirlscams are eager to please and know how to put on a great show. Many models are amateurs, but they are all experienced in the art of seduction and are passionate about giving their viewers an unforgettable experience. Some models are full-time performers, while others are part-time models who enjoy exploring their sexuality and connecting with their fans.
Besides being beautiful and seductive, the models on Tgirlscams are also very friendly and engaging. They are eager to chat with their viewers and get to know them on a more personal level. Whether you're looking for a one-on-one private chat or want to hang out and chat in a free chat room, the models on Tgirlscams are always up for some fun.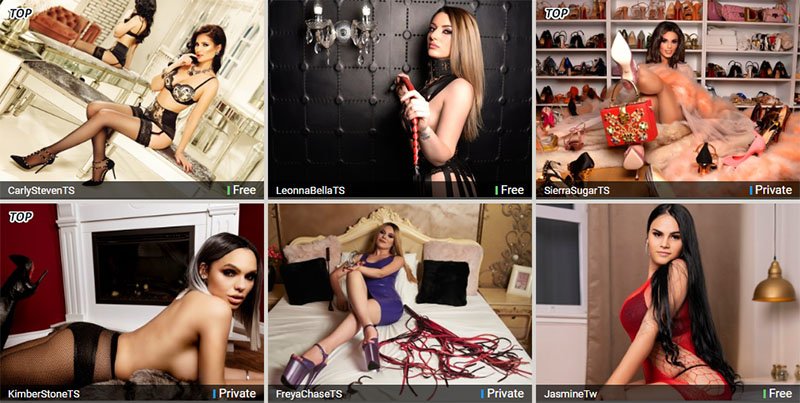 One of the best things about the models on Tgirlscams is the variety of fetishes and kinks they cater to. Whether you're into BDSM, foot fetish, or any other fetish or kink, you'll find models on Tgirlscams who share your interests and are eager to explore them. Many of the models on Tgirlscams also have a wide range of sex toys and props to enhance the experience and take things to the next level.
Overall, the models on Tgirlscams are some of the best in the business. They are beautiful, friendly, and passionate about giving viewers an unforgettable experience. Whether you're looking for a casual chat or a private show, Tgirlscams has everything you need to explore your wildest fantasies and make your dreams come true.
Tgirlscams Feature Highlights
TgirlsCams is a no-nonsense, get-it-done website. In the bottom bar of the chat rooms, there are only three options: Buy Credits, Enter Private Chat, and a giftbox icon, which is how you tip your host. There are 12 emojis in the chat box; otherwise, you must type. You can see a host's star rating next to their name when you enter their chat room. This is based on the experiences of other users and is a good indicator of the type of show you'll be seeing.
There is no annoying advertising or popups, except for one large block to the right of the homepage that informs you about the latest site promotions. The top-ranked models have a Top icon on their cam feed window, but it vanishes when you start chatting with them, so look for it. A flash peek into the room is available by hovering your mouse over any live cam icon. If the host is unavailable, you will be shown a brief video about her.
There's also a Magazine and Blog section where you can read articles from the TgirlsCams "magazine" and blogs from transsexual performers. The articles include a wide range of posts from professional writers, transgender people, and people in the porn industry, all of which will make your transition to that new hosting job a little easier. There's also information on health, entertainment, and other topics. It's also offline, so you can read the articles even if you can't access the internet. Updates and information on upcoming events can be found on the blog feature.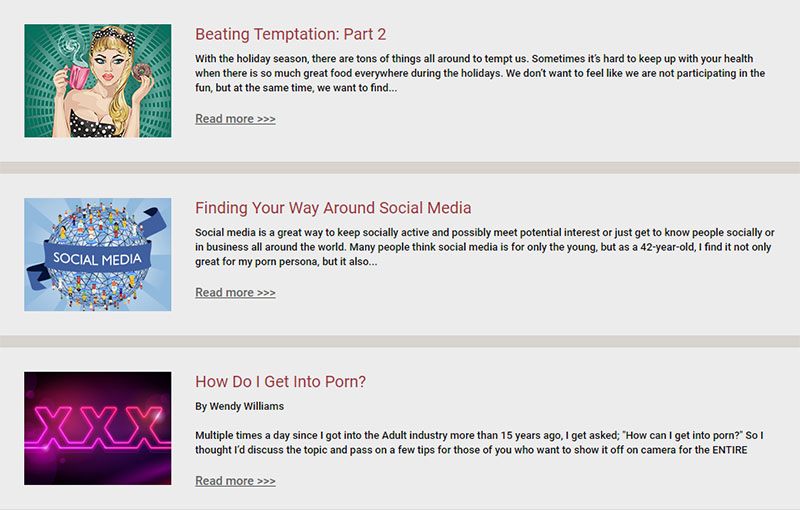 A few more Tgirlscams temptations include:
This is more than just a tgirl webcam site; it's a full-fledged transsexual portal with information on every niche and topic in the world of sexy trannies.
Some Tgirls are exceptionally sizzling in hot transgender chat rooms.
There are many live trans models, but their numbers fluctuate throughout the day.
With member discounts, private sex chat costs as little as 0.20 credits per minute.
There are no time limits on free chat rooms.
Cam2Cam is included in all private chats at no extra charge.
Advanced search tools make browsing the site simple and quick.
All memberships are free, but some come with a more significant discount.
The site has a fantastic selection of paid videos you can watch on-demand.
Although not all cam models provide high-definition chat rooms, many do, and they look fantastic.
Sexy tranny blogs provide a fascinating look into the world of trannies.
On Android, iPad, and iPhones, premium mobile access allows users to view the site and trans models.
TS Porn Videos That Aren't Available Anywhere Else
Local Spots – This is a directory of the world's most famous trans clubs and bars.
The site has a weekly trans pornstar schedule.
The profile pages are uninspiring but provide all the necessary information.
Models' profile pages include photos of their tummies.
Registration
TgirlsCams registration is simple and free. You need to provide a valid email address, a username, and a password, and you're done. Your email address does not even need to be validated. When you create an account, you will be assigned to the Bronze level of their rewards program. You can progress through the ranks based on how much you use the site and chat rooms, from Bronze to Silver to Gold to VIP.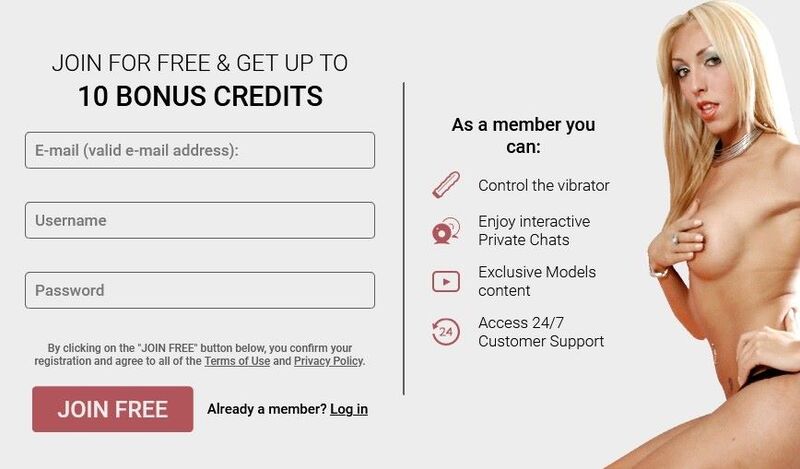 Every time you buy more credits, you get a certain number of bonus credits at each level. Every interaction with your tranny hosts online, from rating a model to chat sessions, earns you points. Your ranking will rise as you earn more points.
Creating an account allows you to keep track of your favorite hosts and receive notifications when they go online. The News section of your account page lists upcoming events, updates, and special shows.
Chat Types
Show types available on TgirlsCams are minimal. There are free and private chats, as well as a group chat, and that's about it.
In the following sections, I've described the various chat shows available on TgirlsCams.
You can speed up your search for the perfect cam room by switching between the list view, the tile view, and the gallery view on the Live Cams page.
Free Chat
Tgirlscams offers a fantastic free chat feature that allows users to engage with their favorite models and get to know them better. During the free chat, users can interact with the models and ask them questions, building a rapport and getting a preview of their skills and personalities. The models on Tgirlscams are not shy, and the free chat is sexually explicit, providing users with an exciting and engaging experience.
While free chat is an excellent feature, it's important to remember that the real fun on Tgirlscams begins in private chat. Free chat is a way to explore the site and connect with models, but the most intimate and personalized experiences happen in private chat rooms. However, with the ability to message models directly and build a rapport before taking things to the next level, free chat is an essential part of the Tgirlscams experience.
Private Chat
Private chat on TgirlsCams is one of the site's main features, allowing users to have one-on-one interactions with the models they choose. The models themselves determine private chat prices, and prices can vary depending on the model's popularity, experience, and other factors.
Once you have selected a model to go private with, you will be taken to a private chat room where you can communicate directly with the model. The chat interface is easy to use and allows you to send text messages, emojis, and even voice messages.
One advantage of TgirlsCams' private chat is that prepayment is optional, meaning you don't have to pay for a show before it starts. Instead, you pay for the time you spend in the private chat room. This system allows you to control your spending and ensures that you only pay for the time you actually spend with the model.
Another feature of TgirlsCams' private chat is that models can offer discounts to their loyal customers. If a model likes you and offers you a discount code, you can enter it during the show and get a discount for the time spent in the private chat room.
Overall, TgirlsCams' private chat is a great way to get up close and personal with your favorite trans models. With affordable prices and an easy-to-use chat interface, it's a popular choice for those looking for a more intimate experience.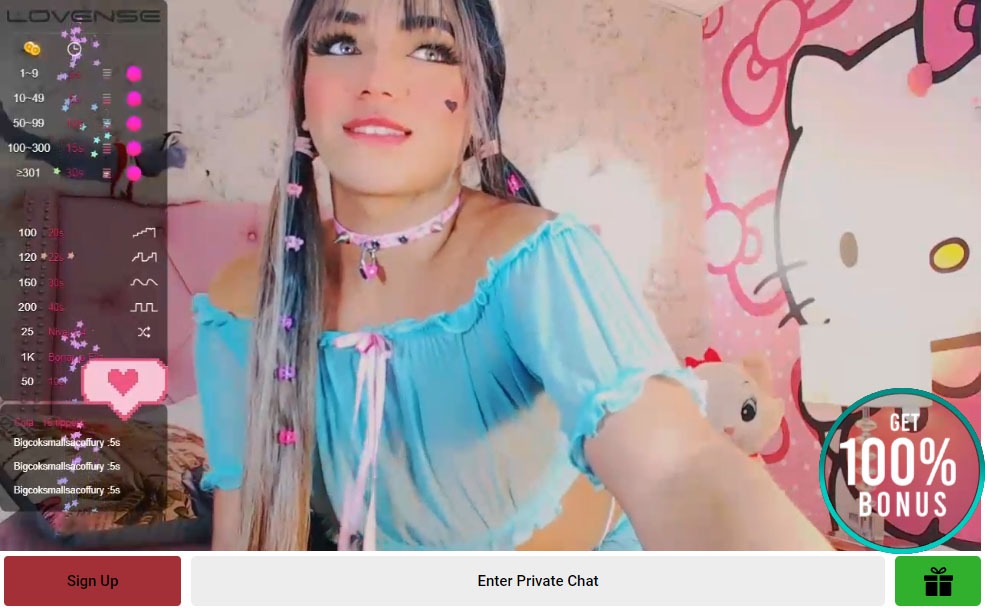 Candy Show
A "Candy Show" on TgirlsCams refers to a group chat where multiple users can join in to watch a live performance by a model. It's a fun way to see a Tgirl in action with a group of people while sharing the cost of the show.
The price for these shows can vary widely depending on the model and the length of the performance. It's important to remember that the performance is often determined by the tips received from the audience, so if you're enjoying the show, consider tipping the model to keep things going.
It's also a good idea to communicate with the model before the show starts to understand what they're comfortable doing. Some models may have specific boundaries or requests, and respecting their boundaries is important while still having fun.
Overall, the Candy Show feature on TgirlsCams is a unique and exciting way to enjoy live performances by beautiful trans women, all while sharing the experience with other fans.
Voyeur Show
The Voyeur Show is a unique feature on TgirlsCams that caters to those who enjoy watching private shows without the performer knowing. It allows users to watch another user's private show without the performer's knowledge or interference. This feature adds a new level of excitement for users looking to experience something different and perhaps a bit more risqué.
One thing to keep in mind is that the price for the Voyeur Show is the same as the private show. While it may seem like you are paying the same price for less, the added thrill of watching someone else's private show can be worth the cost. It is important to note that the user's privacy in the private show is still protected, and you will not be able to see or hear what they are streaming to the performer via cam2cam.
Overall, the Voyeur Show on TgirlsCams is a great option for those looking for something different from the standard private show experience. It allows users to explore their voyeuristic tendencies while maintaining the privacy of all parties involved.
Pornstar Show
The site features many well-known trans porn stars who regularly perform live shows, and you can easily find them by searching for their names using the site's search function.
When one of these trans porn stars is online and available for a show, it will be listed under her name in the search results. You can then click on her profile to see her schedule, availability, and rates for private shows.
While you may not find a dedicated "Pornstar Show" category on TgirlsCams, the site is still an excellent choice if you're interested in watching live shows featuring some of the hottest and most well-known trans porn stars in the industry.
Prices
TgirlsCams' main selling point is their high-quality videos. TgirlsCams is among the most affordable shemale webcam sites available. One credit on TgirlsCams is slightly higher than one US Dollar.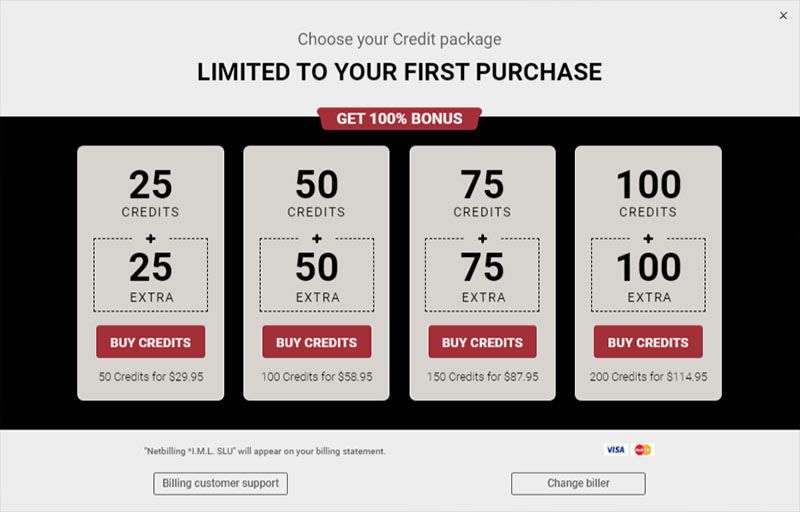 TgirlsCams offers limited credit packages, with options to purchase 25, 50, 75, or 100 credits. Additional purchases unlock a 250-credit option. TgirlsCams rewards new members with a free 100 percent credit bonus (up to $114.95) when they make their first purchase. If you want to try out the site, I highly recommend upgrading to a higher package, claiming the maximum bonus, and taking your time, as every credit counts.
You can save money on TgirlsCams' private shows immediately by using one of two methods. The first is a session that has been pre-paid. Pre-paid shows can save you a lot of money if you like to take your time and don't want to run out of credits in the middle of a show. You have two choices: pay 30 minutes in advance for a 20% discount or 60 minutes in advance for a 30% discount.
Receiving a personal discount code from a model is the second way to save money on TgirlsCams' private shows. Because this is given at the model's discretion, it adds to the incentive to be a gentleman and play nice, as these can reduce the price of a show by $0.20-$0.40 per minute. Surprisingly, the majority of TgirlsCams members are extremely friendly.
TgirlsCams also includes free two-way video and audio in every private chat, allowing you to get as personal as you want with the model at no additional cost. You should be aware that only the model can see and hear you, so you will not be included if she records the show to sell on her page.
The site will occasionally, such as around holidays, offer you special deals like "get 25 bonus credits on every purchase," which is advertised for Christmas. As you can probably tell, this is massive, so keep an eye on it.
All of this, combined with TgirlsCams' rewards program, ensures that you can spend virtually all of your free time watching hot tgirls jerk off if you so desire.
PAYMENT OPTIONS
TgirlsCams is a secure and private webcam service. TgirlsCams uses CCBill LLC as a payment processor, which ensures secure transactions. Another advantage of purchasing on TgirlsCams is that you will receive bonus credits for each purchase.
The following credit cards are accepted:
Visa
MasterCard
MasterCard Maestro
Diner's Club
Discover
JCB
These additional payment options are also accepted:
PayPal
GiroPay
Sofort
SafetyPay
Paysafecard
PumaPay
Bank wire transfer
Security and Quality Assurance
TgirlsCams takes the security and privacy of their members seriously. The site uses state-of-the-art encryption technology to keep your personal and financial information safe and secure. They also have a team of moderators who work 24/7 to monitor chat rooms and ensure everyone follows the site's rules and guidelines.
Regarding quality assurance, TgirlsCams is committed to providing a high-quality user experience. They regularly review and test their site to ensure it runs smoothly and efficiently. They also work with top-tier webcam manufacturers to provide their models with the best equipment, ensuring that the video and audio quality of their shows is top-notch.
TgirlsCams also has a customer support team available 24/7 to assist members with any issues or questions they may have. They are responsive and dedicated to resolving any problems quickly and efficiently.
Overall, TgirlsCams is a reliable and trustworthy cam site that prioritizes the safety and satisfaction of its members.
Customer Support
factual response:
TgirlsCams offers customer support through email, which can be accessed by clicking the "Support" tab on their website. They also have a comprehensive FAQ section that covers many common questions and issues.

While some users may have experienced slow response times or difficulty contacting customer service, others may have had positive experiences. It's important to note that response times may vary depending on the volume of inquiries and the availability of support staff.
Overall, TgirlsCams aims to provide a safe and enjoyable experience for its users, and its customer service team is available to assist with any questions or concerns.
Rewards Program
TgirlsCams does not offer a paid membership tier, but its Rewards Program makes up for this in a big way. The more you use the site, especially the premium features like private streaming and premium video purchases, the more points you earn. As an illustration, if you participate in a paid live chat for 5 minutes, you will earn 20 points. A rise of 5 occurs at each membership level above bronze. The same applies to giving tips, watching previously recorded videos, etc.
You'll be able to make more purchases with your credit and unlock more perks as your membership level rises.
The number of points required to advance through the membership levels and the corresponding bonus credit amounts are detailed below.
| Membership Tier | 25 Credit Package | 50 Credit Package | 100 Credit Package | 250 Credit Package |
| --- | --- | --- | --- | --- |
| Bronze (1st purchase) | 0 free credits | 3 free credits | 5 free credits | 0 free credits |
| Silver (500 points) | 0 free credits | 0 free credits | 8 free credits | 0 free credits |
| Gold (2,500 points) | 0 free credits | 0 free credits | 8 free credits | 25 free credits |
| VIP (15,000 points) | 0 free credits | 0 free credits | 10 free credits | 30 free credits |
Here are the other perks that come with each tier:
BASIC MEMBERSHIP

Trans chat rooms for free
You can buy credits and watch live porn shows.
Look at pictures of tranny
SILVER MEMBERSHIP

When a user gets 15 miles, they move up to the silver level
Sex chats during Happy Hour always cost 0.50 credits per minute
Ten webcam credits are a nice gift
On all purchases made with credit, a 1% bonus is automatically added

GOLD MEMBERSHIP

Silver members become Gold members when they get 200 miles.
Trans shows during Happy Hour always cost 0.35 credits per minute.
100 sexcam credits for free
All purchases made on credit automatically get a 3% bonus

VIP MEMBERSHIP

Gold members become Gold members when they get 500 miles
Happy Hour dictatorship shows always cost 0.20 credits per minute
200 nude cam credits for free
All purchases made on credit automatically get a 5% bonus
When you reach higher membership tiers, you keep any benefits you receive. The number of points you collect resets to 0 with each higher tier you reach and increases between each rank, so if you don't frequent the site, getting to the higher levels can take a long time.
TgirlsCams, on the other hand, can get so cheap that you won't want to visit any other trans chat site if you're not a casual member.
Mobile Site
TgirlsCams is a mobile-responsive site that works on mobile devices such as smartphones and tablets. The site is optimized for mobile use and is designed to be easy to navigate on a small screen.
You can access TgirlsCams on your mobile device by visiting the site using your device's web browser. The site will automatically adjust to fit your device's screen size.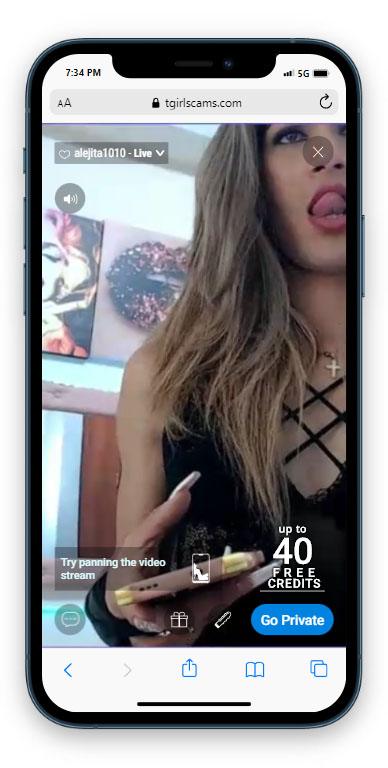 One thing to note is that some of the features available on the desktop version of TgirlsCams may not be available on the mobile version. However, the site still offers various features and options for mobile users.
Overall, TgirlsCams is a great option for anyone looking for a mobile-friendly cam site with a wide variety of transgender models.
Video Quality
TgirlsCams video quality is not as high as other cam sites. The maximum video resolution for every show is limited to HQ (576p) to keep the site's cost low. While some models can stream in HD, they are not shown in the quality they stream in. This difference may be noticeable to some users and could be a turn-off for them.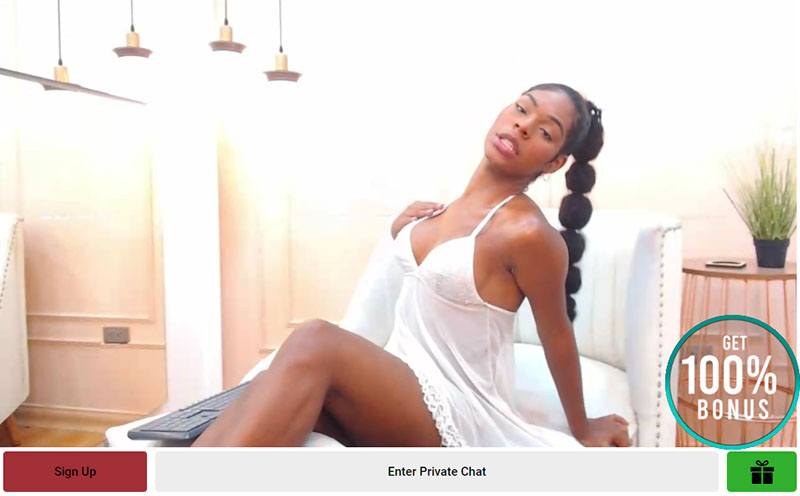 Moreover, some models stream in lower resolutions, such as 240p, which can be difficult to watch. However, such rooms are rare, and most models' video quality is decent. The site loads and runs faster than most cam sites, a plus point for users with slow internet connections or older computers.
However, users may experience some issues with rooms where models' upload speeds are unsuitable for streaming, causing the show to stutter. In such cases, users may choose to avoid such rooms or wait a few moments in the free chat room before starting a show to see if the model is experiencing any lag.
The Pros & Cons
THE PROS
✔ There is a pretty big list of Tgirlscams performers, and a good number of them are on at any given time
✔ There are the basic features of a cam site, and they all work well
✔ There are also a few extras that add value
✔ It has a simple layout, but it loads quickly, and it's easy to find what you're looking for
✔ Costs of credit are between average and a little below average
THE CONS
✖ Costs for a private show can add up quickly
✖ Prices for private shows vary from model to model
✖ The chat interface could be updated and have more features and options
✖ Inability to save money by purchasing larger quantities of credits
Before you go
TgirlsCams is a solid transgender webcam site with a broad selection of models, affordable pricing, and plenty of features to entertain users. Whether you're looking for a private one-on-one session or a group performance, TgirlsCams has something for everyone. The site's easy-to-use interface and fast load times make it a pleasure to navigate, and the option to watch candy and pornstar shows adds an extra layer of excitement. However, the lack of HD video quality may be a deal-breaker for some users and customer service could be improved. Nonetheless, TgirlsCams is a great option for those seeking an enjoyable transgender cam experience.
---
TgirlsCams Reviews
We don't have any reviews yet. Please share your experiences with other visitors and write a review about TgirlsCams.