Not everyone can enjoy this palace of pleasure. To the curious as well as those who have chosen to live out their own unique off-beat lifestyle on a daily basis, the dark underworld scene is frequently full of anomalies and sinful passions, though. Live kink shows are a specialty of Flirt4Free.com.
In our Flirt4Free fetish review, we examine this website's contents in depth. We rate the pricing, talk about the various live show possibilities, rate the video quality, and review all of the available kink rooms. Learn how becoming a VIP entitles you to more perks and bonuses.
Flirt4free Fetish Pros
Impressive video quality
Good selection of live fetish webcams
Cam2cam and two-way audio freely included in every private chat
C2C and 2way audio work on mobile
Professional and experienced fetish cam girls
Cheap once you know its ins-and-outs
Amazing fetish community
Convenient categorization
Fantastic VIP program
Flirt4free Fetish Cons
Small collection of models compared to other top cam sites
Unhelpful search engine
Some models charge ridiculous prices
---
Unleashing Your Kinky Side: A Comprehensive Flirt4free Fetish Review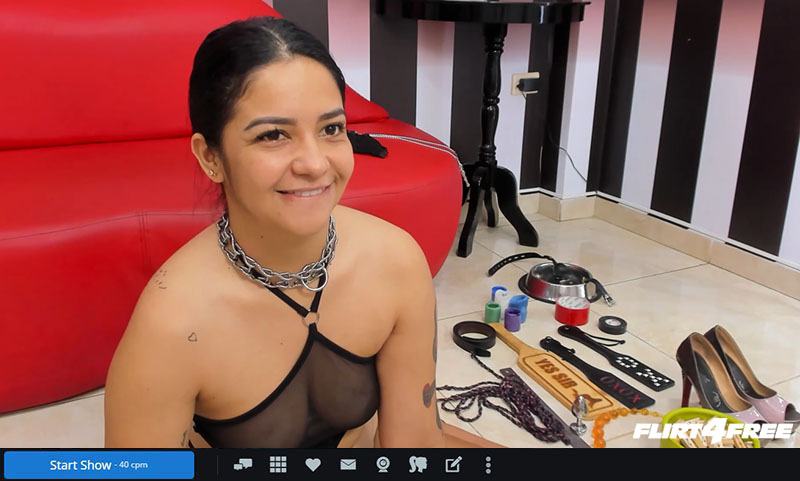 With the best streaming and models in the industry, Flirt4Free is a well-rounded premium cam service that seeks to give its users the most significant amount of freedom possible. You can choose from a variety of fetish webcam models there who all specialize in specific kinks and stream their content in various show formats.
Its relaxed attitude toward nudity is one of the things that sets it apart from other premium chat sites. No-nudity rules are enforced in the free chat on most other sex chat sites. However, Flirt4Free gives the models the option of displaying their bodies or not. Many models on Flirt4Free tend to expose some skin when tipped or when they feel frisky. This is because it draws clients, some of whom are willing to spend a little money if they like what they see.
As its name might imply, Flirt4Free encourages you to approach the performer and initiate a flirtation before deciding whether or not to pay for her services. To give their users complete control over their experience and to encourage them to support their webcam site with their patronage only after they fully understand what they will receive in return, the site's creators considered how picky camming enthusiasts can be, especially those looking specifically for fetish cams.
In this Flirt4Free evaluation, I'll go over everything this fetish sex chat site excels at, point out where it falls short, and offer advice on saving money on its premium services.
The Models
In the Flirt4Free Fetish Community, 50 to 60 models are always online and waiting for you in different live chat rooms.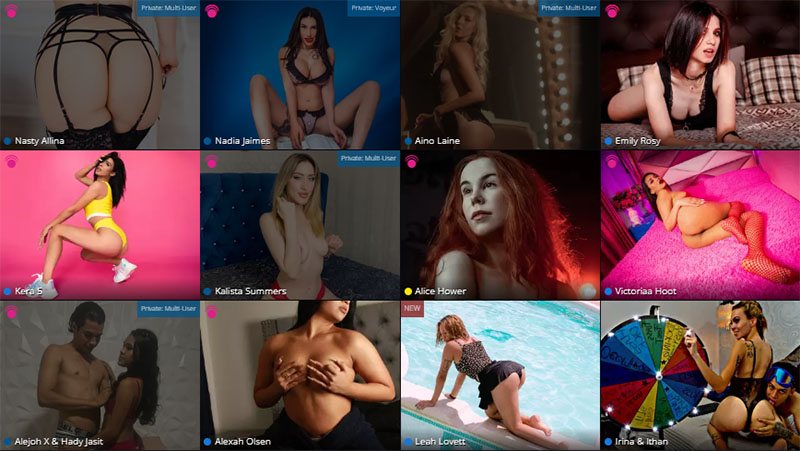 Each preview gallery on the Fetish Community Page represents a particular fetish category and features a gorgeous model who will perform live shows associated with that category in high-quality photos. About 70 of these categories exist, including, among other things, Machines, Corset Punishment, Pony Play, Cross Dressing, Anal Training, Corporal Punishment, Spanking, Face Sitting, Cum Eating, Jerk off Instructions, Findom, Small Penis Humiliation, and many more.
The preview gallery indicates how many models are now online and performing HD fetish shows. You will reach the page for the fetish category as soon as you open the gallery. You can enter a live chat room with girls who are online right now on this website. Additionally, you'll see images of offline women who fit the criteria, their complete profiles, and any VODs that members can preview without charge.
The model's photos and certain personal information, including her physical characteristics (including her bust size), sexual orientation, DOB, place of residence, languages she speaks, categories to which she belongs, and the most recent time she was online, are displayed on her profile page. Members can learn about the model's interests, fetishes, sex toys, obsessions, and role-playing scenarios that she enjoys.
Suppose you are ready to spend some credits. In that case, you can send the model presents, read other users' opinions of her performances, get in touch with her via the website's internal email system, and, if you truly believe she deserves it, tweet her to raise her rating.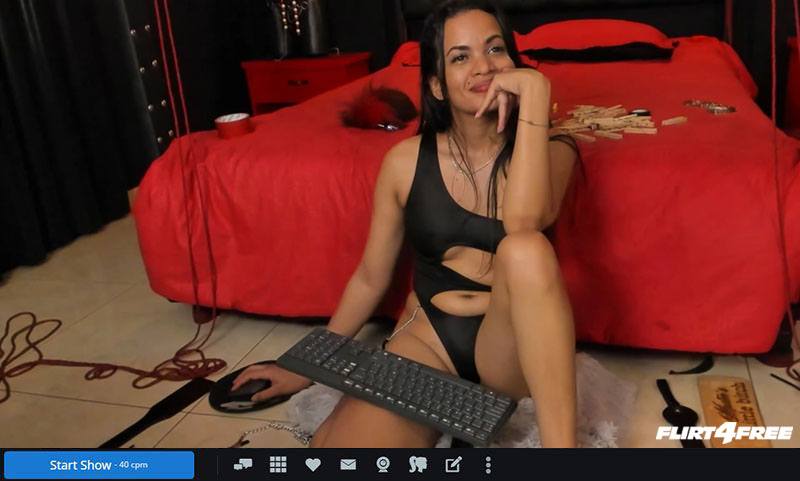 Flirt4free Feature Highlights
Flirt4Free is a hub for enthusiasts of the bizarre, not merely a sex chat site with a preference for kink. The website does a great job of fostering a respectful community among fans and followers of the deviant. The website features blogs and articles authored by the Flirt4Free staff and forums run by the community. Most people express their special requests on message boards, such as "searching for deepthroat in latex hood and posing in a gasmask." The interested models can respond and even provide a rate/min. For those who are slightly twisted, it truly is a portal to pleasure.
I know you're eager to head over there and start having private sex, but hold on, I want to make a few more points and some insider secrets that can help you save money, time and even enjoy some free sex.
Do you want to go out with the class's sexiest girl? Piece of cake.
Flirt4Free ranks the Top 20 Fetish Models based on their paid appearances, online video activity, and tips.
The top performers on this list typically remain at the top even though it is updated every 10 minutes. You should check them out. Man, have faith in the wisdom of the multitude.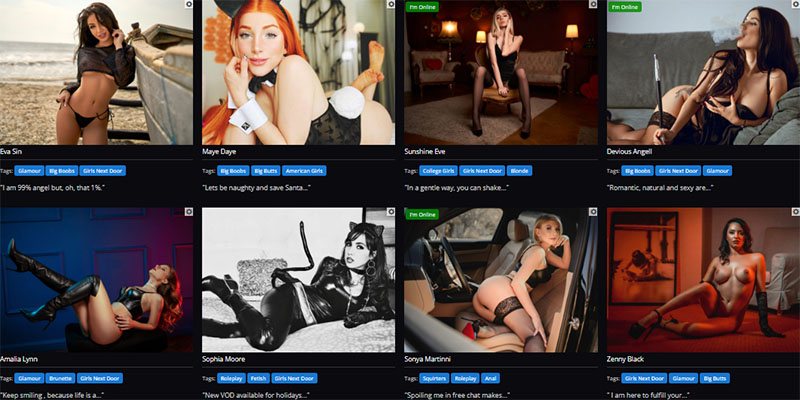 I've got a suggestion to take to the wank bank if you want to ensure that you get to see the freakiest babes put on a display like no other. Go to Live Cams at the top of the screen, click it, and then choose Calendar from the drop-down box that appears. Here, you can view the list of shows for the coming week, learn more about the performers, get ticket prices, and even set up a notification alert so you will get all the benefits.
Returning to some of my favorite Flirt4Free features:
Offered Shows, where you and the model negotiate on a fair price & length of the show to satisfy both of you.
Standard Shows, enjoy a private live show with either a new master or an average slave, where c2c is included.
C2C over your mobile device or tablet at no additional charge; be aware that some devices might not be sound-ready
Models' fan club offering extra discounts and exclusive fan club member content
Combo rooms are used to host both regular and multi-user performances. If the model isn't performing one-on-one, the user may begin or join a multi-user show.
Free video chat rooms with a variety of unconventional girls where you can socialize
Models' schedules
Interactive toys - tip and activate the models' remote-controlled vibrator
Blog site (interviews, pro-tips, product reviews, contests etc.)
Premier Chat, confined to those Flirt4Free kinky cam girls who have shown to be #1; you get unmatched focus from these sinful beauties.
Voyeur Mode, enter to see a standard or premier show in the full-size video; texting and audio are not allowed.
Feature Shows, where members can interact with Flirt4Free's most renowned cam girls at discounted rates per minute.
Multi-User Shows, in which multiple users converse with a single host and can view each other's texts; you receive the first two minutes free, and these shows always cost 2/3 as much as privates.
Party Chats are free group shows, and tipping is not only recommended – it helps to keep the show in progress.
Flirt Phone, which enables you to communicate with masters who demand that you phone them
Mobile access is impressive and advanced
Play & Pay lets you go private with a ts-model and charges your account at the show's end. The only requirement is an active account with credit remaining. C2C can be used with all private live sessions. Flirt4Free's unconventional models are both friendly and commanding or obedient.
Tipping is a beautiful way to express your love; you can choose from the pre-set amounts or enter your amount
Gifting is another way to express your gratitude; there are many virtual gifts available, and members who gift kinky cam girls also earn rewards • Flirt Rewards is a loyalty program where members can earn "flirt rewards."
A range of social features, such as forums that users are welcome to utilize, VIP Archives, styled personal pages with information about the hosts, easy navigation, and unique videos and galleries.
Getting Started
The effort required to sign up for Flirt4Free is minimal. You must enter your email address and a password. After confirming your registration with the email you provided, you are officially a Basic Member. You can watch video previews and participate in open room talks using your chat room name.
You become a Premium Member the instant you give payment information (without making a payment), and you receive a bonus of 120 credits that you may use on the site's numerous activities. Before experimenting with other more sophisticated options, I advise warming up with a one-on-one HD fetish chat. Of course, you will need to buy more to continue using the website after using up all of your provided credit.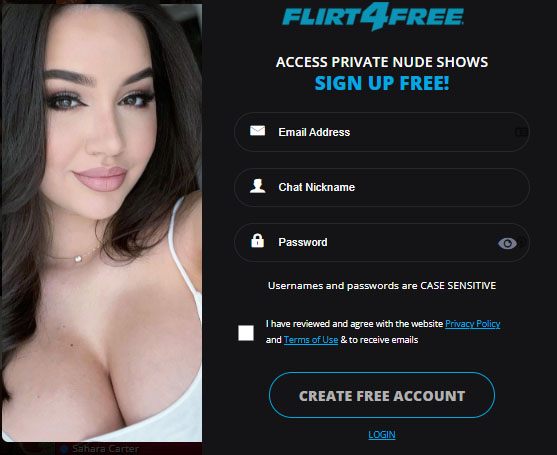 Chat Options
Members of Flirt4Free have access to a wide range of chat options. New members might find it a little intimidating, but fortunately for you, you have this Flirt4Free review to guide you through it.
Open Chat
The most basic live chat option on the website is the open room. Admission to this facility is open to the public and is free for all users. You will undoubtedly share her with other members. However, occasionally you may find yourself alone with the performer and you will have her all to yourself.
Private Chat
The party starts to pick up at this point. First, the rate/min for private chats at Flirt4Free includes two-way audio and cam2cam. Prices can range from "cheap" fun to exorbitantly costly. Some beauties have the banner "Premiere Chat" on their photo. She is one of the most sought-after webcam performers. Thus she charges as such.
Voyeur Mode
If you decide to spend some cash and take the enjoyment to the next level, this is a fantastic and affordable way to get a taste of what to expect. For a few credits, you can peek in and witness what wicked acts the cam girl with your kinks gets up to behind the virtual curtain if she's already engaged in some XXX action in a Private Chat show. Just remember that you are only a voyeur into someone else's sexscapades and cannot communicate with the model in any way. There is also no webcam-to-camera option; you are simply a silent observer.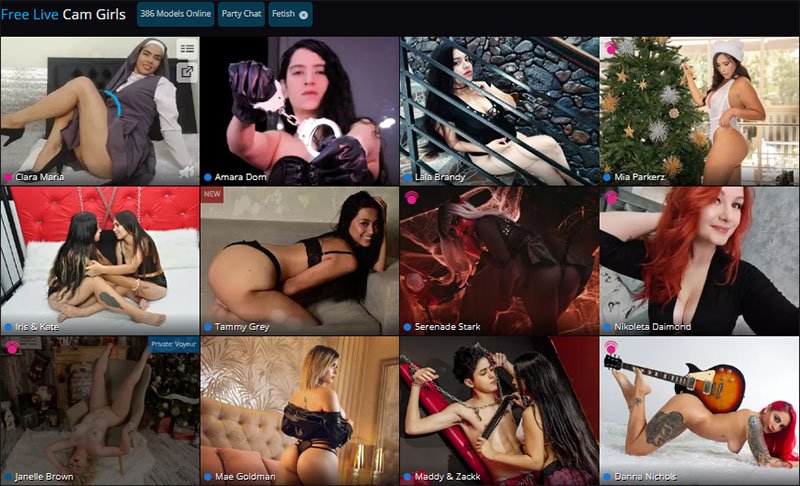 Multi-user Chat
Similar to a private chat, but with users other than just you. In contrast to Voyeur Mode, the kinky show allows everyone in the room to participate. The primary benefit of this is that it costs less per minute than the model's standard Private Chat fee.
This is an inexpensive choice that is also educative regarding our fetishes. Yes, you read it correctly — it may be instructive! The guests frequently ask the mischievous little objects to perform tasks you would never have considered. And the things they can do are amazing. Fair enough, there will be some you won't enjoy, but most of the time, it will increase your kink to a greater extent.
Group Chat
The Group Show is a group fund-raising event where everyone watching has the same interest: enjoying high-quality live fetish porn. Before the start of the performance, the performer establishes a target price. The prelude is the highlight of the performance. The air is tense, and you can sense it. Everyone is wondering whether the show will start or not. Before the main event starts, the performer will offer viewers a taste of what to expect while pleading with audience members to donate for the benefit of all..
Party Chat
Anyone may participate in a free sex chat. As long as people keep tipping the mode, the celebration continues. The horny lady publishes a scale indicating what she will do when she receives a certain amount of tips. She gets kinkier the higher the number. This is a multi-user webcam sex performance that was created collectively. While a party is still going on, a private chat cannot be started. If the tips stop flowing, the enjoyment will finish when her clothes are put back on.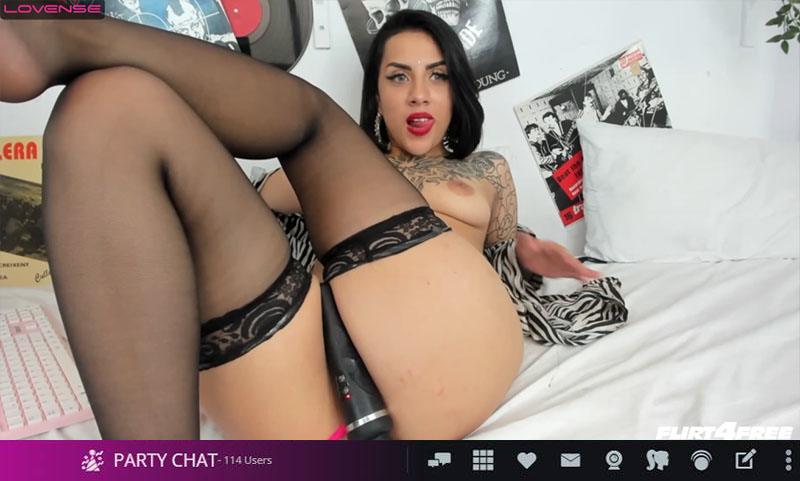 Live Cam Mansion
This is part of the VIP area where you may watch some of the most intense fetish voyeurism. A porn palace where the sexiest X-rated models get down and dirty is Flirt4Free's Live Cam Mansion. The home is open for your viewing pleasure in every room. You can wander from room to room at any time to have a glimpse of some of the mischief and revelry that these mischievous angels are getting up to. They throw themed parties every few weeks and go all out in extreme nirvana. Your body will be panting and wanking for more after the fetish evenings. However, there is always a but. To access this perverse paradise, you must either be a Flirt4Free VIP member or pay 25 credits for a 24-hour pass.
Prices
Regarding setting their pricing, Flirt4Free allows its models much flexibility. The price difference between the two shows can be substantial because they range 5 to 120 credits per minute or around $0.55 to $13.50 per minute.
The site offers the following credit packages, along with the additional credits you'll receive for choosing each one: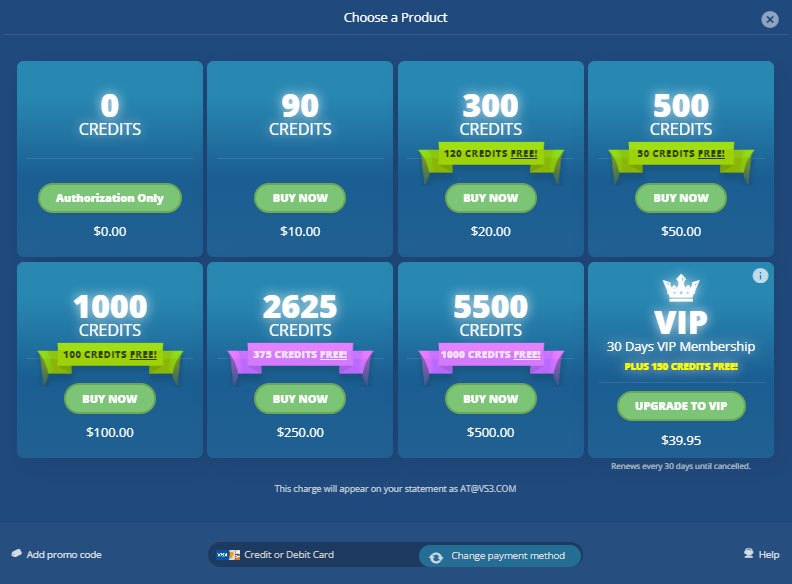 As long as you can comfortably afford it, buying in bulk is a good option because the extra credits grow with the size of the package. Only the initial purchase receives these additional credits. By confirming your credit card, you can also get the minimum redemption of 120 free credits, which is equal to about $13.50.
The currency rate on Flirt4Free isn't the easiest because $1 is equivalent to exactly 9 credits, making keeping track of your spending difficult. If you wish to accomplish that, I'd advise you to simply divide the number of tokens you spent by ten to get a ballpark figure.
If money is a concern, I would also strongly advise you to sort by price. Click the View By button in the top right corner of the website, directly over the cam grid. There are also other, less expensive chat types if you're interested in those.
PAYMENT OPTIONS
You're insured by Flirt4Free when it comes to actualities. It is totally trustworthy, discrete, and secure, just like any other website I suggest. You must ensure your protection when it comes to sex, as your high school teacher advised.
Having trouble deciding how to pay for your stay in perv paradise? At Flirt4Free, the choice is all yours. Except for cash, practically all payment methods are accepted on the website.
Major credit/debit cards
Cryptocurrencies
PayPal
Maestro
Money Orders
Cashier Checks
Wire Transfer
Personal Checks
Brand Name Gift Cards
You saw the final choice, Brand Name Gift Cards? Oh, and did I mention that Flirt4Free takes major brand gift cards as a form of payment? So you can honestly tell your coworkers you're using their gift card for ropes, wires, and latex coating when they give you a gift card to use toward your home improvement project.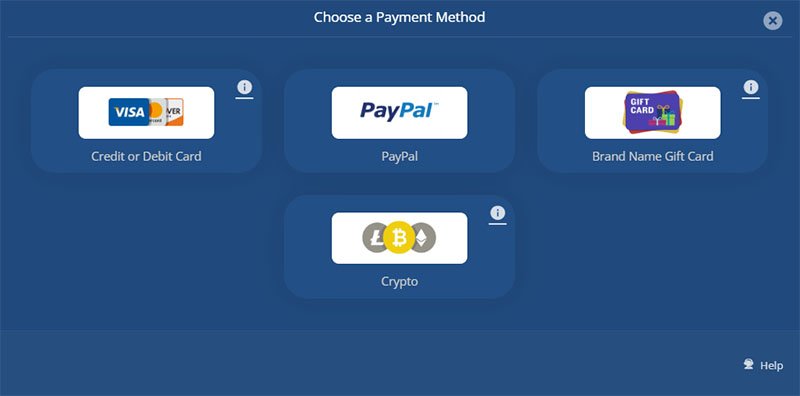 Premium - VIP Membership and Rewards Program
Flirt4Free has a fantastic Premium and VIP membership program. For just validating your card you become a premium member and you get:
120 Credits for free
E-mail notifications when your favorite inked girls are in action
Free access to Party Chatshows
Watch free previews of all the recorded shows on the site
Notifications when your favorite kinky model has recorded a new video
You can join the VIP program for $39.95 per month (or less if you buy a longer subscription) and receive the following benefits:
Regardless of the chat room, receive VIP service from the models.
VIP user ID is displayed in gold (or white if you prefer)
Access to the live show recordings is unrestricted
Each day, you receive 150 free videos.
VIPs can email their most coveted mistresses attachments.
Free access to one-hour specials featuring famous BDSM models
Turn off nagging user chats (guest members)
Access thousands of images of your preferred cam slaves.
This membership may be terminated at any time.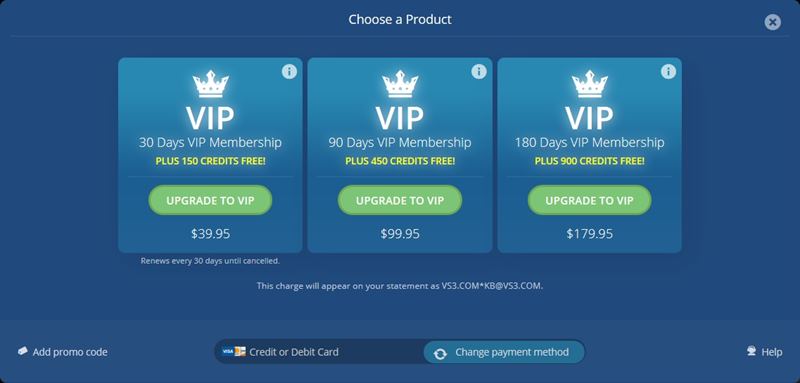 Flirt4Free also offers a rewards program known as Flirt Rewards. Spending credits on the site earns you points. You may then use those points to buy VODs, promo tickets for a discount on your next purchase, and digital gifts to send to a model of your choice on Flirt4Free's Rewards Marketplace. Generating also raises your membership level, which models and other members can see, increasing your presence in chat.
The disadvantage of Flirt Rewards is that it takes a long time to earn points. If you become a dedicated site member, your experience may differ, but more casual members may receive minimal advantages from this scheme.
Mobile Site
Flirt4Free is completely responsive to smartphones and tablets, allowing you to fully utilize the website's capabilities even when you are not sitting in front of a computer screen. I even think HD chats appear better on mobile than on a monitor. Furthermore, Flirt4Free is one of the cam sites that supports cam2cam on mobile devices.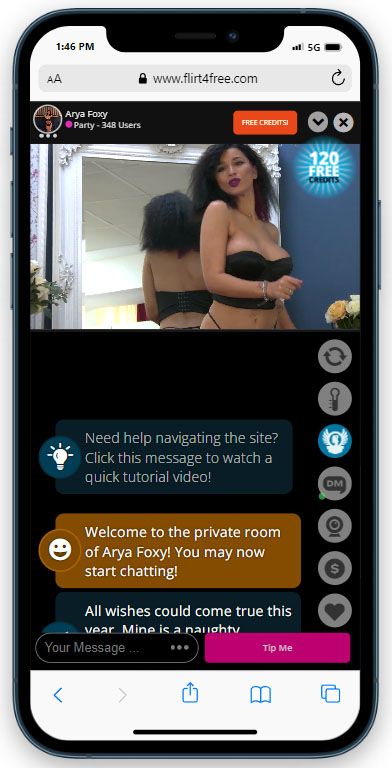 Video Quality
On Flirt4Free, the majority of the chat rooms stream in 720p high quality. This makes every live porn session incredibly enjoyable because you can see the performer clearly. Flirt4Free is comparable to other cutting-edge high-definition adult cam sites like Fetishfix (Livejasmin Fetish) in this sense.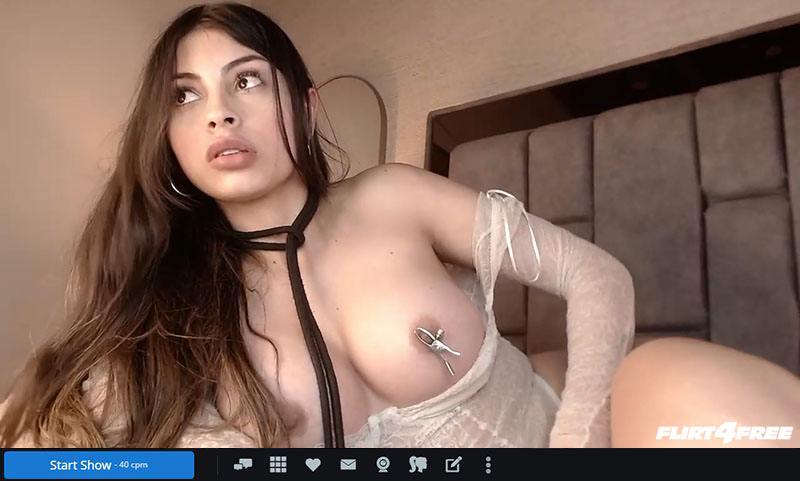 The Pros & Cons
PROS
✔Fetish community forum
✔Most fetish oriented models broadcast in HD
✔56 Fetish categories
✔Constantly changing promos and special deals
✔120 FREE credits for a credit card validation
✔Huge library of HD videos
✔Rewards program that grants access to extras and savings
CONS
✖ The site's search results aren't as accurate as those used by the competition
✖ There are persistent prompts to purchase credits
✖ Pricing is somewhat high
Conclusion
One of the few websites where you can't go wrong is Flirt4Free. There are so many alternatives that you're likely to discover something to get enthusiastic about. Flirt4Free will give you the experience you want, whether you're looking for top-notch models, high-definition streaming, affordable rates, entertaining interactivity, or all of the above.
With a focus on live kinky webcam shows, it's safe to say that Flirt4Free has more than successfully established itself as a fetish community.
---
Flirt4free Fetish Reviews
We don't have any reviews yet. Please share your experiences with other visitors and write a review about Flirt4free Fetish.