Step into the Future of Adult Entertainment: The Only 2 Cam Sites with Live VR Chat Rooms!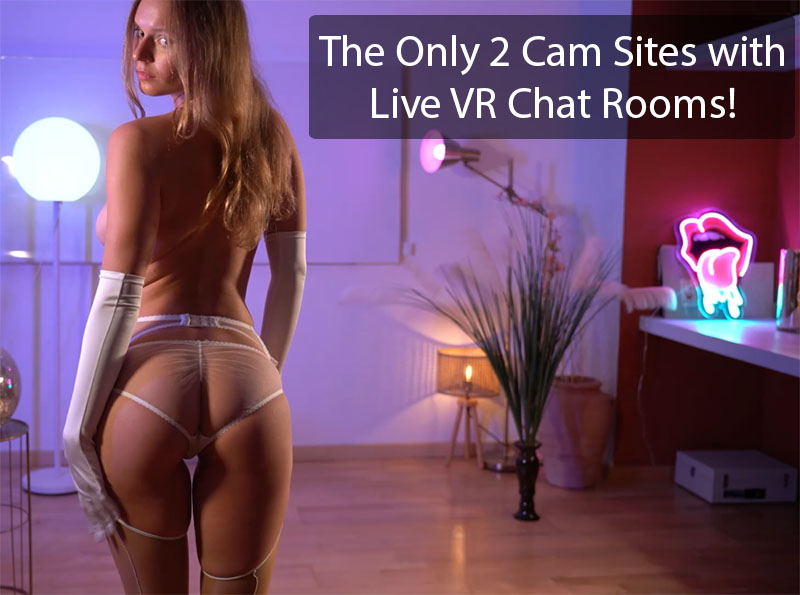 April 9, 2023
Entertainment consumption has been entirely overhauled by virtual reality and it's clear that even the realm of adult pleasure hasn't escaped its influence. With every technological leap forward comes a growing selection of immersive and exciting VR experiences for mature audiences to savor. The prospering live VR chat rooms stand out as some of the most stimulating innovations in this sphere. An utterly fascinating progression for the industry has arrived: immersive ultra-realistic virtual environments within the VRChat world where adult entertainment enthusiasts can engage with performers and community members in real time—making it a fun game indeed! With eye tracking technology in place as well as other features that enhance the user experience such as navigation tools and interactive elements within a virtual environment provide greater immersion for users.
Undeniably, the appeal of live VR chat rooms lies in the innate human yearning for intimacy and the authenticity of face-to-face exchanges. Virtual reality provides a secure and regulated platform to experience such closeness, especially in the adult entertainment sector. Users can interact with performers in a manner that transcends the limitations of conventional video content and real life, resulting in a more gratifying and highly dynamic encounter.
At present, a mere duo of cam sites are pioneering the live VR chat room experience in the VRChat world: Stripchat and SexLikeReal. These trailblazing platforms are revolutionizing the adult entertainment landscape by furnishing users with unparalleled, cutting-edge experiences that are virtually unrivaled. In this blog post, we shall delve deeper into these two websites' unique attributes and offerings, scrutinizing the factors that set them apart and contemplating why they could epitomize adult entertainment's future where users can also play games and watch movies in the virtual realm using devices like Oculus Quest.
Benefits of VR Chat Rooms
VR chat rooms offer undeniable advantages within the context of adult entertainment. The user experience is improved by these virtual spaces that allow complete immersion in a limitless and imaginative world. Models and fellow users can now be engaged in unprecedented ways, unlike traditional chat rooms. The model feels incredibly close due to the unmatched level of immersion and interaction.
Additionally, the augmented privacy provided by VR chat rooms ensures that your adventures stay undisclosed freeing you from the apprehension of curious onlookers or disapproving stares. It's like having access to a personal sanctuary for indulging in all of your most adventurous fantasies without any disruptions. Offering heightened realism along with the opportunity for interaction within virtual environments featuring models or other participants creates an unparalleled experience compared to typical forms of adult entertainment.
Stripchat VR Chat Rooms

Have you ever dreamt of transcending reality to experience an unparalleled, immersive escape in a virtual world? Welcome to Stripchat, a trailblazing cam site boasting over 2,500 live cams and up to 80 mesmerizing VR cams available throughout the day. Imagine a world where every single VR cam streams in stunning 4K quality, free of connectivity hiccups. Sounds too good to be true? Think again!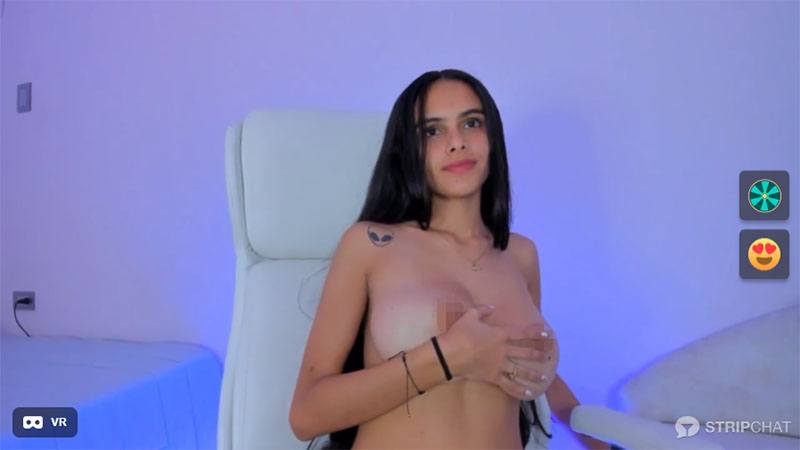 Can you say no to the enticement of having your own virtual reality webcam demonstration for just $2.90 every minute - costing only slightly above what's charged in standard webcam shows? Everyone can find something they like with the diverse range of performers who come from different backgrounds and have various body types and styles. Don't expect to find any couples or threesomes in Stripchat's VR section. However, a private session with a performer can be incredibly intimate and breathtaking.
Ponder on this idea: directing the tip-initiated satisfaction toy of your favored model while indulging in her presence in a digital realm. The unavailability of male and transgender options means that only fans of female VR cams can experience this excitement, unfortunately. That being said Stripchat presents an outstanding collection of male and transgender models to discover.
Ready to embark on this captivating journey? To activate VR chat, tap the VR icon on the bottom left of the video. You'll be prompted to download Gizmo VR onto your device, catering to both Windows and Android platforms.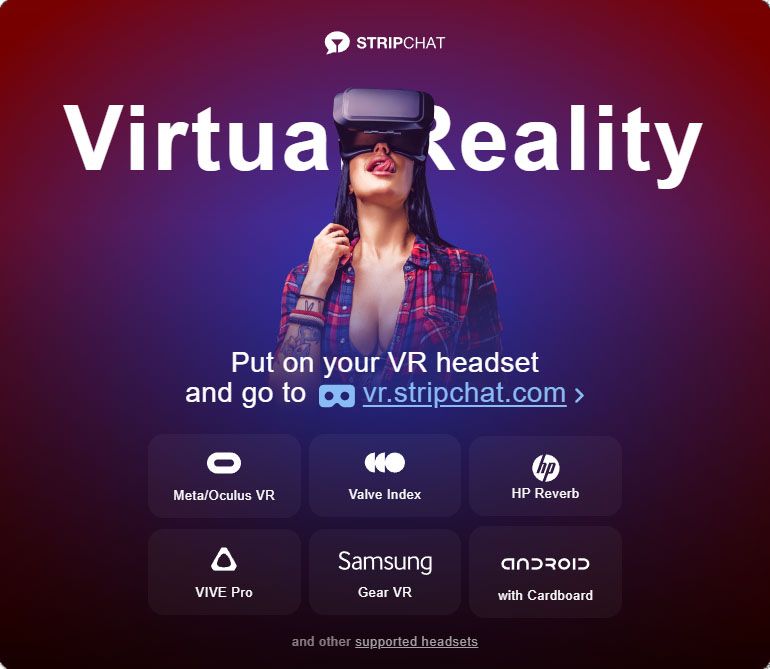 For those who prefer using Windows as their operating system, they should consider choosing between Steam VR or Oculus but for people who use Android phones, they have multiple choices which include Cardboard, daydream, gear, and oculus go. The completion of the download process enables you to watch by clicking on Watch in VR option present on the website or typing Stripchat.com into Gizmo VR's address bar and launching it.
Experience an unparalleled connection with models on Stripchat by embracing their seamless VR technology. Chatting may seem more convenient when done through a computer set up however after practicing enough one can easily navigate their way around mobile devices.

Discover a transcendent retreat in Stripchat's VR chat rooms. Why delay? The stunning universe of Stripchat VR awaits you to experience a memorable sensory journey!
SexLikeReal VR Chat Rooms

Have you ever dreamed of an adult playground designed exclusively for your senses, where virtual reality reigns supreme? Enter SexLikeReal, a groundbreaking cam site that thrives on two fundamental pillars. First, the enchanting VR live shows featuring 50-100 captivating cam girls available 24/7. And second, an astonishing collection of nearly 12,000 high-resolution VR videos waiting to be explored.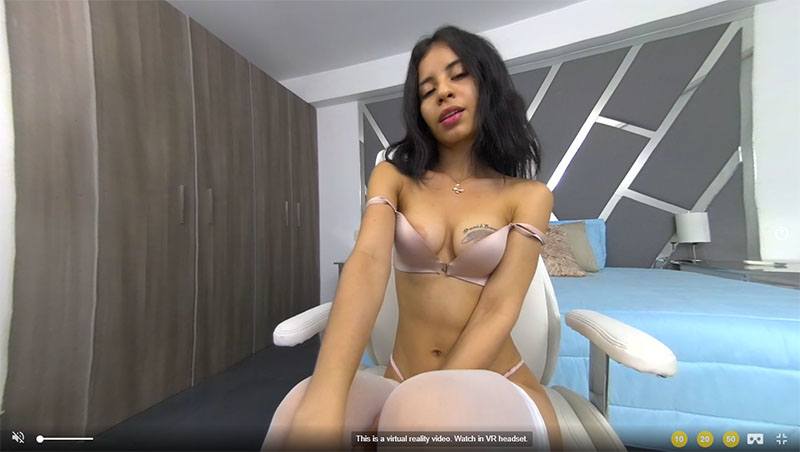 The exceptional visual quality provided by HD+ and 4K streaming sets SexLikeReal apart from other cam sites. VR live chat exploration aside - the sight of mesmerizing models performing boldly awaits. Experience the ultimate with SexLikeReal's pièce de résistance - VR live chats.
Treat yourself to an enthralling stereoscopic performance where you can enjoy personal sessions averaging at around $3.60/min - or if you prefer something cheaper - opt for one of our more affordable models which are available from only 70 cents per min. Keep in memory that there is a minimum chat length for all models which can be anywhere between two and ten minutes long. Hence cherish each second spent chatting.
Do you want to dive into a personal VR session with your favorite model? A VR headset should be obtained first followed by the download of a compatible application. The model's chat room provides a selection of either DeoVR or SLR VR.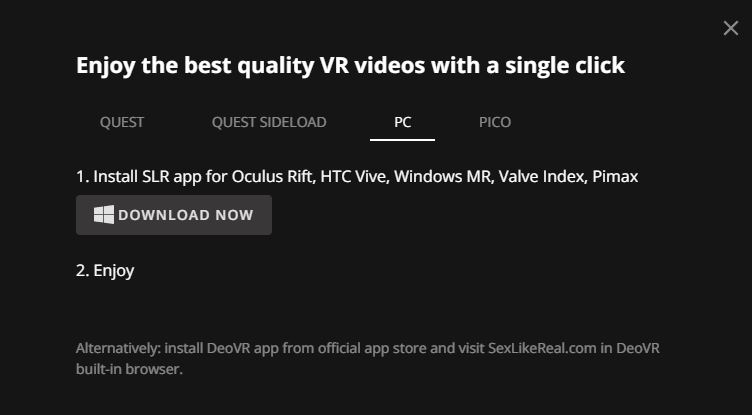 The official app stores of Oculus Rifts HTC Vive Windows MR Valve Index and Pimax offer DeoVR and SLR VR for your PC. After launching it once click on the Open in DeoVR/Open in SLR app button again.

Mobile users need not fear. If you've installed either of these applications -Deovr Or Slr Vr For Gearvr-, just tap the 'Open In' Button Again.
In the event that you come across any challenges while using SexLikeReal's offerings , their support staff can be reached by sending an email. Moreover , there exists a useful forum containing many valuable user insights. Experience an amazing journey by immersing yourself into the extraordinary world of SexLikeReal VR chat rooms where you can create everlasting memories.
Stripchat vs. SexLikeReal
Imagine yourself standing at a crossroads, contemplating which path to choose. On the one hand, there's Stripchat, a treasure trove of live show options and a vast array of models. On the other, SexLikeReal, a VR-dedicated site with an air of exclusivity. Regarding pricing and membership, Stripchat offers affordability and variety, whereas SexLikeReal boasts a premium experience. But which provides the greater value? As the saying goes, "Variety is the spice of life," In this case, Stripchat emerges as the victor, providing a wealth of options without breaking the bank.
Picture yourself in an art gallery surrounded by masterpieces. Would you settle for a limited selection or yearn for a diverse palette of visual delights? Stripchat takes the crown in this category, boasting both quantity and camming features that make it the Picasso of the cam site world. While SexLikeReal may specialize in VR content, Stripchat's vast selection, coupled with cutting-edge technology, elevates the overall experience. Stripchat claims the title in this artistic showdown, leaving a lasting impression on its viewers.
As you navigate the virtual landscape, seeking the ultimate cam site experience, two champions emerge Stripchat, with its plethora of tempting options, and SexLikeReal, the VR-dedicated newcomer. While both contenders offer unique and immersive experiences, Stripchat pulls ahead with a more user-friendly interface and various features that cater to a broader audience. As you embark on this thrilling journey, Stripchat becomes the beacon of light, guiding you toward a more satisfying and memorable escapade.
In the grand duel between Stripchat and SexLikeReal, Stripchat emerges as the ultimate victor. This enchanting realm of boundless possibilities beckons you to explore its depths, promising a captivating experience transcending conventional cam sites' boundaries. Take the plunge into the world of Stripchat, and discover a treasure trove of pleasures that await you.
The Emergence of Social VR in Adult Entertainment
While live VR chat rooms have already begun to transform the adult entertainment landscape, there's another aspect of virtual reality that's poised to make a significant impact: social VR. This rapidly evolving technology enables users to connect, interact, and build relationships in virtual spaces, creating a new dimension of intimacy and socialization in the adult industry.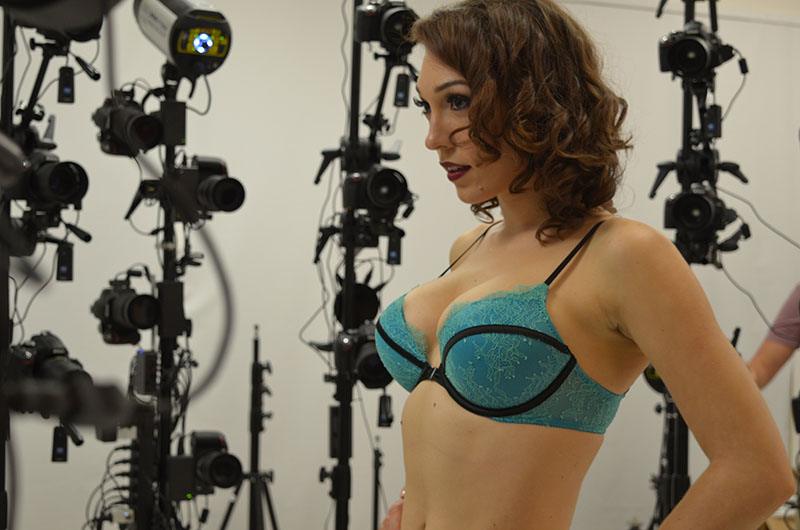 Social VR platforms such as VRChat and others present users with unique opportunities to explore and create custom environments, engage with like-minded individuals, and even forge lasting connections. These immersive virtual worlds are not only visually stimulating but also provide users with a sense of presence and togetherness that's often absent in traditional adult entertainment. With the integration of adult content and experiences in social VR platforms, the possibilities for personalized and interactive adult entertainment become virtually limitless.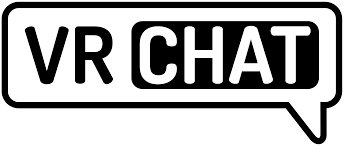 The Role of haptic technology in VR adult entertainment
As virtual reality continues to evolve, the incorporation of haptic technology is becoming increasingly important for enhancing the overall user experience. Haptic feedback devices, such as gloves, bodysuits, and other wearable tech, can deliver tactile sensations that mimic the feeling of touch, adding another layer of realism and immersion to virtual experiences.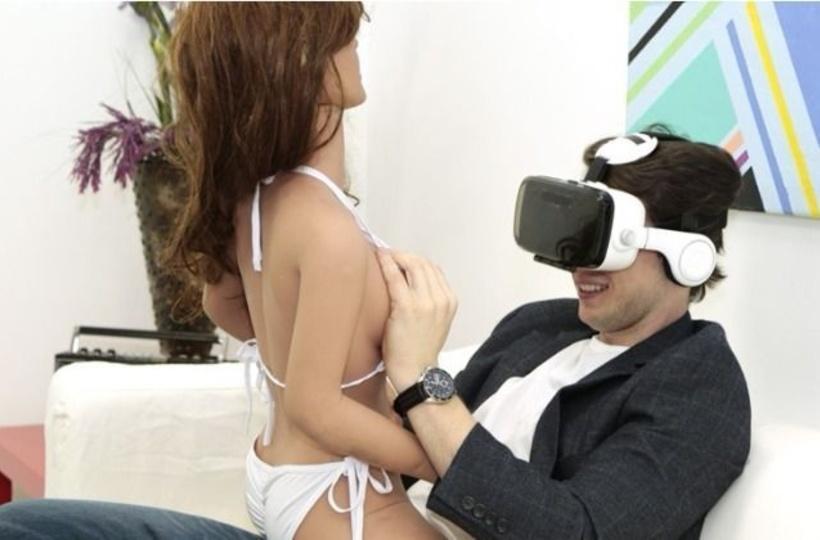 In the realm of adult entertainment, haptic technology has the potential to revolutionize the way users interact with performers, environments, and even other users in VR chat rooms. The implementation of haptic feedback devices can create a more intimate and engaging experience, allowing users to physically feel the virtual world around them and heighten their connection with performers and the environment.
As haptic technology continues to advance, we can expect to see a greater integration of tactile feedback in live VR chat rooms and adult entertainment experiences. The combination of visual, auditory, and tactile immersion will create a fully-rounded sensory experience, pushing the boundaries of what's possible in adult entertainment and elevating the industry to new heights.
The potential impact of AI on VR adult entertainment
Artificial intelligence (AI) is another technological innovation that holds immense potential for the future of adult entertainment. The integration of AI into virtual reality experiences can lead to the creation of lifelike, interactive virtual characters, capable of engaging with users on a deeper and more personal level.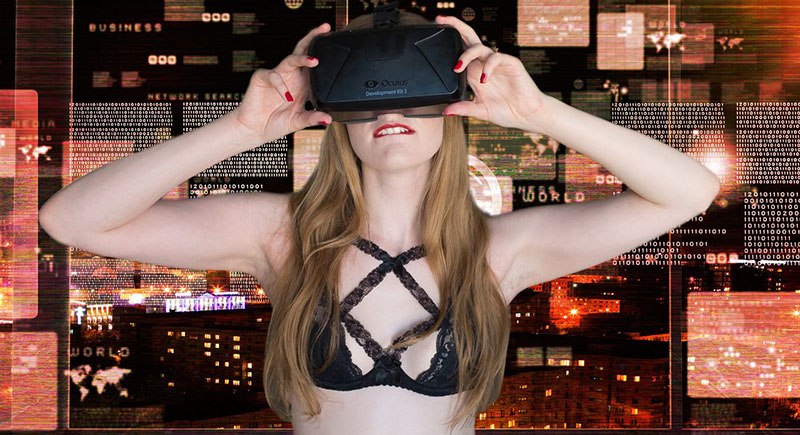 As AI technology continues to advance, the possibilities for personalized, emotionally-driven experiences in VR adult entertainment become increasingly feasible. The combination of AI-generated characters and live performers in VR chat rooms can create a diverse range of encounters, catering to the unique tastes and preferences of individual users. In this context, AI has the potential to shape the future of adult entertainment by making virtual experiences more interactive, engaging, and customizable than ever before.
The Future of VR Chat Rooms
Picture yourself stepping through a portal into a world of unbridled desire, where fantasies come alive and the line between reality and imagination blurs. This is the future of VR chat rooms in adult entertainment. As technology advances, the potential for immersive experiences within VR worlds becomes limitless, transforming the industry into a playground of boundless exploration. Will you dare to venture into this brave new vrchat world where Stripchat, the fearless pioneer, is already carving out a path?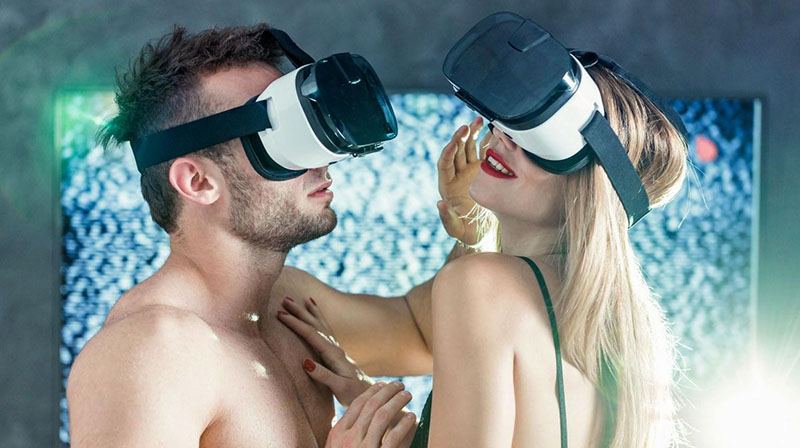 As the sun rises on the horizon, casting light on the untapped potential of VR chat rooms, other cam sites will follow in Stripchat's footsteps. But will they be able to match the trailblazer's dedication to innovation and variety? Stripchat has already set the stage for an exhilarating revolution in the adult entertainment industry, and as others join the ranks, the possibilities for growth and expansion become infinite. In this race toward the future, Stripchat's early adoption of VR chat rooms gives it a significant head start, ensuring its position as a leader in the industry.
As we stand on the precipice of a new era in adult entertainment, the question is not if but when VR chat rooms will become the standard. With Stripchat leading the charge, embracing the boundless potential of virtual reality, the future looks brighter than ever. So, why wait for the rest of the world to catch up? Join Stripchat on its daring journey into the future, and experience the magic of VR chat rooms today. After all, fortune favors the bold, and Stripchat is undoubtedly at the forefront of this brave new vrchat world.
Conclusion
As we've journeyed through the realm of virtual reality in adult entertainment, we've uncovered the marvels of two titans: Stripchat and SexLikeReal. Both bring unique flavors to the table, with Stripchat pioneering as a freemium cam site that masterfully integrates VR technology, while SexLikeReal dedicates its very existence to the world of virtual reality. Although both sites offer enticing experiences, Stripchat truly shines, boasting a greater variety of live show options, more models, and cutting-edge VR technology.
As we stand at the crossroads between reality and fantasy, the future of VR in adult entertainment beckons us with open arms. The exciting world of virtual reality holds the potential to revolutionize the industry, transporting us into uncharted territories of pleasure and desire. And who better to lead us into this brave new vrchat world than Stripchat, the fearless innovator that has already taken the plunge into the depths of VR chat rooms?
With the power to create worlds, the future of VR in adult entertainment is not only inevitable but brimming with promise. Stripchat emerges as the trailblazer, setting the stage for an exhilarating revolution and leaving us in awe of the wonders that await. So, why not embark on this journey with the best? Choose Stripchat, and embrace the future of adult entertainment today. After all, the most unforgettable adventures are reserved for those who dare to dream big, even if it means exploring the floating island in the vrchat worlds.
Related Posts
Stripchat is a popular adult webcam platform that offers live video streaming services to its users. ...
Are you seeking for a guy that is a little bit older than the typical male hosts at gay cam sites wh ...