Chaturbate Alternatives: Discovering the Best Adult Webcam Sites for Your Pleasure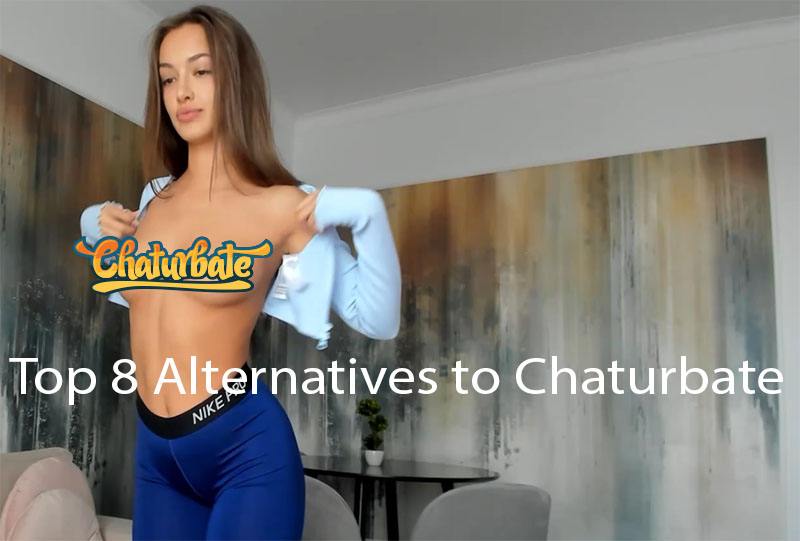 March 8, 2023
Chaturbate is one of the most popular adult webcam sites on the internet, but it is not the only one. There are many other sites that offer similar experiences, with different features and models to choose from. In this article, we will explore some of the best Chaturbate alternatives for your pleasure.
CamSoda

CamSoda is a great alternative to Chaturbate for a number of reasons. Despite having fewer cam rooms than Chaturbate, CamSoda has around 600 models online on average, which is still a considerable number of models to choose from. Additionally, CamSoda has an excellent mass preview feature that allows you to see what is happening in all of the cam rooms on your page simultaneously. This feature is incredibly helpful in sorting through the models and quickly finding someone to watch.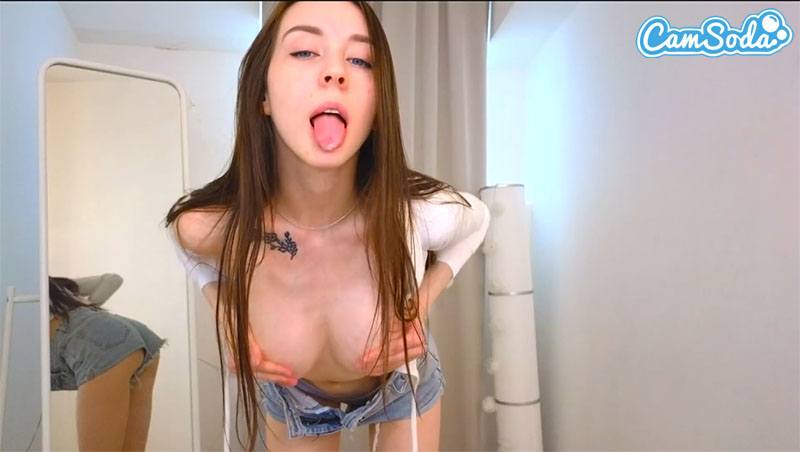 The quality of models on CamSoda is also on par with Chaturbate. The site has a variety of girls, boys, transgenders, and couples of all shapes and sizes. The models are attractive and engaging, and many of them are actively involved in action during their shows. CamSoda is a freemium sex chat site, which means that many of the models will be performing in public chat rooms, making it easier to find someone to watch and engage with.
In terms of video quality, CamSoda doesn't disappoint. Most of the cams are in HD, and they load quickly without any stuttering or buffering issues. CamSoda's platform is fast and lightweight, making it easy to use on any platform. This is why it has been recognized as the best mobile cam site in the industry.
One area where CamSoda stands out is its interactive shows. The site offers a range of interactive toys that users can use to control the models' actions during their shows. This feature helps to create a more immersive and engaging experience for users.
While CamSoda's customer support is limited to email, the site's excellent features make up for it. The site offers private shows, group shows, and tipping options, which help to encourage interaction and engagement between users and models. Prices for tip requests are hard to gauge, but you can find private shows for as low as $0.59 a minute, making CamSoda a competitive option.
Overall, CamSoda is a great alternative to Chaturbate, particularly for those who are looking for a more relaxed and intimate environment free from the competition of other users. With its innovative features, interactive shows, and vast selection of models, CamSoda is a site that you won't regret exploring.
MyFreeCams

MyFreeCams is a great alternative to Chaturbate for users who are looking for a nostalgic feel and a large selection of models. With around 1,300 models online at any given time, MyFreeCams offers a range of beautiful babes from around the world, including a large percentage of American cam girls.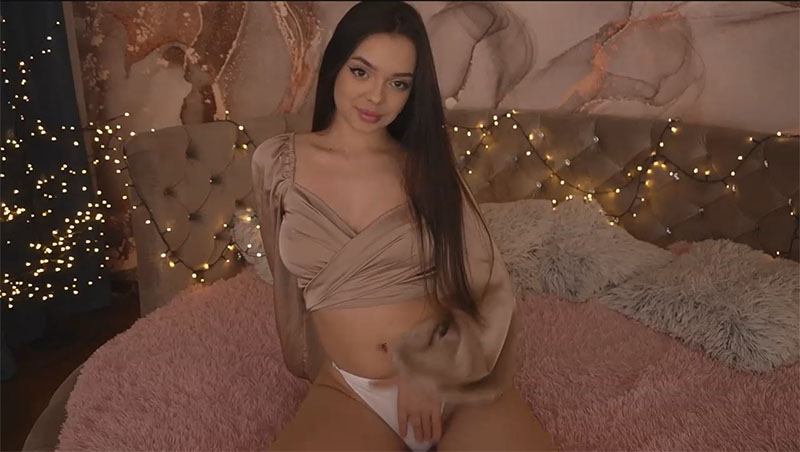 One of the advantages of MyFreeCams is that it was one of the first sites to introduce free sex chat rooms, well before Chaturbate came on the scene. While Chaturbate has grown a much larger community of performers and fans, MyFreeCams has been able to retain a certain nostalgia for its site design and functionality.
MyFreeCams also offers crisp and clear HD+ video quality, making it a joy to watch the models and their performances. The site's interactive cam2cam function is similar to Chaturbate's, and it also allows you to cam2cam without going into a private show.
However, one of the downsides of MyFreeCams is its prices. Private shows cost between $4.80-$6.00, depending on the token package that you purchase, and the prices are fixed, meaning that you won't find any private shows that are cheaper. If you want complete privacy without other members being able to spy on you, the price jumps to $6.40-$8.00. Two-way video and audio may be included, but it depends on the broadcaster and if she likes the feature.
The site's design may look outdated, but it functions much better than it looks. On mobile devices, however, the site looks fantastic and is incredibly well-optimized to work on phones. Much of the clutter of the browser site is removed in favor of a slick, simple design that looks great and loads fast.
In terms of customer service, MyFreeCams is fairly comprehensive. There is a "Contact Support" button at the bottom right corner of the site that will redirect you to the site's support page. It serves as both their information and FAQ section and as their customer support contact page, so if you have a problem that is not listed there, you can get in touch with them for assistance. Unfortunately, there is no live chat available at this time.
One of the benefits of MyFreeCams is that all of the public shows on the site are totally free. While users should definitely tip, especially if they desire the model to do something specific for them, no one actually has to tip. This means that someone could just enter the site and watch as many after-hour live shows as they want without investing a dime or even purchasing tokens.
Overall, MyFreeCams is a great alternative to Chaturbate, particularly for those who are looking for a site with a nostalgic feel and a large selection of models. While the prices may be higher than on most cam sites, there are plenty of cheap shows and fun features that make MyFreeCams one of the best live cam sites on the web.
Stripchat

Stripchat is a great alternative to Chaturbate due to its wide range of models, excellent categorization system, and VR webcam shows. With over 4,000 cam rooms to choose from during peak hours, Stripchat offers a global selection of girls, guys, and trans performers, making it easy to find a specific type of model. The site's sophisticated search tool helps users to quickly find models based on specific criteria, and the categorization system is the most thorough and sophisticated of any cam site.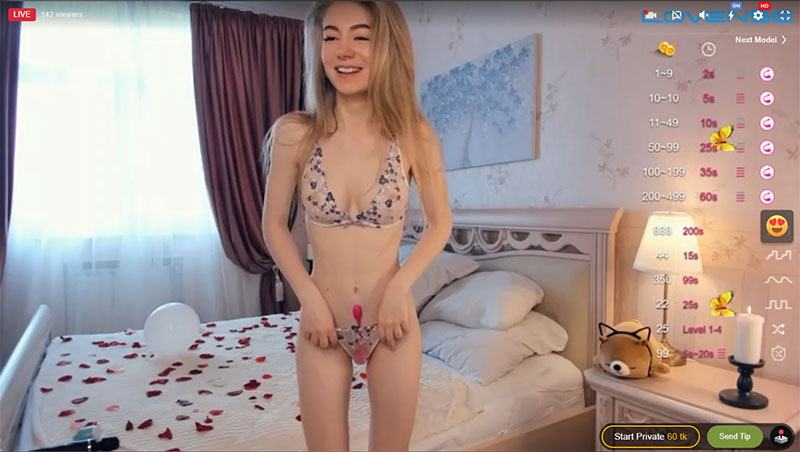 Stripchat offers VR webcam shows, making it the only cam site to offer this feature. While engaging in a virtual reality sex chat can be expensive due to the cost of special equipment and software, it provides a lifelike feel that is as good as long-distance sex can get at this point. Additionally, many models use hi-def cameras, and most of the time, the site hosts 10 - 15 performers in VR chat rooms, allowing users to enjoy 360° live shows.
Private shows start at just $0.77 a minute, with an average price of $3.08, making Stripchat an affordable option. The site also offers a recordable category for paying members, allowing them to record their favorite sessions directly from the site, and the cam girls can be tipped to control their interactive sex toys or perform specific actions.
In summary, Stripchat offers a vast selection of models, a sophisticated categorization system, VR webcam shows, and affordable private shows, making it an excellent alternative to Chaturbate.
BongaCams

BongaCams is a great alternative to Chaturbate for those who prefer a site with a focus on hot European cam girls. While it may have a smaller model count compared to Chaturbate, it makes up for it with a multi-optional search tool that enables users to sort out performers according to age, region, languages, appearance, and category. Additionally, BongaCams offers a unique feature where you can stream cast the webcam show to your smart TV for a super-sized big screen experience.
BongaCams offers great quality for its prices, with most streams loading fast and running well, and a helpful FAQ section and both email and live chat support. It also has some unique features, such as the ability to c2c in the free chat and a loyalty program that counteracts the intrusive ads and watermarked rooms.
Private shows on BongaCams start at just $1.59 a minute, with an average price rate of $3.18 a minute, and all rates for all models on BongaCams are fixed. The site also offers a monthly paid VIP membership which unlocks extras such as 100% free access to any model's videos, invisible mode, ad-free browsing, and the chance to win $5.00 gift cards every 10 days.
Overall, BongaCams is a solid cam site that offers a great selection of hot European cam girls, unique features, and a helpful support team, making it a good alternative to Chaturbate.
Cams.com

Cams.com can be a great alternative to Chaturbate for users who are looking for a more premium and streamlined approach to live cam shows. While there may be fewer models available compared to Chaturbate, Cams.com still offers upwards of 600 performers to choose from at any given time. The site has a clean and simple interface, making it easy to find what you're looking for.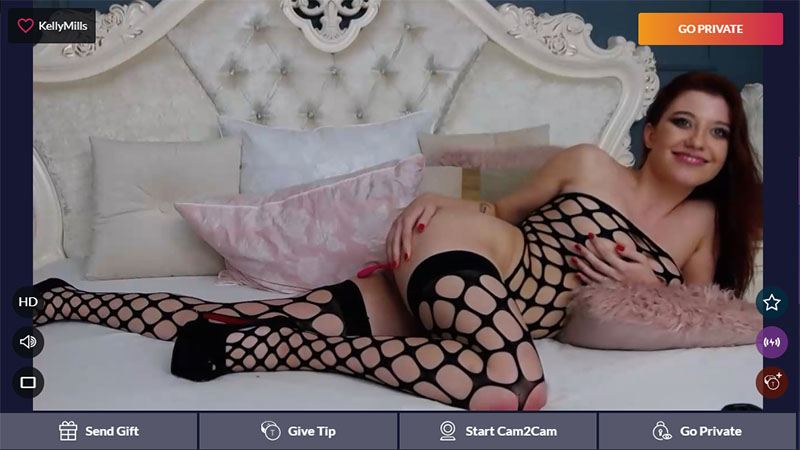 Unlike Chaturbate, the girls on Cams.com have higher expectations when it comes to tipping and nudity in the free chat rooms may not be as common. However, users can still find plenty of nudity in the Nude chat rooms, which may require payment to access. Private shows on Cams.com start at $2.49 a minute, with an overall site average of $3.49 a minute.
One unique feature of Cams.com is its ability to connect the user's toy to the performer's toy for a 2-way virtual experience. The site also offers a loyalty program, where users can earn points for activities such as purchasing Tokens, upgrading their membership, and referring friends.
Overall, Cams.com offers a more refined and upscale experience compared to Chaturbate. Users who prefer a more streamlined approach to live cam shows, with high-quality performers and the ability to connect with the performer's toy, may find Cams.com to be a great alternative.
Flirt4Free

Flirt4Free is a great alternative to Chaturbate for those who want a more premium experience without breaking the bank. Unlike Chaturbate, Flirt4Free offers a middle ground between premium and freemium, where models are allowed to act and do as they please and charge accordingly. While there are no goals like on Chaturbate, models do accept tips for flashes and requests, and many put on Party Chat and Group Chat shows.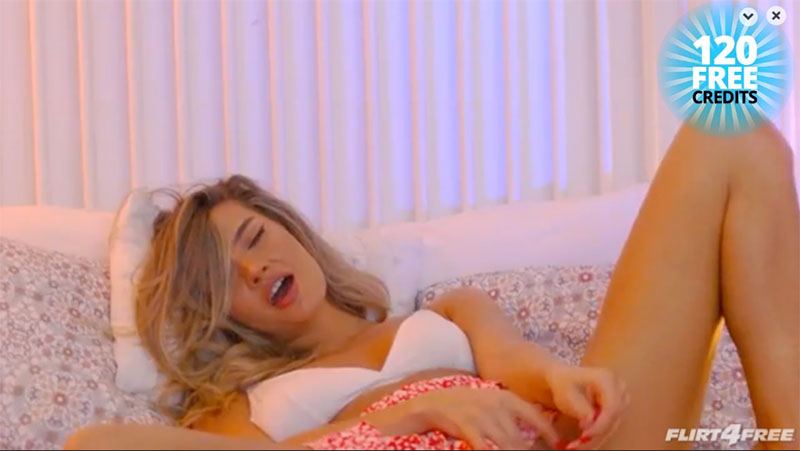 Flirt4Free has one of the smallest model pools compared to other cam sites, but the quality of the models is not lacking. Since nudity is scarce, it is recommended to stick with the party chat rooms if you are looking for free shows. However, if you are looking for more types of shows than any other cam site, then Flirt4Free is your destination. It offers Multi-User shows, Voyeur shows, Combo shows, Feature shows, and Offered shows which allow you to negotiate with the performer to find a private show rate you both agree on.
Flirt4Free boasts high-end video quality, with the majority of cam rooms on the site streaming in HD. The models are hot and engaging, and their shows tend to feel more luxurious than in freemium cam sites. While the site has an unhelpful search and categorization features, its filtering feature works quite well and lets you sort the rooms by price.
In addition, c2c and two-way audio are included for free in every private chat, which helps a lot since many people who visit Flirt4Free do so for its interactivity feature. There are also many ways to save money on Flirt4Free, and first-time users will get 55% off any credits pack by going through the exclusive link and entering the coupon code.
Flirt4Free treats its members well, with a giant FAQ section and attentive customer support that you can contact in pretty much every way under the sun. To get an experience like Chaturbate, it is recommended to check out the OhMiBod rooms, where many users tip the model simultaneously. As on any freemium site, things don't move too quickly if no one is paying. However, if you are a paying user, you can join any premier chat to watch extra hot shows, a feature lacking on Chaturbate.
Overall, Flirt4Free offers more paid show types than any other webcam site, from Group Shows & Multi User Chat - to Private Shows, and has some of the cheapest live shows in town, with select girls offering private dates for as little as $0.50 per minute. All paid live shows include c2c and sound with no additional costs, and Flirt4Free even offers private c2c sessions on mobile phones. Signing up with a credit card unlocks 120 FREE CREDITS, no purchase necessary.
Cam4

Cam4 is a great alternative to Chaturbate for those who are looking for a freemium cam site with a wide selection of amateur models. While Cam4 may not have as many active chat rooms as Chaturbate, it still has over 1,500 online at any given time. Additionally, Cam4 features a wide variety of performers, including females, males, transgenders, and couples. This means that there is something for everyone on the site.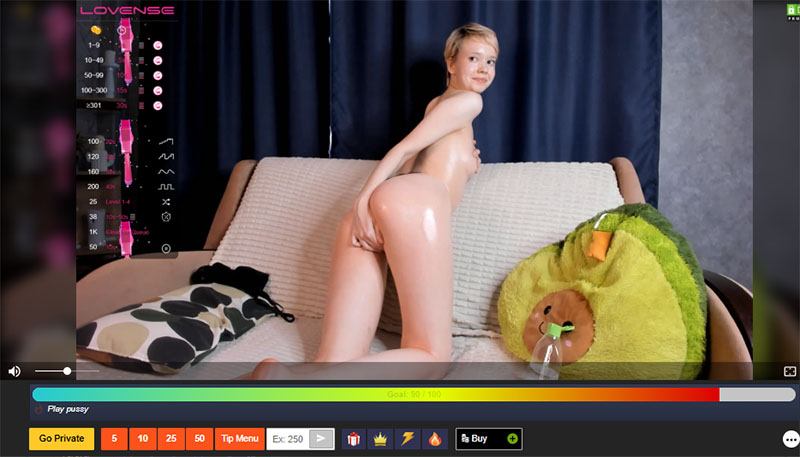 One unique aspect of Cam4 is that many users on the site end up joining the community and start broadcasting themselves. This means that you may even be able to find performers that you cannot find on other cam sites. Furthermore, the performers on Cam4 tend to be more extreme and unique than those on other cam sites, which can be a big draw for some users.
Pricing for private chat on Cam4 starts at $1.08 a minute, which is more expensive than some other freemium cam sites. However, the average private chat rate on Cam4 is still reasonable, at $5.39 a minute. While some rooms on Cam4 are in SD, there are plenty of rooms that are in HD, and you can easily filter by video resolution to find what you are looking for.
One downside of Cam4 is that the site can be cluttered with ads and pop-ups, which can detract from the user experience. Additionally, the site does not let you resize the stream to full screen mode unless you are a Gold member, which is the site's paid subscription. However, Gold membership does come with a number of benefits, including the ability to watch multiple cams on one screen and complete removal of ads.
Overall, Cam4 is a good alternative to Chaturbate for users who are looking for a freemium cam site with a wide selection of amateur performers. While the site may not have as many active chat rooms as Chaturbate, it still has plenty of action and features unique and extreme performers that you cannot find on other cam sites.
Cherry.tv

Cherry.tv is a newer entrant to the world of live cam sites and offers a great alternative to Chaturbate. The site boasts a solid set of attractive models at low prices, making it an excellent choice for those looking for a more affordable live cam experience. While the model count is lower than some other sites, including Chaturbate, the private shows on Cherry.tv are fantastic, and the pricing is some of the best available on any webcam site.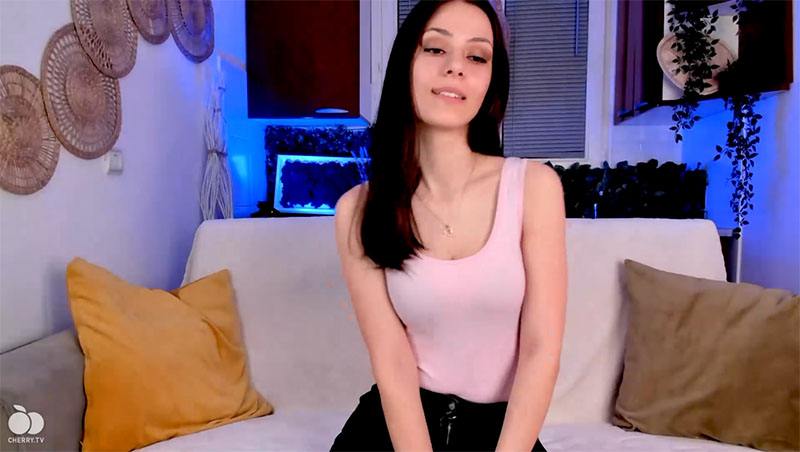 One of the standout features of Cherry.tv is its excellent website layout, which is blissfully free from annoying pop-up ads. The site is easy to navigate and there are usually around 100 cam models available for live chat sessions. Not only are these some of the most attractive cam girls out there, but they also offer some of the lowest prices on private sex shows, starting at just $0.93 a minute. Even the overall average rate for private sessions on Cherry.tv is solid at $1.85 a minute.
While Cherry.tv may not have the most HD cam rooms available, they do have a number of exceptional cam streams coming in at 1080p. The video clarity is top-notch, and having such a clear high-definition stream looks phenomenal on newer screens.
One drawback of Cherry.tv is that they do not offer a cam-to-cam feature for private shows. However, if this isn't a dealbreaker for you, then you'll find that Cherry.tv offers some of the best rates around for private cam shows.
Overall, Cherry.tv is a great alternative to Chaturbate for those looking for an affordable live cam experience with attractive models. While the site is still relatively new and may be missing some features that you would find on more established sites, the low prices and high-quality cam streams make Cherry.tv a top-tier option for live cam shows.
Conclusion
In conclusion, there are several great alternatives to Chaturbate that cater to different interests and preferences. Each site offers its unique features, benefits, and drawbacks. However, after researching and comparing various adult webcam sites, it is clear that Camsoda stands out as the best alternative to Chaturbate.
Camsoda offers a user-friendly interface, high-quality streams, and a diverse selection of models. The site also provides excellent customer support, secure payment options, and a range of interactive features like virtual reality shows, cam2cam, and sex toy integration. Additionally, Camsoda's unique "token keno" game adds an element of excitement and unpredictability to the experience.
Overall, if you're looking for a top-notch adult webcam site with a wide variety of models and interactive features, Camsoda is an excellent choice. Whether you're a seasoned veteran or a first-time user, Camsoda is sure to satisfy your desires and provide an unforgettable experience.