The Best Mobile Sex Cam Sites in 2023
March 30, 2022
Would you believe me if I told you that the sex cam industry generates close to $100 million in monthly revenue? Well, believe it or not, all signs point to this being a market that will continue to expand. We have a demand that strip clubs and other physical venues formerly met. The fact that there are more camgirls online makes the experience even better. Because of the market's expansion, the girls are highly compensated.
It can be challenging to decide which mobile cam site platform to use. There are a plethora of excellent mobile cam websites. We did a lot of research and came up with a list of 7 mobile sex chat sites that you should check out. Each of these mobile devices' sex cam sites is worth its place on our list. Check out the list of the best mobile webcam websites and you will soon find out why...
CamSoda.com

CamSoda is a popular cam site that is heavily investing in the latest technology. Their mobile interface is one of the best around. The site features a ton of babes who are always streaming naked. What else makes CamSoda exceptional? It was the first site to introduce cam2cam on phones and tablets as a feature.
CamSoda's mobile sex chat rooms have been well-optimized for mobile viewing. Horizontally, some space is cut off from the bottom of the screen, but you can resolve the issue but clicking to go full screen. When held upright, you gain easy access to all the site's features, including cam2cam.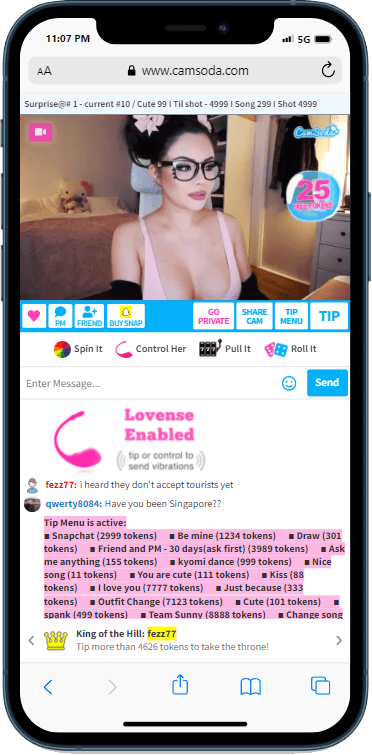 You can't flick left or right on CamSoda to switch between rooms. You'll have to press the back arrow to choose a new room. It is a precaution to help prevent you from accidentally flicking out of a private show.
Not all of the cam girls on CamSoda offer cam2cam shows. That being said, many have automatically private show recordings, meaning you will automatically get a copy added to your collection. On CamSoda, you can rewatch all your recorded shows for free.
With very few exceptions, private shows on CamSoda include cam2cam and 2-way audio at no extra charge.
Livejasmin.com

This uptown live cam site presents a variety of sexy cam babes in the hottest chat rooms. The models on this live chat site all feature a minimum HD720, with most actually going at the full 1080p. What this means for you is clean and detailed video images making LiveJasmin a deserving placeholder on my list of top trending mobile cam sex chat sites. As is the site's policy, nudity is not permitted in public chat rooms. For explicit viewing, members need to pay and go private, a service that is easily available on LiveJasmin's mobile cam sex platform.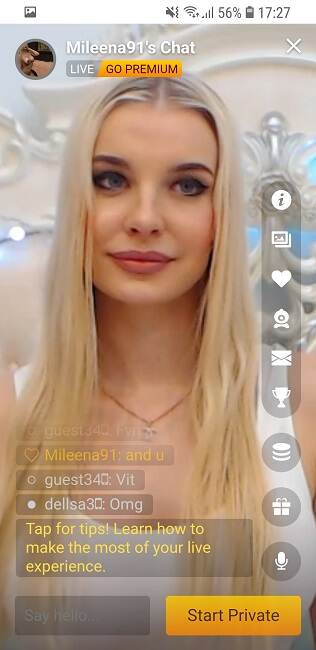 Joining this prestigious adult webcam club as a Basic member is really simple; it takes only a few moments, and membership is not only free but valid for life. That's right, absolutely no credit card is needed upon sign-up, nor are there any monthly subscriptions required for this elegant phone sex chat site. To begin, click the menu icon top left of the start page. Click the Sign Up FREE button. Complete the registration fields, namely: Username, Password & Email. Become a Premium member when you make your first Credit bundle purchase.
Premium members have the best advantage, as they get to experience all the explicit LIVE sex shows conjured up by the LiveJasmin babes. These high rollers get to go private with willing and wanting cam models, and they get to call every sexy shot!
New members are gifted up to 9.99 bonus Credits on their opening purchase and then again (up to 9.99 bonus Credits), after every 5th purchase.
MOBILE SITE FEATURES
Mobile interface, view the main gallery (vertical phone) for the new site look. Turn the phone horizontal for the classic look.
Medium thumbnails, gorgeous cover photos. Some rooms are indicated as In Private Chat or In VIP Show.
Portrait mode, the default view is full screen, which is fantastic! Member chat is ghosted over the video stream.
Panorama, while in portrait mode hold your finger down on the screen, tilt your phone to pan around the model's room.
Member features, are all clearly indicated on the bottom right, whether your phone is upright or sideways.
Model selection, swipe either left or right for the next available mobile cam sex model.
Clean imagery, tapping your phone (while in a model's room) removes the ghosted chat. Works in portrait and landscape.
Video quality, a strict policy of high def cam feeds only. HD720 is the norm, many models broadcast the full HD1080.
Private mobile cam sex chat, these paid-for performances may include 2-way audio (not every model's mic is set up).
Flirt4free.com

A perfect combination of premium features and freemium prices, Flirt4Free always ranks as one of our best live cam sites for many reasons. The premium feel of the excellent HD streaming, the sleek design and ease of navigation, models from around the world who are known to be extremely friendly on the site, and so much more. The prices of private chats can get high, but that's easily rectified with a number of show types that cost much less and special model promos.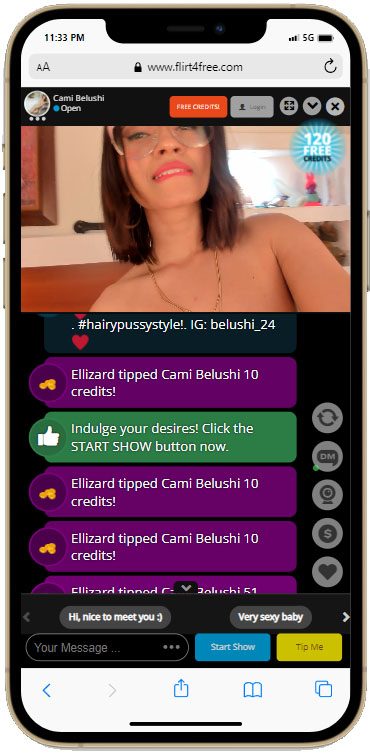 In addition to all of the above, the site loves to spoil its' members with features and entertainment. The Video Library is overflowing with model-made videos, the Blog contains info about the models and promos/deals on the site, there's a Calendar that shows you when your favorite gal will be joining the fun online (with notifications you can customize), and if you join a model's Fan Club, the prices get even lower. You can also use the excellent search engine to filter according to credits per minute.
The private shows start at just $0.45/min, and the rest of the shows can get pricey, with an average of $4.00/min. This is where the show types come in. Voyeur Mode lets you peep in to another member's private chat at super low rates, and the Party Shows, along with Group shows and Party Chats, are multi-member shows where you pay substantially less and enjoy the shows/chats just as much.
Flirt4Free also has a great mobile version, which is just as high quality as the desktop, and even includes the option to have a cam2cam session. It's just as impressive as the site and flows easily and quickly.
There's a great, easy-going feel to the site, along with plenty of low-cost options for more frugal users. You can't go on Flirt4Free and not have a good time; it's simply impossible.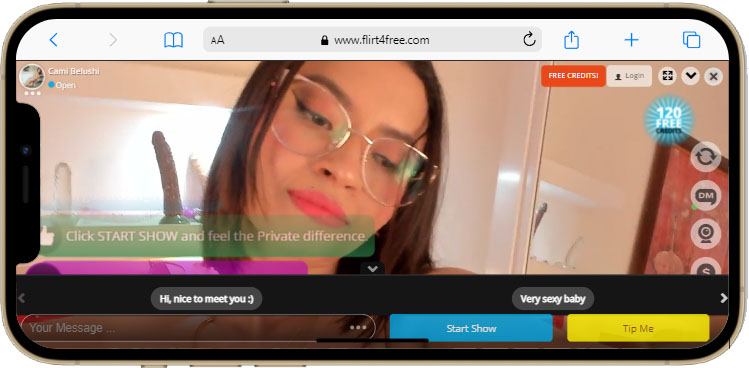 ImLive.com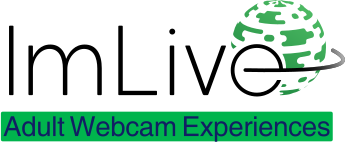 ImLive, one of the cheapest premium cam sites in the world, has recently launched a new and improved mobile site that added a free mobile cam-to-cam feature for all registered members. This, along with a plethora of significant changes and updates, has made ImLive's mobile site one of the best in the business.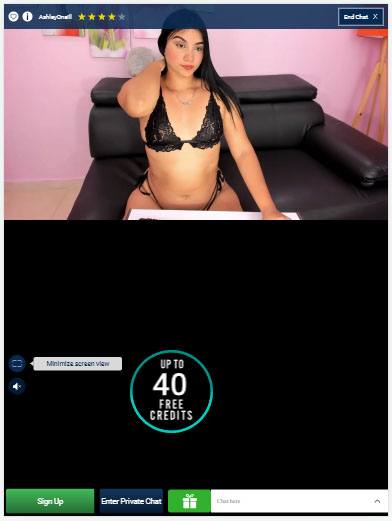 To start, ImLive is now among the few cam sites that are truly 100% optimized for phones and tablets, and it's clearly noticeable. Typing in chat doesn't obscure the screen, and you can easily pan the screen with a swipe while in portrait mode, and everything is accessible right in the cam room itself and yet completely unobtrusive.
This is added to the fact that ImLive, as I've mentioned, is incredibly cheap. Not only will most shows here cost you less than $2.00 a minute, but there are also several features that help reduce costs even further, such as fan clubs, cheap group cams, discounted block sessions and the site's cost-reducing loyalty program.
Added to this is ImLive's general generosity, which is exemplified by its recent $50 giveaway promotion for new members. With it, you can try out ImLive for free, and form an opinion before even having to spend a dime.
With all that, one would think that ImLive probably sacrifices quality for its prices, but it doesn't. It may have fewer HD cams than the other sites, but since there's no noticeable difference between HQ and HD on the phone, and most of its cam rooms are in HQ, ImLive is perfect for smartphones.
The site also has a large number of cam rooms, with around 700 of them being live at any given moment. While most of the models on the site are Latinas and Latinos, ImLive still has a good diversity of performers that will satisfy most.
You can use the site's excellent search and categorization systems to find the cams that suit you easily, but if your tastes are a bit more particular, I suggest that you use ImLive's exclusive Fulfill your Fantasy feature. This feature lets you write down your dream scenario with your dream performer and have the site's models (and only them) give it a read. Whoever wants to make your dream come true can then message you with an offer, meaning you will not have to go room by room to search for the one particular model that both suits your tastes and will happily perform as you request.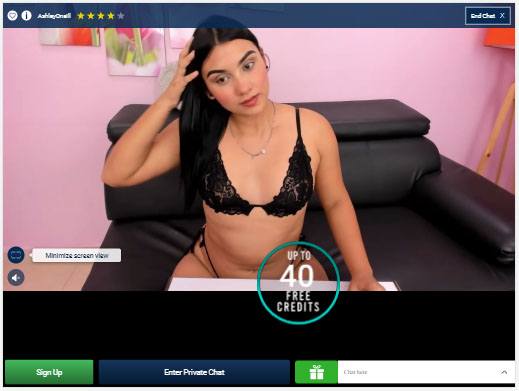 Stripchat.com

Stripchat is a haven for those who love free live sex cams, and it also happens to be extremely fetish-friendly. It's true that you can't engage in cam2cam on the mobile version, but you can accomplish a feat no other online live porn site can offer - Virtual Reality. You need to get the right tech, but once you have the gear it's no holds barred regarding the highs and wonders to experience through your mobile (VR is basically magic).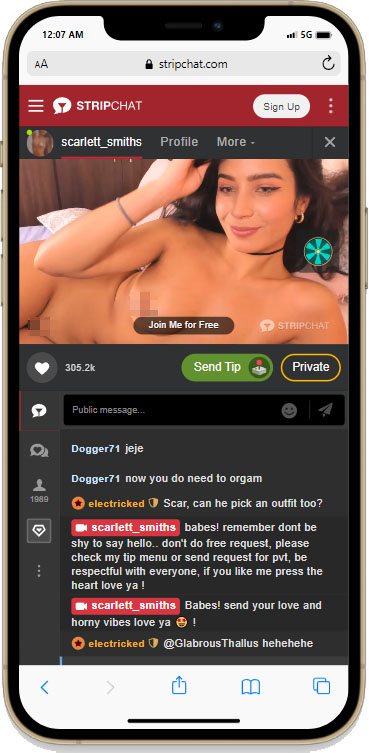 Speaking of taking advantage of the mobile version, it's fantastic, and streams at up to 4K. You also get all the categories the site boasts, which are hard to count. Among them: Cosplay, Granny, Bondage, Lovense (a sex toy controlled by your tipping), Office, Twerk, Teen, and of course - VR Cams. The categories make the site a lot of fun, as freemium sites with free nudity and sex in open rooms rarely have a search engine this advanced, even on mobile.
If you choose to go into a private chat despite the free room bonanza, rates start at $0.90/min with the average being around $2.70/min. you can choose a Spy Show, which is much cheaper and allows you to peek into a private show in session, without interaction with the host. Cam2cam sessions are not available for every model, and when it is the price depends on the model, many choose not to charge extra for it.
Another extra little help regarding payment is the ability to pay with a gift card, another rarity for freemium sites. What's better than a live porn party for Christmas, or any other holiday for that matter?
For those who love kink and fetish for free, and categories involving phrases they might never have heard of before, this is the site. It's free, has a great mobile version, and the only real downside is not being able to c2c from a mobile device.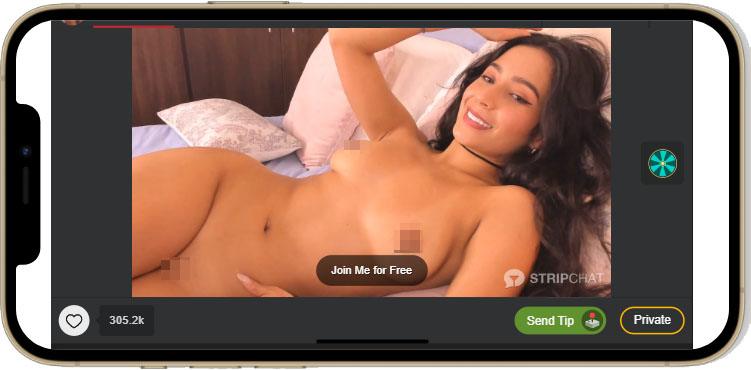 Chaturbate.com

Chaturbate is arguably the most popular freemium chat site in the world. Many chat rooms have thousands of people watching. As you browse through the mobile sex chat rooms, you will see that there are literally thousands of rooms to choose from. Chaturbate has more than just cam girls; they also have men, couples, and even transgender models. Many webcam rooms have high-def cams, up to 4K UHD.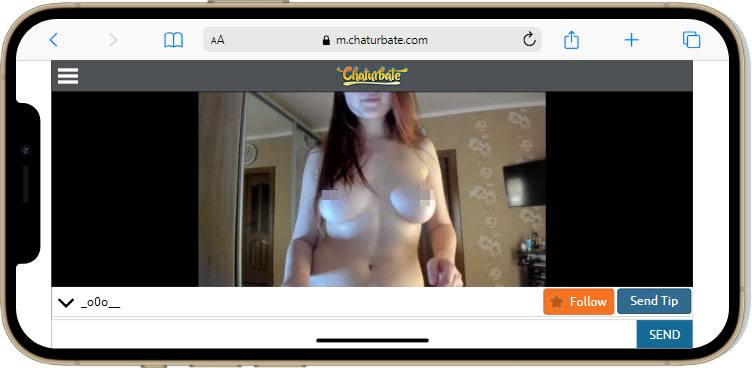 When using Chaturbate in the sideways position on your mobile device, you will notice that much of the screen space is blank. So, the better option on this site is to switch the orientation to portrait mode. While your phone is upright, you can type the raunchiest requests you would like without the keyboard covering up any part of the action on screen.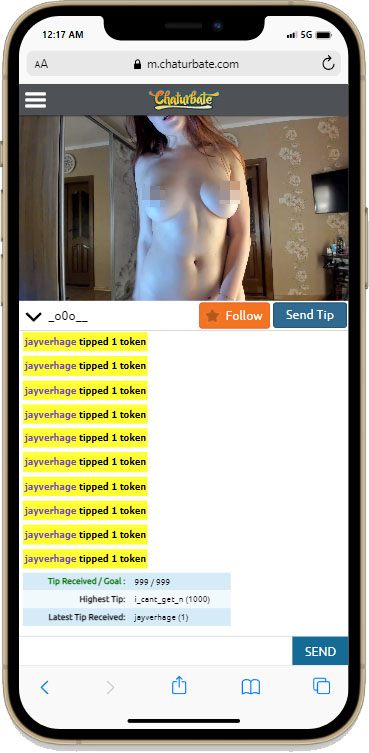 Despite how well optimized Chaturbate is as a mobile cam site, for some reason you can't swipe left or right between chat rooms. It's super strange that you can't, especially when you can use the keyboard do to the exact same thing on the desktop.
Chaturbate has an ever-growing collection of HD-quality cam rooms, some going as high as 4K UHD. The site even features cam2cam in free chat areas. Do note that it may take some chatting and tipping for the cam model to really engage fully in c2c. If you want to share your webcam in a private session, be sure to check with the cam model to see if she is game and if so, home much might she charge for it.
BongaCams.com

I like to keep my lists to the top 5 sites on any given topic, but since there are only 6 cam sites enabling activating your mobile device's camera for a 2-way video chat, I didn't want to leave out the 6th option. BongaCams is a solid choice for pretty much anyone. It has around 600 live cams at any given moment, many of which are in HD and hosted by some of the most gorgeous European and Russian women.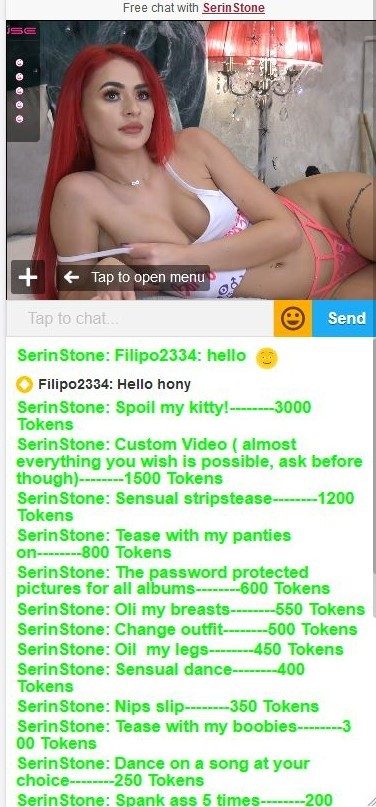 On top of BongaCams having a great selection of cam babes and lots of HD cams, it also features cam 2 cam and two-way audio that not only work on mobile, but are available in every chat room. Yes, that includes free chat, and only the model can see you if you turn on your webcam. All you have to do is be a Gold member, which you become forever once you make any purchase on the site.
The issue with this is that it's not always free. While prices on BongaCams are set, models here can charge you for c2c, and many do - at an average of a dollar a minute.
Also, I wish that the site's search and filtration options were better. Ranking them, I would say that they're about as good as CamSoda's, which isn't really that good. Navigation, though, is a different story, as BongaCams has a very slick and intuitive design, especially on phones and tablets. BongaCams' mobile site has the same minor issues that most do, but, at large, it works well.
My main problem with BongaCams, though, has to be with its prices. As I mentioned, BongaCams has fixed prices for its private chats, which is 60 tokens per minute, or roughly $3.33 for every minute in private. Since the prices are fixed, this is as cheap as it gets, which is to say, not cheap at all.
Still, BongaCams is as reliable a cam site as you can hope to get. It even has 24/7 customer support in case you have any issues you can't solve by using the site's robust FAQ section.
Frankly, BongaCams is last on this list because, while it's great, the other sites here have something unique going for them, and compared to them, BongaCams is pretty basic. It's also pretty ad-heavy and, at times, pesters you to purchase tokens. On top of that, many cam rooms on the site have watermarks, which can get annoying.
Still, if you're in the market for a lightweight and easy-to-use mobile cam site with c2c, then BongaCams is a very decent choice. It may not be the cheapest option out there, but its consistently high quality is undeniable.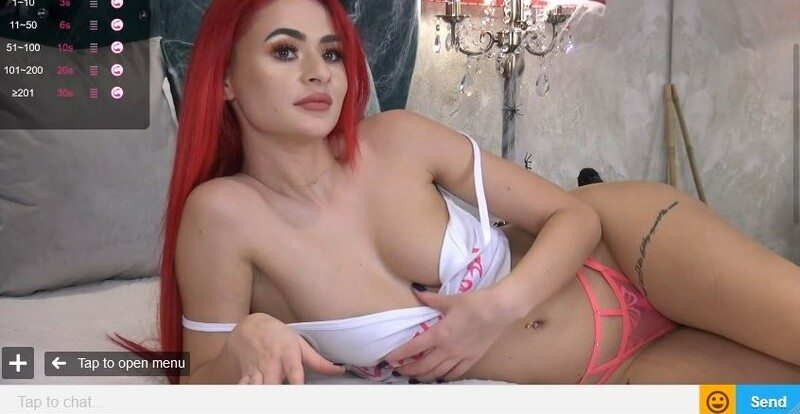 Before you go
As I mentioned earlier, while watching women perform naked (live on cam) is awesome, watching these women in action on either your phones or tablets can be better, and in most cases - it is.
Let me put it to you like this,
All of the above-reviewed sites offer mobile platforms which have been specifically engineered and geared: to look, fit, work & play best on all leading handheld devices. While most of my testing was conducted over an Android-based phone, I can confirm that all of these above-discussed sites will also work over all the Apple toys.
The best site for mobile phone sex chat currently is CamSoda. The reason is this innovative cam site is the only site to offer webcam2webcam at present.
This puts them at a clear advantage, and they'll probably remain 1st place until such time as the competition catches up. With its eclectic blend of both live cam sex shows and amateur homemade videos and coupled with its fantastic model lineup, CamSoda continues to please the masses and looks great in the palms of your hands!