Best Goth Fetish Cam Sites
April 24, 2022
Most people assume that a goth girl is simply someone with a penchant for a dark, dramatic look and a fascination with the morbid side of life. But that's far from actual reality. A true goth is someone who finds beauty in the darker, more mysterious ways of human nature. A goth girl may favor black period-style clothing featuring lace, rubber, and latex and be drawn to an edgy, exotic look, but she can be as charming, alluring, and delicate as her pastel-loving counterparts.
Why not find out for yourself what goth is like in a private webcam chat show at these leading live cam sites? These platforms feature stunning goth cam models who'll peel off their outfits and show you just what turns a goth on in an NSFW video chat session.
LiveJasmin.com

The leader in premium live cam chats, as well as amenities that prove that premium is where you wanna be, LiveJasmin has it all. A sleek and beautiful site design and ease of use, 24/7 live customer support, 720p HD rooms, pro models that converse in the open rooms (No nudity allowed) and get super nasty in private, fun features such as Stories (Instagram-like uploads from models), and Mobile Live (Performers stream from their mobile), and even a welcome gift of 9.99 credits, worth $10, once you validate your credit card, no purchase needed.
LiveJasmin's selection of goth webcam models can be found by selecting the Fetish link on the left of the main screen under Categories. Once you've done this, you can either eyeball the photos until you see a girl who's a potential partner for some deep, dark, and emo conversation, or you can use the advanced search icon to make multiple selections.
This search tool can be found by tapping to the right of the search icon (Three lines and three dots), which is on the top right of the homepage. Not only can you select Fetish, but in the other categories, you can also choose anything else that strikes your fancy, as this search allows for multiple selections. Feel free to add HD quality, price level, world region, appearance, or anything.
The average price of a private show at LiveJasmin stands at $2.40 a minute, while the cheapest rooms come in at $1.20 a minute. If you want to add turning on your camera and your mic, it'll be another $1-$2 for each. This goes for the site's mobile platform with cam2cam as well. And, if you don't mind others in your room, consider a VIP Show, which sometimes will offer new models at a fraction of a private show's cost.
CamSoda.com

CamSoda is home to over 1,000 cam models streaming live XXX shows 24/7. You can find all types of performers here, from skilled amateurs to celebrity cam stars. Most performers host free tip-fueled shows, with most of the rooms using HD cam feeds. If you want some face-to-face interaction with a goth cam girl, many will let you open your webcam feed in their free open cam chat room for a small tip. However, the best way to get to know the performer intimately is to invite them into an exclusive cam session with just the two of you.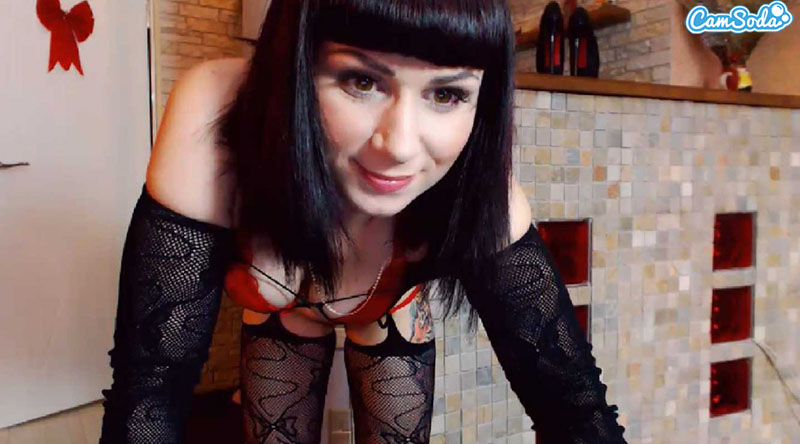 To find a girl who loves the goth lifestyle at CamSoda, the easiest way is to eyeball the gallery of photos until you see a performer who fits your ideal of what a goth looks like. You can use the top search bar and type in #goth as a tag, but the results will be limited and only feature those who have used it as one of their search category terms. One of the perks CamSoda offers is that of active snapshots. Instead of a static image, the photo is a few seconds of action captured within the last minute from the hosts' live feed. This means you can see at a glance an almost real-time view of what's happening in the room and what state of dress (or undress) the performer is in.
While the search engine at CamSoda isn't the best, it's pretty much the only weak spot on this platform. You can tip the model to open your cam in her open video chat room (though you must be viewing the site via the Chrome browser to activate this feature). You can also drag the live video window screen to enlarge it to your preferred dimensions or view the free live feed in full-screen mode. And when it comes to private shows, rates are low, and many (not all) cam models will let you to open your cam at no extra cost.
On average, you're looking at $3.00/min for some 1on1 time with a goth cam girl. You can also record a private cam session and keep a copy of the model's performance in your CamSoda account, where you can view it as often as you want without paying any extra.
One perk you do pay for, that actually ends up paying for itself, is that of upgrading to a Premium Member. This costs $19.95 a month and gives additional benefits such as an ad-free interface and the ability to private message the model without paying. You also get 200 free tokens as a one-time gift. If you were to buy 200 tokens as a stand-alone package, it would cost you slightly more than the monthly membership fee. Once you get the free tokens, you can always cancel the membership at the end of the month.
Stripchat.com

With thousands of sexually charged amateurs and dedicated professional performers, Stripchat is a very popular freemium site. The site has one of the best collections of filters available anywhere, making it easy to hone in on the babe you've been dreaming of. Many of the performers are fetish-friendly and available in excellent HD quality.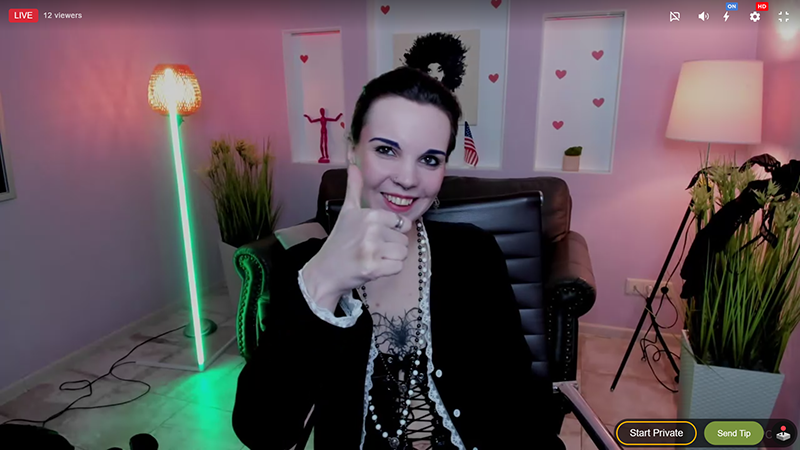 With one of the slickest layouts of all the freemium cam sites, Stripchat has an impressive number of cool features and filters that help you find the perfect Gothic cam model. The easiest way to find these babes is to scroll down until you see the All Categories link on the left-hand side of the page. You then will have your choice from an enormous set of cam filters arranged from A to Z. Selecting Goth will update your visible rooms with these delightfully dark models.
Many of these cam hosts include the option to share a webcam2webcam session in their private chat rate, though some may charge more to go fully interactive or not offer the option at all. Rates for private chat shows start at $0.70 a minute, and the average price is $2.10 a minute. These low rates let you have tons of live porn performances without smashing your piggy bank. You can really take it to the next level if you've got virtual reality goggles, as the site also has cheap VR chat rooms.
Stripchat also offers recordable private shows for free so that you can play your Gothic model's one-on-one show as often as you like, at no extra charge right from your profile area. This is also one of the best sites for couples cams, and hold on tight when 2 Goth cam girls perform together, as you are in for a wild ride.
Chaturbate.com

The king of cam site weirdness is where the "creative" models express themselves, all 4000 of them, in up to 4K HD quality live cams. Here, you won't just find goth, but goth wearing a French maid outfit or goth wearing a Disney character dress, crazy makeup, and wigs, which go along really well with the playful, wacky, exhibitionist nature of these ladies. This is also why so many sticks with open rooms only, with some of their open chats inhabiting literal thousands of users, tipping.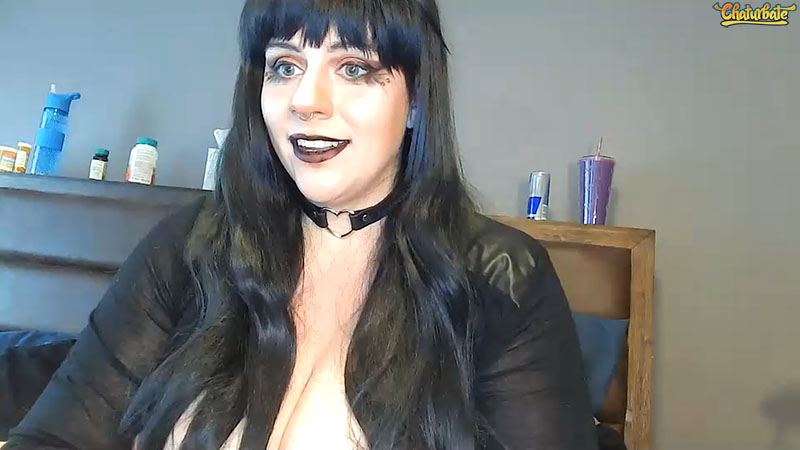 There is no conventional category list in place, only a tagging system to sort through the girls. We recommend scanning through all the rooms, as the thumbnail gallery layout actively refreshes with photo snapshots of what's currently happening in every room and refreshes every few seconds. But if you want to try searching with the tagging system, use the search bar and enter "goth", or try and go through the hundreds of tags using (more tags) on the right.
The option to go private is there, and many of the less popular or newer girls will jump to the call. But, if you go after the top performers on the site, they may reject your request. Or, if they're up for it, they'll want an initial payment. With that in mind, private sessions average $3.00 a minute, with the lowest-priced rooms asking for $0.60 a minute, which is one of the cheapest prices in live cams, and they're all recorded for free. You can even turn on your own cam in the free and open chat, for free, by hitting the Cam to Cam button. Only the model will see you, of course. It's a great way to stand out among the crowd, especially when hundreds/thousands of users are in one room.
There's a one-time free bonus of 200 tokens (Worth $20) with an upgrade and becoming a Chaturbate Supporter. You'll gain a clean, ad-free interface, custom chat font and color options, and free private messaging in this status. Also, as mentioned above, this is a great chance to remain anonymous to everyone else except the model, a feature only available with the membership, costing $19.95 a month.
MyFreeCams.com

MyFreeCams' 1,200 or so cam girls take things to the extreme. Some of the models push the boundaries in all genres in their free open cam rooms. From machines and toys to a range of wet and messy fetishes, if you're into hardcore games, at MyFreeCams you can join in the action in a variety of open chat rooms and turn on your cam feed. The user interface is also extreme, both for the good and the bad. While you can personalize your experience using a number of tools that help you create a homepage based on your preferences, it can take a while to get to grips with the rather outdated navigation system the site still uses.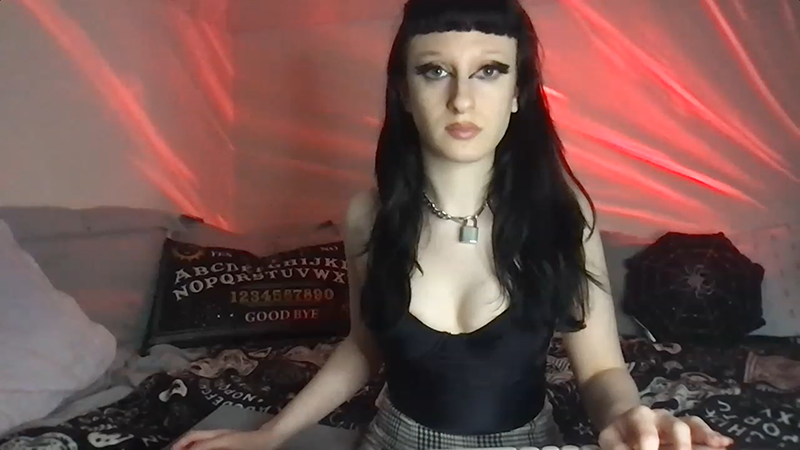 Unfortunately, the search tools aren't that helpful in finding a goth at MyFreeCams, you can use the search bar, but generally, you'll only be presented with a handful of performers who have tagged themselves as goth. There are numerous, mainly American goth cam girls at MyFreeCams. The term itself, though, isn't often used. A better way is to search among related sub-genres such as leather, fetish, and BDSM groups.
What you will find at MyFreeCams as you browse the hosts, which range from 18+ girls starting out on a camming career to major names in the adult entertainment industry, is a preponderance of babes from the USA and a large number of cam girls from the UK. If English is your mother tongue and you want to chat about the goth lifestyle, as well as get physical with a like-minded partner, MyFreeCams probably has a bigger selection than any other live video chat site.
You don't get a selection of price points for a private goth cam show. All rooms have the same $6.00/min rate for a 1on1 session. If you don't want anyone else spying on the show as a silent voyeur, the price goes up to $8.00 for a truly exclusive session. All rates do at least include cam2cam usage, and you get a free copy of the show stored in your MyFreeCams account.
Conclusion
While each of the above sites offers a number of Goth fetish cam models, the features offered by CamSoda propel it to be the best place to find these glorious babes adorned in full Goth gear. The selection of models is excellent, the rates are among the cheapest anywhere, and the site hosts many free performances with fetish models working for tips. Considering the added bonuses of private show recording and mobile cam2cam, fans of Goth cams will be well-satisfied with CamSoda.